May 06, 2012 -
Dan Pompei
NFP Sunday Blitz
No draft day selection has been dissected more than the Seahawks' pick of Bruce Irvin. In fact, it was dissected more than anywhere at the Seahawks offices overlooking Lake Washington.
So while the talking heads took their shots on draft day, the Seahawks heard none of it. The Seahawks had done their work and were confident in their conclusions. In their draft room, the only sounds were of reggae music and ringing telephones. The televisions were on mute.
The Seahawks may or may not have picked a player who will be an NFL star. But they knew who Irvin is, and they have a plan for him.
They had unusual insight into his widely discussed character because Seahawks coach Pete Carroll recruited him to Southern Cal. Seahawks defensive passing game coordinator Rocky Seto also had first hand knowledge of Irvin. As an alum of Mount San Antonio College, Seto sold Irvin on attending the junior college.
The Seahawks did not pretend Irvin's background was ideal. They did not close their eyes to the fact that he lived in a drug house, or spent time in a juvenile jail for burglary. But they did not believe his background was as troubling as some teams did.
"Look he has had a rough background," Seahawks general manager John Schneider told me. "He was so desperate. He dropped out of school. He basically was living on the street. But he was able to pick himself up, get his GED, get into a junior college, then get a scholarship."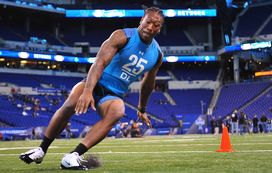 ICONThe decision to draft Bruce Irvin was about more than measurables and production.
To Schneider, the fact that Irvin persevered when he could have quit reflected well on him. He also pointed out Irvin never was in trouble when he was in junior college or at West Virginia until March, when he was arrested for breaking a sign at a sandwich shop. The charges since have been dropped.
"Is it a risk?" Schneider said. "Sure it is. But we were as comfortable with it as you can get. Obviously you would like a guy be clean as a whistle, have them all be like Shea McClellin. Sometimes a guy like this comes along and is worth a shot. We felt he was."
Schneider thought Irvin was the best pass rusher in the draft and one of the three best defenders, along with Luke Kuechly and Mark Barron. Two other general managers I spoke with concurred that Irvin was the best pass rusher in the draft. Some teams questioned if Irvin can be more than a pass rusher, however.
For the time being, Irvin may be only a pass rush specialist. But the Seahawks believe he can grow into a larger role. Schneider said he has no doubt Irvin can be an every down player at the Seahawks' "Leo" position, which also is known as an "Elephant" in some defenses. It's the same position Charles Haley and Fred Dean made famous. Chris Clemons has been manning the position for the Seahawks recently.
If Irvin plays Leo, he will be dropping about a quarter of the time. The Seahawks think he has the capacity to do that. It may take him awhile, but they believe Irvin, who was a receiver in high school and a safety in junior college, can get there.
"He's not a finished product," Schneider said. "He's like a lump of clay. He has a lot of work to do, don't get me wrong. But he is a guy the coaches think they can mold. His change of direction testing was phenomenal. His movement skills are phenomenal."
Speaking of movement, the Seahawks entertained the notion of moving down in the draft into the late teens or early 20s. Some thought Irvin would be available then. But the Seahawks did not want to risk it.
Some risks are worth taking. Some are not.
Things I Didn't Used To Know
*The Bills' release of Drayton Florence was as much about the team's confidence in Aaron Williams as it was about the team's confidence in Stephon Gilmore. Unless Gilmore totally fell on his face in camp, the plan all along was for him to be a day one starter. Williams, who was chosen with the 34th overall pick one year ago, has shown the Bills coaching staff enough for them to believe he could be ready to start as well.
*The Vikings' selection of kicker Blair Walsh in the sixth round of the draft could mean trouble for Ryan Longwell—but not necessarily. Longwell's deficiency is kicking off. Despite playing most of his games indoors, Longwell's touchback percentage was 25.0, which ranked 34th in the NFL last year. Walsh's strength is kicking off. It is possible the Vikings could keep both players, depending how their roster breaks down.
*There was a story behind the story on the Keith Rivers trade to the Giants. The former first round pick had surgery on his wrist near the end of the lockout last summer. The Bengals thought he could have had it earlier in the offseason, and did not approve. The team subsequently put him on the non football injury list. Rivers wanted to be put on the physically unable to perform list, which would have enabled him to collect his salary. He filed a grievance against the team. There were hard feelings, and both sides thought a fresh start was in order.
*The Jaguars want to make sure that if Blaine Gabbert does not succeed, it won't be because he doesn't have receivers. They have made two significant offseason additions at the position, drafting Justin Blackmon and signing free agent Laurent Robinson. Though most of the attention is on Blackmon now, don't be surprised if Robinson ends up having the bigger immediate impact. Robinson never has been a consistent NFL starter, but the Jaguars believe he is ready to become one this season when he will be 27. Jags general manager Gene Smith points to former Jacksonville receivers Jimmy Smith and Keenan McCardell as examples of receivers who can come on later in their careers. He also thinks having receivers coach Jerry Sullivan to mentor Robinson will help him reach his potential. New Jaguars coach Mike Mularkey, who ran the Falcons offense when Robinson was in Atlanta in 2008, said he noticed a difference in the receiver after he worked with Sullivan last offseason. If Robinson can stay healthy, which he hasn't always done, he can take his play to another level. "He has rare speed combined with length at 6-2," Smith told me. "He gives us a bigger target on the outside, and that's what we need. We get a lot of single situations on the outside because of Maurice [Jones-Drew], and that creates explosive play opportunities."
My Sunday Best: Undrafted Players
Not every NFL prospect with potential gets his name called during the draft. Here are my best players who did not get drafted.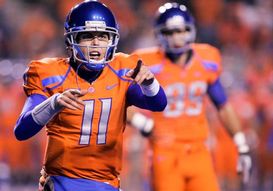 ICONKellen Moore might surprise some people in Detroit.
Quarterback—Kellen Moore, Boise State. The two gifted but undersized quarterbacks in this draft were Moore and Russell Wilson. One was undrafted, the other was a third round pick. Moore is an outstanding quarterback with a great feel for the game and spot-on accuracy—he's just small, and he lacks arm strength. There is a chance he could develop in Detroit under Scott Linehan and at least become a serviceable NFL backup.
Running back—Chris Polk, Washington. He is a good fit for the Eagles offense and should be a fine backup to Shady McCoy. Polk was a third round talent according to scouts I talked with. He slipped because of injury concerns.
Wide receiver—Jeff Fuller, Texas A&M. He was one of the higher ranked pl ayers coming into the 2011 season. Two front office men told me last fall Fuller was a first round talent. He didn't play as well as a senior as he did as a junior. He had a poor senior Bowl. Everybody got down on him. But it's still crazy that he was undrafted. It will be a surprise if he does not stick with the receiver-poor Dolphins.
Wide receiver—Dwight Jones, North Carolina. His size and ability would have merited a day three pick without a doubt. Jones went undrafted in part because he doesn't play with a lot of urgency and runs sloppy routes. If he turns it up, he can make the Texans.
Tight end—Emil Igwenagu, Massachusetts. Igwenagu's workout hurt his stock, so he went undrafted and signed with the Eagles. He isn't much different from a number of the hybrid H-back/tight end/fullbacks who were drafted.
Offensive tackle—Matt Reynolds, Brigham Young. He went undrafted in part because he will be 26 soon, but being old didn't hurt Brandon Weeden. NFL teams were split on if Reynolds, a left tackle in college, is a tackle or guard in the pros. The Panthers may move him inside.
Offensive tackle--Josh Oglesby, Wisconsin. His injury history hurt his draft stock, as did his lack of athleticism. But Oglesby has great size and plays very aggressively, so he could develop for the Redskins.
Guard—James Brown, Troy. The Bears will move this college left tackle to guard. Brown was considered a fourth round talent by some teams, but he is raw and has some off field issues.
Guard--Markus Zusevics, Iowa. He might have gone in the fifth or sixth round had he not torn his pec muscle at the combine. Once he gets healthy, Zusevics can become a decent blocker in New England.
Center—Michael Brewster, Ohio State. He was probably the most surprising player who did not get drafted. Brewster had a solid third round grade and played a position at which only four players were drafted. It would not be surprising to see Brewster become a starter for the Jaguars.
Defensive end—Brandon Lindsey, Pittsburgh. He will be a 3-4 outside linebacker for the Steelers, but 4-3 teams considered him a D-end. Lindsey is a talented but inconsistent pass rusher. He didn't play very physically, and that scared off some teams.
Defensive end—Donte Paige Moss, North Carolina. Almost all of the defensive ends with potential were drafted. Paige Moss is a good athlete with NFL talent. The final straw for Paige Moss was acting the fool at the combine. But the combination of character concerns and a blown out ACL did him in. His decision to leave school early was baffling.
Defensive tackle—Tydreke Powell, North Carolina. He is big enough and plays hard enough to make it as a wave tackle for the Vikings. He won't give them much in the pass rush department though.
Defensive tackle--DaJohn Harris, Southern California. A heart defect that was discovered at the combine might have cost Harris, who signed with the Titans. His size, hand usage and get-off all would have suggested he would have been worthy of a fifth or sixth round pick.

Middle linebacker—Jerry Franklin, Arkansas. He gets the nod over Vontaze Burflict. Franklin is a pretty good lateral player who makes plays outside the box. He is not the most physical player, so he was undrafted. He signed with Denver.
Outside linebacker—Sammy Brown, Houston. His sack production and high motor would suggest he should have been drafted. His struggles with diagnosing and shedding left him undrafted, but signed by the Rams.
Outside linebacker—Tyler Nielsen, Iowa. The Vikings might not have gotten a future starter on defense, but they might have signed a player who can give them a shot of adrenalin on special teams.
Safety—Aaron Henry, Wisconsin. In a weak safety class, it's puzzling how he didn't get drafted. Henry, who signed with the Raiders, is a physical box safety who could make it if he is allowed to play to his strengths.
Safety--Janzen Jackson, McNeese State. The Giants rolled the dice on this gifted problem child. Jackson can play center field or cover in zone effectively, and he has ball skills. If there were no concerns about his behavior, he easily would have been picked before the third day.
Cornerback—Chase Minniefield, Virginia. He is a fourth round talent as a zone corner, but the Redskins were able to sign him as a free agent because he had a knee problem.
Cornerback--Ryan Steed, Furman. This Jets signee could make it as a fourth corner. The problem with him is teams couldn't decide if he was a corner or safety, and he did not help himself at the combine.
Kicker—Carson Wiggs, Purdue. The Seahawks picked up a kicker with a big leg who could have been drafted late.
Punter—Drew Butler, Georgia. Some rated him as the best punter in the draft, but he signed with the Steelers as an undrafted free agent.
Scout Talk: Immediate Impacts
Every team hopes for an immediate impact from its rookie class, but not all of them can expect it. How ready rookies are and how needy teams are will play into what kind of contributions teams get from their draft classes. Here, in alphabetical order, are the teams that could get the biggest immediate impacts, according to front office men.
Bengals
The Bengals added so much talent they are bound to get quick contributions from a number of players. The most likely candidates to get up to speed quickly are Dre Kirkpatrick, whose position won't require a big transition, Kevin Zeitler, who should be NFL ready, and Devon Still, a four-year starter at a big college.
Browns
The plan is for Brandon Weeden to step right in, and his maturity should be a plus. He'll be handing it off to Trent Richardson, and he may be running behind Mitchell Schwartz or Ryan Miller. Billy Winn could get in the defensive line rotation pretty quickly.
Bucs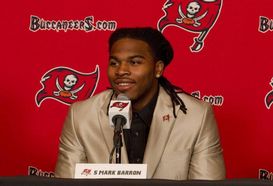 Mark Barron should be a quick hit in Tampa.
They will count on big things from Mark Barron as a rookie, and he is capable of delivering. Doug Martin and Lavonte David also should make contributions this year. Having a new coach in Greg Schiano means many positions will be open for competition, which should help the rooks.
Chargers
Melvin Ingram and Kendall Reyes should pay quick dividends on the Chargers defensive front. Should the Chargers need David Molk, the seventh round center also could help as a rookie.
Colts
This team will be ride the shoulders of Andrew Luck immediately. And Luck will be looking for his Stanford buddy Coby Fleener as an outlet. He'll also be looking for help from third round pick Dwayne Allen. And fifth round RB Vick Ballard figures to have a role on offense too.
Eagles
Fletcher Cox and Vinny Curry should help the pass rush quickly if they take to Jim Washburn's coaching. Brandon Boykin can contribute both as a sub defender and as a return man.
Panthers
It looks like Luke Kuechly could line up at middle linebacker with Jon Beason moving outside. Amini Silatolu also is likely to be a starter quickly. Frank Alexander, Josh Norman and Joe Adams are likely to contribute on passing downs.
Packers
The Packers should get a quick jolt from this draft because they need their rookie defenders so badly. Nick Perry and Jerel Worthy likely will not be given the luxury of an Aaron Rodgers-like acclimation. Casey Hayward is likely to see time in sub packages if he is able.
Ravens
Courtney Upshaw should be as ready to contribute as any player picked after the first round. He also could have opportunity, given the injury to Terrell Suggs. Bernard Pier ce could be a change of pace back immediately. And Kelechi Osemele will have a chance to start at guard from day one if he can beat out Jah Reid.
Vikings
First rounders Matt Kalil and Harrison Smith should help prevent big plays by opponents from opening day on. With eight other draftees, it is likely the Vikings will get some other significant rookie contributions as well. This will be a young team, and coach Leslie Frazier shouldn't hesitate to give rookies chances.
Hot Reads
*Having been around Junior Seau on three teams, I can say I've never seen a player who had a bigger locker room and practice presence. And the presence was always positive. He gave his teams energy, passion, and a feel-good vibe. I especially noticed it during practice when I was the pool reporter for the Patriots at Super Bowl XLII. Seau brought joy to a lot of people.
*Having two quarterbacks who were chosen high in the same draft is kind of like having two wives. Not sure what the Redskins were thinking here.