September 25, 2011 -
Barry Dorey
NFP Sunday Blitz
Through two games, it appears something is definitely very different in Buffalo this year.
The same team that has not had a winning season in six years has outscored two opponents by a 79-42 score. And now the Bills will have a chance to legitimize themselves in the eyes of the NFL world when they host the Patriots this afternoon.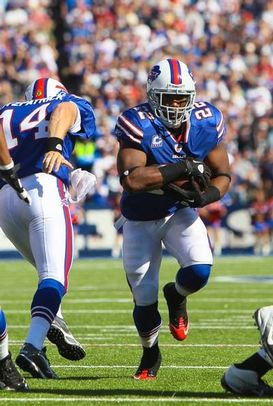 ICONBuffalo's Fred Jackson.
These are the same Patriots who have beaten the Bills 15 straight times—the longest streak in the NFL. "We want to get that monkey off our backs," Bills running back Fred Jackson told me. "It's definitely a big chance for us to make some noise. They've had our number. We all know that. But that's not all that's driving us. We want to get to 3-0 first and foremost. It just so happens that New England is the team we are playing. It's a division game. We want to win a game in our division, put a team in our division a game behind us."
Jackson believes the Patriots will see a different team this time. "We're a confident team now," he said. "We have some playmakers. Our defense is playing tremendous. We think we can string all three phases together and give us a great opportunity to win this game."
In particular, the Patriots may be impressed with the Bills offense. Buffalo has the top ranked running game in football and the top ranked scoring offense. Said Jackson, "We feel like any time we step on the field we can score a touchdown."
Much of their confidence comes from the way Jackson is running the ball. He leads the league with 229 rushing yards. "It's a great accomplishment," he said. "I'm happy about it, but it's motivating because we still have a long season left to go. We'll see if I can continue to be at the top of it by the time the season is done."
Jackson believes he can continue to lead the league if his offensive line continues to play as well as it has and head coach Chan Gailey continues to call the right plays at the right time. "I'm doing the same stuff in offense I've always done, but he does a great job developing schemes, putting us in situations against certain defenses that allows us to make more plays," Jackson said. "That's a huge difference with him. He and his coaching staff do a great job dissecting film, breaking down defenses and knowing what plays to call against what defenses they give us. It's a tremendous difference."
At 30 and with five NFL seasons behind him, Jackson is a bit long in the tooth to be considered a breakout player. But this is one of the first times in his career when his team has showed a commitment to him.
He has been gone into the season regarded as the team's workhorse only one other time. Jackson came to the Bills as a street free agent, signed by Marv Levy. He had played at Division III Coe, and spent time playing for the National Indoor Football League and NFL Europe before getting a look from Buffalo.
When he signed with the team, Willis McGahee was the man at running back. Since Jackson has been in town, the team has tried to upgrade twice. In 2007, they used the 12th pick in the draft on Marsawn Lynch. In 2010, they used the ninth pick in the draft on C.J. Spiller.
Jackson, though, has been the one constant in the Bills' backfield since 2006. It's just that Bills coaches usually have made him get in the back seat.
"I'm finally getting that chance to be the workhorse," Jackson said. "I'm relishing it, trying to take full advantage of it."
Being passed over so longer will motivate a player. Jackson also finds motivation in the fact that he believes he is underpaid with a contract that goes through 2012, and the Bills have yet to try to do anything about it. He fully admits he plays with a chip on his shoulder. But he also knows how he can change things.
"The more I do on the field, the stronger argument I have," he said.
So far, the argument is pretty strong.
Things I Didn't Used To Know
*Assuming Tony Romo suits up Monday night, there will be one difference between the Cowboys quarterback this week and last week when he came back after fracturing his rib against the 49ers: the Cowboys' QB will have a pain killing injection this time. Romo played without a painkiller last time, according to a source who knew what went on in the trainer's room. The fact that team doctors feel comfortable giving him a painkiller probably will enhance Romo's chances of playing. While the painkiller should in theory help Romo, the concern is that initially he could be stiffer because it will take him awhile to get the adrenalin flowing.
*Also on the Cowboys' injury front, the team expects Terence Newman will be ready to go Monday after missing six weeks with a groin pull he incurred shortly after reporting to camp. The team gave Newman more time than they thought he needed to recover because in 2008, Newman had another groin pull and came back too soon. So this time, the decision was made to give Newman an extra two weeks.
*Tarvaris Jackson might not win more games than Matt Hasselbeck could have, but he should at least have a chance to. One of the reasons the Seahawks decided to move on from Hasselbeck is they had concerns about the 35-year old's ability to stay healthy, given his recent history. One of the reasons the Seahawks were drawn to Jackson is they thought he would be durable. So far, their concerns have been justified. Through two games, Jackson has been sacked 10 times and hit another 16 times. And he's still standing.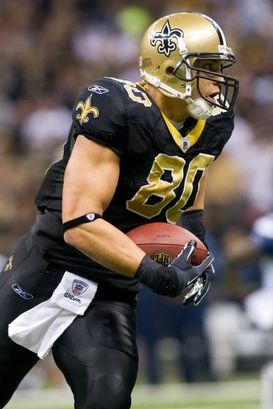 ICONThis guy is the reason the Saints were willing to let go of Jeremy Shockey.
*Saints second year tight end Jimmy Graham has made great strides in a short period of time and could be emerging as a breakout player. Graham was a basketball player at the University of Miami until his senior season, and the Saints drafted him as a raw, developmental prospect. His selling point was his 4.56 speed, which you can observe first hand in this 40 yard race against former Hurricane D.J. Williams. Coach Sean Payton credit's Graham's quick ascension to Graham being able to being eager to learn and picking things up quickly. Graham frequently stays after practice to work with quarterback Drew Brees. Payton also said former Saint and current Panther Jeremy Shockey did a great job bringing him along.
*Lost in the Vikings' rough start has been the emergence of Brian Robison as a solid starter at left end. The Vikings chose not to try to re-sign Ray Edwards in the offseason because of their confidence in Robison, who had been more of a situational pass rusher up until this year. So far, they believe Robison is giving them better edge pressure than Edwards. Robison isn't as strong as Edwards, but he is a better athlete. He has benefited from attention paid to Jared Allen, and should be even more effective when Kevin Williams returns from suspension today.
*Since the start of the playoffs last season, no Packers receiver has been more productive than Jordy Nelson. The fourth-year receiver has benefitted from Greg Jennings drawing defenders away and from his improved chemistry with Aaron Rodgers. But Nelson believes some of it is just getting more balls thrown his way. "It's mostly opportunities," he told me. "For differen t reasons, I've been on the field more in some games. I had one catch for 84 yards last week. There is a lot of luck that goes into that."
My Sunday Best: Players on Injured Reserve
The season is only two games old, and already there are enough good players on injured reserve to field a team you could win a number of games with. One NFC general manager told me he wasn't surprised at the list of players on IR. He said in his experience he has found that typically, the first few weeks of the season are the most dangerous in terms of injury incidence. Here are my best players on IR.
Quarterback—Byron Leftwich, Steelers. No starters have gone down for the season yet.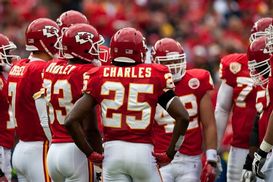 ICONJamaal Charles is going to be doing a lot of standing around this year.
Running back—Jamaal Charles, Chiefs. This was a crippling blow for the Chiefs' offense, given how productive Charles has been.
Wide receivers—Roscoe Parrish, Bills, and Jordan Shipley, Bengals. Both of their teams had gotten rid of other veterans, and both of these players looked like they were in position to pick up some of the slack.
Tight end—Tony Moeaki, Chiefs. This position has been hit particularly hard. Seattle's John Carlson and Cincinnati's Bo Scaife also are out for the year.
Offensive tackles—Willie Colon, Steelers, and Rashad Butler, Texans. Colon, who also missed all of last year with an Achilles injury, just signed a lucrative new deal in the offseason.
Guards—Eric Steinbach, Bengals, and Geoff Schwartz, Panthers. These are two quality players. Also on IR is Arizona's Pork Chop Womack.
Center—Dan Koppen, Patriots. It's never easy to lose a quality center, but if any offense can absorb a loss like this, it's the Patriots'.
Defensive ends—Jimmy Wilkerson, Seahawks and Ty Warren, Broncos. Warren also spent all of last season on IR when he was with the Patriots.
Defensive tackles—Ron Edwards, Panthers, and Marvin Austin, Giants. Tough breaks for one player who could be nearing the end of his career and another who is just starting out.
Outside linebackers—Thomas Davis, Panthers, and Travis Goethel, Raiders. Davis missed a good portion of last year as well.
Inside linebacker—Jon Beason, Panthers. He is the fourth Panther we've listed. He also is the heart of the Carolina defense.
Safeties—Eric Berry, Chiefs, and Nick Collins, Packers. Berry is the third Chief on the list. He and Collins are both Pro Bowlers.
Cornerbacks—Terrell Thomas, Giants, and Ron Bartell, Rams. These players both were the best cover men on their respective teams.
Kickers—Nate Kaeding, Chargers, and Richmond McGee, Browns. Yes, even the kickers are going down.
One Man Yelp: Moneyball
Let me join the chorus. Good movie. Go see it. It's a little different from the Michael Lewis book, which I also enjoyed, but the screenplay is pretty straightforward without too much dramatization.
It's a little different movie than most. It's a story most of us already know. No love story, no violence. Baseball is the backdrop, but this movie could be about football, farming or Wall Street. It's about walking the fine line between success and failure, and the willingness to take risks.
Billy Beane's story is an inspirational one and provides valuable lessons for team leaders in every sport. Just because things have been done one way for 50 years doesn't mean there isn't a better way to do them. There are a number of Billy Beane type front office men in the NFL. They probably would be uncomfortable if they were identified as Billy Beanes, because it would put a target on their backs for being anti-establishment.
But the NFL needs men who are unafraid to think and challenge like Billy Beane. And you could use a little entertainment like Moneyball.
*Some quick thoughts on the acclaimed NFL Network special Bill Belichick: A Football Life. Almost everybody loved it, and I understand why. It provided a glimpse behind the curtain of a very private coach. It told us quite a bit about the man that most people didn't know: how he interacts with his kids, how he spends his free time, what he was like as a child, etc.
But what it didn't tell us a lot about the coach, and how Belichick does things. I was a little disappointed in that. If you've read Education of a Coach and other books on Belichick, or if you've been fortunate enough to have been around him a bit as I have, you already knew about the man. I was most interested in seeing how he navigated his way through the season, and I walked away wanting more.
Hot Reads
*Michael Vick may be playing in week three, but the bigger question is will he be playing in week four and beyond.
*Can we be sure human growth hormone is a problem for the NFL? Interesting take by agent Peter Schaffer.
*There is no way to punish teams for faking injuries because faking injuries can't be proved.
*Having players fake injuries might not be completely ethical, but ethics don't have a column in the NFL standings.
*Someone should introduce Darnell Dockett to Ashton Kutcher.
*Cam Newton is making quite a convincing argument that playing Blaine Gabbert is the right thing to do. Of course, Luke McCown also made a pretty good case for Gabbert.
Dan Pompei covers pro football for the Chicago Tribune. Follow him at Twitter@danpompei