April 24, 2011 -
Dan Pompei
NFP Sunday Blitz
Projecting a college defensive end to play outside linebacker in a 3-4 defense can be tricky business. Just ask the Jets.
Enamored by Vernon Gholston's workout in 2008, they thought they had a prospect who was equipped to make the switch and they subsequently made him the sixth pick of the draft.
Three years later, Gholston is looking for a job. He is expected to find one, but probably as a defensive end in a team that plays a four man front.
Several of the college defensive ends in the 2011 draft crop will be converted into outside linebackers as Gholston was. Among the players who could be in for position switches are Purdue's Ryan Kerrigan, Missouri's Aldon Smith and Cal's Cameron Jordan.
Whether or not they will make the switch seamlessly, as Terrell Suggs did for the Ravens, or struggle as Gholston did, could decide the fate of the general managers and head coaches who select them. More on how they and others might fare can be found in Scout Talk later in this post.
Projecting defensive ends is not a simple task. Just because an end is undersized doesn't make him an outside linebacker. "Sometimes you try to take an undersized guy and put them at outside linebacker because you like the pass rush," said Ravens personnel man Eric DeCosta, who has hit on Suggs, Adalius Thomas, Jarret Johnson and others. "But they can be a square peg in a round hole. Just because they are undersized and can pass rush doesn't mean they are 3-4 outside linebackers."
You always hear scouts talk about wanting to see ends put through linebacker drills at the combine or at pro days, but those drills show only part of what a pass rusher can do in a new position. Those drills, which require players to backpedal and flip their hips, give scouts an idea of a player's athleticism. It helps if there is some tape of the player dropping because it's not the same with pads on and players flying all around. A workout is more likely to prove a player can't make the conversion than prove he can.
The first thing the real experts will tell you about players making the conversion is athleticism is overrated.
"You don't have to be the greatest athlete," said Packers outside linebackers coach Kevin Greene, who had 160 sacks as an outside linebacker in a 15 year career that one day may land him a spot in the Pro Football Hall of Fame. "I'm talking from experience. I was not the most athletic outside linebacker to play. But I was physical. I was hard-nosed. I had a motor. And I was smart. I studied. I knew where I needed to be and I knew where my help was. I knew what leverage to use. I knew on the other side what they were trying to do.
"You do have to have some things. You have to be able to backpedal and go backwards. You don't have to great at it, but you have to have some functional ability. But the No. 1 thing is the physicality. You can get caught up in all the measurables—40 yard dash, broad jump, shuttle. It boils down to are they physical and are they relentless? Are they playing with passion?"
Chargers general manager A.J. Smith has been part of drafting numerous college defensive ends who made the switch, including Bryce Paup, Shawne Merriman, Shaun Phillips and Larry English. What does he look for?
"It's a body type," Smith told me. "You like to see him 6-4, 6-3, with great get off, great hustle. They can learn to drop in time with the proper effort. Sometimes the numbers are meaningless if they are not a player. But if they are a player, the numbers are powerful. Then you add competitiveness, desire. Will he learn? Does he want to be the best he can be? You have to step into the mind of the player. But first and foremost, it's -- are they a football player?"
Some college DEs may have all of the physical attributes to make the switch, but they may lack the ability to see the field. "Prospects have to have instincts and awareness or they will struggle with the conversion," DeCosta said.
Greene said it's difficult to teach a defensive end to have vision. "I work on that very, very hard with our guys," Greene told me. "Most of the kids are looking straight ahead out of a three point stance, right at the offensive tackle. In our scheme they really have to see where all five eligibles are aligned. They have to know where they motion to, where they come from, do they go back, where do they throttle down. They really have to expand their vision to see the whole field and know what a lot of people are doing."
Not all defensive ends turned linebackers get it right away. It behooves teams to allow these players to give these players time to transition. "We have a history of being patient with those kinds of guys," Smith said. "But the focus is can he contribute immediately as a pass rusher, and then we will be patient with steps of making him an all around backer. In some cases, they develop into an all around backer, but they should always be a pass rusher. I've seen so many over the years get better."
The NFL also has seen some like Gholston who have not gotten better. Some players can make the switch. And some can't.
Things I Didn't Used To Know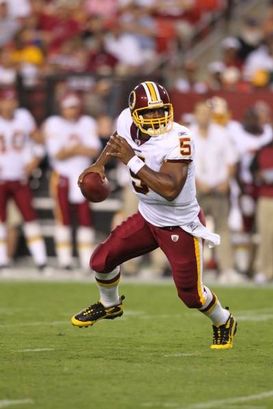 ICONDonovan McNabb may be on the move, but that doesn't mean he's headed to Minnesota.
*You can't rule out the possibility that Donovan McNabb will end up with the Vikings because they need a quarterback and he needs a team. But it's not accurate to say they are targeting him or making plans to pursue him. And if they are interested in him, it is only to the extent that they are interested in every quarterback who could be available because they don't have one. In short, McNabb to the Vikings has a better chance of not happening than happening.
*For all the negative talk about Cam Newton, it's important to know that the coaches and support staff at Auburn have had nothing but good things to say about Newton to NFL execs. If there are questions about Newton from a character perspective, they have arisen from the way Newton has handled things, and from his actions prior to landing at Auburn.
*It's now starting to look like the second tier of quarterbacks – Jake Locker, Christian Ponder, Andy Dalton and maybe Ryan Mallett – could start flying off the board as early as the tenth pick, with the Redskins (they allegedly have a thing for Locker), Dolphins and Jaguars being candidates to start the ball rolling. As the draft has drawn nearer, these players have become hotter and hotter. A number of teams already having investigated moving up from high in the second round into the first to land a quarterback. Among those teams that have made calls are the Jaguar, Titans, Bills and Vikings.
*A lot of NFL execs think the Titans will shy away from drafting Nick Fairley with the eighth pick because Fairley reminds too many people of Albert Haynesworth. I'm not so sure though. From a production standpoint, Fairley compares favorably with just about anyone in the draft. Stats' proprietary X-info reveals that Fairley had a higher combined total of hurries, knockdowns and sacks than any player in the Southeast Conference. Fairley had 27.5 Marcel Dareus, by comparison, had 12.5. Justin Houston had 18. No SEC player came within seven of Fairley.
*Some of the next victims of the lockout could be scouts who have contracts expiring after the draft. Some teams I've spoken with have plans on re-signing the scouts and carrying on with business as usual. Other teams have been very silent, and there is some conce rn in the scouting community. It would be easy for teams to not re-sign scouts until the lockout is over, thus saving money while none is coming in.
My Sunday Best: Top Ten
If I were running an NFL draft room, this is how the top of my board would look, regardless of position/need.
1. Von Miller, Texas A&M linebacker. He is the best athlete in the draft, and no other player has more potential to dominate. It's difficult to envision Miller being a bust in any situation.
2. Marcel Dareus, Alabama defensive tackle. He probably isn't going to lead the league in sacks, and he might not have the same kind of impact Ndamukong Suh did last year. But he is going to be one of the better run/pass combination interior linemen in the NFL. There is very little downside with him.
3. Patrick Peterson, Louisiana State cornerback. This is another freakish athlete like Miller. The only question about him is could he be too big? Even if Peterson struggles at corner, he can probably play safety, and he can be a return man.
4. Julio Jones, Alabama wide receiver This is the kind of player who will give your team an identity. As long as Jones can stay healthy, he should have the type of career that enhances the careers of many of his teammates.
5. A.J. Green, Georgia wide receiver. The Diva factor makes you worry a little about Green, but he is so gifted that any risk associated with picking him is justified. He is the type of player who wins games by making big plays.
6. Prince Amukamara, Nebraska cornerback. Some might say this is a little high for him, but Amukamara may be the last of the players on the board who looks like a sure thing. There is very little chance he will not be a Pro Bowl caliber NFL player. It's hard to find someone who doesn't like him.
7. Nick Fairley, Alabama defensive tackle. The dropoff starts here. If Fairley achieves all his potential, he could be the best player in the draft. But the personality worries teams.
8. Tyron Smith, Southern Cal offensive tackle. He is put together the way you would draw up an ideal offensive tackle. If he doesn't succeed, it won't be because he isn't physically talented enough.
9. Blaine Gabbert, Missouri quarterback. You would feel better about taking him very high in the draft if he had gone back to school for another year and lit it up. But all the tools are there.
10. Robert Quinn, North Carolina defensive end. There unquestionably is a degree of risk associated with picking Quinn, who doesn't have a lot of experience, hasn't played football in a year, and has a brain tumor. But the physical skills are very intriguing.
For another take on the top ten, check this out.
Scout Talk: Taking their hands off the ground
There are at least a dozen premium players who were defensive ends in college and are being considered as outside linebackers for 3-4 teams. Some are better candidates than others to make the transition. Based on conversations with scouts, this is how they stack up.
Almost sure things
Dontay Moch of Nevada and Chris Carter of Fresno State run so well and are athletic enough that they should be able to make the transition pretty easily. With his hustle and ability to make plays all over the field, Sam Acho's best chance of success might in at OLB in a 3-4. Despite a pedestrian workout, Arizona's Ricky Elmore appears to have the movement skills to drop and cover on a limited basis.
Would need some work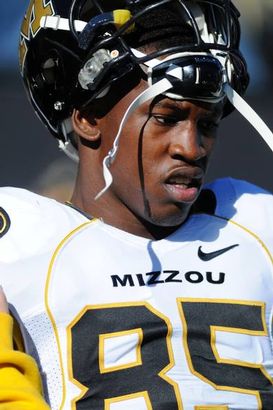 We know Aldon Smith can rush the passer, but can he drop and cover?
Missouri's Aldon Smith is a name you hear a lot associated with 3-4 teams, but Smith might take some time to adjust. Scouts consider him a little stiff, and probably best suited to play with his hand down, but he's athletic enough to make some people envision Willie McGinest. Ryan Kerrigan of Purdue sure looked like he could drop in drills at the combine, but not all scouts are sold on his ability to play linebacker. As one front office man said, "We're have a debate about it." Kerrigan probably would not fit every 3-4 team – he would have to go to one that lets him rush most of the time. Scouts are also divided on if Arizona's Brooks Reed has the athleticism to cover. Pittsburgh's Jabaal Sheard is probably instinctive enough for a position switch, but he may struggle when he tries to turn and run with a fast tight end. Cliff Matthews of South Carolina might have to lose a few pounds to improve his flexibility and quickness.
Probably would struggle
Given his size and movement skills, North Carolina's Robert Quinn definitely is more suited to be a defensive end. He will have enough of a transition to play the same position he played before taking a year off. A transition to a new position might be too much for him. Scouts have doubts about Georgia's Justin Houston being able to do anything other than rush the passer every down. His instincts and hustle would not serve him well as a linebacker. Cameron Jordan of Cal might not have the feet to make the move.
One Man Yelp: Men's Journal, Sports Illustrated
I wanted to call to your attention a couple of magazine stories this week.
"The Wheels of Life" appeared in April 18 edition of Sports Illustrated. It was written by Gary Smith, one of my favorites. It tells the remarkable story of Dick Hoyt, who has pushed and pulled his disabled son Rick through more than one thousand races over 33 years, including Ironman triathlons.
I was a little familiar with their story from hearing a little about them through the years, and watching this inspirational video, which I defy you to get through without feeling a lump in your throat.
The SI article gets past the feel-good aspects of the story and into the harsh realities of their amazing journey, which have become harsher as time has passed. The old man is 70 now, and he's still pushing and pulling his spastic quadriplegic son. They really should stop these races now. Dick has had a heart attack, and they've had plenty of other scares. But they can't. The racing makes Rick feel whole, like he has no disability. And being the legs and arms for his son gives Dick enough incentive to never stop.
The other story, "The Ferocious Life and Tragic Death of a Super Bowl Star," was written by Paul Solotaroff and Rick Telander for Men's Journal. It's about Dave Duerson, a man I had known since the early 1980s. In the week after Duerson's suicide, I had written a similar enterprise piece on Duerson for the Trib, along with David Haugh, Vaughn McClure, Becky Yerak and Steve Schmadeke, and with help from Mike Kellams.
Duerson's story was a terribly sad one, and one that got sadder the deeper I got into it. Duerson was the all American boy whose life came unglued because of financial despair, family problems and fear his brain was failing him. Reading the Men's Journal story makes it sadder still b ecause it paints Duerson as someone who could have helped former NFL players with medical issues like his, but he chose not to. Duerson was one of six trustees on a board that heard disability claims of former players whose injuries prevented them from holding a job. According to sources in the story, Duerson was unsympathetic to the plight of his brethren.
Somebody needs to stand up for former players with serious health issues, particularly brain issues. Something tells me we're going to see a lot more of them in the coming years.
Hot Reads
*Maybe Jon Gruden would have developed young quarterbacks if he had better young quarterbacks to develop. Maybe not.
*I really like the email campaign Peter King has kicked off in his Monday Morning Quarterback column on si.com. He's asking readers to send their well wishes to NFL Films czar Steve Sabol, who has been striken with a brain tumor. Sabol has received more than 9,000 letters. Let's keep it going. His email address is Sabol.NFLFilms@NFL.com.
*I'm not sure if there is a "rift" among players in their negotiations with the league, but I can guarantee you they are not all happy with how their leadership has proceeded.
*If I were the agent of Andy Dalton, I would have advised him to confound evaluators by shaving his ginger hair before showing up at the combine. Or better yet, I would have given him a Tom Brady wig. He might have been the first pick in the draft.
*Bill Parcells said to "put it down in pencil" that he is finished in the NFL. I prefer to put it down in chalk – it erases more easily.
Dan Pompei covers pro football for the Chicago Tribune at chicagotribune.com. Follow him on facebook and on twitter @ danpompei.