February 24, 2013 -
Dan Pompei
NFP Sunday Blitz
So many NFL people in Indianapolis want to talk with John Harbaugh, Manti Te'o, Drew Rosenhaus or Ryan Grigson. The most popular person at the combine should be someone else.
The guy everyone should want to talk to has been walking around town sometimes inconspicuously, hanging around in quiet corners of places like Mo's Steakhouse and Shula's in the Westin Hotel. A lot of NFL men walked right past him without recognizing him.
But everyone knows who Chris Ault is, and how he has affected the game. The former Nevada coach and father of the Pistol formation came to the combine on the advice of PSR agents Bob LaMonte and Matt Baldwin in order to spread his gospel. "They are going to introduce me around to different teams and people," Ault told me. "It's a chance to meet people, talk some football."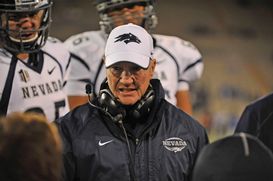 NFL teams can learn a lot from Chris Ault.
Many should want to talk with Ault because he understands the Pistol and the read option as well as anyone. At the very least, he would be a logical consultant for NFL teams. "If there is something I can do to help people football wise, I'd like to keep my hands in it," said Ault, who stepped down as Nevada coach after the season. "I do think the pistol is on the cutting edge of what you can do in the NFL."
Packers coach Mike McCarthy is so interested in learning to defend the offense that he is sending some of his coaches to study it at Texas A&M.
One of the reasons the formation and the offense was so successful for the 49ers, Redskins and Seahawks in 2012 is it caught NFL defenses off guard. Many defensive coaches will devote significant amounts of time this offseason to coming up with better plans to use against it.
"There is no question unfamiliarity played a role, the newness of it, not seeing it before," Ault said. "It happened to us at Nevada. it was unique at first, then people worked on defending it. There is no question the NFL defensive coaches will work their rears off and find ways to defend it. But it's like any play. If you call it at the right time and I'm in the wrong defense, you're going to win."
There are those who believe the Pistol and read option will go away as quickly as they came because quarterbacks won't be able to stay healthy. Ault said quarterbacks have to be smart when running, but he also points out the read option doesn't call for as much quarterback running as you might think. He said about 75 percent of the read option runs are handoffs.
It might not be just a passing fad. Ault thinks the scheme will proliferate in part because of what it does to the pass rush. "The read has a way of controlling the defensive end and outside linebacker because he has some things to think about before he pass rushes," Ault said. "One of the reasons we went to the read was to help control that guy a little so he couldn't just cut it loose on a jet technique on third and four, because third and four we might run the read."
But what the Pistol formation benefits most is the run game. Ault came up with the idea in 2005, but he didn't package it with the read option for three years. "You can adopt the formation to any offense you run," he said. "We ran the power, the gap, two backs, you name it. With the formation the majority of your run game is all downhill with the quarterback off the line. We had an excellent running game before we put the read in, and the read just expanded our opportunities. You can line up in the Pistol formation and create a downhill run game as good as any you've seen."
And the beauty of it is, you don't need Colin Kaepernick or RGIII to do it. You can do it with a pocket quarterback too, as you as he is not asked to run the read option from the Pistol.
What NFL offenses have done with Ault's offense is embryonic. He believes the Pistol and read option will continue to develop in these ways:
*The play action pass will be used more and differently off the read. "The pro people I've talked to I've said the play action pass off the read action is devastating," Ault said. "If you go back to the 49ers in the Atlanta [championship] game and Super Bowl, you will see their most effective pass was the play action out of the pistol with the threat of the read."
*Blocking schemes will become more complex and effective. "There are different blocking schemes and ways to block the read in terms of combination blocks that I'm not sure if I've seen in the NFL," Ault said. "There are a couple things we like to do to help the read. It looks exactly like the read but it's not. From a linebacker, safety perspective it would look like the read."
*Offenses will come up with more ways to confuse defenses out of the Pistol/read. Ault said offenses can block to make it look like the read option for linebackers and safeties, and then have a standard handoff.
What we know for certain is the chess game will continue with the Pistol and read. And Ault is a chess master on this board.
My Sunday Best: NFL Bodies
One of the aspects of the combine that often escapes public notice but can be significant is the photo taking. Players stand before cameras wearing nothing but shorts. NFL teams want to see good frames. They want to see players who look like they have worked out hard. And they don't want to see fat. With that in mind, here are some of my best NFL bodies.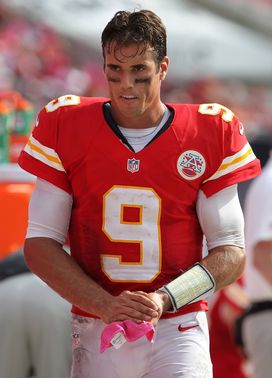 Brady Quinn has some guns for a QB.
QB--Brady Quinn, Chiefs. Most quarterbacks eschew the big weights, but not Quinn. He looks like he could have a second career as a linebacker.
RB--Reggie Bush, Saints. Men's Fitness once called him the Fittest Man in the NFL. He has big, explosive muscles on a lean frame.
FB--Greg Jones, Jaguars. He generates great power from a very lean body.
TE--Vernon Davis, 49ers. Rob Gronkowski might want to keep his shirt on around this guy. Davis plays pretty well, but he looks better than he plays.
WR—Calvin Johnson, Lions. He gets extra points for being so tall and having such a tremendous wingspan.
OT—Tyrone Smith, Cowboys. Most offensive linemen are a little soft looking. Not Smith. He is lean and muscular, and he has perfect dimensions to play the position.
G—Steve Hutchinson, Titans. From the square jaw on down, he looks like he is chiseled from granite.
C—Maurkice Pouncey, Steelers. Most centers are a little fleshy looking, but not Pouncey. Same goes for his twin Mike of the Dolphins.
DE—Jason Pierre-Paul, Giants. He is all arms and legs, but he gets them to move in a manner that is not common at all.
DT—Michael Brockers, Rams. If the opposing team can see them, Jeff Fisher might want to encourage Brockers to be the first guy off the bus.
OLB— Brian Cushing, Texans. He is a workout maniac, and he also was suspended for violating the league's performance enhancing drug policy. Cushing barely gets the nod over his old Southern Cal teammate Clay Matthews.
ILB—Jon Beason, Panthers. He almost looks too lean for a middle linebacker, which is appropriate because he might be moving to outside linebacker.
S--LaRon Landry, Jets. If it's possible to be too jacked up, Landry might be. Receivers coming over the middle that he has put the wood on certainly think so.
CB—Antonio Cromartie, J ets. He has a freakish physique, with muscles on top of muscles.
P/K--Steve Weatherford, Giants—He is a fitness freak with five percent body fat, and is allegedly the strongest player on the team pound for pound.
Things I Didn't Used To Know
*Some years, a lot of general managers get fired. Some years, it's head coaches. Some years, it's offensive coordinators. This year, it's been special teams coaches. Eighteen teams—56 percent of the NFL—will enter 2013 with a new special teams coach. The upshot, according to one veteran special teams coach: expect the unexpected on special teams this year, as new faces in new places with new players will experiment with the hope of making impressions.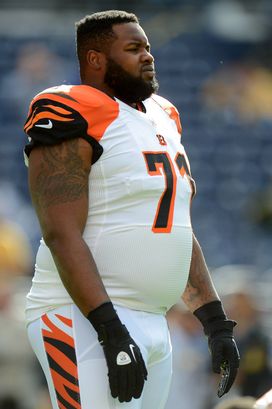 Andre Smith has good timing.
*His recent arrest for trying to take a gun on a plane aside, Bengals right tackle Andre Smith is becoming a free agent at an opportune time. The big blocker is coming off his best season, and he finally discovered consistency. Smith's weight and health have been issues throughout his career, but Smith played in 16 games for the first time in 2012. The Bengals believe he has matured. Scouts say he still is not an elite blocker, but he is a solid one, and should attract a fair amount of interest if he hits the open market.
Hot Reads
*Which comeback do you think would be more successful—JaMarcus Russell at 27, or Michael Jordan at 50?
*They passed out 800 media credentials to the combine—or 40 for every legitimate media organization.
*Rex Ryan might be interested in trading Darrelle Revis for Jim Brown. No truth to the rumor Joe Banner is demanding the Jets throw in their first round pick along with the cornerback in exchange for Brown.
*From here on, Cardinals running backs will only need their hands to applaud speeches by the head coach.
*If only Jerry Jones could buy players like he buys buses.
Dan Pompei covers pro football for the Chicago Tribune at chicagotribune.com.