January 19, 2014 -
Dan Pompei
NFP Sunday Blitz
Let the games(manship) begin.
It's still 3.5 months until commissioner Roger Goodell steps onto the stage and behind the podium at Radio City Music Hall to announce the initial selection in the 2014 draft. But typical of the kind of rhetoric and "Liar's Poker" that everyone plays in the months preceding the lottery, the annual rhetoric already has been ramped up over the last few weeks.
First, Houston owner Bob McNair kicked off the posturing two weeks ago with his very public (and intentional) suggestion that the Texans, who own the top overall selection in the 2014 draft by virtue of their 2-14 free-fall, will think about dealing that No. 1 choice. Even though Texans insiders were adamant in discussions with NFP last week that the team will choose a quarterback at No. 1, McNair has hung out the "For Sale" sign, real or ersatz. It's as if McNair, who made his remarks to the club's website, was screaming to his ownership brethren: "Make me an offer!"
And then, to follow that up, it seems the scrutiny of Louisville quarterback Teddy Bridgewater has escalated as well.
The presumptive top pick for nearly a year now, Bridgewater hasn't been on the field since his team's romp over Miami in the Russell Athletic Bowl on Dec. 28. But in the three weeks since the 36-9 victory, in which Bridgewater threw for 447 yards and three touchdowns (while running for another score), he's certainly been the subject of a lot of talk. There are rumblings that Bridgewater might be too slightly built for the rigors of the pro game, that his arm isn't strong enough, or that he played against mediocre competition in a bad
conference.
Of course, the talk isn't emanating from the Texans, who theoretically want teams to covet Bridgewater enough to be interested in exploring a trade. All the talk that guys like Johnny Manziel and Blake Bortles
might be superior to Bridgewater could help the Texans in the long run, if the consensus becomes that they are better, but the Houston brass is not about to knock Bridgewater, except maybe in its most internal pre-draft deliberations.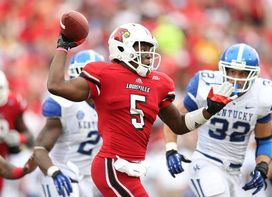 Does Bridgewater make sense for the Texans at No. 1?
Picking apart a highly-regarded prospect, especially one with the kind of profile that Bridgewater has largely possessed, is almost as much a part of the draft process as getting exact heights, weights and 40-times. In the NFL, they build you up and then they tear you down. Right now, Bridgewater is in the deconstruction phase of the evaluations, and the scouts have taken out their microscopes, and every wart will be magnified in the coming months.
Still, most of the gamesmanship gambits in the next few months really figure to originate with the Texans, and McNair has started the ball rolling. In truth, McNair was doing what all owners with the top choice do at this point in the process. In an effort to determine the value of possibly swapping the pick for additional slots that might benefit a needy team, one has to advertise a little bit and try to attract some buyers. It's not quite the equivalent of being a snake-oil peddler, but there definitely is a huckster-ish sales pitch mentality to it all.
"It's almost expected of the (top drafting) team," one front office executive whose team owned the No. 1 pick in recent years, said last week. "It's straight out of the manual, you know?" Said another owner: "If (McNair) didn't do it, whether people believe he's dangling the pick or not, it would be an upset if he didn't advertise a little bit. It's all part of the (posturing) that is an element of the draft. Nobody tells the truth, from the top (team) on down. Let's face it, it's a game you have to play."
That said, recent history indicates that talking about trading the first overall pick and then doing it are two different things. There have been blockbuster first-round trades the last several years, but none involving the top choice. Fact is, there has not been a trade of the No. 1 selection since San Diego dealt the top choice to Atlanta in 2001, for the Falcons to select quarterback Michael Vick. The historic 2004 trade of Eli Manning and Philip Rivers, while a signature move, doesn't count. That deal, remember, came after the Chargers had actually exercised the first choice on Manning, and the trade didn't occur until 30-45 minutes into the round, when San Diego landed Rivers from the New York Giants. In the 12 drafts since the Vick trade in '01, there has been almost annual discussion – like the talk that McNair obviously is attempting to generate -- of potential trades at the outset of the draft.
As far as action, though, there's been zilch. And despite McNair's best efforts, it's doubtful there will be this year.
It's entirely possible that McNair, a University of South Carolina alum, is sold on Gamecocks defensive end Jadeveon Clowney. Most scouts rate Clowney as the top prospect in the talent pool, even if he isn't necessarily the first overall player many expect to go off the board. The consensus seems to be that Clowney projects best to a 4-3 defensive end. But McNair is accurate in suggesting that teaming Clowney and end J.J. Watt in the 3-4 front the Texans have played, and likely will continue to employ under new coordinator Romeo Crennel, could be a terrific marriage.
McNair called Clowney "a once-in-every-10-years kind of physical specimen." And he reminded that, when the Texans had the first choice in 2006, they went against popular opinion, taking defensive end Mario Williams over more celebrated tailback Reggie Bush. Said McNair: "That worked out pretty well."
Still, the Texans and rookie head coach Bill O'Brien have to find a quarterback. And if they opt to go with a quarterback a little later, maybe in the second round, then it behooves them to find a team desperate to move up to the top spot in the May draft, presumably to choose a quarterback. Or to locate a team that desperately wants to add the enigmatic Clowney.
There are as many as four teams in the top 10 who arguably might take a quarterback. But it also seems at this point that there are enough quarterback prospects to go around. As far as Clowney, for as talented as he is, teams might be reluctant to part with the bounty they'd have to ship the Texans when there are questions about the South Carolina star's effort and maturity, and when he had only three sacks in 2013.
Let somebody else take that gamble, clubs might conclude.
So it will be interesting to see if McNair's blatant sale pitch has any effect. Again, he had to make the effort. And he and general manager Rick Smith – who claimed with a straight face that he doesn't "think you take a particular position just because you need a particular position" – will probably repeat the pitch several more times in coming months. But to what avail?
In the past 25 drafts, the top choice was traded five times. But four of those times came during an eight-year stretch from 1990-97. Since the '97 swap in which St. Louis got the rights for offensive tackle Orlando Pace from the New York Jets, the Vick trade in 2001 is the only one at the top of the draft. Owners have tried hard at times to generate interest in the initial choice, but it simply has not been a seller's market the past dozen years.
As McNair may discover.
+AROUND THE LEAGUE
*Whether t he concerns about Bridgewater are true, or simply the kind of pre-draft propaganda and rhetoric that typically arises every year, there seems to be a viable consensus that Manziel definitely is growing on some teams. Said one area scout who has watched Manziel closely for two years and who spoke to NFP last week about underclass prospects at length: "In some earlier meetings, I probably had to sell (Manziel) much harder than I have to now. The more people look at him, with the way offenses have changed now, the more they see he can be an impact player. I've always been sold on him, because I've seen him up close and seen the effect he has on teammates. Not everyone was as close to the situation as me. But I notice now that I don't have to jump up on the table to get guys' attention about him now. I'm still
not ready to say he'll be the top guy. But top five? Yeah, I'll take that bet."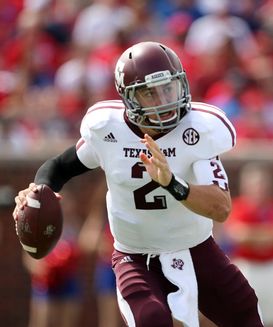 US PRESSWIREFor the moment, it appears as if Johnny Manziel's stock is on the rise.
The ancillary benefit, of course, is that the team that lands Manziel will benefit from the "Johnny Football" persona, the Heisman Trophy, all the attention that he has gotten (good or bad) from his tenure at Texas A&M. But teams don't make draft picks to sell tickets, we're constantly reminded by people in the game, and they are correct. But they draft players to win. And winning sells tickets. And there is a mounting suspicion that, his character warts aside, Manziel is a winner. And can be a winner at the NFL level as well.
*While the stock of the aforementioned Manziel is on the rise, the status of one of his teammates, offensive tackle Jake Matthews, may be suffering a few dents. Make no mistake, the standout lineman still figures as a sure top 10 pick, maybe even top five or higher. And, really, no one seems to think lesser of him. But there are some now who might think more of Greg Robinson and have nudged the Auburn early-entry prospect slightly ahead of Matthews at the tackle spot. The order will still be shuffled at tackle in the months of evaluation that remain, but Robinson has made a significant impression on scouts to whom NFP has spoken. As for the tackle spot in general, it probably has taken a step back with the decisions of some players – such as Cameron Erving (Florida State), La'el Collins (LSU) and Cedric Ogbuehi (Texas A&M) – to stay in school. And certainly Alabama's Cyrus Kouandjio did not finish the season very strong, either. Still, while there might not be as many tackles chosen in the first round as anticipated a few weeks ago, the depth remains good and it still is viewed as a position of strength.
*The addition of Ray Horton as defensive coordinator for Ken Whisenhunt's new staff in Tennessee, a deal apparently completed Friday and which surfaced Saturday morning, is a good one and it reunites two guys who have always worked well together. But it will be interesting to see if Horton, who projects as a man who someday could be a head coach, moves the Titans to a 3-4 front. Horton's resume does include a couple stints as a secondary coach with 4-3 defenses. But he primarily has been known as a 3-4 proponent since joining the Pittsburgh staff in 2004, and was brought to Arizona by Whisenhunt in 2011, replacing Clancy Pendergast, to convert the Cardinals from a 4-3 to a 3-4. As the coordinator in Cleveland last season, Horton was also charged with transitioning the Browns to a 3-4 front.
But the Browns already had a few players who had worked previously with the team in the 3-4. With the Titans, the remake might not be as facile. Going back to their former incarnation as the Houston Oilers, the Titans haven't deployed full time as a 3-4 defense in at least 22 seasons, possibly more. The personnel isn't exactly a snug fit for a three-man front, so the conversion may actually have to take place over a couple seasons. Tennessee's top defensive lineman, Jurrell Casey, who had 10.5 sacks in 2013 (only Dallas' Jason Hatcher, with 11, had more among interior linemen), is a 4-3 tackle. He'll probably move to end, or a hybrid tackle-end position as Darnell Dockett did in Arizona, but finding a space-eating nose tackle and some stand-up "edge" rushers will be a challenge. Whisenhunt seems to prefer a 3-4 front and that's likely why Horton was at the top of his defensive coordinator wish list.
*As an unrestricted free agent last spring, the phone of Shaun Phillips didn't ring nearly as much as he felt it might. Or, perhaps, as much as it should have. "I just felt that, with the things I had done (in San Diego) for nine years, teams knew me and knew what I could bring," Phillips told NFP last week. "It was disappointing, really. But then, I guess, it worked out OK, right?"
Right, indeed, for Phillips and the Denver Broncos, who signed the 10-year veteran to a one-year contract. It turns out that Phillips has been a Godsend for the Broncos, who lost top pass rusher Von Miller to an ACL injury and needed someone to fill his presence off the edge. Phillips has been that someone. He had 10 sacks during the season, then two more in the division-round victory over the Chargers, his former team. Talking to some Patriots coaches about the AFC championship game, Phillips was a guy whose proven track record for getting to the quarterback (79.5 career sacks) was a concern. The irony is that it's usually the Pats who benefit from one-year reclamation projects; this time they will face such a player. Phillips was more than worth the Broncos' investment in him. His basic contract was worth $1 million, but he earned an additional $800,000 in sack-related incentives, usually lining up as an undersized 4-3 end instead of as a standup 3-4 linebacker, as he was in San Diego.
"He's been everything we thought he would be, and probably more," defensive coordinator Jack Del Rio said. "We really needed him and he came through for us." There are rumblings that the Broncos want to keep Phillips around, but the veteran might want to test the market again, since he might be attractive to both 4-3 and 3-4 teams now. The caveat is that Phillips will be 33-years-old in the spring and, once again, teams may be reluctant to offer more than a one-year deal.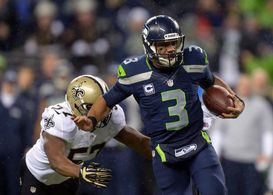 Will Russell Wilson's struggles carryover into the NFC Championship game?
*There's little doubt that Seattle quarterback Russell Wilson hasn't put up the same kind of numbers in the past five or six weeks as he did earlier in the season, but the Seattle coaches still feel strongly that he has played pretty well and that he lends a lot of intangibles to the position. And there's no arguing his 16-1 record over two seasons at CenturyLink Field. But some staffers and Wilson spent some time in recent days poring over tape, not only of the San Francisco defense, but also of the quarterback's mechanics and decision making in some circumstances. The general feeling was that the second-year veteran wasn't doing much different than from earlier in the year. But it will be interesting to see if the extra review works out in Sunday's NFC championship game.
*New York Jets owner Woody Johnson didn't amass a fortune by doing stupid or hasty things. The great-grandson of the founder of the Johnson & Johnson empire landed a spot on the annual Fortune 400 list, with an estimated worth of $3 billion-$4 billion (and about $13 billion for the Johnson family), by making savvy business calls. So one can surmise that there was considerable thought invested in last week's decision to give coach Rex Ryan a contract extension. There was no doubt – and had not been since Johnson announced nearly a month ago that his coach would be back – that Ryan was returning. The question became whether Johnson and general manager John Idzik would force Ryan into a "lame duck" year in the final season of his contract. Under that scenario, Ryan certainly would have protested, although he also would have had no place else to go. And so the compromise was a complicated deal, believed to be for two years, but with just one season guaranteed and plenty of money dependent on performance (like
playoff berths).
We've always been big on stability and continuity – like lauding Oakland for retaining coach Dennis Allen and much of his staff after years of a revolving door policy under the late Al Davis – and understand the rationale for keeping the bombastic Ryan around. But let's put his record in some perspective: In his five seasons with the franchise, Ryan's record, counting the playoffs, is 46-40. But he hasn't taken the Jets to the playoffs since 2010. Ryan led the club to the AFC championship games in his first two seasons on the job, '09 and '10, both times as a wild card. Yet the Jets haven't had a winning record in any of the past three seasons. They are just 22-26 in that stretch. For the five regular seasons Ryan has been with the franchise, the Jets are 42-38. That's less than one game above .500 per season. It's an average of 8.4 victories per year, a hair above the definition of mediocre. Under Ryan, the Jets have never won a Super Bowl. They've not appeared in one under his leadership. New York has never won a division championship with Ryan as head coach. So while the extension was understandable, and may help the Jets land some veteran free agents, Ryan's status still may be revisited after the 2014 season if the franchise doesn't reach the playoffs for a fourth straight year.
*The number of underclass prospects in the draft will likely fall shy of the 100 that NFP predicted a few weeks ago – the league hasn't yet released the final list, since players who had not signed with agents
had a three-day window to withdraw after last Wednesday's declaration deadline – but is still expected to be in the 96 range. That would easily eclipse the previous record of 73, established last year. There are several positions that will benefit from the underclass influx, but one of the positions in which scouts are most interested is running back. It's expected there will be 16-18 underclass tailbacks in the pool and most of them haven't had huge workloads. Even with the NFL skewing so much toward multiple backs and time-sharing backfields – away from the so-called "feature back" concept – everyone likes fresh, young legs. And there figure to be plenty of those at every level of the talent pool.
And on the subject of rating the tailback talent, scouts certainly seem split. There probably are 4-6 tailbacks vying for the top spot and which back goes first is definitely a matter of personal preference and style. "I don't think a lot of people felt (Giovani) Bernard would be the first (back) called last year," new Washington coach Jay Gruden, the former Cincinnati offensive coordinator, said. "But he was the perfect fit for what we wanted in a (back)." The same could be true this year. It could also be the second year in a row in which a back is not selected in the first round.
+SHORT YARDAGE
*Most scouts were very surprised that Clemson linebacker Vic Beasley, who had 13 sacks in 2013, decided not to enter the draft. Beasley was certainly on the radar screens, big-time, of 3-4 teams in the second half of the first round. . . . Good move by Scot McCloughin, who is responsible for scouting, recommending or drafting many of the players for both teams in the NFC championship games, for not talking all week. No matter what he said, he probably couldn't win. . . . Part of the reason that neither Miami nor Tampa Bay have filled their general manager spots yet is because both teams are weighing the strengths of the candidates to whom they have spoken, and framing the jobs appropriately. . . . New England officials have made some quiet overtures to cornerback Aqib Talib about an extension that would keep him out of the free agent market. Talib is said to like the situation in New England, but might want to test the market...By the way, there are plenty of former Bucs players in the Sunday games – like Talib, Pats tailback LeGarrette Blount and defensive end Michael Bennett – who new coach Lovie Smith probably wishes were still around. . . . There isn't a scout or personnel man to whom NFP spoke about A.J. McCarron who thinks the Alabama quarterback made a wise decision in choosing not to play in the Senior Bowl game. . . . New Bucs defensive coordinator Leslie Frazier hinted that, if the team is to deploy the "Cover 2" scheme he and Smith favor, there are going to have to be personnel upgrades and switches. . . . No one should probably read too much into linebacker coach Keith Butler's decision to stay in Pittsburgh, but some will suggest it's an indication that defensive coordinator Dick LeBeau may depart in another year or so. Butler is the longtime heir apparent, and the Steelers have blocked him from interviewing for positions in the past. But they were prepared, it seemed, to allow him to depart if Whisenhunt had offered the job that subsequently went to Horton. . . . Many felt one of Whisehunt's first moves would be to bring in Russ Grimm as offensive line coach, but that didn't happen. . . . Tailback Chris Johnson may not be back in Tennessee in 2014, as some have speculated, but the reality is that Whisenhunt really has an open mind about the speedy back so far. . . . New Orleans officials feel they have pretty solid analytics on their side if they are forced into a grievance battle over whether Jimmy Graham is a tight end or a wide receiver. The preference is to avoid a franchise-tag fight by getting Graham signed to a long-term deal. That said, the Saints have some cap issues. . . . NFP is told that a few NFL defensive position coaches sniffed around the defensive coordinator vacancy at the University of Georgia after Todd Grantham bolted to Louisville last week. And why not, given that the job pays $850,000 annually. But the Bulldogs hired Jeremy Pruitt away from national champion Florida State and, we hear, never really spoke to any of the interested NFL assistants. . . . San Francisco coach Jim Harbaugh is the first man to take his team to a conference championship game in his first three years on the job. . . . Peyton Manning is said to be gaining a lot more confidence in rookie tailback Montee Ball, especially as a clutch, short-yardage runner, but still prefers the veteran Knowshon Moreno in protection situations. . . . People close to Michael Vick have quietly begun to try to gauge where there might be opportunities for him in 2014. And while they haven't concluded yet that Vick may have to settle for a No. 2 job, that seems to be the increasing impression. . . . It sure sounded from Indianapolis general manager Ryan Grigson last week that the Colts will try hard to upgrade the secondary in the offseason. The first move may be to try to keep safety Antoine Bethea off the free agent market. . . .
+BY THE NUMBERS
*Dating back to 2011, San Francisco has had at least one individual 100-yard receiver in all seven postseason games under Harbaugh, with eight such games total in t hat stretch. That's a league record for consecutive playoff contests with a 100-yard receiver. Tight end Vernon Davis has four of the games, and wide receivers Michael Crabtree and Anquan Boldin have three and one, respectively. In the six games Harbaugh has coached against Seattle, the 49ers have never had an individual 100-yard receiving performance. The best outing was on Dec. 8, 2013, when Boldin had 93 yards.