April 10, 2011 -
Dan Pompei
NFP Sunday Blitz
Conventional wisdom says the positions that carry the most value in the draft are quarterback, offensive tackle and pass rusher.
New wisdom says quarterbacks are as important as ever, but interior offensive linemen and defensive tackles may be becoming more important than their edge counterparts.
What's changed? Offenses.
Because protecting the quarterback is more difficult than ever, and arguably more important with the way teams are emphasizing the pass, we're seeing fewer and fewer deep drops. It's all short drops and quick throws. That minimizes edge rushers. And it also makes the offensive tackles less important.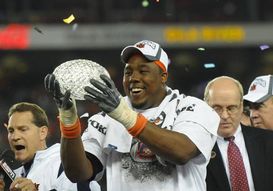 ICONDefensive tackles like Nick Fairley could end up being rewarded on draft day.
However, interior pass rushers have become more important. If a defensive tackle can penetrate, either through power or quickness, he can force a quarterback to adjust even on a well executed short drop that's intended to yield a quick pass. "Because the ball comes out so quickly so you have to be able to push into the quarterback, take away his ability to step up and force him to stay deeper in the pocket," said one head coach who is considering taking a defensive tackle very high in the draft. "So an explosive pass rusher, whether it's a three technique or nose, who can give you inside push has become more important."
Defensive tackles had 13 percent more sacks in 2010 than they did the year before, according to STATS. And last season, 32 percent of sacks by defensive linemen came from defensive tackles. The year before, 27 percent of defensive line sacks came from DTs.
"If you can get a guy like Ndamukong Suh or Gerald McCoy or possibly a couple guys this year, maybe that value is more than that pass rushing defensive end now," one general manager said.
And the best way to stop a defensive tackle like Suh or Sedrick Ellis is with a premier interior blocker like Logan Mankins or Jahri Evans.
Those kinds of players are difficult to find, and the draft is the best place to get them. That explains why defensive tackles Marcel Dareus and Nick Fairley are expected to be top 10 picks, and why Corey Liuget has been climbing up the boards. It also explains why guard/center Mike Pouncey keeps creeping higher on mock drafts, and why guard Danny Watkins is threatening to sneak into the first round.
Interior offensive linemen traditionally are not chosen high in the draft. It is not uncommon for the first round to pass without one being selected. But last year, the 49ers picked Mike Iupati with the 17th selection.
One front office man pointed to the Saints offensive line as a model for offensive lines moving forward. The Saints feature Pro Bowlers at right guard (Evans), left guard (Nicks) and center (Jonathan Goodwin). At tackle, they have a couple of players who most scouts rate as average in Jermon Bushrod and Jonathan Stinchcomb.
This may be new wisdom, but part of it is conventional, too. Remember the old adage about being strong up the middle? It never made more sense than it does today.
Things I Didn't Used To Know
*The reports out of Indianapolis were that Blaine Gabbert was very impressive in interviews. Now the reports out of Gabbert's team visits also are very positive. One team said Gabbert "blew us away" on the board. His knowledge of schemes, coverages and pressures is exactly what NFL teams are looking for. Some teams are starting to believe that even though Gabbert might not have the ability of Cam Newton or other quarterbacks who usually are chosen at the top of the draft, his feel for the game might make him a better pro.
*A mini-trend this year, according to several front office men, is that teams are not giving prospects a particular grade just because those players are "supposed to" have that grade, as per the rest of the league. It seems that teams are more inclined to go out on a limb with players, even if their thinking is unconventional. The result could be more surprise picks, especially towards the end of the first round.
*New Titans coach Mike Munchak is plenty opinionated, but he might have less to say about who the Titans will draft than Jeff Fisher did. Given Fisher's tenure and experience, he was a powerful voice in the draft room. Munchak is still learning the ropes as an evaluator of players other than offensive linemen.
*Speaking of new coaches, Jim Harbaugh has been soaking up the draft process at the 49ers headquarters, trying to learn as much as he can. Harbaugh has been watching tape all day with the scouts, barely saying a word unless he is asked a question. When he's asked though, I hear he always has something honest, relevant and perceptive to say about how a player might fit into his systems.
*A number of teams decided to save their pennies during the lockout by sending fewer people to pro days. It was a smart way of slashing the budget without throwing victims under the bus and killing morale. Is there really a good reason for a team to send a half dozen representatives to witness a workout? The value in pro days has diminished in the eyes of many NFL men.
My Sunday Best: Head Coaches Who Did Not Play in the NFL
Last week I gave you my best head coaches who played in the league. Now, head coaches who were not NFL players get their time. What's interesting is the coaches who did not play are more impressive than the ones who did.
1. Bill Belichick. Winning three Super Bowls in the free agency era and making it to a fourth with an undefeated team may be the most impressive accomplishment in NFL coaching history.
2. Vince Lombardi. He was the perfect coach for his era, molding a team and winning five NFL championships. If he had lived, who knows how many more he would have won. His .738 winning percentage is third best of all-time.
3. Paul Brown. This football pioneer changed the game with his ideas and methodology, and founded two teams. He also knew how to win, as his seven championships attest.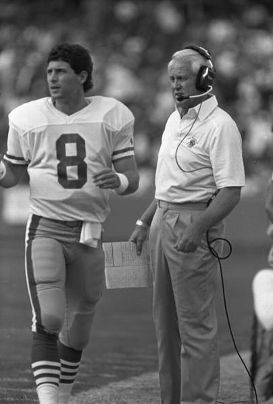 One of the greatest of all time by any measure was Bill Walsh.
4. Bill Walsh. He won three Super Bowls in a decade, and could have won more if he didn't step down before he had to. And aside from that, he left a bigger footprint on the game than any coach from the modern era.
5. John Madden. I'm including him on this list because he never played an NFL game even though he was a draft pick of the Eagles. Madden's .763 winning percentage is second best of all time.
6. Joe Gibbs. He won three Super Bowls with three different quarterbacks, which speaks to his offensive system, game planning and play calling.
7. George Allen. This defensive innovator never won a championship, but he did have the fourth best winning percentage ever.
8. Marv Levy. This erudite hall of famer made it to four Super Bowls. He had a similar record to Bud Grant, who I inadvertently omitted from the list of best head coaches with NFL playing experience.
9. Hank Stram. He was an innovator and a winner who matriculated to Canton.
10. Bill Parcells. I suspect Parcells will get his day in Canton too. He was a seventh round pick by the Lions but never played in a game. Parcells has been a huge NFL presence for three decades.
Scout Talk: Impact Rookies
Given the uncertainty over the labor situatio n, many NFL teams will put a premium on draft prospects who are NFL-ready this year, Rookies may not be afforded the luxuries of minicamps, offseason playbook study or even a full training camp. Slow learners are very likely to waste their rookie seasons. These are some of the prospects who are best positioned to contribute quickly as rookies, according to front office men I have spoken to.
Prince Amukamara, Nebraska CB—With his skill set and intelligence, there is no reason he can't line up from day one and start in the NFL at a position that is not as difficult as others for rookies to play. Amukamra has more playing experience than most draft prospects.
Anthony Castonzo, Boston College OT—Other offensive tackles may have more upside, but none is as polished and ready for the NFL. He started 53 games at a school that has been a factory for offensive linemen, and was all-ACC three times.
Julio Jones, Alabama WR—He came out of college a year early and plays a position that usually is not kind to rookies. But Jones is special. He was a star as a freshman at Bama, and should be a quick study in the NFL as well. His competitiveness will serve him well. Scouts see him as more NFL-ready than A.J. Green, who could take awhile to learn a pro offense.
Cameron Jordan, Cal DE—You've got to like a prospect who played in 50 games against big time competition. Jordan probably has the versatility to play in any scheme, but in the immediate future, he's most likely to help a team as a pass rusher.
Ryan Kerrigan, Purdue DE—He has been making big plays for four seasons. His lack of NFL experience should not limit his hustle.
Von Miller, Texas A&M OLB—His early contributions are somewhat dependent on going to a team that plays a scheme he fits well in. But Miller has a long history of production, and everything it takes to make plays early in his career.
Christian Ponder, Florida State QB—He is the most NFL-ready quarterback in the class. Ponder was a three year starter. He is one of the few elite quarterback prospects who played in a pro style offense. And he has the intangibles and intelligence (he's working on his doctorate) to blend in quickly.
Mike Pouncey, Florida C/G—His twin brother was a Pro Bowler as a rookie. In the right system, Pouncey can have quick NFL success as well.
J.J. Watt, Wisconsin DE—His focus and versatility should serve him well early in his NFL career. Watt is one of those players who will find a way.
One Man Yelp: Life
Gimme Shelter, one of the greatest rock songs ever, is about war, right? I suppose it is, but after reading Life by Keith Richards, I discovered it's about a different kind of war—the war between Richards and Mick Jagger.
The inspiration for the song was Richards' feelings about his girlfriend Anita Pallenberg having an affair with Jagger. The words came to him while Jagger and Pallenberg, who would be the mother of three of Richards' children, were shooting the movie Performance together. "I feel the storm is threatening my very life today." And, "War, children, it's just a shot away."
Writes Richards, "…at the time I wasn't thinking about, oh my God, there's my old lady shooting a movie in a bath with Mick Jagger. My thought was storms on other people's minds, not mine… Only later did I realize, this will have more meaning than I thought at the time."
That was a brief glimpse into a wonderful book. It's filled with incredible detail. I received the book as a Christmas present, and just recently got through the 564 pages. Richard's recall, which no doubt is helped along by co-author James Fox and a bevy of friends, is incredible.
He takes us on the tumultuous journey of the Rolling Stones' career with incredible candor. Richard, who now is 67-years old and has killed more than his share of brain cells with various forms of abuse, writes with great clarity about the phenomenon the Stones became in the 1960s.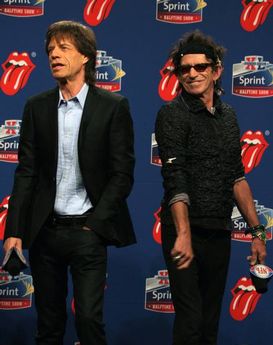 The relationship between Mick Jagger and Keith Richards is fascinating and complex.
He tells a story about walking back onto the stage a couple hours after a show one night. "… they'd cleaned up all of the underwear and everything, and there was one old janitor, night watchman, and he said, 'Very good show. Not a dry seat in the house.'
"Maybe it happened to Frank Sinatra, Elvis Presley. I don't think it had ever reached the extremes it did to around the Beatles and the Stones time, at least in England. It was like somebody had pulled a plug somewhere. The '50s chicks being brought up all very jolly hockey sticks, and then somewhere there seemed to be a movement when they just decided they wanted to let themselves go. The opportunity arose for them to do that, and who's going to stop them? It was all dripping with sexual lust, though they didn't know what to do about it. But suddenly you're on the end of it. It's a frenzy. Once it's let out, it's an incredible force. You stood as much chance in a [expletive] river full of piranhas. They were beyond what they wanted to be. They'd lost themselves. These chicks were coming out there, bleeding, clothes torn off, pissed panties, and you took that for granted every night. That was the gig. It could have been anybody, quite honestly. They didn't give a shit that I was trying to be a blues player."
Some of my favorite revelations:
*He thinks Jagger is one of the best harp players in the world "on a good night," and also finds him to be a brilliant maracas player.
*Richards wrote "Satisfaction" in his sleep, and recorded it. He had no recollection of the song when he awoke, but it was on tape.
*The idea for "Wild Horses" came from Richards and was about his first son. But Jagger, as often was the case, took the idea and ran with it. This time, he apparently was inspired by his girlfriend Marianne Faithful.
*He says that he and Jagger are not friends, but are "the closest of brothers," and writes that if anybody else were to say a bad word about Jagger, he'd "slit their throat."
If you are even a casual fan of the Stones, or are appreciative of the history of rock or even interested in celebrity life, this is a book you simply have to read.
Hot Reads
*This might not be the time and place for the NFL players to accept HGH testing, but HGH testing will become a part of the league, and the league will be better for it.
*You might want to think twice about drafting Martellus Bennett, who might not be his quarterback's favorite target this year.
*The only reason I would want a piece of the Metrodome roof is if I forgot to pack a hankie.
Dan Pompei covers pro football for the Chicago Tribune at chicagotribune.com.