September 26, 2010 -
Dan Pompei
NFP Sunday Blitz
It hasn't taken long for six head coaches to stir the quarterback pot.
There are QB issues of sorts in five NFL cities, and the season is not yet three weeks old.
Here is a look at each.
Bills
Short term impact: Replacing Trent Edwards with Ryan Fitzpatrick is an admonition of a mistake. Edwards' shortcomings had been well documented in three previous years in Buffalo. Fitzpatrick could give the Bills a boost of energy.
Long term impact: The Bills knew they needed a quarterback to build their team around before this move, and they still need a quarterback to build their team around. Andrew Luck, anyone?
Eagles
Short term impact: Eagles fans won't boo the quarterback.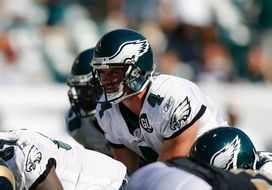 ICONKevin Kolb's future may not be in Philadelphia.
Long term impact: Michael Vick should resurrect his career and make the Eagles a contender. He very well could force the team to sign him to a contract extension, and trade Kevin Kolb. The Eagles can be a better team with Vick than they could be with Kolb. It's indisputable, which is why Andy Reid had no choice but to make the move. Kolb still has long term potential as a quarterback, but it's difficult to play a young passer when you have a dynamic playmaker on the bench like Vick—especially in Philly.
Jaguars
Short term impact: Getting pulled in the fourth quarter shouldn't have shaken David Garrard's confidence as much as throwing four picks should have.
Long term impact: Garrard is going to be the quarterback for the Jaguars this year, and everyone knows it. That probably was the case even before Luke McCown went on injured reserve.
Panthers
Short term impact: It's hard to believe Jimmy Clausen is more prepared than Matt Moore to help this team win games. But he is more talented, and John Fox is hoping that talent can be translated into team success.
Long term impact: Fox has nothing to lose. He's in the last year of his contract and his team is 0-2. Chances are very good he won't be in Carolina next year. He could stick with Moore and hope to end up .500. Or he could gamble on Clausen and go high risk/high reward. From an organizational perspective, it's also not a bad idea to begin the development of the Panthers' QB of the future.
Raiders
Short term impact: The Raiders say they have three quarterbacks. Which is the same as not having one. It probably doesn't matter whether it's Jason Campbell, Bruce Gradkowski or Kyle Boller. It's Gradkowski's turn now, which means the Raiders might try to be a little more conservative offensively.
Long term impact: The Raiders haven't had a quarterback since Rich Gannon left town, and they still don't have one. It will be back to the draft board for the Raiders come April. Who is the JaMarcus Russell of 2011?
Titans
Short term impact: Vince Young is the kind of quarterback who needs an occasional pinch. He got one Sunday from Jeff Fisher when Fisher sat him down. Young, and the Titans, should be better for it when they play the Giants Sunday.
Long term impact: There will be no long term impact unless Young sulks and pouts and allows there to be a long term impact. Fisher still has enough confidence in his quarterback, but Young needs to reward that confidence.
Things I didn't used to know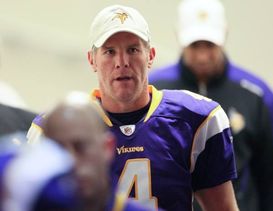 ICONBrett Favre isn't usually hesitant about voicing his opinion.
*A few years back, Brett Favre made his feelings very clear about wanting the Packers to acquire a veteran receiver. And in training camp this year, he lobbied for the Vikings to give Javon Walker a look-see. But Favre was not stumping for his team to trade for Vincent Jackson. Acquiring Jackson may have helped the Vikings, but it probably would not have been a popular move in the Vikings' locker room. Why? In order to acquire Jackson, the Vikings would have had to pay him and tie him up for more than one year (especially if they had given up a second round pick or more in a trade with the Chargers). But there already is a long line of Vikings waiting to get paid. Among them are Adrian Peterson, Sidney Rice, Ben Leber, Chad Greenway and Ray Edwards. Favre may have been keeping quiet so he didn't step on any toes.
*It's no wonder Green Bay's Clay Matthews is leading the league in sacks. He has the perfect combination of skill and attitude. Instead of going through his career with the mindset of the first round pick he was, Matthews approaches football like the player who never was recruited coming out of high school, which he also was. He told me being overlooked is still a "driving force" for him. "I still feel I have something to prove each and every play," he said.
*The Bengals are very pleased with the behavior of the artist formerly known as Pacman, and currently known as Adam Jones. And they are also pleased with his on-field contributions. "Talk about a 180," Bengals coach Marvin Lewis told me. "He's still a little rough around the edges, but inside he's a little kid who just wants somebody to hug him."
*NFL Films, thanks to the fine work of Ed and Steve Sabol, has more footage of one subject matter in its building than any building in the country with the exception of the Library of Congress, which has more World War II footage.
*And on the subject of footage, tapes of college games from the 2010 season should start to trickle in to NFL teams via the league dub center this week. Tapes have been hard to get (the proper way, anyway) because the league has been in negotiations with individual college conferences for the rights to the tapes. It looks like everything is settled now and NFL front offices can get down to business.
*Everyone lost when Sergio Kindle "fell" down that flight of stairs. The Ravens lost a player for at least a year. And Kindle lost a lot of money. As a second round pick, he was supposed to receive $1.7 million guaranteed. He ended up last week signing a one year deal for the rookie minimum of $320,000.
My Sunday Best: Top QBs all-time
Seeing another vintage performance by Peyton Manning last Sunday reminded me why I think he is the best player of his generation and one of the best quarterbacks in history.
In fact, I recently was asked to grade the greatest players ever as part of the blue ribbon panel for The Top 100: NFL's Greatest Players, the NFL Network Show currently airing (I highly recommend the show, by the way). I gave the highest grade possible to two quarterbacks—Manning and Otto Graham. I gave six others the next highest grade. Here are my top eight QBs in alphabetical order.
Tom Brady—His three rings say it all. This is a player who finds ways to win. He threw more touchdown passes in one season than anyone.
John Elway—He may have been the most physically gifted of all the greats, but what made him truly special was his ability to rise to the occasion. No one directed a game winning drive with as much flair.
Brett Favre—The greatest quarterback warrior ever and for my money, the toughest player in NFL history. He plays the game like the guy in his recliner would—taking big risks and going for broke.
Otto Graham—Compared with other quarterbacks of his era, he was off the charts. If winning is the standard by which quarterbacks are judged, no one compares. He played on seven championship teams in 10 years and finished with a record of 105-17-4.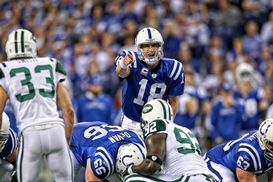 ICONPeyton Manning is one of the best by any measure.
Peyton Manning—No quarterback had better intangibles. Given the amount of responsibility Manning has for his offense, and considering the era he plays in, he is as valuable as any player in history.
Dan Marino—As a pure passer, no one compared. Marino was an artist with the football in his hand.
Joe Montana—He was the perfect quarterback for Bill Walsh and the West Coast offense. No one had more poise under pressure.
Johnny Unitas—The Joe DiMaggio of the NFL. For all he accomplished and all he represented, this is a true football legend.
Numbers games: Best passers ever?
I think we all agree that passer rating is a flawed statistic.
While passer ratings are interesting and relevant, they have become worthless barometers for comparing quarterbacks of different eras. Comparing the passer rating of Aaron Rodgers (97.1) to the rating of Bart Starr (80.5) is completely misleading. Because modern era passers are throwing more often and throwing more passes that are easy to complete, their passer ratings couldn't be any puffier if they were on steroids.
Only eight of the 30 hall of fame quarterbacks show up in the top 40 rated passers of all-time. Troy Aikman's career passer rating is the same as Jason Campbell's (81.6.) Fourteen of the top 20 passer ratings of all time belong to quarterbacks who played in the NFL last year.
Of the top 40 passer ratings of all-time (minimum 1,500 attempts), 24 belong to quarterbacks who have played the bulk of their careers in the new millennium. Eight of the top 40 are from quarterbacks who played in the 90s. Four are from QBs who played mostly in the 80s (Joe Montana, Neil Lomax, Bernie Kosar and Danny White). Two are from quarterbacks who played in the 70s (Roger Staubach and Kenny Anderson). And two are from passers who played in the 60s (Sonny Jurgensen and Len Dawson).
Many old-timers like Otto Graham (he had an 86.6 passer rating, which would have been tied for 14th) don't even qualify because they didn't have enough pass attempts.
Scout Talk: Practice squad strategy
Different teams have different objectives with their practice squads. Some see the eight-man squad as an opportunity to stash prospects who aren't ready, and a means to develop players for the future. Others see the practice team as a way to make the current team better.
An NFC personnel director said his goal is to have five guys on the squad who have a chance to eventually be on the 53. The other three spots are filled by players who are filling in for injured players in practice. At least two of the spots can rotate week to week, depending on those needs.
He said the makeup of his team's practice squad is dependent on the makeup of the 53-man roster. If the team has only two quarterbacks on the main roster, a third has to be kept on the practice squad.
Most teams like to have at least one wide receiver on the practice team, sometimes two, so the top three rostered receivers don't have to take scout team reps. Offensive linemen are popular practice squad players for the same reason.
But an AFC general manager says his team takes a different approach. He isn't as driven by the players' positions. "I don't call it a practice squad," he said. "I call it a developmental squad. We always look for the best available players. That's our objective. Sometimes you need to find guys to help you get through practice because of injuries though."
One Man Yelp: Iron Man 2
Out on video this week is Iron Man 2, a flawed but entertaining sequel that's even worth the inflated Blockbuster price. The movie is intriguing and filled with rich characters. Maybe too many rich characters. A lot is going on here.
Robert Downey Jr. again is excellent as the conflicted Tony Stark. He's a hero. But he's really kind of a turd. In real life, someone as self absorbed as Tony