September 12, 2010 -
Dan Pompei
NFP Sunday Blitz
There are 21 weeks of NFL football in a season, but no week quite like the first.
Opening day is always different — and it goes beyond the excitement and jitters that come from being first.
It's different because it's unpredictable. No team is the same as it was a year ago, and each coaching staff is planning a few surprises for its opponent. There are three new head coaches. Seven teams changed offensive coordinators. Eight teams changed defensive coordinators. Seven teams will have new starting quarterbacks — not including the Steelers.
It's different because every coaching staff spends more hours game planning for this game than any other. Each team has been preparing for opening day since the schedule was released last May, so no opponent gets scrutinized more than an opening day opponent. A lot of times you can tell who the best coaches are on opening day.
It's different because more than any other week, conditioning often plays a factor. The weather can be hot and humid. Players are unaccustomed to being on the field for four quarters. IV fluids usually are flowing.
It's different because every team feels good about itself. Optimism is the 12th man in every huddle. No team has been stained with a loss yet; no units have been weighed down by pessimistic reviews.
It's good to be alive on opening day. And it's good to be living in an NFL world.
Things I didn't used to know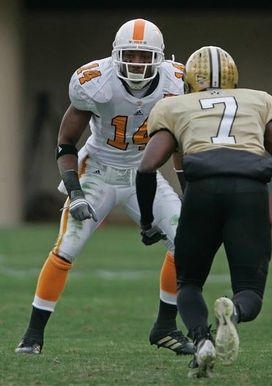 ICONRookie Eric Berry should bring the Chiefs leadership as well as solid play in the secondary.
*Chiefs head coach Todd Haley is serious about having his seven drafted rookies play important roles on his team. Before the Chiefs' final preseason game, his team captains were rookies Eric Berry, Dexter McCluster, Javier Arenas, Jon Asamoah, Tony Moeaki, Kendrick Lewis and Cameron Sheffield (he was injured so he only went out for the coin toss). And it was not a new experience for any of them. Each had been a captain in college. Haley already has Berry in the starting lineup. Lewis could join him in the starting secondary before long. Arenas figures to play as the nickel corner. McCluster is going to see time as a change of pace player on offense. And Moeaki should work his way onto the field as well.
*People who know Alex Gibbs were not surprised to see the mercurial coach walk away from Seattle on the eve of the season. What happened? Insiders tell me Gibbs, who is used to getting his own way, repeatedly clashed with offensive coordinator Jeremy Bates. He also did not agree with some of the personnel moves being made. Any team that hires Gibbs has to think of him more as the general manager of the offensive line than as an assistant coach.
*Gene Smith is making a very impressive mark as general manager of the Jaguars. In his two years running the show, Smith has made 15 draft picks. Every one of the players is still on the team, and they aren't just on the team because it makes the general manager look good. Six of them are expected to be starters, and several others are key reserves. "All the draft picks who stuck have earned their opportunity," Smith told me. "Nobody is on scholarship here, but we do have patience with draft picks. You draft them, you have to try to develop them. We're proud they've earned the opportunity."
*It is common for an NFL executive to switch teams and bring a good number of his players from his old team to his new team. And three Browns executives have done just that, making the team an interesting mix of former Seahawks, Eagles and Jets/Patriots. But based on their roster, the Browns still are looking more like Eric Mangini's team than Mike Holmgren's team or Tom Heckert's team. The Browns have 10 players who were with Mangini in either New England or New York. They have four players who were with Heckert in Philadelphia (one player, punter Reggie Hodges, was with both Mangini and Heckert at previous stops). And they have three players who were with Holmgren in Seattle.
My Sunday Best: Fantasy Football Picks
If I had to stack a fantasy football draft board, this is how I would do it.
1. Adrian Peterson, Vikings. He can score on the goal line as well as anyone, and get the long runs.
2. Maurice Jones-Drew, Jaguars. He had the second-most rushing touchdowns in the league last year, and he could be better behind an improved O-line.
3. Michael Turner, Falcons. He should bounce back in a big way.
4. Chris Johnson, Titans. It could be difficult to improve on his performance last year.
5. Randy Moss, Patriots. An angry Moss should be a productive Moss.
6. Steven Jackson, Rams. If he gets some help from Sam Bradford, he could have really big numbers.
7. Drew Brees, Saints. He's a touchdown machine.
8. Aaron Rodgers, Packers. Great player in a great spot.
9. Frank Gore, 49ers. He's going to have a lot of chances.
10. Jermichael Finley, Packers. Be prepared to witness a lot of Lambeau Leaps.
Numbers games: New guys
Rarely will a head coach or general manager admit to being in a rebuilding mode. But they don't have to. Their 53-man rosters do it for them.
Any team that has more than 20 new players on its opening day roster isn't just tweaking things. It's doing some serious overhauling.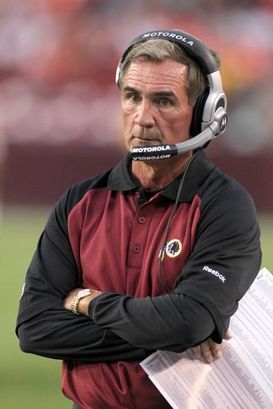 ICONNew Redskins coach Mike Shanahan is making plenty of changes in Washington.
Five teams have more than 20 new players. All but one of them have first- or second-year coaches.
The leaders in the clubhouse are Pete Carroll's Seahawks with 27 new guys. The Lions, in the second year of Jim Schwartz' reign have 25 new players. Mike Shanahan is putting his stamp on the Redskins in his first season with 23 new guys. The Rams have 21 new players, including Sam Bradford, the first pick in the draft.
The surprise team in the group that has made the most changes is the Dolphins. They brought in 20 new players despite being perceived as a team that could be on the verge of big things.
The Dolphins also kept ten rookies, which puts them in the top eight for most rookies. The others: Rams (14), Eagles (12), Bucs (12), Packers (11), Chiefs (10), Cowboys (10) and Patriots (10).
Some teams tried to rebuild on the fly with veterans. Those who brought in the most veteran players are the Lions with 18, the Seahawks with 17, the Redskins with 15, the Browns with 11, the Cardinals with 10 and the Broncos with 10.
The teams that brought in the fewest amount of new players are some of the best teams from 2009: the Vikings (eight new players), Saints (10), Chargers (10) and Falcons (10).
Here is the team-by-team breakdown.
Team New players Rookies Veterans (including first-year players)
Bears 11 4 7
Bengals 13 8 5
Bills 15 9 6
Broncos 19 9 10
Browns 16 5 11
Bucs 15 12 3
Cardinals 19 8 11
Chargers 10 4 6
Chiefs 16 10 6
Colts 13 6 7
Cowboys 12 10 2
Dolphins 20 10 10
Eagles 17 12 5
Falcons 10 7 3
49ers 14 7 7
Giants 13 7 6
Jaguars 16 8 8
Jets 16 6 10
Lions 25 7 18
Packers 12 9 3
Panthers 16 10 6
Patriots 17 11 6
Raiders 17 8 9
Rams 21 14 7
Ravens 12 8 4
Redskins 23 5 18
Saints 10 6 4
Seahawks 27 9 18
Steelers 17 8 9
Texans 13 7 6
Titans 14 7 7
V ikings 8 6 2
Scout talk: How many QBs?
The Chargers had planned on keeping two quarterbacks on their 53-man roster this year. But then the Bengals cut J.T. O'Sullivan. That forced San Diego general manager A.J. Smith to re-think his plans. Because of O'Sullivan's value, he decided to go with three quarterbacks after all.
The Chargers are in the majority. They are one of 23 teams with three quarterbacks on their opening day roster. Most head coaches prefer to have three arms available on game day in case disaster strikes, and lobby for a third. "Ken [Whisenhunt] always felt like keeping two puts you too much at risk," said Cardinals general manager Rod Graves. "Let's just say we sleep a little better at night with the third man on the roster."
Teams that keep only two quarterbacks active usually will have a player at another position prepared to be an emergency quarterback. Often, it's a player who has had experience at the position in college, like Anquan Boldin for the Ravens.
Seven of the nine teams that kept only two quarterbacks on their 53 have a third on their practice squad. Only the Patriots and Saints don't have a third passer to work with. Most teams see three as a necessity, even if the third can't play on Sunday. "Depending on the individual, it could be a developmental player, or just a third arm for practice," said Colts general manager Chris Polian, who has Peyton Manning and Curtis Painter on the active roster and Tom Brandstater on the practice squad. "You always want three to throw [in practice]."
Keeping two quarterbacks can give teams roster flexibility and more muscle for special teams. It's especially helpful if a team is dealing with injuries at other positions.
The usual mix most teams strive for is a starter, a proven backup and a developmental player. That developmental player can either be on the 53 or on the practice squad. If the developmental player is attractive to other teams, it's risky to put him on the practice squad, where he can be poached.
The Bears planned on putting rookie Dan LeFevour on their practice squad as their fourth. But when they waived him, he was claimed by the Bengals. Usually, teams don't claim developmental players on the final cut-down. The Bengals decided Jordan Palmer was ready to replace O'Sullivan as their No. 2, so they moved him up and they moved O'Sullivan out to make room for LeFevour.
Keeping three is one thing. Keeping the right three is something else.
One man yelp: The Mentor Leader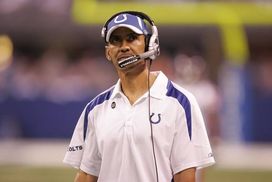 ICONFormer Colts coach Tony Dungy knows a thing or two about leadership.
Tony Dungy was a pretty successful football coach. Now he's become a pretty successful author, too. The Mentor Leader, co-written with Nathan Whitaker, has become his third best seller, and it's easy to understand why.
This book explains Dungy's leadership style — how it came to be and why he thinks the way he does. It's worth reading for anyone who finds themselves in a position of leadership — whether it's as a coach, a boss or a parent. Dungy gets his points across by using stories from many sources — the Bible, The Lion the Witch and the Wardrobe, Braveheart, D-Day and The Lord of the Rings, to name a few.
One of the strongest themes of the book is that mentor leaders put people first. It's something Dungy always tried to do as a coach, but something very few other NFL coaches prioritize.
Dungy puts it this way. "Shortsighted leadership focuses primarily on the bottom line. In football, it's wins and losses and playoff berths. Not that these things aren't important — they are. But when they become the primary focus of a business or a team, they inevitably result in an organization that is out of balance. Leaders whose definition of success depends on such a short-term focus — and by short term, I mean temporal, noneternal — will one day wake up to discover they've missed out on what is truly important in life, mainly, meaningful relationships."
Dungy asks that if you take one thing from his book, it's that relationships — both with people and God — are ultimately what matter. It is a perspective that is rare among NFL people.
There is an interesting passage in the book in which Dungy writes about the dirty practice of head coaches firing their assistants. Dungy fired Mike Shula as the offensive coordinator of the Bucs in 1999, and he still regrets it.
He writes, "Once, in Tampa, I allowed others to influence my decision to fire our offensive coordinator, even though I knew the coordinator was doing exactly what I wanted, exactly what we had agreed he should be doing. I convinced myself at the time that I was saving other jobs by sacrificing one. I also believed I should give deference to those in authority over me.
"But that decision is still my single greatest leadership regret. If I had to do it again, I would stand my ground and do what I truly believed was the right thing. It might have meant I was fired, along with my entire staff…Sometimes sacrificing one for seventeen is just dead wrong — if it's done for the wrong reasons."
The NFL would be a better league if more coaches had Dungy's leadership ability.
*This story explains why Tony Romo gets all the hottest chicks.

Hot reads
*Don't be surprised if you hear talk next year about Bill Parcells jumping ship and taking on a bigger role with another team. The fact that he now is just a consultant for the Dolphins means he could be available. And it's inevitable that some teams will make a run at him.
*The former Seahawk who could help the Ravens the most isn't T.J. Houshmandzadeh — it's Josh Wilson. The Ravens were desperate for help at cornerback, and Wilson is more than capable of providing it. He's a quality corner with top speed, and he also is a very good kick returner. Getting him for a fifth-round pick was a bargain.
*The Albert Haynesworth saga is not going to end well in Washington. The Redskins should cut their losses and deal him to Tennessee for whatever they can get. The Titans have the only coach in the league who can handle Haynesworth. That's Jim Washburn.
*It looks like people are finally admitting that the Wildcat was just another gimmick — here today, gone tomorrow. So much for revolutionizing the game.
Email Dan Pompei your questions at dan.pompei@nationalfootballpost.com