November 26, 2011 -
Barry Dorey
NFP Sunday Blitz
With Matt Schaub now a spectator, it never has been more imperative for the Houston Texans to control games with defense. The good news is they have been very capable of controlling games with defense.
Their defense has gone from being ranked 30th in the NFL last year to first this year. They also rank third in offensive points allowed, and their defense is the third-best according to the Aikman Efficiency Rankings.
Houston defensive coordinator Wade Phillips tells me he doesn't plan on changing much to offset what is happening with the Texans' offense. He's already made enough changes.
After the Texans hired Phillips in the offseason, I had doubts about whether the personnel would fit Phillips' 3-4 scheme. Either Phillips can make almost any kind of player fit his scheme, or the Texans had a number of players who are better in a 3-4 than they were in a 4-3.
The Texans do have four new starters in J.J. Watt, Brooks Reed, Jonathan Joseph and Danieal Manning, all of whom have made significant contributions. But some of the holdovers, especially inside linebacker Brian Cushing and defensive end Antonio Smith, are playing some of the best football of their careers.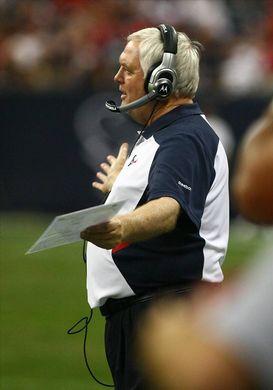 Texans defensive coordinator Wade Phillips specializes in quick turnarounds.
Phillips knows the 3-4 and what kinds of players it takes as well as anyone. He was the linebackers coach on the 1976 Houston Oilers team coached by his father Bum that was the first team to run the 3-4 full-time. Among the players on that team were nose guard Curly Culp, defensive end Elvin Bethea, outside linebacker Robert Brazile and safety Mike Reinfeldt.
So when he looked at Mario Williams, it didn't take long for Phillips to figure out he could go from a 4-3 defensive end to a 3-4 outside linebacker.
"We've had all different kinds of guys play outside backer, and we've identified the kinds of guys who can do it and who can't," Phillips said. "You fit the people into your system that you've done for a long time. The guys who can't drop as well, we don't drop them much. Good rushers, we rush them all the time. Shawne Merriman, when I had him, we didn't drop him very much.
"The nose guard position, everyone was up in arms because we didn't have a 500-pound nose guard like we had in Ted Washington in Buffalo. But Jay Ratliff, who I had in Dallas, is smaller than the guys we have here, and he's in the Pro Bowl every year. I've had five different nose guards in the Pro Bowl, and all were different. Greg Kragen in Denver was real small, so we stunted him a lot."
Phillips is doing the same with his current nose guard, Shaun Cody, and he has been effective. "You play different techniques with those guys," he said. "You adjust to what the players can do. It's not what I can think of. It's what the players can do within the system."
Everyone thinks of a three-man front as a big, physical unit that two-gaps as the Steelers do. Phillips doesn't see it that way — necessarily. The Texans aren't two gapping much at all because that isn't what their personnel does best.
Cushing was a very good outside linebacker in a 4-3. He is a better inside linebacker in a 3-4, and could even be a candidate for defensive player of the year. "Playing inside, he's able to get to more plays," Phillips said. "Outside you're more limited. You can't run away from him now. If you put him on one side, they can run the other way."
What's interesting is, so far anyway, Phillips' system has been so good that it hasn't been affected by the loss of Williams. The Texans' best defender played in only the first five games of the season before going on IR with a torn pectoral muscle. The defense has changed some, with Reed and Connor Barwin both assuming some of Williams' responsibilities.
A defensive turnaround isn't anything new for Phillips. This is the eighth time he has become a defensive coordinator, and in seven of those instances, the defense has made a dramatic jump. The one time the defense did not improve statistically was when he became the coordinator of the 1986 Eagles, which really was Buddy Ryan's defense, not his.
On average, not including the Texans or Eagles, the defense Phillips took over has moved up in the rankings 11 spots in yards allowed and 13 spots in points allowed. "Mainly when I've come in it's because the defense had problems, so you have to try to get things done quickly," Phillips said. "I've been in a lot of good situations. The head coaches I've worked for have been good in that area. And it turned out we had some good players."
It turned out many of the players were better under Phillips.
Things I Didn't Used To Know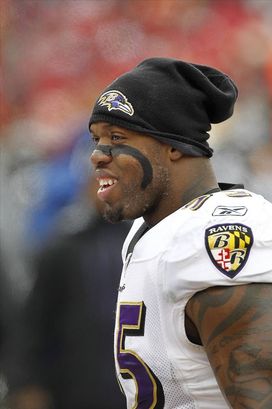 Terrell Suggs is becoming known as a player who performs his best in big games.
*The most important player to the Ravens defense may be Terrell Suggs, not Ray Lewis. Lately, the Ravens have gone as Suggs has gone. While the Ravens have won two games in the absence of Lewis, eight of Suggs' nine sacks have come in victories this year. He has been at his best in the Ravens' biggest games. He had three sacks against the 49ers last week. He also had another three-sack performance against the Steelers in one game, and had an interception in another game against the Steelers. Suggs is known as a great pass rusher, but he also may be the best run-defending outside linebacker in the game, in the opinion of one personnel director.
*A number of people around the league are not surprised to see Matt Moore look like an NFL starter for the Dolphins. There is a school of thought that says he can be more than a replacement for an injured player. One of the first men to take a liking to Moore back in 2007 was Jason Garrett, who was the Cowboys offensive coordinator when Moore was brought to Dallas as an undrafted free agent. Even though Panthers coach Ron Rivera cut Moore this summer, he gave him a solid recommendation to anyone who inquired. The Panthers felt they had to keep Jimmy Claussen and they wanted a player with more experience behind Cam Newton, so Derek Anderson was kept ahead of Moore. The Dolphins have helped Moore by giving him manageable game plans, but scouts say he is smart, poised and talented enough to win games when he has to.
*Kam Chancellor is getting some notoriety because he was fined $60,000 for committing personal fouls in consecutive weeks, but front office men and coaches have been talking about him all year. Chancellor is reversing a trend for the Seahawks. While most teams are interested in smaller safeties who can cover like corners, Chancellor is a virtual giant at the position at 6-3, 232, and he's not a burner with a 4.62 40-yard dash. But before Chancellor was drafted, Seahawks scouts noticed he can bend. Though Chancellor is big and physical, he is flexible. He played cornerback for a year at Virginia Tech, so he at least has an understanding of coverage. The Seahawks, in fact, have been matching him up on tight ends. It will be interesting to see how the second-year man develops and if offensive coordinators will start to exploit him.
*Jay Cutler's injury might not mean the Bears are finished. Offensive coordinator Mike Martz tells me he believes Caleb Hanie has progressed significantly since last season, when Martz was not comfortable with Hanie as the No. 2 quarterback. In particular, Martz said Hanie is very accurate and can throw the deep ball well. Of all the quarterbacks Martz has worked with, he said Hanie reminds him most of Trent Green because like Green, he has competence in everything. He also said Hanie and Green have the same kind of personality and approach to preparation. One difference: Martz said Hanie is more athletic.
My Sunday Best: Kick Returners
I gave you my best punt returners in the league last week. So here, with some help from special teams coaches and front office men, are my best kick returners. We've already had six kick return touchdowns of 100 yards or more this year, which is fifth most in NFL history. So you know there are some really good return men out there.
1. Devin Hester, Bears. He is the No. 1 punt returner and kick returner. He approaches kick returns with a punt returner's mentality. Instead of firing straight ahead, Hester is more likely to try to set up his return and do some hesitating and back and forth before he takes it to the house.
2. Percy Harvin, Vikings. Nobody hits it harder than Harvin. With unusual strength and a low center of gravity, he often runs right through tackle attempts.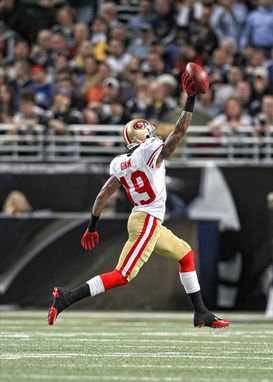 Ted Ginn has struck this pose a few times.
3. Tedd Ginn, 49ers. Another dual threat (punts and kicks), Ginn likes to bounce the return outside and then use his unusual speed.
4. Randall Cobb, Packers. He has the potential to be the best given his speed and strength. The rookie is very good now, but still a little inconsistent.
5. Joe McKnight, Jets. He is very decisive, and doesn't have any wasted motion. It's all north and south with McKnight. He benefits from great blocking schemes, as Mike Westhoff is one of the best kick return designers.
6. Danieal Manning, Texans. He's hurt now, but this return man has a dangerous combination of speed and fearlessness.
7. Jacoby Ford, Raiders. He is a true kick return specialist. Ford likes to bounce it outside.
8. Darren Sproles, Saints. Sproles might not be quite as dangerous as he was a few years ago on kick returns, but he's still mighty good.
9. Josh Cribbs, Browns. He would have been ranked higher a couple of years ago, as Cribbs has gone 27 games without a kickoff return touchdown and is giving more attention to his offensive responsibilities these days. But when he gets going, he still can go through a coverage team like a bowling ball.
Scout Talk: Safeties in the 2012 Draft
There aren't any Sean Taylors in this draft, but teams looking for a solid safety prospect will find a number of them. From the way scouts are talking in November, eight senior safeties could be chosen in the first four rounds.
The best of the bunch is Alabama's Mark Barron, who likely would have been the first safety taken in 2011 if he came out early. Barron is the complete package at the position with size, toughness, athleticism and intelligence.
Some scouts like Notre Dame's Harrison Smith almost as much. Smith, who can play free or strong safety, has moved up to the point where he could be a late first round consideration.
On the next level of safety prospects are Oklahoma State's Markelle Martin and Boise State's George Iloka. Both have enough athleticism and ball skills to be starting free safeties in the NFL.
Trent Robinson of Michigan State has been a hot prospect. Even though he is small at 5-10, 200 pounds, he is fast and explosive. He could merit a third round pick.
Other safeties to keep an eye on are Wisconsin's Aaron Henry (a strong safety prospect who will hit), Virginia Tech's Eddie Whitley (he may not be the fastest but he is athletic) and South Carolina's Antonio Allen (good instincts and toughness).
There also has been some buzz about three underclassmen who may enter the draft. All three are second to third round possibilities. They are Southern Cal's T.J. McDonald, a tall, rangy free safety, Miami's Ray Ray Armstrong, a very talented prospect who has played inconsistently, and Miami's Vaughn Telemaque, a big hitter with ball skills.
One Man Yelp: Hugo
I'll see anything Martin Scorsese makes. Hugo is not the typical Scorsese film, if there is such a thing. What I mean is, it's a far cry from Raging Bull and Casino. But as he did in those movies, Scorsese excels at drawing the viewer in, taking you to another world, and telling a story. In this case, the movie is an adaptation of the best-selling novel The Invention of Hugo Cabret.
It's the story of an orphan who tries to connect with his father by repairing an automaton that his father had been working on. In the process of fixing the automaton, Hugo fixes much of what is wrong in his world, including his relationship with a bitter French film pioneer who has grown bitter in his old age. The movie also chronicles the birth of cinema, and Scorsese's love of movies and their history clearly comes through.
This is Scorsese's first 3-D movie. I'm not a big fan of 3-D, but it works well here, with panoramic shots of Paris and snowflakes you can almost feel touch your skin.
I won't call this one of my favorite Scorsese movies, but I liked it, and I think the large majority of people who have seen it liked it as well.
Hot Reads
*Nice to see the city of New Orleans and the Saints trying to give a little back to Steve Gleason, in his fight against ALS.
*The Broncos saved $2.604 million by waiving Kyle Orton, but what if the new Chiefs QB costs them their season?
*If Ndamukong Suh is bored during the suspension that you know is coming, he still can work in professional sports. The WWE pays big money for moves like the ones Suh trotted out last Thursday.
*What Suh may need more than a suspension is a course in anger management.
*It's too early to declare Devin Hester a hall a famer. Or to declare him not a hall of famer. No one makes the hall of fame in six seasons. It even took Gale Sayers seven, and he was an exception.
*The Ravens should include a dreadlock clause in Torrey Smith's next contract. The longer the dreads,