December 19, 2010 -
Dan Pompei
NFP Sunday Blitz
How Cameron Wake came to be the NFL's sack leader with 14 is a story that defies logic.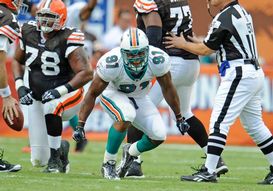 Wake went from a player who couldn't get a job to a pass-rushing terror.
It begins back in 2005, when the player known as Derek Wake [Cameron is his middle name] is an outside linebacker with pass rush ability at Penn State. He is the kind of player who divides NFL scouts. One tells me he doesn't think much of him, and he should be a late round pick. Another likes his athleticism and thinks he can fit in a 3-4 or a 4-3. He says he is a third or fourth rounder. A third says his athleticism is very intriguing, but he doesn't see him convert the athleticism to the field. Still though, he believes Wake will be chosen late in the second round. At the combine, Wake runs a 4.58 40-yard dash and vertical jumps an incredible 45-1/2 inches.
Yet, Wake goes undrafted. The Giants, one of several teams interested in him as a free agent, sign him. At the April post-draft minicamp, Wake shows up weighing 222 pounds, or 14 pounds lighter than he weighed at the combine. Coaches tell him to bulk up. He comes back about a month later weighing 210.
"We didn't know if he was sick or what," then-Giants general manager Ernie Accorsi told me. "He didn't look strong."
Coach Tom Coughlin doesn't want to keep him, and the Giants cut him before training camp starts. Wake becomes a mortgage broker and then a personal trainer. But the football bug never leaves him. The Giants bring him back in the 2006 offseason for another look, but he still is too small for him to get serious consideration.
The next year, a player who is called Cameron Wake signs with the B.C. Lions of the Canadian Football League. And he becomes a different player. He leads the league with 16 sacks. In 2008, he leads the Canadian League in sacks again, this time with 23.
In 2009, the NFL is ready to give him another shot. There are 13 teams interested initially, and the bidding comes down to the Dolphins, Colts, Vikings and Broncos. He chooses the Dolphins, in part because he likes their 3-4 scheme.
Two years later, he is statistically the league's best pass rusher. "This," Accorsi said, "has been an unbelievable transformation."
Accorsi might not recognize Wake if he saw him today. Wake weighs 255 pounds, or 45 pounds more than what he weighed when he was cut in 2005. This is undoubtedly the key to Wake's turnaround. Wake's agent Paul Sheehy attributes this to "working his butt off."
He also says, "That was Derek Wake with the Giants. This is Cameron Wake with the Dolphins. He reinvented himself in Canada, and he is a completely different player."
Indeed he is. Even the Dolphins are a little surprised at how quickly Wake has acclimated to the NFL. Like Sheehy, they point to Wake's work ethic, his developing confidence and his innate ability to bend. As Wake continues to develop and learns to mix in pass rush moves, there is no telling how dominant he can become.
Things I Didn't Used To Know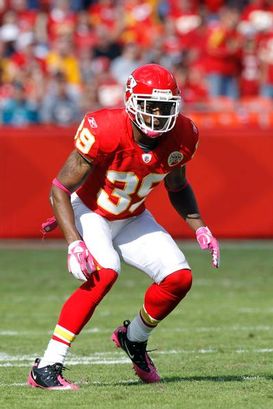 You might not know much about Brandon Carr, but you should.
*Brandon Flowers gets most of the attention among the Chiefs' cornerbacks. But the guy playing across from him on the right side quietly has done an outstanding job this season and helped position the Chiefs for a playoff run. Opponents have thrown at Brandon Carr 90 times this season—only five corners in the league have seen more throws, according to STATS. Yet Carr has a "burns per target" ratio of 40.0—which is third best in the NFL behind only Darrelle Revis of the Jets and Stanford Routt of the Raiders. What's more, Carr has 18 passes defensed—second most in the NFL. "I had a bitter taste in my mouth from the way I played last year," Carr told the NFP Sunday Blitz. "This year, I wanted to get my hands on a ball or two week in, week out. They say third year is the make or break year. I think I've progressed as a corner." Carr said he has been targeted so frequently because teams don't want to challenge Flowers. That's fine with him. The Chiefs play man-to-man about 90 percent of the snaps, and the defense plays into Carr's strengths. "I like to use my size and speed, and get my hands on receivers," Carr said.
*The Bucs couldn't have lost rookie DT Gerald McCoy at a worse time—in the midst of their final playoff push. McCoy, who was looking forward to a showdown with fellow rookie DT Ndamukong Suh of the Lions on Sunday, was just starting to hit his stride in the last month. My Bucs peeps tell me McCoy had been playing well all season, but he just started making the splash plays recently. McCoy, who tore his triceps last week and is out for the year, was just starting to get accustomed to the speed of the NFL game and learning to string moves together.
*It's beginning to look like Eric Mangini may be replaced by Jon Gruden in Cleveland. All it will take is maybe $7 million a year. It's believed that the Browns job may be the only one that really interests Gruden. Browns president Mike Holmgren knows Gruden well from their days together in Green Bay and San Francisco.
*The Deion Branch revival may be more about the system than the player. Branch was a highly productive receiver in New England in 2005. In the five subsequent years he played for the Seahawks, his production wasn't the same. And now that he's back with the Patriots, he's putting up big numbers again. Branch, it's clear now, is not ideally suited for the West Coast offense that Seattle deployed. The most successful receivers in that passing game usually are big, strong athletes who can go inside and break tackles. They aren't necessarily great route runners. Branch, on the other hand, is an outstanding route runner who gets open by making precise cuts. And not coincidentally, that's what the Patriots passing game requires of its receivers.
*The door is expecting to be revolving soon in Carolina. Everyone knows John Fox is out after the season. Don't be surprised if he goes south to Miami if the Dolphins make a change. The connection? Fox is tight with former Chiefs president Carl Peterson, who could be running the Dolphins soon. And if the Panthers, as expected, go cheap, they could have interest in former Panthers assistant and current Broncos offensive coordinator Mike McCoy.
*At 32 and after battling cancer, Kevin Curtis has lost a little speed. But the receiver still ran well for the Dolphins in his workout. The hope is he can still contribute to the offense this year. But he also gives the team another benefit—he can help teach the young Dolphins receivers how to run good routes and get open.
*One defensive coach from an opposing team believes Lions guard Rob Sims is playing as well as any guard he has seen, though the chances are good that very few people have noticed.
My Sunday Best: Cold-Weather Teams
At this time of year, just being efficient isn't enough. A team also has to be resilient and adaptable, because cold weather and winter elements require teams to change their styles. Some teams, even some very good ones like the Falcons, Colts, Saints and Chargers, probably wouldn't fare very well in cold weather games. But others are built for cold weather challenges. These are my best cold weather teams.
1. Patriots . Playing well in snow and freezing temperatures is part of the Patriots culture. Bill Belichick prepares his team for unusual situations better than anyone. The Patriots always are a mentally tough team that can block out distractions like the weather.
2. Steelers. With arguably the best defense in football and a strong-armed quarterback, the Steelers are built for December and January. This veteran team has been through this cold weather wars before, which helps.
3. Giants. They are the only team in the NFL in the top five of both rushing offense and rushing defense. That should serve them well in winter.
4. Ravens. This is a big, physical team that can prevail in low scoring games. They have the potential to run the ball better than they have.
5. Chiefs. They have the best running game in the league, which should offset the fact that this is a young, inexperienced team.
6. Jets. The arrow has been pointing down for this team, especially offensively. But the Jets have all the components in place to thrive in winter conditions.
Numbers Games: New York Life Protection Index
Good news for the Colts. Even though they have not won games at the rate they have in recent years and there has been grumbling about their offensive line, the numbers say they have protected the passer as well as ever. And that bodes well for their future, according to a new proprietary formula developed by STATS called the New York Life Protection Index.
According to the formula, which uses length of a team's pass attempts combined with offensive line penalties, sacks allowed and quarterback hurries and knockdowns, the Colts have protected Peyton Manning better than any other team has protected its quarterback.
The Colts finished first in pass protection index last season, and lost in the Super Bowl to the team that finished third, the Saints. And since 2006, the Colts have not finished outside the top five. They have been first twice, second once and fifth once. Over that time span, they have averaged 12.8 victories.
There has been a strong correlation between how a team rates in Pass Protection Index and how many victories it achieves. In the last four years, teams that finished in the top 12 have made the playoffs more than 60 percent of the time and averaged 10.3 times.
The top 12 this year: Colts, Saints, Giants, Falcons, Patriots, Texans, Broncos, Cowboys, Lions, Chargers, Bengals and Seahawks.
Two of the better teams in the NFL, the Steelers and Bears, rank in the bottom four. The Steelers are 29th, and the Bears are 32nd. It will be interesting to see if they can overcome their pass protection deficiencies moving forward.
Scout Talk: Centers in the 2011 draft
If you consider Maurkice Pouncey a guard, there aren't many centers in the 2001 draft class to get excited about. The Florida interior lineman who can play center or guard is the only center possibility for the first two rounds.
The next best center undoubtedly is Stefen Wisniewski, the nephew of former Raider great Steve Wisniewski. Like his uncle, Wisniewski is a tough Penn State product. He also has some possibilities at guard because of his toughness, and actually has played the position this year. Wisniewski is average athletically, but he is fundamentally sound and he plays hard. He knows how to use his hands.
There is a dropoff after Wisniewski, who could go in the third round. The next highest rated prospect at this point is Southern Cal's Kris O'Dowd, who is tough and has some athleticism and size. O'Dowd needs to become more physical on the next level.
Oregon State's Alex Linnenkohl is a good run blocker with toughness. He also has instincts and has been coached well. He isn't real heavy or strong through.
One player to keep an eye on is Bradon Fusco of Slippery Rock. Even though level of competition is a concern, scouts have been streaming into Slippery Rock, Pa., to check out this athletic blocker.
Other players with a chance to get drafted are Arizona's Colin Baxter, Cincinnati's Jason Kelce, Utah's Zane Taylor, Notre Dame's Dan Wenger, Toledo's Kevin Kowalski and Syracuse's Ryan Bartholomew.
One Man Yelp: Lombardi
If you have HBO and haven't seen the documentary Lombardi, make sure you get to it. You won't be sorry. The show tells the story of how Vince Lombardi got to be one of the greatest coaches in history through a series of revealing interviews. Of particular interest were the interviews with his son Vincent and daughter Susan.
When informed that his father was taking a job in Green Bay, his daughter said she told him Green Bay wasn't even on the map. His prophetic response, according to her: "When I am done, it will be on the map."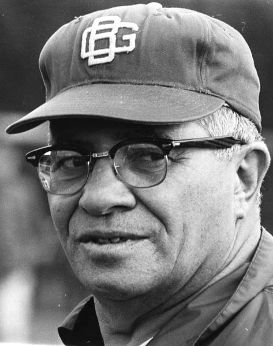 A new HBO documentary examines what made the great Vince Lombardi tick.
Lombardi wasn't always Lombardi though. When he first came to the Giants as offensive coordinator, he treated players like high school kids, according to Frank Gifford. The former running back said Lombardi was "kind of weird," and the players would hide his chalk. But Lombardi eventually talked with Gifford and Charlie Conerly about the problems he was having, and he listened to their criticism and advice. He changed as a result.
That was one of several ways Lombardi reminded me of coaches from later eras. Like Rex Ryan, he was open to suggestions from players. Like Tom Coughlin, he demanded players be early, not on time. "Lombardi time," they called it. Like Tony Dungy, his Christian faith was a part of his coaching style. Like Marty Schottenheimer, he was an emotional coach who was unafraid to cry. Like Jon Gruden, he worked incessantly and was completely engrossed in his job. His wife said she couldn't even talk with him early in the week. His secretary said if Lombardi ignored her, they sometimes would not speak all day. Like Bill Parcells, he was intent on doing things his way. When Lombardi was given a list of improvements the board of directors wanted to see, Lombardi crumbled up the paper and said, "I'll run the team."
It was interesting that Lombardi was a champion for the rights of African American players. He gave his blessing to Lionel Aldridge marrying a white woman at a time when that was almost unheard of. It made sense because Lombardi was discriminated against himself. When he was a lineman at Fordham, he got into a fight when a teammate called him over to compare him to another player with the words, "Let's see whose skin is darker." And later he learned he wouldn't be hired at Wake Forest because his name ended in a vowel.
This documentary offers many insights into this iconic coach who still casts a large shadow over the NFL 40 years after his passing.
Hot Reads
*If all Sal Alosi did was have his buddies line up foot to foot on the Jets sideline, he still would be drawing a paycheck this week. It was sticking that leg out that got him.
*Shouldn't it make Broncos fans nervous to hear that John Elway might be joining the team's front office? Great quarterback. Decent car salesman, apparently. But he has no credentials whatsoever to make football decisions.
*Here, here to Rich McKay's suggestion about having playoff teams seeded by records, as opposed to s eeding them by division winners.
*The Redskins long have been known as one of the most fickle organizations in the NFL. Their handling of Donovan McNabb is perpetuating that reputation.
Dan Pompei covers pro football for the Chicago Tribune at chicagotribune.com