December 26, 2010 -
Dan Pompei
NFP Sunday Blitz
The free agent road, we all know, is paved with fool's gold.
And then there is Julius Peppers.
The defensive end was the highest paid free agent in the 2010 class, and he clearly has been worth the money 14 games into his new career with the Bears. If Peppers continues to play the way he has, he will be regarded as one of the best free agent signings since another big, freakishly talented defensive end signed with the Packers 17 years ago.
Peppers should not be put in Reggie White's class, but like White, he has transformed a defense and made a mediocre team a very good one. Peppers' impact on the Bears goes beyond the plays he has made—it's also evident in the plays his teammates have made. "When you have a guy with his elite status and you see how he works in practice, how he prepares in meetings, that's impressive," Bears defensive coordinator Rod Marinelli told me. "He's here every day all offseason, hustling, working. That sets a bar for being a pro. Guys respect that and it elevates their own standards of work. Then, as a rusher, if he's getting doubled, so you've got to come through. You've got to come out and make some good rushes, take advantage of what he's creating for you."
When Peppers was in Carolina his reputation was that of a player who didn't always play hard every down, didn't always show up every game and didn't always do the little things it took to be great. If that was true, then getting paid has brought out the best in Peppers. "What stands out is how hard he plays with that talent he has," Marinelli said. "He is maxing his ability out—hustling down the field, sprinting down the field making plays. He's all over the field. We know he's a great rusher, but squeezing blocks, playing the run game well, run stunts, dropping in coverage. Everything we've asked him to do, the smallest thing—he's all over it. That's a real pro. He's taken great pride in every skill we've asked him to work."
Peppers might not be as acclaimed as some other defenders because he has only eight sacks. Seventeen players have more. But it's safe to say no player has had more good pass rushes. And no defensive player has had a bigger impact.
It's enough for Peppers to merit consideration as defensive player of the year. "He's had a great year," Marinelli said. "His film will speak. We all can talk about him, but his film speaks volume for him."
Things I didn't used to know
*The only Packers linebacker who gets much publicity is Clay Matthews, but A.J. Hawk has quietly is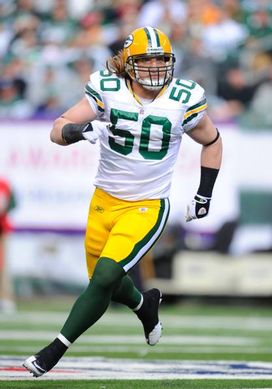 Clay Matthews isn't the only long-haired linebacker in Green Bay who is making plays.
playing Pro Bowl caliber football. "He has played on an extremely high level this year," Packers assistant head coach/inside linebackers coach Winston Moss told me. The fifth pick of the 2006 draft has taken his game to a higher level in his second season in Dom Capers' defense. Moss believes Hawk is playing with more instinct and has become a complete football player who is consistent from week to week. Hawk has had the extra burden this season of replacing injured Nick Barnett as the team's defensive signal caller. "He has complete command of our huddle, our calls and he gets the defense lined up," Moss said. "He has a quiet demeanor but commands the utmost respect. Based on all the transition we have had on defense with all the injured players, he has been a stabilizing force."
*Tony Gonzalez has been making some noises about retiring after this, his 14th NFL season. If so, the Falcons would miss the 34-year old's leadership as much as his play making ability. When the Falcons acquired Gonzalez from the Chiefs, his work ethic raised the expectations for the entire Falcons team. Falcons coaches tell me Gonzalez is non-stop action once hit hits the practice field, and now others on the team are working like he works.
*I'm hearing Vikings owner Zygi Wilf wants to keep Leslie Frazier as his head coach. Whether or not he keeps him might depend on if he believes he can sell Frazier, both to Vikings fans and the Vikings locker room. The Vikings need to engender all the good will in the community they can in order to get a new stadium built.
*A somewhat forgotten name who could resurface in the NFL this offseason is Mike Sherman. The former Packers coach has become somewhat of a hot commodity again with his success at Texas A&M. One team that could be interested in Sherman is the Texans. Sherman worked for the Texans before and has a solid relationship with team owner Bob McNair. Sherman, it's easy to forget, led the Packers to five straight winning seasons and three straight NFC North titles. His NFL career winning percentage is .578.
*Lions coaches have been impressed with Ndamunkong Suh's mental makeup. He has asked coaches repeatedly if he can rush the passer from a standing position. They like the fact that he tells them what he thinks and have taken his requests as an indication that he cares and wants to do more to help the team. They see extreme competitiveness in the big DT, and believe he is fearless.
*The Broncos have been doing their homework on hiring a general manager. Believed to be in their bullpen are Chargers senior executive Randy Mueller, CBS information man Charley Casserly, former Broncos general manager Ted Sundquist, Ravens player personnel director Eric DeCosta, Colts player personnel director Tom Telesco and Vikings player personnel director George Paton. It is believed the Broncos' first choice is to hire someone with general managing experience. If John Elway is part of the equation, however, the team is going to limit its potential choices.
*A former Super Bowl winning coach turned broadcaster not named Bill Cowher might be coming back to the NFL next year. There are some rumblings former Ravens coach Brian Billick could get back in. One team that could make sense for Billick is the 49ers. He grew up in California, was drafted by the 49ers and worked in the team's public relations office before he got into coaching.
My Sunday Best: Players on IR
The Pro Bowl teams will be announced this week, but you could make another Pro Bowl team out of players on injured reserve. And in fact, that's what I did. Here are my best players who are on injured reserve.
Quarterback—Tony Romo, Cowboys
How do you replace a three time Pro Bowl quarterback? Romo gets the nod over Vince Young even though Young had some flashy numbers this year.
Running backs—Frank Gore, 49ers and DeAngelo Williams Panthers
Good runners were particularly important to the 49ers and Panthers because both teams have struggled to throw the ball.
Wide Receivers—Terrell Owens, Bengals and Austin Collie, Colts
Even though you always get some spice with T.O.'s sugar, you have to give him his props. The man produced for the Bengals before getting hurt. And before going on IR last week, Collie was developing into one of the toughest, most clutch receivers in football.
Tight end—Jermichael Finley, Packers
You can make a strong case for Dallas Clark, but if you judged the players on talent you would give the nod to Finley.
Offensive line—LT Jared Gaither, Ravens, LG Steve Hutchinson, Vikings, C Jeff Faine, Bucs, RG Stephen Neal, Patriots, RT Jeff Otah, Panthers
A lot of NFL teams would probably trade their starting offensive line for this one.
Defensive line—DE Kyle Vanden Bosch, Lions, DT Gerald McCoy, Bucs, DT Tony Brown, Titans, DE Mario Williams, Texans
There is a lot of talent on the sidelines at this position. Others who could rotate in include Aaron Kampman of the Jags, Antwan Odom of the Bengals and Ty Warren of the Patriots.
Linebackers—(I'm cheating and using a 4-4 defense) OLB Elvis Dumervil, Broncos, ILB Nick Barnett, Packers, ILB DeMeco Ryans, Texans, OLB Thomas Davis, Panthers
The Packers could field a starting lineup at this position by themselves with Barnett, Brandon Chillar, Brady Poppinga and Brad Jones.
Safeties—Bob Sanders, Colts and LaRon Landry, Redskins
If they were healthy, Sanders and Landry might have been vying for spots on the all-pro team.
Cornerbacks—Jerraud Powers, Colts and Aqib Talib, Bucs
Powers is the third Colts player on the team, and the Colts could have had three others on the team in Clark, wide receiver Anthony Gonzalez and safety Melvin Bullitt.
Specialists—Punter Daniel Sepulveda, Steelers, kicker Stephen Gostkowski, Patriots, returner Dez Bryant, Cowboys, long snapper David Binn, Chargers
Most special teams coaches would love to have this group to work with.
Numbers Games: Winning QBs
Although the NFL is a quarterback-starved league, there are 26 active players who have a starting record of .500 or better (with at least one season of starts). Among them are the recently benched Donovan McNabb (.625 winning percentage), Kyle Orton (.524) and Jake Delhomme (.577).
Quarterback winning percentage can be a very deceptive statistic, because it doesn't take into account everything surrounding the passer. But fair or not, quarterbacks are judged by winning percentages. Here is a look at some of the classifications of QBs, based on their winning percentages.
The Future Hall of Famers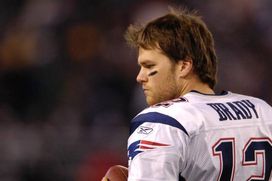 Brady ICONNo quarterback wins like Tom Brady.
Nobody can touch Tom Brady, who has won 77 percent of his games. That's the best among active quarterbacks, and the best among all quarterbacks in NFL history. His rival Peyton Manning has won 67 percent of his games, without the benefit of playing for Bill Belichick. Brett Favre also is pretty impressive with wins in 62 percent of his starts.
The QBs in their Prime
After the icons, there is another very impressive group of quarterbacks based on won-loss records. The best is Ben Roethlisberger, who has won 70 percent of his games. The others: Philip Rivers (69 percent), Tony Romo (64 percent), Michael Vick (59 percent), Eli Manning (58 percent) and Drew Brees (58 percent).
The Young Guns
The next Brady could be Matt Ryan of the Falcons. He has a winning percentage of .727, which is second best among active quarterbacks. Other younger quarterbacks on the list are Vince Young (62 percent), Mark Sanchez (62 percent), Joe Flacco (65 percent), Aaron Rodgers (55 percent), Chad Henne (54 percent), Matt Cassel (52 percent) and Jay Cutler (50 percent).
Scout Talk: Class of 2011 Defensive Ends
This is shaping up to be the best class of defense ends we've seen in a long, long time. In fact, the pass rushers are the saving grace of the draft. They will be flying off the board in the first round. In my conversations with scouts, they have mentioned ten defensive ends as first round possibilities. Four of them are underclassmen, though, and there is a chance some of them will return to school.
The highest ranked in the class is underclassman Da'Quan Bowers of Clemson, and he could be a consideration for the top overall pick. He has been a dominant player, and he is equally talented to play the run and rush the passer. One front office man compares him to Kevin Carter, who once was the sixth overall pick in the draft.
Robert Quinn of North Carolina isn't far behind as a talent, but a team will have to be comfortable with his baggage. Quinn didn't play this year because of an NCAA suspension for receiving inducements. But people who know Quinn describe him as a good kid who made bad decisions.
Iowa's Adrian Clayborn is at the top of the senior class of DEs, though he didn't play as well in 2010 as he did the previous year. His stock is down a little from what it was going into the year.
Three other Big Ten ends also are in the first round mix. Teams that run a three man front will love powerful J.J. Watt from Wisconsin and Cameron Heyward from Ohio State. Heyward, who is better versus the run than pass, is the son of Ironhead Heyward. Purdue's Ryan Kerrigan is a play making machine who has drawn comparisons to Kyle Vanden Bosch.
Other first round possibilities include Missouri's Aldon Smith, Cal's Cameron Jordan, Pitt's Greg Romeus and Nebraska's Jared Crick.
There should be value beyond round one as well. Other players who could be chosen before round four include Pittsburgh's Jabaal Sheard, Texas' Sam Acho, Mississippi State's Pernell McPhee, South Carolina's Cliff Matthews, Oklahoma's Jeremy Beal and Arizona's Ricky Elmore.
One Man Yelp: Zac Brown Band
*Santa brought me some Zac Brown for Christmas in the form of the recently released You Get What You Give album. I'm a new fan of the band. ZBB is classified as country, but like a lot of "country" acts, it really is closer to pop. Brown has a pure voice, and the band's harmonies, which are highlighted in songs like Nothing and Quiet Your Mind, are outstanding. You can understand how this team won the Grammy last year for best new artist.
The single that's on the charts from the album is As She's Walking Away with Alan Jackson, but it's not the best song. I like the upbeat Keep Me In Mind, and the introspective Martin.
Knee Deep is a bow to the Jimmy Buffet/Kenny Chesney style of music, wishing to be knee deep in the water somewhere. And Buffet makes a guest appearance on the song.
*Interesting to read the Lost Lennon Tapes in Rolling Stone, compiled from a nine hour interview with John Lennon that was done by Jonathan Cott shortly before