February 20, 2011 -
Dan Pompei
NFP Sunday Blitz
A lockout will cost everyone involved. But some teams have more to lose from a lockout than others because they need the offseason more.
Teams that should be the biggest doves in the labor war, based strictly on the 2011 season, are the Broncos, Titans, Vikings, 49ers, Panthers, Browns and Cardinals. Here is a look at why each of those teams needs a quick labor resolution.
Broncos—New coach John Fox is converting to a 4-3 defense from a 3-4, probably without the benefit of offseason camps. He's also trying to determine if Tim Tebow is ready to become a starting quarterback and if he should deal Kyle Orton. Whoever starts will have to learn a new offense.
Titans—After years of stability, there has been major upheaval in Tennessee. Players accustomed to the same old, same old might not have any time to integrate the new systems. What's more, the Titans still don't know who their starting quarterback will be. They are expected to trade Vince Young and acquire a veteran to play under center.
Vikings—They retained interim head coach Leslie Frazier, but he brought in a new offensive coordinator in Bill Musgrave, and the team is seeking a replacement for retiring quarterback Brett Favre. The roster figures to undergo a facelift at several positions, as starters with expiring contracts include receiver Sidney Rice, defensive tackle Pat Williams, defensive end Ray Edwards, linebackers Ben Leber and Chad Greenway, safety Madieu Williams and kicker Ryan Longwell. When the lockout ends, the Vikings may need to wear nametags in the locker room.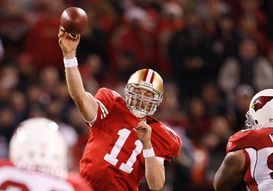 ICONAlex Smith has at least one very attractive quality to Jim Harbaugh -- immediate availability.
49ers—Most of the 49ers new coaches came from the college ranks, so they have to get to know the league as well as their team. And their team could have a new starting quarterback, as David Carr is the only 49er signal caller under contract. Then again, indications are the 49ers are finding free agent Alex Smith more attractive than they would under other circumstances because Smith is available to work with now. The 49ers offense will be run by its third coordinator in two years.
Panthers—This was the worst team in the league last year, and it might be difficult for the Panthers to improve much considering the new coaching staff may have no minicamps or OTAs, and perhaps a condensed training camp to implement new systems. The high draft picks the Panthers were rewarded with will have to adjust to the pros without the benefit of a normal offseason. And it's possible the Panthers will have a new quarterback.
Browns—Defensive players are learning a new scheme, as new coordinator Dick Jauron is going with a four man front. Jauron has to figure out who fits where, and he likely won't have much time to put the pieces in place. Pat Shurmur's new offense also will take time for players to get used to.
Cardinals—This team still is reeling from Kurt Warner's retirement, and still searching for a replacement. Ray Horton is bringing the Steelers defensive playbook west, and Cardinals defenders have a lot of studying to do.
Other teams that could be affected more than most include the Bengals (Jay Gruden is trying to install a new offense), Texans (Wade Phillips is converting the defense from a 4-3 to a 3-4), Rams (Sam Bradford will be learning his second offense in as many years under Josh McDaniels ), Seahawks (they will have a new offensive playbook with Darrell Bevell in charge) and Bucs (this is a young team that needs as much work as possible to take the next step).
Things I Didn't Used To Know
*The Eagles have put out the word that in return for Kevin Kolb, they would like a first round pick and something else, maybe a third round pick. The Eagles are known to be tough trade negotiators, so no one expects them to come too far off their asking price. That price is a lot to ask for a player with a limited body of work, and a potential lockout has the brakes on all trades. So it's starting to look as if it's a possibility that Kolb might be back in Philly next year.
*Why were players from the Packers and Steelers slipping and sliding on the infill surface at Cowboys Stadium? The stadium uses three separate fields, depending on if it is hosting an NFL event, a college game or a soccer game. When each field is not being used, it gets rolled up. When the field gets rolled up, the fibers get compressed. My sources tell me the NFL had a difficult time getting the fibers to stand up the week before the game because the field had been in storage.
*Jay Gruden is the Bengals' new offensive coordinator, but Brad Childress probably would have been if owner Mike Brown had offered Childress more freedom. Part of the deal was whoever took the job was going to have to work with the existing assistant coaches, so it was going to be difficult to completely implement a new offensive system.
*The Vikings have a tough decision about what to do with their franchise tag given both linebacker Chad Greenway and wide receiver Sidney Rice could become unrestricted free agents. The team wants both players back. Contract talks with Greenway have been fruitless up to this point. I've been told the most likely scenario is the team will use the franchise tag on Greenway, who might be the hotter commodity in free agency, and perhaps the transition tag on Rice. The wide receiver is coming off a hip injury and has only one year of production, so potential suitors might be more cautious with him. The Vikings are hoping to see what new linebackers coach Mike Singletary can do to improve Greenway, who already is an outstanding player.
*The emergence of Jordy Nelson in Green Bay could make James Jones expendable. The wide receiver's contract is up, but Packers coaches have told me they would hate to see Jones go elsewhere and finally reach his potential. Jones might be the Packers best combination of size and speed at the position, but nagging injuries and untimely drops have been issues with him through the years. It's possible that wherever Jones plays, 2012 will be a breakout season for him.
My Sunday Best: Combine Stars
With the combine starting this week, it's a good time to look back at some of the most impressive players in combine history. They didn't all become NFL stars, but they were stars for at least a day.
QB—Matt Jones, Arkansas. He gets an asterisk because he was a college quarterback working out like a wide receiver, the position most NFL teams thought he would fit best. Jones lit it up for any position, running a 4.37 40 yard dash, vertical jumping 39