November 11, 2012 -
Dan Pompei
NFP Sunday Blitz
It's a classic chicken and egg argument. Does the quarterback make the wide receivers better, or do the wide receivers make the quarterback better?
There is a case study in this subject going on in Denver now. And the conclusion is unequivocally that the quarterback makes the receivers better, assuming it's a great quarterback. If the quarterback is an average quarterback, different rules apply.
Broncos receivers Eric Decker and Demaryius Thomas are on pace to have career years, and they have been the most productive WR duo in the NFL. Decker already has caught more balls than he ever did previously, and his yards per game have more than doubled from one year ago. With 756 receiving yards, Thomas has 205 more yards than his previous best. He also has an NFL-best 17 catches of 20 yards or more.
Some of this is because Decker is 25 years old and Thomas is 24, and each is coming into his own as an NFL player. But they might not have come into their own, or at least they might not have come into their own so quickly, if Peyton Manning was not on the other end of their receptions.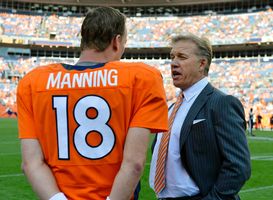 John Elway knows a good quarterback when he sees one.
"Does Peyton make these guys better players?" Broncos executive vice president John Elway told me. "Sure he does. No. 1 because of the expectations he has for them. He anticipates and wants them in the right spots. The pressure for them to be in the right spot all the time makes them concentrate and makes them better players."
Let's start with this. Manning is completing an NFL-best 69.5 percent of his passes. Last year, the player who was throwing most to Decker and Thomas was Tim Tebow. His completion percentage was 46.5 Kyle Orton also started five games for the Broncos and completed 58.7 percent of his passes.
To say that Manning throws a more accurate and more catchable ball than Tebow is to say that Sinatra is easier on the ears than William Hung. But it needs to be said anyway. This year, Thomas has caught 69.2 percent of the balls thrown his way, compared to 46.4 percent last year, according to STATS. Decker has caught 65.7 percent of the throws to him this season after catching 45.4 percent one season back.
More accurate passes have meant more yards after the catch for Thomas. He is averaging 7.39 yards after the catch, compared to 4.0 yards in 2011.
Most NFL scouts would now tell you the Broncos have a very fine pair of starting wide receivers. They probably would not have told you that before the season, however. Even Elway acknowledges he had questions about Decker and Thomas coming into 2012.
"I knew they were in a growing process," Elway said. "I knew Demaryius hadn't scratched the surface yet as far as his ability as a wideout. He's improved a lot quicker than I thought he would and really has made big strides. And Decker has continued to get better."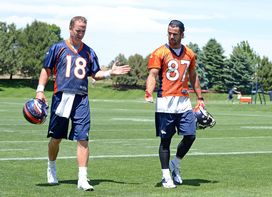 Peyton Manning and Eric Decker go over some fine points of the Broncos offense.
Manning has demanded the best from each and helped bring it out. Elway says he likes both players a lot and is excited about what they can become.
Of Decker, Elway says, "He has a better feel for route running. He's playing more under control. He's always had good hands. His experience and feel for moving DBs to get open has come with playing more. He's getting a better feel for knowing how to get open."
On Thomas, Elway offered this: "Coming out of Georgia Tech, he was in the wishbone, just a down the field receiver, either run a go route or a comeback route. Now he's doing a great job learning how to stay over his feet when he makes his breaks. He's learning how to come out of breaks with speed and quickness. He's such a raw talent. He's learning how to get open."
Back when Elway was the NFL's version of Manning, he made wide receivers better too. The Broncos were so confident in him during his playing career that they never invested heavily in the wide receiver position. When he was headed out the door in 1998, they used a first round pick on Marcus Nash. But the only other high round wide receivers they chose during his 16-year career were Ricky Nattiel (first in 1987), Vance Johnson (second in 1985) and Clinton Sampson (third in 1984).
Seven different players were the Broncos' leading wide receiver during Elway's tenure. Steve Watson (led three times) and Rod Smith (led twice) were undrafted free agents. Mark Jackson (led three times) and Michael Young (led once) were sixth round picks (Young was signed as a Plan B free agent). Derek Russell (led once) was a fourth round pick. Johnson (led once) was a second round pick. The best receiver Elway had was free agent pickup Anthony Miller, a first round pick of the Chargers. He led the Broncos in receiving three times during Elway's time as QB.
Elway didn't need great receivers to succeed. Great quarterbacks don't.

Things I Didn't Used To Know
*It should not be a surprise that Packers rookie cornerback Casey Hayward is making plays like Charles Woodson, because Hayward has been taking tips from Woodson all year. Hayward looks up to Woodson and has been an eager student, especially when it comes to preparation. It helps Hayward is smart and coachable. He has a good demeanor for a cornerback too. He is confident but humble, and he stays even keeled. He is more mature than most rookies, and it has been evident in his play.
*Consistency always has been elusive for Kevin Ogletree, and he still is struggling with consistency even though he is having his best pro season since coming into the league as an undrafted free agent in 2009. The Cowboys receiver had a breakout game in the season opener, but since Ogletree has frustrated his coaches by not always doing things the right way. If Ogletree had been consistent coming out of college, he probably would have been a fourth round pick in the draft. The Cowboys took a chance on him because tight ends coach John Garrett knew him at Virginia. Ogletree has grown up a little every year, according to those who have been around him at Valley Ranch. Last offseason was his best ever. And last training camp was his best ever. But he still is learning what it takes to be a pro.
My Sunday Best: Reunited Tandems
In the NFL, old friends sometimes end up pairing up again after being separated. What worked once often can work again, the thinking goes. This year, there have been a number of reunited tandems. Here are my Sunday best.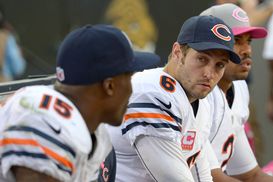 Jay Cutler and Brandon Marshall look better together.
1. Jay Cutler and Brandon Marshall, Bears. When they last were together in Denver in 2008, Cutler was a Pro Bowl quarterback. Cutler has not been back to the Pro Bowl since. With Marshall as his No. 1 this year, he might have a chance again. Certainly, it looks like Marshall will be there. He is on track for a career year with his old buddy throwing to him.
2. Jeff Fisher and Cortland Finnegan, Rams. One of Fisher's first moves as head coach of the Rams was to sign Finnegan, his best cornerback with the Titans. Finnegan has been a big boost to the Rams' defense, but he's helped the team beyond his on-field contributions. He also has helped establish the culture Fisher wanted. His work ethic, leadership and effort level have helped get the Rams out of their doldrums.
3. Josh McDaniels and Tom Brady, Patriots. Brady did just fine without McDaniels. McDaniels didn't look like quite as much of a genius without Brady. They both had their best years when they were together in 2007. Statistically, Brady has been solid this year. But his reunion with McDaniels has not yielded the kind of results that many anticipated. The hope in New England is this pair will start clicking in the second half the way they did five years ago.
4. Peyton Manning and Jacob Tamme, Broncos. In 2010, they hooked up 67 times for 631 yards in Indianapolis. In Denver, Tamme also has been a security blanket for Manning with 29 catches.
5. Manning and Brandon Stokley, Broncos. Stokley was a clutch third down option for Manning seven years ago in Indianapolis, and he has reprised his role at a 36-year old in Denver. Stokley had a career-high 1,007 yards with Manning throwing to him in 2004.
6. Mike Zimmer and Terence Newman, Bengals. Newman probably played his best ball under Zimmer in the mid to late 2000s with the Cowboys. They paired up again this year in Cincinnati, but Newman is 34 now and in a different role. He picked off Peyton Manning on consecutive passes last week.
7. Ryan Grigson and Winston Justice, Colts. Grigson was part of the Eagles' front office that drafted Justice in the second round in 2006. When he became G.M. of the Colts, he traded a sixth round pick to Philly for Justice and a lower pick. Justice has played very well at right tackle for the Colts.
One Man Yelp: Coaching Confidential
Gary Myers has a lot of NFL knowledge from 30 years of covering the game, and he was good enough to share some of it in a new book, Coaching Confidential: Inside the Fraternity of NFL Coaches.
Myers focuses on some of the great coaches in the game over the past few decades, taking us inside key moves and turbulent times. Among those he writes in-depth about are Bill Belichick, Joe Gibbs, Jimmy Johnson, Bill Parcells, Sean Payton, Mike Shanahan, Andy Reid and Dick Vermeil. There are interesting tales with solid details, including stories about the Robert Kraft-Parcells relationship, the John Elway-Dan Reeves-Shanahan tensions and Gibbs' anguish over Sean Taylor's death.
When Gibbs decided to walk away from the NFL for good, what happened to Taylor had something to do with it. "You kind of live in a little bit of fear of late night phone calls," he told Myers.
Reid discusses how his job has impacted his family life, and the problems two of his sons endured. But he's still at his desk at 4:30 a.m. "It's good, condensed, not interrupted work done at that period of time," he said. Reid said the early start time gives him two and a half hours before "people start knocking on the door." Shanahan, meanwhile said he starts at 6 a.m. and finishes at 10 p.m.
Great story from John Fox on when he, then Panthers offensive coordinator Jeff Davidson and then Panthers quarterbacks coach Rip Scherer took Tim Tebow out to Mark's Prime Steakhouse in Gainesville for a pre-draft interview. As they were wrapping up for the night, Fox asked the waiter for the check. Tebow interrupted. He had already taken care of it. "It wasn't one of those last minute things, 'Oh here, I got it," Fox said. "He had it paid for."
Writes Myers: "Of course, Fox didn't let Tebow pay. But if Tebow was looking to make an impression, he got the job done."
This book offers insight from a world few have been privileged to see.
Hot Reads
*Best news of the week is out of Indianapolis.
*Is the coach of the year in the NFL going to be Bruce Arians? Or Chuck Pagano?
*Is the executive of the year in the NFL going to be Phil Emery? Or Jerry Angelo?
*Allow Jack Bechta to tell you what the Browns are getting in Joe Banner.
*Some NFL agents might want to email general managers the link to this story highlighting the league's most underpaid players.
*You have to love the fact that Rex Ryan doesn't take some of this nonsense too seriously, and that he can laugh at himself.
*From now on, every trash talking defender in the NFL will refer to Aaron Rodgers as "shorty."
*Michael Vick is learning muzzles can be used for more than one purpose.
Dan Pompei covers pro football for the Chicago Tribune at chicagotribune.com. Follow him at danpompei@twitter