January 27, 2013 -
Dan Pompei
NFP Sunday Blitz
It seems that a lot of the early buzz on hall of fame finalists this year is about the four strong first timers—Larry Allen, Jonathan Ogden, Warren Sapp and Michael Strahan. There also is a lot of discussion about the late Art Modell making a reappearance on the ballot after 11 years away, and about the fascinating candidacies of Eddie DeBartolo and Bill Parcells.
It is going to be a very interesting discussion on Feb. 2.
And a chunk of that discussion may be very similar to the discussions we've heard for several years now. That would be the discussion about Tim Brown, Cris Carter and Andre Reed. The hall of fame's voters (I am one of them) have been stuck on this trio of wide receivers for four years now, when Brown first became a finalist. Carter has been a finalist since 2008; Reed since 2007.
The wide receiver logjam is due in part to the fact that we have three players with similar qualifications, and there is not a clear pecking order among them. And the logjam also is due to the fact that it's difficult to compare receivers from the recent inflated passing era to receivers from previous eras. Receiving yards and catches are meaningless when comparing, say, Terrell Owens to Dante Lavelli. So in addition to separating the three from one another, the board of selectors has struggled with the issue of whether any of the three are worthy.
But there are some revealing comparisons we can make between the trio of finalists and the 21 modern era hall of fame receivers.
Number of times ranking in the top five in the league in receptions and receiving yards illustrates how dominant a receiver was among his peers.
Carter excelled in receptions but didn't rate so well in receiving yards. He ranked in the top five for catches six times in his career. Only one hall of famer—Jerry Rice—did better with nine. But Carter never finished in the top five of receiving yards. He did finish seventh three times.
Brown, meanwhile, ranked fifth among the 24 players we looked at in number of times in the top five of receiving yards. That's pretty impressive. In number of times in the top five of receptions, he ranked 15th.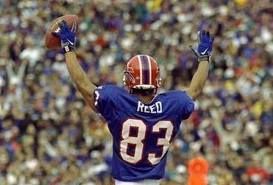 Brown did not shed himself in a good light by popping off about Bill Callahan trying to sabotage the Raiders in Super Bowl XXXVII. But that has absolutely nothing to do with his candidacy for the hall of fame, and no voter should hold that against him.
Reed was 15th in number of times in top five of receiving yards and 16th in number of times in top five of receptions.
Percentage of team's receiving yards shows how valuable the receiver was to his passing offense and the stat should not be diminished by changes in the game. Brown shines in this area, ranking 12th among the 24 players compared with 26.9 percent of his team's yards. Next was Reed at 18th, and then Carter at 19th.
Average per reception is a revealing statistic in any era. None of the three are exceptional by comparison in this area. Carter's average of 12.6 ranked worst among the 24 players. Brown ranked 21st with an average of 13.7. Reed was best of the three at 13.9, but 19 of the 21 hall of famers ranked ahead of him.
What do these comparisons tell us about the three? One clearly does not stand out above the others using these criteria, but each of the three appears to have hall of fame credentials. None has slam dunk credentials; rather, they each compare favorably with the bottom tier of hall of fame wide receivers.
Brown ranked fifth, 12th, 15th and 21st in the four categories that transcend eras. Carter ranked second, 19th, 24th and 24th. And Reed was 15th, 16th, 18th and 20th.
Of course, these numbers don't tell the whole stories. There is much, much more to consider about the qualifications of each of the candidates. Carter, for instance, was perhaps the greatest boundary receiver ever. Reed may have been one of the best yards after catch guys in history. And Brown played in the most Pro Bowls and had the most receiving yards of the three.
Perhaps we can better understand where these players belong by taking into account each of their careers in their entirety, and comparing Carter, Brown and Reed with other hall of fame receivers with numbers that transcend eras.
However we do it, the time has come for the logjam to be broken.
Things I Didn't Used To Know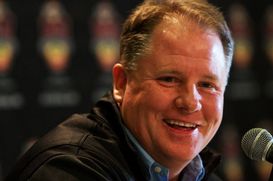 Look for Chip Kelly to change the Eagles' roster.
*If new Eagles coach Chip Kelly adopts some of the strategies he was using at Oregon, the Eagles will begin coveting "longer" players. Kelly's NCAA teams were known for their speed and stamina but Oregon was also recruiting taller players across the board, particularly on defense where he made length a priority with a recent change in philosophy. Some people around the league believe the Eagles will begin seeking taller players on that side of the ball.
*NFL scouts are puzzled with Oklahoma QB Landry Jones. At one point he was considered a future top of the draft prospect, the next Sam Bradford. But not anymore. Jones had one more chance to save his stock at the Senior Bowl, but scouts say he just looked average. The suspicion of many now is Jones was just a system quarterback. He looks like a second round pick at best now.
My Sunday Best: All Star Game All Stars
After attending the Senior Bowl practices in Mobile last week and getting a good earful from NFL front office men on players who helped themselves both in the Senior Bowl and the East West game, I put together a team of all star game all stars. Here are my Sunday best all star game performers.
QB—None. If you had to pick, you might say Ryan Nassib. Or you might say Mike Glennon. Or you might say Zac Dysert.Or E.J. Manuel. But you'd be stretching. Really stretching. No one left a good impression at the quarterback position.
RB—Mike Gillislee, Florida. His combination of vision and elusiveness opened a lot of eyes Senior Bowl week. Honorable mention goes to Stanford's Stepfan Taylor, who showed a nice all-around game.
WR—Markus Wheaton, Oregon State. He made one great catch after another during Senior Bowl practices and clearly boosted his stock with fine route running and body control to go along with top speed.
WR—Marquise Goodwin, Texas. In Mobile he showed he can really run, and he has some big time ability to make game breaking plays. One scouting director said he previously thought Goodwin was mostly a return specialist. Not anymore.
TE—Vance McDonald, Rice. His performance at the Senior Bowl put him in at the top of the second tier of tight ends, perhaps in the third round. If he runs well, he could go even higher. One front office man said he thought McDonald might have helped himself more than any player in an all star game.
OT—Eric Fisher, Central Michigan. He separated himself as the best of the senior offensive tackles at the Senior Bowl and showed he can pass protect and run block against gifted opponents. He probably still is No. 2 at the position to Texas A&M's Luke Joeckel, however.
OT—Terron Armstead, Arkansas-Pine Bluff. Over the course of two weeks and two all star games (he was a late add for the Senior Bowl), Armstead might have gone from a sixth round pick to a fourth. He showed well against better competition than he was used to playing during the season, but still needs to develop lower body strength and technique.
G—Larry Warford, Kentucky. He was pretty highly regarded going into Senior Bowl week, and he held his ground in the opinion of NFL scouts.
G—Blaize Foltz, Texas Christian. He's not going to be one of the top guards taken, but Foltz' power was impressive at the East-West game. At the very least, he should now be a late round pick.
C—Brian Schwenke, Cal. No one really stood out at this position, but Schwenke held his own and showed some pop. He also looks like he can play some guard.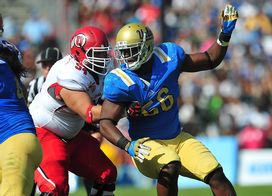 Datone Jones made some noise in Mobile.
DE—Datone Jones, UCLA. He really showed up at Senior Bowl practices, and was consistent no matter the opponent. Jones played with excellent leverage and drive, and he showed a knack for coming off the blocker.
DE—Devin Taylor, South Carolina. He looked better in the East West than he looked for most of his college career. His physical gifts compare well to those of most players in the draft.
DT—Sylvester Williams, North Carolina. He was the best and most consistent DT in the Senior Bowl. Williams has all-around skills and looks like a solid second rounder.
DT-- Brandon Williams Missouri Southern. He isn't the player Sylvester Williams or Kawaan Short is, but he popped onto a lot of teams' radars at the Senior Bowl. He looked a little raw at times and had some balance issues, but his power was evident for all to see at Ladd Peebles Stadium. Williams is going to be a load at nose tackle in the NFL, especially as he gets his technique down and learns to read blocking schemes.
OLB—Sio Moore, Connecticut. He lit it up at the East West game, then was a late injury replacement at the Senior Bowl. He didn't have the full week of work in Mobile, but Moore still created a buzz with his enthusiasm and intensity. Moore has put on considerable bulk since the spring and now is seen as a player who can play either outside linebacker position. One front office man said he thinks Moore has gone from a sixth or seventh round pick to a fourth rounder.
OLB—Zaviar Gooden, Missouri. Senior Bowl practices are perfect for players like him. Gooden flashed his speed and athleticism and helped his stock.
MLB—Nico Johnson, Alabama. Scouts wanted to see how he covered and moved in space, and Johnson did a decent, but unspectacular job in Mobile.
S—Jonathan Cyprien, Florida International. He looked like a solid box safety in Senior Bowl practices. Cyprien showed instincts and physicality.
S—James Wilcox, Georgia Southern. This small school safety did not look outclassed with the big school players. Wilcox showed he is athletic and physical.
CB—Robert Alford, Southeastern Louisiana. He was given an opportunity at the Senior Bowl to play more man to man, and he showed his speed and athleticism.
CB—Desmond Trufant, Washington. "He's better than anyone thought," one veteran talent evaluator said. The Senior Bowl practices were the perfect venue for Trufant to show his abilities.
One Man Yelp: The Time Keeper
Yes, I am a sucker for a Mitch Albom novel. They always are breezy reads with short sentences, short chapters but profound lessons about morals and values. I thought his latest, The Time Keeper started slowly but finished with a flourish.
It's the story of Dor, the first man who learned to keep time. He tries to stop time in ancient Babylon, but instead becomes entrapped by it. When told by a servant of God that he will not age a moment, Dor's response is he deserves no such gift. Said the servant, "It is not a gift."
Dor's punishment for demanding more time is to become Father Time, trapped in a cave for thousands of years while hearing the cries of millions for more or less of the commodity he discovered.
When he is given a chance to redeem himself, Dor tells the servant it's too late. All that he knew and loved was gone. The servant responds, "It's never too late or too soon. It is when it is supposed to be."
Dor's redemptive mission is to teach the meaning of time to two star crossed souls, one an unhappy teenager who is driven to suicide; another a dying millionaire intent on prolonging his life.
After saving the young girl from killing herself, Dor tells her, "You had many more years." She replies, "I didn't want them." And he responds, "But they wanted you. Time is not something you give back. The very next moment may be an answer to your prayer. To deny that is to deny the most important part of the future." And what is that, she wants to know. "Hope."
And after saving the old man from freezing his body cryogenically, Dor, who knows better than anyone could, tells him this, "There is a reason God limits our days." Why, the old man asks. "To make each one precious."
Hot Reads
*Leave it to Ozzie Newsome to put the minority hiring problem in perfect perspective.
*Let's see. Keep Mark Sanchez, trade Darrelle Revis. What's wrong with this picture?
*Tom Brady learns from whomever he can. Including, apparently, Ndamukong Suh.
*On the subject of Suh, the combination of Suh and new Lions defensive line coach Jim Washburn could be lethal. When it comes to getting the most out of defensive linemen, they don't come any better than Washburn.
*Sounds like the Packers could have used Cedric Benson's dogs when they played the 49ers.
*Welcome back, Sean Payton. The NFL missed you.
Dan Pompei covers pro football for the Chicago Tribune at chicagotribune.com. Follow him on Twitter @danpompei