March 18, 2012 -
Dan Pompei
NFP Sunday Blitz
The Bucs in recent years had developed a well-deserved reputation as the team that kept their wallet in their pocket during free agency. Their model was more Packers than Redskins.
In fact, Bucs owner Joel Glazer was quoted as saying this in 2007. "Free agency can be almost like a drug. You look for that quick hit, that quick feel-good. I know teams that year in and year out are the Super Bowl champions of free agency, and amazingly enough it doesn't seem to happen for them during the season. If you can resist the urge for about six weeks, you're often better off."
The Bucs did not resist the urge this year, laying out some $140 million in the first day of free agency alone. And they are the Super Bowl champions of free agency having added Vincent Jackson, Carl Nicks, Eric Wright and Dan Orlovsky.
So why did the Glazers decide to let the cash (and moths) fly from their wallets all of a sudden?
It's a different year in free agency, and it was a different year for the Bucs. If ever it made sense to get in the game, general manager Mark Dominik was convinced this was the time.
"I thought last year was a bad time to add a bunch of guys in free agency because there was no offseason," Dominik told me. "But this was an extraordinary year. The new CBA was in place. A lot of agents took one year deals last year. A number of players like Mario Williams, Drew Brees and Vincent Jackson were in interesting spots. As a result, I think this year will go down as the biggest free agency year of all time."
That's what Dominik sold the Glazers on, and that's why they opened up the checkbook. In fact, the Bucs had been saving cash and cap space for a spending spree. They started free agency with an NFL-best $42.7 million in cap space.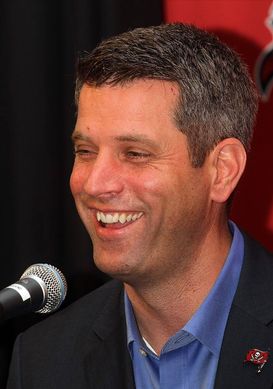 Bucs general manager Mark Dominik was all smiles last week.
"We had cash and cap space this year to use," Dominik said. "Ownership obviously stepped up and saw the value of why those were the players we wanted to target and understood when I talked to them about why are they free agents, how good are they, what is the impact."
In the case of Jackson, the Bucs had a chance to get a true No. 1 receiver. Dominik said that is a rare opportunity.
As for Nicks, Dominik thought he was the best guard in football. How often is the best player at any position a free agent?
Wright was available only because the Bucs were able to strike quickly. The Lions wanted him back badly, but couldn't get him under contract until Calvin Johnson's extension was done. The Bucs took advantage of the situation.
Wright was a good fit because the Bucs are changing their defensive scheme. He's more of a man corner, and he will enable new defensive coordinator Bill Sheridan to press and leave him on an island.
The Bucs' new schemes under head coach Greg Schiano played a part in this too. New head coaches tend to want more new players to implement their plans.
And it's not just about Xs and 0s, either. "It's a brand new culture in the building," Dominik said. "Everything is new. Regardless if you are Davin Joseph or Carl Nicks, you are walking in a spot where you've never really been before because the whole staff is new. That was another good reason to do it all at once. We're in a transition phase and setting a new culture for the Tampa Bay Buccaneers."
None of that means the Bucs are abandoning their commitment to draft, develop and retain, Packers style. Before free agency began, the Bucs signed offensive lineman Jeremy Zuttah to a four year deal with $18 million guaranteed, and they placed the franchise tag on kicker Connor Barth.
Dominik said he wants to take care of his own. "We still have plenty in the bank to continue to focus on draft, develop and retain," he said. "The mindset is [Josh] Freeman is going to be the guy he was in 2010 or close. You have to be ready for his contract, or Mike Williams' or LeGarrette's or Brian Price's. Who knows which guys? But you want to have money available, and we do."
And it turns out the Bucs even know how to spend it.
Things I Didn't Used To Know
*New Colts coach Chuck Pagano is looking to bring some Ravens attitude with him in Indianapolis. As a result, two of the Colts' primary targets in free agency were former Ravens defensive end Cory Redding and former Ravens safety Tom Zbikowski. Pagano envisions big roles for both players, both on the field and in the locker room.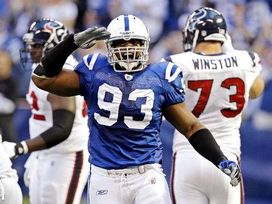 Freeney won't necessarily be saluting Colts fans for the last time.
*Dwight Freeney is not necessarily out in Indianapolis, even though many of his contemporaries are. There remains a chance the Colts will deal him if the right offer comes along. But the 32 year old has not hit the wall, and the Colts would not mind keeping him. Freeney had only 8.5 sacks last year, but that could be attributed mostly to the fact that he didn't have as many pass rush opportunities because the Colts were often trailing their opponent. Freeney's current contract calls for him to count $19 million against the cap. The Colts would like to restructure, but if Freeney refuses, the team can handle the hit.
*A lot of players were injured at the combine this year, but it's difficult to put a finger on why. Here is a partial list of players who pulled up at some point during their combine experience: Texas linebacker Emmanuel Acho (quad strain), Miami receiver Travis Benjamin (cramps), North Carolina linebacker Zach Brown (ill), Arizona State linebacker Vontaze Burfict (ham strain), Arkansas receiver Greg Childs (cramps), Michigan State receiver B.J. Cunningham (calf strain), West Virginia linebacker Najee Goode (pec strain), Texas A&M running back Cyrus Gray (calf strain), Kentucky safety Winston Guy (groin pull), San Diego State Ronnie Hillman (ham strain), Virginia Tech cornerback Jayron Hosley (cramps), McNeese State cornerback Janzen Jackson (cramps), Houston quarterback Case Keenum (ham strain), Oklahoma linebacker Travis Lewis (ham strain), Pittsburgh defensive end Brandon Lindsey (ham strain), Stanford offensive tackle Jonathan Martin (ill), Alabama wide receiver Marquis Maze (ham strain), Alabama Birmingham offensive tackle Matt McCants (ham strain), Penn State receiver Derek Moye (ham strain), Hampton corner Micah Pellerin (ham strain), Appalachian State cornerback De'Andre Presley (groin strain), Brigham Young offensive tackle Matt Reynolds (ankle sprain), South Carolina defensive tackle Travian Robertson (quad strain), Texas linebacker Keenan Robinson (cramps), Michigan State safety Trent Robinson (ham strain), South Florida running back Darrell Scott (quad strain), Washington defensive tackle Alameda Ta'Amu (ham strain), Fresno State wide receiver Devon Wylie (calf strain), and Iowa offensive tackle Markus Zusevics (pec strain).
*Ralph Wilson might want to send a thank you note to Bud Adams. If the Titans owner didn't pound his fist on the table, it's likely the Titans would have spent the first days of free agency in hot pursuit of Mario Williams. And the word prior to the start of free agency was the Titans would have been the favorite. Instead, the Titans turned their attention to Peyton Manning, leaving the back door open for the Bills.
*The Bears chose Jason Campbell to be their backup quarterback instead of Kyle Orton, but three years ago, the Broncos picked Orton ahead of Campbell. Th e backstory: both the Bears and Redskins were trying to trade for Jay Cutler. The Redskins and Bears offered a similar package of draft picks, with the Redskins adding Campbell and the Bears adding Orton. The Broncos took the Bears' offer mostly because Josh McDaniels felt more comfortable with Orton than Campbell. But in free agency this year, the Bears went after Campbell all the way while Orton signed with the Cowboys.
My Sunday Best: Teams That Helped Themselves The Most
Free agency is only five days old and Peyton Manning has yet to land, but we can declare the biggest winners so far because most of the other major players have signed. Here are my teams that helped themselves the most last week.
1. Bucs—WR Vincent Jackson, G Carl Nicks, QB Dan Orlovsky, CB Eric Wright. The Bucs filled holes with two potential difference makers in Jackson and Nicks.
2. Bills—DE Mario Williams. They have signed only one player, but he can impact a game more than 11 other free agents combined. The price was high, but Williams should make a lot of players around him better.
3. Rams—CB Cortland Finnegan, DE Kendall Langford, C Scott Wells. Nice start for Jeff Fisher. Finnegan knows the blueprint, having played for Fisher in Tennessee. Plus he was the best corner on the market. Wells is one of the game's best centers.
4. Chiefs—TE Kevin Boss, RB Peyton Hillis, QB Brady Quinn, CB Stanford Routt, OT Eric Winston. Four of these players are quality players, and Routt and Winston should step right into the starting lineup . The price was right on Hillis, who should be a fine complement to Jamaal Charles.
5. Cowboys—CB Brandon Carr, LB Dan Connor, G Nate Livings, QB Kyle Orton, S Brodney Pool, FB Lawrence Vickers. Carr is the biggest acquisition, but Vickers may be as good at what he does as almost any free agent. Orton is a fine insurance policy. If Connor stays healthy, he could be a find.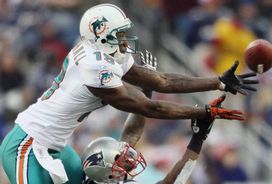 The Bears are hoping to see Marshall make spectacular plays.
6. Bears—QB Jason Campbell, LB Blake Costanzo, WR Brandon Marshall (he was acquired in a trade), WR Eric Weems. Marshall is one of the most gifted receivers in the game, and if his head is on squarely, he is going to do wonders for the Bears offense. Campbell is one of the best No. 2 quarterbacks in the league, capable of starting for some teams. The special teams have been upgraded with Costanzo and Weems.
7. Redskins—WR Pierre Garcon, CB Cedric Griffin, S Brandon Meriweather, WR Josh Morgan. Garcon and Morgan are talented receivers who will be counted on to help RG3 develop. Griffin and Meriweather are low risk gambles.

Scout Talk: Medicals
Most of the puzzle pieces on draft prospects have been filled in by this point. But a number of players still have medical questions. The good news is almost all of the top prospects are pretty clean medically. I asked several front office men which players still have unsettled medical issues, and these are the names most frequently brought up.
Omar Bolden, Arizona State cornerback. He has been hurt a lot in his career and has had multiple knee injuries that are likely to affect his draft stock. His knee needs to be checked again before the draft.
Brandon Boykin, Georgia cornerback. He broke his leg in the Senior Bowl, so he hasn't been able to work out. Scouts think he should be OK with continued rehab, but the situation needs to be monitored.
Josh Chapman, Alabama defensive tackle. He has a pretty serious knee issues that could affect his stock.
Paul Cornick, North Dakota State offensive tackle. Anytime a lineman has back issues, it's not a good thing. Cornick has back issues.
Loni Fangupo, Brigham Young defensive tackle. This Southern Cal transfer is big and talented, but has numerous physical issues that could make him a draft risk.
Markelle Martin, Oklahoma State safety. He is one of the more talented safeties in the draft, but a knee problem could affect his stock.
Chase Minnifield, Virginia cornerback. He has a knee problem that has teams concerned. If he checks out, he could go as high as the second round.
Chris Owusu, Stanford wide receiver. His history of concussions is a major red flag that many teams will take into account.
Donte Paige-Moss, North Carolina defensive end. He tore his ACL in the Independence Bowl and his rookie year might be a wash. He won't be able to work out, and his knee needs to be rechecked.
Trent Richardson, Alabama running back. Front office men I spoke with are not overly concerned about Richardson's knee, and he is not likely to fall in the draft as a result. However, he has not been able to run for the NFL and interested teams will need to keep a close eye on his progress leading up to the draft.
Alameda Ta'Amu, Washington defensive tackle. He has shoulder and knee problems that are of concern to NFL teams.
Fozzy Whittaker, Texas running back. He injured his knee in November and has been on ice since. NFL doctors will want to take another look.

Hot Reads
*Why no sympathy for Dan Snyder? The Redskins' punishment for playing games with the salary cap is eloquently explained here by Sally Jenkins.
*Jim Harbaugh has been throwing with potential 49ers signees. If he throws as well as he coaches, he won't need Peyton Manning.
*Turns out Manning might not only take Matt Hasselbeck's job, he also might take Ruston Webster's.
*If Jeremy Shockey can play like he tweets, I want him on my team.
*Some lucrative contract extensions are just illusions out of Harry Houdini's bag.
*New Bears general manager Jay Cutler is expected to be rebuffed in his attempts to hire Mike Shanahan as his head coach. We think.

Dan Pompei covers pro football for the Chicago Tribune. Follow him at Twitter@danpompei