January 22, 2012 -
Dan Pompei
NFP Sunday Blitz
The season of Alex Smith may end today. Or it may continue for another two weeks.
It could result in Smith standing on a podium holding a Lombardi trophy with confetti falling all around him. It could be rewarded with the NFL comeback player of the year award.
Whatever happens, it has been one remarkable story.
Smith, the No. 1 overall pick in the 2005 draft, played well below expectations for the better part of six previous seasons in San Francisco. Somehow, he remained through three head coaches (four if you count interim head coach Jim Tomsula) and seven offensive coordinators.
And in his seventh NFL season, under the magic thumb of Jim Harbaugh, the 27-year old hit his stride. So before Smith led his 49ers against the Giants in the NFC Championship game Sunday, I asked four men who have been a part of his NFL experience to make sense of it all by answering two simple questions.
1. Why didn't it work like this before for Smith?
Jimmy Raye, 49ers offensive coordinator 2009-Sept. 27, 2010: "There were the expectations of being the No. 1 pick, being the next Young or Montana. Then the abrupt coaching change the second year. Later there was the inexperience of the coaching staff. Then he was injured. Then he had a confrontation with the head coach about being hurt. He got derailed by all the stuff that had nothing to do with playing and learning the systems. It had to be a deterrent to him. There wasn't a person in building who felt he was their best quarterback when I got there. Shaun Hill was the guy. The team around him wasn't as good as what it is now.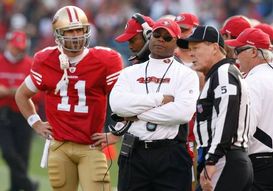 ICONSmith didn't always connect with his previous coaches the way he does with Harbaugh.
"I thought the first year I was there, we went 8-8, and I started to see some signs of him getting comfortable, handling everything. Going into next season, the language was becoming familiar, and he was on the track to shed the shackles of what happened previously. He's very intelligent, and anal to the point where he needs detail to function best. He was at the point where the words were coming freer to him and the play was coming easy. We got off to a bad start, after three games I got fired. I thought if we stayed where we were, he could have gotten it."
Norv Turner, 49ers offensive coordinator 2006: "There has been a lot of change in San Francisco. When I was with him, he did not have a lot of great players around him. They have done a good job of putting the roster together. Jim Harbaugh has done an excellent job of doing what Alex does best and not forcing things on him. They're a good defensive team, which takes a lot of pressure off the quarterback."
Mike Martz, 49ers offensive coordinator 2008: "Alex Smith is a smart guy and he liked what we were doing. But in the offseason and camp and preseason, he missed a lot of throws. He threw it a little funny. He didn't have his normal motion that I saw on tape. In the last preseason game against San Diego, he sailed a couple nice easy throws and was intercepted. Turns out his shoudler was bothering him, and he ended up on IR. He never said anything about it. I didn't know his shoulder was bothering him. I knew something was wrong, but didn't know what it was. He didn't have the strength or accuracy. I never really saw Alex the way Alex is physically. He never played for me."
A former 49ers staff member who requested anonymity: "It took him awhile to feel comfortable with a new system, and he kept having new systems to learn. It was the same way for him at Utah. It took him awhile, and Urban Meyer was ready to give up on him after a couple years."
Why is he doing so well now?
Norv Turner: "People have said the best year Alex Smith had was the year we were together in 2006. He made great progress as that season went on. The one thing that impressed me and it jumped out again Sunday is he played great for us that year in the fourth quarter of close games. We beat Denver in overtime in the last game of the season to knock them out of the playoffs. We won a game similar to that in Seattle. He made the big plays at home against St. Louis, big throw in the fourth quarter. That quality tells you a lot about a guy. As you are learning to play the position, if you can have that presence about you, it can separate you from being average to real good. The throws he made in the fourth quarter Sunday, I saw him make every one of those throws when I was with him. That quality can help him go far."
Jimmy Raye: It's not a surprise totally. He is athletic, cerebral, and emotionally and physically tough. There are still some things he can get better at. He's like a seventh year player who's in his second year in terms of comfort with playing the position in the NFL."
Mike Martz: "He looks real good now. He's doing a nice job of managing the game. I thought he was a guy who would manage the game really well and make good throws. He was always a pretty accurate guy."
Things I Didn't Used To Know
*The Saints can thank Drew Brees for Steve Spagnuolo. The Saints' new defensive coordinator had his choice of a number of jobs. Among the other teams that either were in hot pursuit or had expressed interest were the Eagles, Falcons, Colts, Bucs and Vikings. It came down to choosing between the Eagles and Saints, and Spags picked Brees over Michael Vick. Why? An offense that scores 38.5 points per game can make a defensive coordinator look pretty smart.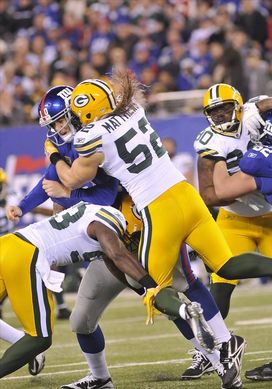 The Packers didn't see enough of this in 2011.
*The Packers are not likely to stick with the status quo at outside linebacker as they did one year ago. Clay Matthews needs help. Outside linebackers coach Kevin Greene told me he never has seen a player get double and triple teamed as much as Matthews was this year. Matthews told me he had four blockers on him on a number of occasions—"You get a tight end chipping you, a back coming off the edge, a tackle, and then a guard fanning your way," he said. The reason, obviously, is the Packers had no one else who could take advantage of singles. Dom Capers subsequently ended up dropping Matthews more and taking him out of what he does best—rushing the passer. Matthews still played at a very high level in 2011, but he needs a pass rush partner for the Packers to be a better defense.
*One of the reasons the Bucs are taking so long to hire a head coach and they seem to be looking in all directions is the Glazer brothers are very involved in the process. This is really the first time they have gone through an extensive interview process to hire a head coach, and they are educating themselves as they go.
*It's early, but Marty Mornhinweg is looking like a strong candidate for the head coach opening in Oakland. The Eagles offensive coordinator has Bay area roots, was a success with the 49ers and has ties to new general manager Reggie McKenzie from their days together in Green Bay.
*Donte Whitner made some big plays that helped the 49ers beat the Saints last week, but the safety has been more steady than spectacular this year. Rather than turn games around, the free agent pickup has helped settle the defense by working hard, playing smart, lining up the secondary and not missing tackles. He has been an excellent, under the radar pickup by the 49ers front office.
My Sunday Best: General Manager Hall of Fame Candidates
None of the outstanding general manager hall of fame candidates made it to the final 15 this year. Honoring front office men is a problem because they tend to fall through the cracks. As a committee, the board of selectors has been pretty good about inducting team owners and coaches. This year, Ed DeBartolo and Bill Parcells both are finalists and are considered strong candidates. But there hasn't been a general manager or team administrator inducted in the hall since 1995, when Jim Finks went in. Finks and Curly Lambeau are the only two pure general managers who are in the hall, and Lambeau also founded the Packers. You almost need a special category for contributors like these men. Here, in alphabetical order, are my best hall of fame candidates who were GMs (not including those still working, owner-GMs or coach-GMs).
Ernie Accorsi, Colts, Browns, Giants. He doesn't have the kind of finger jewelry some of the others on this list have, but Accorsi's legacy includes the 2007 Super Bowl champion Giants and the current Giants. His draft picks formed the core of both teams, and it was he who hired Tom Coughlin. It also was Accorsi who gave Bill Belichick his first head coaching job. Accorsi was the 2005 NFL executive of the year. He was a great ambassador for the game. And he's a former sportswriter.
Bobby Beathard, Dolphins, Redskins, Chargers. He helped build seven Super Bowl teams and four Super Bowl winners. Among his career highlights were having a hand in the Dolphins' perfect team; bringing Joe Gibbs and the Hogs to Washington for three Super Bowl victories; and leading the Chargers to their first Super Bowl appearance. Part of his legacy was drafting Ryan Leaf, but he didn't do anything that almost every other general manager in history wouldn't have done in that spot. He also became famous for trading away future draft picks for immediate help.
Gil Brandt, Cowboys. He and Tex Schramm were the brains behind the growth of America's Team. Brandt helped build two Super Bowl winners and 13 division or conference champions. He was in charge of personnel in Dallas for 28 years. Brandt is credited with many scouting innovations, such as computer analysis, finding players from non-traditional places and depending on measurables to gauge potential.
Dick Haley, Steelers, Jets. He didn't have the general manager title, but he was the architect of the great Steelers teams of the 1970s as their director of player personnel. Haley presided over what probably was the greatest draft of all time, when the Steelers chose hall of famers Lynn Swann, Jack Lambert, John Stalloworth and Mike Webster in 1974. Later in his career he helped the Jets with picks like John Abraham, Keyshawn Johnson and Randy Thomas.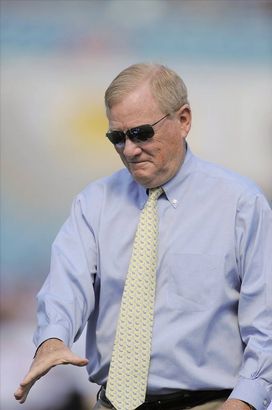 The Colts might not want him, but one day the hall of fame might.
Bill Polian, Bills, Panthers, Colts. No one has built teams better than the man the Colts just fired. In Buffalo, he added Marv Levy, Jim Kelly and Bruce Smith to the mix and took the Bills to three Super Bowls (they went to a fourth after he left). In Carolina, he took an expansion team to the NFC championship game in the Panthers' second year. And in Indianapolis, he drafted Peyton Manning and won a Super Bowl. He's won wherever he's been. He even won the Grey Cup in the Canadian League. He is a five time NFL executive of the year.
Ron Wolf, Raiders, Bucs, Packers. He is one of the greatest talent evaluators of all time, and he was especially good at choosing quarterbacks (Brett Favre, Mark Brunell, Matt Hasselbeck, Ken Stabler) and head coaches (Mike Holgmren, Mike Sherman). Among the hall of famers he helped acquire were Reggie White, Lee Roy Selmon, Howie Long, Marcus Allen, Gene Upshaw, Art Shell and Fred Biletnikoff.
George Young, Colts, Dolphins, Giants. This Don Shula disciple brought the Giants back to respectability and guided them two two Lombardi Trophies. He won the NFL executive of the year award so many times—five—that they renamed the award in his honor. In his time as Giants general manager, he had 22 players selected to the all-rookie team. The late general manager was a teacher at heart, which he liked to remind everyone he spoke with, and he taught many lessons in running teams through his actions.
Scout Talk: East-West Shrine Game
I spent a few days in Florida for the East-West practices last week. Scouts concurred it was a below average group of prospects but as usual, a number of players did help their draft stock. These are the ten players scouts were buzzing about most as the week wound down. For another opinion, check out my man Wes Bunting's top ten here.
1. Josh Norman, Coastal Carolina CB. You don't think a big corner who showed he is athletic and has good ball skills got the attention of NFL teams? Norman stood out probably more than any player on either team and might have moved into the second round. There still are some questions NFL teams need to answer about him though.
2. A.J. Jenkins, Illinois wide receiver. Receivers usually can show well in practices like these, and Jenkins stood out above all of them. He displayed the speed and quickness to get open, and the ability to make very nice catches. He could have jumped up to the third round.
3. Devon Wylie, Fresno State wide receiver. A lot of scouts were unsure about Wylie before last week, but he made an impression with his shiftiness and short area quickness, as well as his deep speed. He looks like a third or fourth round prospect who can play in the slot and be a return man.
4. Tyrone Crawford, Boise State defensive end. He was one of the highest ranked players in the game, and he did not disappoint. Crawford showed a nice combination of power and speed.
5. Akiem Hicks, Regina defensive lineman. He was a virtual unknown before the game even though he began his college career at Louisiana State. Hicks, who is huge at 6-4, 324, and has exceptional power, looked a little like a man among boys. He also showed he is raw and needs work on keeping his pads down, using his hands and creating separation. But with his measurables, he could be a fourth round pick.
6. Brandon Brooks, Miami guard. At 6-5, 353, it was hard for Brooks not to be noticed. He was limited in space and not very agile, but his power was impressive. He helped himself and could be taken in the fourth round range.
7. Tom Compton, South Dakota offensive tackle. He had a good three days of practice, showing better athleticism, bend and feet than some scouts thought he had. Compton might have moved up to the fifth round area.
8. Bryan Anger, Cal punter. He showed a very strong leg, which was significant because he did a lot of rugby style punting during the season and didn't often showcase his power. Anger might even be draftable.
9. B.J. Coleman, Tennessee-Chattanooga quarterback. Multiple scouts said they were impressed with his arm strength and physical tools. Coleman was less impressive in interviews with teams, however. But he has what some NFL teams require in a quarterback, and should be drafted.
10. Kyle Wilber, Wake Forest defensive end/outside linebacker. He showed some nice speed off the edge and should appeal to 3-4 teams. He was impressive in interviews and moved up to the middle rounds.
Hot Reads
*Let it go, Trey Junkin.