June 23, 2013 -
Dan Pompei
NFP Sunday Blitz
Don Shula could be forgiven if he thought Cam Newton was something out of a science fiction novel. After all, they didn't have any quarterbacks who looked or played like Newton when Shula was a player in the 1950s, or a coach in the 1960s, 70s, 80s and 90s.
But Shula knows a thing or two about the game of football in any era. So he has given his son Mike Shula, the new offensive coordinator for the Panthers, some advice on Newton.
He told him it's critical that the offensive coordinator maintains a clear line of communication with the quarterback and the quarterbacks coach. He told his son to make sure Newton feels comfortable on game day. And he told him he needs to try to take advantage of all of Newton's special gifts.
"He is a great resource, a constant sounding board," Mike Shula said of his father. And so the younger Shula has set out with some time-tested philosophies on how to take Newton's game to a higher level in his third season.
Part of that means tailoring the offense to the quarterback. "We want his comfort level the highest it's ever been," Shula told me. "We looked at the things we've done our first two years. The things we do well, we want to continue to build on. The other stuff, we look at how we can do it better or get rid of it. We're looking at different ways for him to think faster and play faster on the field."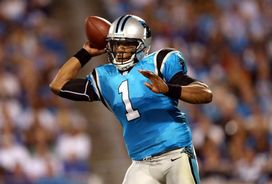 Mike Shula and Cam Newton could make beautiful music together.
Shula also is streamlining some of the play calling verbiage Newton uses in the huddle, which essentially lifts some of the burden off him and puts it on his offensive teammates. He explains: "The more words you have in your play calling, the easier it is on everyone else because the quarterback basically is telling them what to do. Fewer words help the quarterbacks because he doesn't have to say as much. This offense can get very wordy. So we're trying to massage it so he doesn't have to call long plays all the time and put more of the burden on some of the other players. It will help not being in the huddle all that long."
In college, Newton never had to call a play or even a snap count. The plays were signaled in from the Auburn sideline, and Newton simply would lift his knee when he wanted the ball. In his first two NFL years, Newton actually has handled the play calling challenges of the Panthers' offense remarkably well. So it's not like this is something that had to be done because of his deficiency. It's something that is being done to make him more comfortable and the operation smoother.
Newton also came to the Panthers as strictly a shotgun passer. But he has made significant strides under center. Last year in 375 shotgun attempts, Newton had a passer rating of 82.9 according to STATS LLC. In 110 snaps under center, he had a passer rating of 97.4. His completion percentage also was better under center--.590 to .573. So more snaps under center, particularly using play action, might be a part of Shula's vision for the QB.
"That just shows me what his football mind is about," Shula said. "He has a great football mind."
Newton has been praised more for his size, speed, athleticism and arm strength than for his mind. And Shula praises those other attributes as well. He is in search of the perfect balance between using the athlete and using the quarterback. "That first year you wanted to do everything with him, and we still do," said Shula, who had been the Panthers' quarterbacks coach prior to this year. "The challenge is to keep him healthy doing those things."
Last year, Newton led the Panthers in rushing. Shula does not want to see that happen again. But he also does not want to ignore, or allow defenses to ignore, Newton's ability to run the football.
Newton averaged nearly eight carries per game in each of his first two seasons. Those run attempts are likely to keep coming, but Shula wants to be smart with the runs. "In this run/read offense, there are decisions he makes with the option," Shula said. "Don't make decisions where he gets hit right away. If you are not sure if you should hand it off or keep it, then hand it off."
Newton's strong finish in 2012 leads Shula to believe Newton is taking off. He saw better decision making and more efficient passing late in the season, and that excites him.
It also excites him to coach the type of quarterback his father never could have imagined coaching in his wildest dreams.
Don Strock? Earl Morrall? "I'm not even sure he used a quarterback sneak with those guys," Mile Shula said.
But the elder Shula no doubt is recommending the sneak be used with Newton. And Mike Shula is all ears when dad has something to say.
My Sunday Best: Players Turned Actors
NFL players spend a good portion of their careers being filmed. So maybe it shouldn't be a surprise that a lot of them spend a good portion of their lives after football being filmed—as actors. Here are my Sunday best players turned actors.
Jim Brown—He left the Browns and the NFL after only nine seasons to go Hollywood. He has played in more than 40 movies, including a solid role in The Dirty Dozen. His most notable movie moment might be as a participant in the first interracial love scene on screen, with Raquel Welch.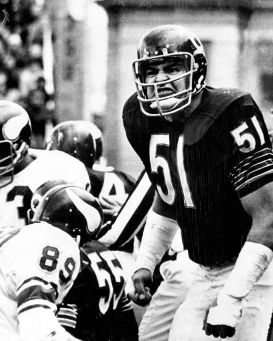 This wasn't acting for Dick Butkus, but he proved pretty good at acting post-football.
Dick Butkus—Those great Miller Lite commercials led to more commercials, which led to appearances in 40 television series and a number of movies for the all-time great middle linebacker. Memorable roles include playing Brom Bones in The Legend of Sleepy Hollow and Ed Klawicki in the television series My Two Dads.
Terry Crews—You might know him as the guy in the Old Spice commercials. Or from his roles in The Expendables, Starsky and Hutch or Idiocracy. But he also was a pass rusher for the Rams, Chargers, Redskins and Eagles in the early 90s.
Alex Karras—He was one of the greats as a defensive tackle for the Lions, but he might even be better known to some as Mongo from Blazing Saddles, or from the TV show Webster.
Howie Long—The Hall of Fame Raider was an action hero for awhile, appearing in Firestorm, Broken Arrow and 3000 Miles To Graceland, among other movies. He also has been a television commercial presence as a spokesman for Radio Shack, Chevrolet and many others.
Ed Marinaro—After his days as a Vikings fullback, Marinaro became quite a thespian. His role as Joe Coffey on Hill Street Blues has been the highlight of his acting career.
John Matuszak—He was a natural on the big screen in flicks like North Dallas Forty, Goonies and Caveman. The former Raiders wild man had 33 acting roles for TV or motion pictures before his death.
Merlin Olsen—There probably is an entire generation of people who have no idea that Father Murphy and Jonathan Garvey from Little House on the Prairie also was a 14-time Pro Bowler, member of the Fearsome Foursome and one of the greatest defensive tackles who ever lived.
O.J. Simpson—Before he was a court room star, and after he was a football star, the Juice was an acting star. Among his credits include The Naked Gun movies, Capricorn One, Towering Inferno and of course those Hertz commercials.
Woody Strode—He played only one season in the NFL for the Ram s in 1946, but he makes this list because he was nominated for a Golden Globe for his role in Spartacus. He also appeared in dual roles in The Ten Commandments.
Carl Weathers—Yes, Apollo Creed from the Rocky movies also played football. For a bit. He appeared in seven games for the 1971 Raiders. Weathers also appeared in Predator, Action Jackson, and a number of other movies.
Fred Williamson—After playing for the Steelers, Raiders and Chiefs, The Hammer paired up with Jim Brown in a number of acting projects. He was a player in a number of the Blaxploitation movies, and had a nice role in From Dusk Til Dawn. Williamson also has produced and directed.
Things I Didn't Used To Know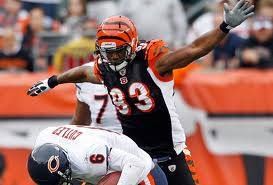 Michael Johnson is getting better at getting QBs on the ground.
*Not signing Michael Johnson to a long term extension might be the best thing for the Bengals. When he was playing for a new contract in 2012, the defensive end had a career year with 11.5 sacks. The Bengals have seen growth in Johnson every year, and their coaches believe he can improve more, especially with his down to down and game to game consistency. They aren't sure what his ceiling is because he is athletic, smart, and a high effort player. But they are confident Johnson can be a better player in 2013.
*The Chiefs will have an interesting battle for their No. 3 quarterback spot behind Alex Smith and Chase Daniel. Ricky Stanzi might have the early edge over Tyler Bray because word out of Chiefs camp is he has Andy Reid's offense down pat. But Bray looks like he has more physical talent. In fact, there are those in the Chiefs offices who believe Bray throws as well as any quarterback in the draft. If Bray gets in line and conforms to be a professional, he will be difficult to beat out. The Chiefs are hopeful that will happen under the direction of Reid, Brad Childress, Doug Pederson and Matt Nagy, and with help from Smith and Daniels.
Hot Reads
*Don't you just love a comedy act about