February 06, 2011 -
Dan Pompei
NFP Sunday Blitz
The Steelers have been here before. And it's no coincidence.
The people change in Pittsburgh. The head coaches, the quarterbacks, the defensive playmakers. But the system implemented by the Rooney family stays the same. That's what has made them different from any other team in the National Football League, and that's what had made them more successful than any other team in the National Football League.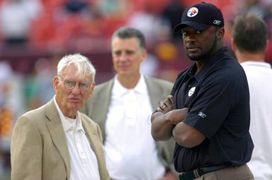 ICONDan Rooney and Art Rooney II set the course for Mike Tomlin and the Steelers.
"It's the continuity, the philosophy from the Rooneys all the way back from the 70s," Steelers director of football operations Kevin Colbert told me. "From Chief [Art Rooney], to Mr. [Dan] Rooney, to Art [Rooney II], it hasn't changed. The type of coach they hire hasn't changed. It's the continuity that allows you to bring people in to fit their philosophy and the coaches' philosophy so hopefully you don't have any bumps along the way when you have to make changes."
When the Steelers go looking for a head coach, they aren't in the market for the best coach money can buy. They are in the market for a coach who can conform to the Steeler way. They knew when they interviewed Mike Tomlin that he was willing to fall in line with the way things were being done in Pittsburgh. Even though Tomlin had run a 4-3 defense and played Tampa Two, he kept the Steelers' 3-4 and retained defensive coordinator Dick LeBeau.
"One of the things my dad [Dan] and brother [Art II] have done is try to find a coach who understands the way we try to do business," Steelers scout Dan Rooney told me. "Mike has been fantastic. He's a real good football mind."
It was the same thing when Colbert was hired. The Steelers didn't change the way they evaluated players from when Dick Haley or Tom Donahoe was in Colbert's chair. "The overall philosophy, general philosophy always stays the same," Colbert said. "When I came on board, I was able to add some ideas that I had learned through my years in Detroit and Miami working with coach [Don] Shula. But it was understood the Steelers have been successful. They know how to do this, but we want you to add to it, not necessarily change it. Everyone who comes in the organization understands that."
Steelers scouts certainly have to be flexible depending the desires of the coaches. But there is a limit to their flexibility. "Each head coach has their own approach to what kind of players they want," Rooney said. "We have to react to that, adapt to some of the things they do. The guy who doesn't get much credit is Kevin Colbert. He has a really good system the way we evaluate, the way we line up our board and bring everything together."
The real star of the Steelers isn't Colbert or Tomlin or Ben Roethlisberger or Troy Polamalu.
It's the system.
Things I Didn't Used To Know
*Clay Matthews sounds like he's becoming Peyton Manning-ish. Packers outside linebackers coach Kevin Greene told me Matthews's excessive game tape study has enabled him to call out offensive plays correctly presnap depending on personnel grouping and formation. Watch for it in the Super Bowl. "It's remarkable that he's able to do it so early in his career," Greene said of the second year player.
*Between the 44 players who are expected to start in Super Bowl XLV for the Packers and Steelers, only four were signed to their teams as unrestricted free agents. They are Charles Woodson and Ryan Pickett for the Packers and Ryan Clark and James Farrior for the Steelers.
*One of the reasons Rashard Mendenhall has been more effective this year is he's been more patient. His running backs coach Kirby Wilson tells me the Steelers runner understands defenses more, and subsequently is setting up his blocks better. Mendenhall has so much burst that his tendency is to want to slam it in the crease on every carry. But he's fought that urge as he has matured as a player. Wilson said he thinks Mendenhall's understanding will continue to improve for another couple of years.
*The Bengals were thrilled to see Carlos Dunlap make the all rookie team with 9.5 sacks, but a lot of people still are holding their breath on Dunlap. The potential problems with Dunlap aren't about talent or intelligence. The potential problems are about conformity and doing things the right way. It took Dunlap awhile to get into the Bengals' rotation, partly because of injury, and partly because he didn't understand he needed to work at a higher tempo in practice. Once he figured that out, he took off.
*Matt Cassel has Drew Brees to thank for his success last season. Cassel's coach Todd Haley made Cassel watch a lot of tape on Brees' footwork and his pass drops, and rode Cassel hard about trying to do it the way Brees does it. Brees is known for having the best footwork in the league, and Haley wants Cassel as close to that as possible. Haley asks some of the same things of Cassel that Sean Payton asks of Brees. Haley and Payton were co-workers in Dallas.
My Sunday Best: Super Bowl Cities
Ice and snow have made for an unpleasant Super Bowl experience for those of us on the job. These conditions are highly unusual for Dallas, but they would be impossible for Miami. Dallas is not an ideal Super Bowl city, more because of the way the city is so spread out than because of the weather.
Having been to 24 Super Bowls, I have some strong opinions on where they should and should not be played. I detest Super Bowls in Northern climates. A Super Bowl city should be a place where fans can escape and enjoy the weather. At the Super Bowls in Minneapolis and Detroit I've attended, everyone worried about the weather all week. I wasn't a fan of Super Bowls in Jacksonville or Houston, either, even though the weather was better. Jacksonville just isn't big enough for this event, and Houston is too spread out. You never felt you were at a Super Bowl.
These are my best Super Bowl cities. If the NFL wanted to put the five of them in a rotation and not bring the big game anywhere else, that would be fine by me.
1. Miami. This is a party city. There is plenty to do, and South Beach is an ideal place for fans to convene. The overflow crowd can hang at Coconut Grove or Fort Lauderdale. The weather is as close to a guarantee as you'll get in the continent. The only drawback: traffic.
2. San Diego. One problem: it doesn't have a Super Bowl stadium. But everything else is perfect, especially the weather. There is plenty to do in the area, between outdoors activities, the Gaslamp Quarter and La Jolla, but visitors also can make easy drives to and from Los Angeles and Tijuana.
3. Tampa. It's slightly on the small side for a Super Bowl, but it's big enough. Tampa has sunshine and water, and it knows how to throw a party. Great stadium, too.
4. New Orleans. This city has the best layout for a big event. Almost everything happens in one big area where you can attend the game, stay in a hotel, eat a world class meal and drink Hurricanes until you swear them off for life. Not that I've ever done that.
5. Phoenix. The downside is it is spread out too much and can be a little overwhelmed by an event the magnitude of a Super Bowl. But the weather is about as good as it gets, and there is plenty to do.
Numbers Games: Pass masters
The greatest passer of all-time is playing in the Super Bowl, if passer rating is a statistic to be counte d on. Aaron Rodgers has the highest passer rating of any player with at least 1,500 attempts at 98.4. But he's not who I'm talking about.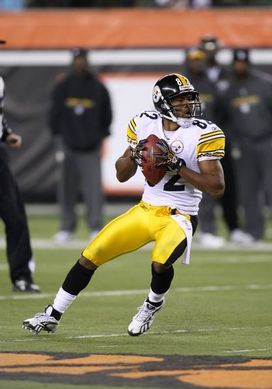 Antwaan Randle El throws a touchdown pass against the Bengals.
The highest passer rating of all-time for a player with at least 12 attempts also is playing in this game. Let's call Antwaan Randle El the greatest non-quarterback passer of all time. The wide receiver's passer rating is 156.1. Over his career, Randle El is 22 of 27 for 323 yards with six touchdowns and no interceptions. Two of those touchdown passes came earlier this season.
Not included in those stats is the 43-yard touchdown pass he threw to Hines Ward in Super Bowl XL.
Who are the other greatest non quarterback passers? LaDanian Tomlinson has the second highest passer rating at 146.9. The Jets running back has thrown seven touchdown passes over his career.
Also in the top 12 are former Browns running back Jim Brown (No. 9 with a passer rating of 110.1) and former Raiders running back Marcus Allen (No. 12 with a passer rating of 106.8).
Other notable non quarterbacks: Frank Gifford (92.5), Ronnie Brown (91.3), O.J. Simpson (82.8), Walter Payton (69.6) and Paul Hornung (67.5).
Scout Talk: Hall of Famers
We now know that the five non-seniors who will be inducted into the Pro Football Hall of Fame