December 22, 2013 -
Dan Pompei
NFP Sunday Blitz
As noted in the Sunday Blitz in recent weeks, Atlanta, which enacted a major roster purge last offseason, faces some more difficult decisions on veteran players after this year, as the Falcons attempt to chart a solid course for rebounding from a dismal 2013 campaign that saw an incredible collapse.
But one veteran about whom the Atlanta brass seems to have already made up its mind is tailback Steven Jackson, who will fall far short of his usual 1,000-yard output in a year marked by a hamstring injury and inconsistent blocking in front of him. The Atlanta brain trust certainly seems ready to ignore the fact that Jackson is now 30 years old, the dreaded age for most runners, and will be 31 by the time training camp starts next summer.
Coach Mike Smith, apparently chalking up Jackson's "down" year to the injury, generally poor line play, and the fact the Falcons have trailed in so many games in 2013 (limiting the tailback's opportunities), said last week that he has "no doubt" the 10-year veteran can remain a productive player. "He's gotten into the swing of the running game the last four or five weeks," Smith said.
Added offensive coordinator Dirk Koetter: "There have been circumstances that affected (Jackson), but we're starting to see him play like we've been accustomed to. He's just about over the (hamstring) and it shows."
Granted, Jackson has been better as he reaches full recovery from the hamstring, especially in the past three games. But although he averaged 64.7 yards in those three outings, after averaging only 36.4 yards over his first seven starts (he missed four full games with the injury), Jackson hasn't improved quite as much as the Falcons suggest.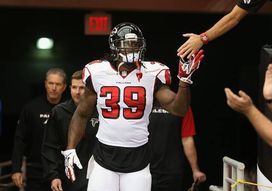 Jackson has rushed for just 449 yards through ten games this season.
Yeah, he's demonstrated more power, as graphically illustrated when he absolutely pancaked Washington cornerback Josh Wilson at the goal-line last week. But his average over the last three games isn't significantly better (3.6 yards) than it was in his first seven games (3.4 yards). And he's now gone a career-worst 15 straight starts without a 100-yard outing. Jackson late last week cited notching his first 100-yard game of the season (and since last November) as his biggest goal for the final two games of 2013. But on Monday night, he faces a San Francisco defense that hasn't permitted a 100-yard individual game all year. And the finale against Carolina on Dec. 29 is versus another stingy defensive unit.
But Jackson, signed as a free agent in the offseason to replace the jettisoned Michael Turner as Atlanta's starting tailback, is conceding nothing.
"I'm back running hard and physical," he said, "and not worried about anything that's come (beforehand). I'm just looking at the present, what's left and what I can do to help this team now and (in 2014)."
There have been some suggestions locally that Jackson might not project into the team's future. Perhaps that's true of the long-term future – as noted, he will be 31 next July, so it's hard to look beyond next season – but the former St. Louis star and three-time Pro Bowl performer sure looks like he'll be back for '14. His salary for next year ($3 million, with $500,000 of that guaranteed) and cap number ($4.17 million), on the three-year, $12 million deal he signed in the spring, are really not unpalatable for a starting back. Sure, looking ahead to 2015 is tricky, since Jackson will be 32, will have a salary of $3.75 million and cap charge of nearly $5 million, but one more season seems projectable.
The problem for the Falcons, if they released Jackson, are twofold: First, backups Jacquizz Rodgers, Jason Snelling and Antone Smith (currently injured) are role-players who probably aren't big threats to carry 20 times in a game. And while the 20-carry benchmark is diminished anymore in the league, it's still important to have a back with at least the potential for such a workload. Second, at least on the surface, Jackson seems to be a good fit for what Koetter wants to do offensively. The exit of Turner confirmed what everyone seemed to already understand, but which the club never acknowledged, that Atlanta is no longer a downhill power-oriented offense, but needs a more versatile back, capable of catching the ball, too.
In his prime, Jackson was such a back. And unless the Falcons unearth a back in the draft – it's highly unlikely they would sign one again as a free agent – Jackson might be the most optimum fit. He might not be in his prime anymore, and, despite all the excuses, that seemed evident in 2013. But it also seems the Falcons, as they prepare for another likely round of paring notable veterans, are keen on bringing Jackson back for another season in 2014. And ready to see if 2013 was the aberration for him the team's brass suggests it was for the rest of the organization.
+AROUND THE LEAGUE
*Arguably, the most public attention San Francisco linebacker Ahmad Brooks commanded in 2013 might have been when he was fined $15,750 by the league for a hit on New Orleans quarterback Drew Brees. The sanctions, which were considered dubious by a lot of players and fans, drew considerable criticism of the NFL brass. The second most attention paid the eight-year veteran? Maybe when he opined that Washington quarterback Robert Griffin III shouldn't be playing (he's since been shut down, of course) because, opined Brooks, he wasn't nearly 100 percent physically. But there are those who suggest that Brooks is having his best NFL season and merits a close look because of his on-field performance.
"He gets overlooked," Niners defensive coordinator Vic Fangio said. "He can do so much. I don't know why some people don't realize how good he is." Brooks, 30, has career highs in tackles (56), sacks (8.5) and passes defensed (seven) with two games left to play. He might not be quite as explosive off the edge as outside partner Aldon Smith, but he has developed into a technically sound pass rusher and two-way defender. Each of the other three San Francisco starting linebackers – Patrick Willis, NaVorro Bowman and Smith – has been to the Pro Bowl. It's not a given that Brooks, overshadowed by his teammates, will even get a sniff this season, albeit his strong performance. But Bowman is among those who feel he should be considered.
"The rest of the guys are so good," Bowman said, "that people take him for granted. But watch him play and you realize he's good at so many aspects of the game." Brooks may have been at his best when Smith was in rehab for alcohol abuse. Since Smith's return, he's probably more in the spotlight, but that doesn't mean Brooks has just shuffled off stage left. The former University of Virginia star entered the NFL as a third-round choice of the Bengals in the 2006 supplemental draft after a problem-filled college tenure. The Bengals kept him for only two seasons before releasing him, and he was quickly claimed by the 49ers in 2008. He was one of the leftovers that Jim Harbaugh inherited from predecessor Mike Singletary. Smith has termed him "the perfect complement," and Brooks has evolved not only in to that, but into a really good player in his own right as well.
*Last week, the Sunday Blitz noted the idea that the NFL's competition committee could consider narrowing the goal posts for the first time in league history, from the 18-feet, 6-inch width they have always been, and the idea was raised again after the Monday night performance of Baltimore kicker Justin Tucker, whose 61-yard game-winner at Detroit was one of his sixth field goal conversions. But two members of the competition committee told NFP last week that, while the idea has been casually proposed by some, and might actually get an airing when the influential group huddles in Florida in advance of the NFL's annual meeting in March, it isn't likely to fly.
"It's not to the critical point yet, I don't think," one member said. "I don't know if you penalize a position just for excellence. We'll see how (things go) over the next season or two." Kickers are converting field goals at a record rate, 86.1 percent going into the weekend, which would outdistance the old record of 84.5 percent. There are 13 kickers who have converted 90 percent or more of their attempts, and there have been 86 successful kicks of 50 yards or more, including Matt Prater's record 64-yarder a few weeks ago.
"Nothing's automatic," said the competition committee veteran, "but you're surprised anymore when a guy misses from 40 yards or (closer). Kickers are just better, you know? But I still don't think that it warrants a change (of the goalposts)."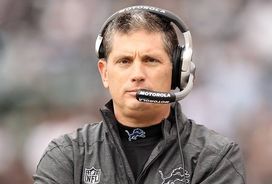 How much time does Schwartz have left in Detroit?
*Detroit tailback Reggie Bush had the best intentions last week when he agreed that the Lions are an undisciplined bunch, but that coach Jim Schwartz isn't to blame for the team's lack of attention. But the supposedly innocent remarks, meant as an endorsement for the embattled coach, whose team appears to have squandered a golden opportunity in a diluted division no one seems to want to win, may have backfired. Word is that Detroit management turned a keen ear to Bush's statement, and that some executives regarded it more as an indictment of Schwartz than the vote of support it was meant to be. One of the league's brightest guys, and a coach who utilized computers and advanced metrics back when he was a defensive coordinator, when it wasn't as fashionable as it is now, Schwartz could be the guy who pays for the rash of penalties, turnovers and inexplicable screw-ups by a Lions team that management feels possesses playoff-level talent. General manager Martin Mayhew, who seems to have done a good job, could come under scrutiny, too.
*How big a breakout season has it been for Cleveland second-year wide receiver Josh Gordon? Despite sitting out the first two games because of a suspension from the league, and playing with an inconsistent quarterback situation, the former supplemental draft choice leads the league in receiving yards (1,467), average yards per catch (19.8), most receptions of 20 yards or more (25) and also of 40 yards or more (nine).