April 22, 2012 -
Dan Pompei
NFP Sunday Blitz
One of the most important measurements of draft prospects can't be done with tape measures, calipers or stopwatches. Measuring a player's heart is a more abstract assignment, though experienced talent evaluators have tried and true methods they rely on.
This is how heart is measured at draft time.
*Game tape.
It is the ultimate truth, even when dealing with a subjective matter like passion. "You look at how he plays," a personnel director said. "Is he lazy? Does he finish? Is he physical? Does he quit before the whistle? What is his body language like? What happens when the game is out of hand?"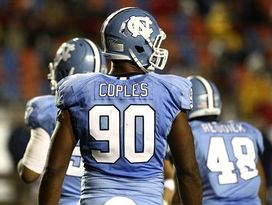 Quinton Coples could fall in the draft because NFL teams question how much he wants it.
The tape on North Carolina's Quinton Coples could make him drop like a melting icicle on draft day. Despite being one of the most gifted players in the draft at any position, Coples rarely plays like it. "At times you don't even know he's in the game," one general manager said. "He is a lethargic player who goes through the paces."
Added a college scouting director, "You can put together a highlight tape that makes him look like the first pick in the draft. But all the plays in between, he gets pushed around."
*Practice.
When scouts take their fall visits, they often can be seen at practice quietly talking into tape recorders, jotting down notes on paper or typing into cell phones or tablets. What they really are doing is gathering invaluable information by watching how players prepare. They take notes on how the player warms up, what he does in between plays, and how his practice effort level compares to the effort level of his teammates.
*Talking to people who know the player.
The key here is discerning whether or not you are getting snowed. Having solid, long standing relationships with sources at the school—assistant coaches, strength coaches and support staff--is critical.
It is not unusual for college coaches to be so fed up with a player that they tell NFL teams to stay away. It happened with at least one offensive lineman this year.
One general manager said in recent weeks, his scouts went back to check on some prospects and spent up to three days in players' college towns talking with everyone from teachers to townies.
*Psychological testing.
Every NFL team does it in some manner, as do many corporate employers. The tests provide pieces of information about what might make players tick and how they tick.
*Player interviews.
These can be tricky, especially the 15 minute combine interviews. One scout said Coples explained away his lack of intensity by saying he understands the concerns and he'll get better.
"The players all tell you the same thing," the personnel director said."They are well coached. You really can't tell about passion during an interview. Sometimes, a guy might love the game but it might not come across. Maybe he's exhausted. Maybe he's not a good communicator."
But one team's national scout said he has learned a lot about players' makeups during interviews at the team facility, or perhaps when having dinner with the player. "When you have an extended period of time with a player, that's when you can get inside his head," he said.
*Understanding the program.
Coples is not the only Tar Heel whose intensity has been questioned. Some believe players from North Carolina and Texas, for instance, are allowed to underachieve. Sometimes, a change of environment and a more demanding program can be good for a player who has not really been challenged.
If an NFL team identifies an underachiever from a program like Alabama, Louisiana State or Oklahoma, that would be alarming. Those programs don't put up with slackers.
Why does this matter? The list of great NFL players who are not driven is a short one.
General managers who take unreasonable gambles on pooches often end up joining them in the dog house.
Things I Didn't Used To Know
*Both the Browns and Dolphins have expressed interest in moving up in the draft. The reason could be quarterback Ryan Tannehill. The only team for the Browns to deal with is the Vikings, though the Dolphins could move up with several partners. The Vikings seem more likely to deal with the Browns than the Dolphins. If they move down one spot, they still are guaranteed of getting either cornerback Morris Claiborne or left tackle Matt Kalil.
*Brandon Weeden is starting to look like a key player in the draft. A good chance now exists the QB is going to be selected in the later stages of the first round, and it seems likely teams will try to jockey for position to get Weeden. If the Browns don't select Tannehill early, they could take him with the 22nd pick. Or another team could try to jump the Browns by moving up from the early second round. The Browns also could try to move down in the late 20s to take Weeden.
*The Jaguars appear to be interested in moving down from the seventh spot in the draft, based on scuttlebutt. And that makes sense because most football men will tell you there are five elite players in the draft (six if you count Tannehill). As a result, the Jaguars' pick may be difficult to move. If the Jags can move down a few spots, they could still get a quality player such as cornerback Stephon Gilmore or Michael Floyd.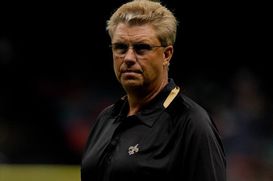 Gregg Williams is suspended, but he still can talk with one person he worked with in St. Louis.
*Just as Sean Payton is prohibited from speaking with NFL employees during his suspension, so is Gregg Williams. But the league is making one notable exception for Williams. He is permitted to talk with his son Blake, who went with his father from New Orleans to St. Louis to be the Rams' linebackers coach. One rule: father is expected to steer clear of discussing football business with son, per a league source.
*The Jets have been trying to clear some cap room by trading some lower level players so they have maneuverability around the draft. Don't be surprised to see them trade a player or two.
My Sunday Best: Most Productive Pass Rushers
If players were drafted solely on college production, they would come off the board in an entirely different order. Through STATS' Ice system, here is a look at how the top pass rushers would rank if pass rush production were the only measure. Ice is a player evaluation system being used by NFL teams in preparation for the draft. The number each player is rated by is the total of his sacks, knockdowns and hurries in 2011.
1. Whitney Mercilus, Illinois—43.5 (16 sacks, 19.5 knockdowns, eight hurries). Little known fact: a lot of his pass rush production came as an interior rusher.
2. Melvin Ingram, South Carolina—35.5 (10 sacks, 15 knockdowns, 10.5 hurries). He did not get his production solely as an edge rusher either. Ingram rushed from all over, and was very effective inside. The fact that he had this much production against SEC competition is particularly impressive.
3. Andre Branch, Clemson—32 (9.5 sacks, 16 knockdowns, 6.5 hurries). It's all about speed and edge rush with Branch.
4. Nick Perry, Southern Cal—30.5 (9.5 sacks, 14.5 knockdowns, 6.5 hurries). Perry got his production by using a combination of athleticism and power, and he also was very good with his hands.
5. Courtney Upshaw, Alabama—29 (9.5 sacks, 16.5 knockdowns, 3 hurries). He isn't the same kind of fast twitch player Mercilus is, but he gets to the quarterback with instinct, technique and determination.
6. Quinton Coples, North Carolina—26.5 (7.5 sacks, 13.5 knockdowns, 5.5
hurries). He can get to the quarterback almost any way he wants to. When he wants to.
7. Bruce Irvin, West Virginia—25.5 (8 sacks, 12 knockdowns, 5.5 hurries). Irvin just pins his ears back and goes. There is nothing fancy about his pass rush.
8. Shea McClellin, Boise State—25 (8 sacks, 14 knockdowns, 3 hurries). He probably is the least athletic and least powerful of the elite pass rushers in the draft, but McClellin outworks his opponent. He switched between hand down and hand up effectively.
9. Chandler Jones, Syracuse—14.5 (4.5 sacks, 8 knockdowns, 2.5 hurries). His production was limited because he was injured and missed five games. Jones is not a great edge rusher and he sometimes struggles to finish plays. He is tenacious.
Scout Talk: Motor Issues
I asked a group of NFL talent evaluators which players are being labeled potential low motor guys. These are some of the players who have been dinged for lack of effort or commitment in various draft meetings.
Mike Adams, Ohio State OT. He was an inconsistent performer despite his considerable talent, and scouts question how hard he works and how aggressively he plays. One said he does not appear to pay much attention to the finer points of technique. The issue could cost Adams a spot in the first round.
Quinton Coples, North Carolina DE. With a lackadaisical play demeanor, Coples gives his team just a fraction of his ability.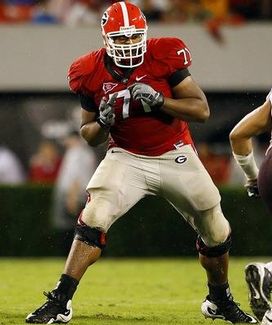 ICONCordy Glenn has the potential for greatness -- if he wants it badly enough.
Cordy Glenn, Georgia OL. He may be the most gifted blocker in the draft, but he is an inconsistent player. "He floats through games, and then he can look like Super Man at times," one college scouting director said. Added a personnel director, "I question his aggression, his finish and his conditioning."
Cam Johnson, Virginia DE. The term "underachiever" frequently is used to describe Johnson. One front office man said Johnson is an "all star game wonder who doesn't' work hard." Another said he is "not a great competitor."
Kelechi Osemele, Iowa State OT. "He can be as good as he wants to be, but he is inconsistent in all phases," a personnel director said. Osemele also carries the underachiever label.
Nick Perry, Southern Cal DE. Scouts believe Perry could play harder. One called him an underachiever. There are concerns about his conditioning. "His get-off can be lethargic," one general manager said.
Dontari Poe, Memphis DT. Effort is in the eye of the beholder with Poe. A number of area scouts have the impression he was lazy. But not everyone is in agreement that Poe doesn't play hard. Some front office men I have spoken with said they believe he wasn't always productive because he played too many snaps.
Rueben Randle, Louisiana State WR. "He is a bit of an underachiever who does not play with urgency," a player personnel director said. A college director said Randle loafs on some plays he is involved with, and he doesn't show consistent effort in blocking. Many believe he is a tough player, however.
Devon Still, Penn State DT. The encouraging thing is he seemed to step up against better competition, but scouts say his motor runs hot and cold. "He can dominate, but he usually dominates two to four plays a game," a general manager said.
Billy Winn, Boise State DT. He actually improved his effort level in 2011, but he still has the knock on him. "He leaves a lot to be desired," a college director said. "He will drive a defensive line coach nuts."
Hot Reads
*One hundred years from now, the name "Cromartie" may be more common than the names "Smith" or "Jones."
*If it is true that RGIII has a "selfish streak," that will make him very much like many of his new teammates, no matter who drafts him.
*If the Lions only drafted players who never smoked marijuana,