August 07, 2011 -
Barry Dorey
NFP Sunday Blitz
Instead of trying to plug Donovan McNabb into their offense, Vikings coaches are trying to plug their offense into Donovan McNabb.
Minnesota offensive coordinator Bill Musgrave hopes to revitalize the 34-year old passer by making McNabb as comfortable as possible in his offense. It is a marked departure from the approach the Redskins took last year, when McNabb had his most disappointing NFL season.
"Our whole offensive staff is trying to put him in position to have success," said Musgrave, who came to the Vikings from the Falcons, where he coached Matt Ryan. "We are customizing and tailoring the Vikings system to fit his strengths."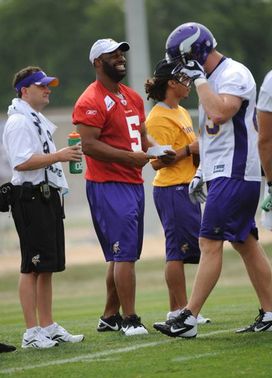 Donovan McNabb looks comfortable and at ease in his new surroundings.
Musgrave goes so far as to call it "Donovan's system." They have discussed the offense at length and have a running dialogue about change. Musgrave has solicited McNabb's opinion and says he is open-minded about taking the offense where McNabb wants it to go.
This is music to the ears of McNabb, who talked of becoming robotic last year. He says the Vikings' offensive approach is one of the reasons he wanted to be traded to Minnesota. "I looked at it as a good fit because you have a head coach [Les Frazier] who knows you, he knows your regimen, he knows how you spend extra time trying to be better at what you do," McNabb told me. "Bill Musgrave has played the position. He knows the best way of approaching the game and making the offense comfortable is what's best suited for the players, what they feel comfortable with, what they can get done."
Musgrave has studied what McNabb had success with in Philadelphia and is including many of those concepts in the new Vikings offense. For instance, "Donovan is excellent at throwing the ball downfield," Musgrave said. "He is excellent at hitting guys in intermediate to deep area, which gives you chunks of offense."
McNabb isn't familiar with everything that's being thrown at him in Mankato, where the Vikings train. The terminology the Vikings use is distinctly different from the terminology the Redskins and Eagles used during McNabb's time with those teams. Whereas both Mike Shanahan and Andy Reid use more traditional West Coast offense terminology to describe plays, Musgrave is using Ron Erhardt terminology. It's similar to what the Falcons, Steelers and Cardinals use.
Musgrave used the true West Coast verbiage while playing under Shanahan and also used the true West Coast terminology for a good portion of his coaching career. He veered off a little after working with Mike Mularkey in Atlanta, in part because he believes the terminology he now uses is easier on players. "This terminology tries to take some of the wordiness and verbiage out of play calls to help our tempo from huddle to line of scrimmage," Musgrave said. "We've tried to tailor it to our no huddle package, which evolved in Atlanta. I'm very much committed to that."
The other aspect of the Vikings' offense that is foreign to McNabb is the pass protections. Quarterbacks coach Craig Johnson has been working overtime with McNabb, drilling him on the Vikings' protections.
Learning everything McNabb needs to learn in a short period of time, with no offseason, may be a challenge. But the Vikings are adjusting by whittling down the volume in their playbook. "We want to be difficult to defend, and multiple and diverse, but we also want our players to be able to understand what the hell we're doing," Musgrave said.
If everything works the way Musgrave anticipates it working, McNabb will be playing more like the quarterback from 2004 than the quarterback from 2010. "I don't anticipate him showing any signs of age here with the Vikings," Musgrave said. "A lot of time as a quarterback, you get better over time like a fine wine. The lessons you've learned over the years start to sink in when you are in your mid 30s, and you can start applying them the best way."
These lessons are easier to apply when the quarterback is playing in a user friendly offense.
Things I Didn't Used To Know
*The Bills have a crowd at the receiver position after the acquisition of Brad Smith. The former Jet joins Lee Evans, Steve Johnson and Roscoe Parrish, so don't be surprised if the Bills part ways with Evans. The veteran had a down year in 2010 with only 37 catches, and he could have some trade value. Interesting parties have been sniffing around.
*More than one NFL executive will be surprised if Bryant McKinnie is playing anytime soon because he is so grossly out of shape that he would endanger his health by suiting up. McKinnie's listed playing weight was 335, but his normal playing weight has been about 350. He usually would report to camp at about 365 and work off the weight before the season started. This year after the lockout he reported to the Vikings at 386 pounds. He was so heavy he couldn't even finish a workout. When the Vikings let go of the 10 year vet, there subsequently were no objections in the locker room.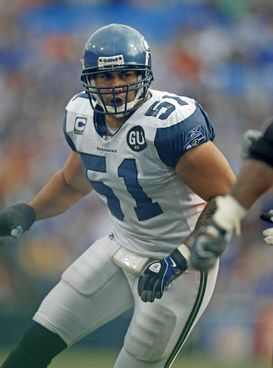 Lofa Tatupu still can play, but just not in Seattle.
*The Seahawks did not get rid of Lofa Tatupu because they thought he could no longer play. They got rid of him because he no longer fit in their defense. Many believe Tatupu, at 6-0, 250, can only play middle linebacker in a 4-3 scheme. The Seahawks want to be more versatile with their front this year, and plan on morphing in and out of a three man front. Tatupu isn't the guy to do that with.
*One of the reasons the Eagles were drawn to Vince Young is they saw him compete—and compete well—against members of the NFC East last year. When the Eagles were studying tape of the Giants, Cowboys and Redskins, Young kept popping up, making plays. Young won two of his three starts against the Eagles' division opponents, had a 102.7 passer rating and threw three touchdowns against no interceptions. If Young can continue to play as well against NFC East opponents, he will serve the Eagles quite well.
*Teams in need of a backup quarterback might want to dial the 412 area code. The Steelers have Byron Leftwich, Charlie Batch and Dennis Dixon all lined up behind Ben Roethlisberger. They Steelers like all three, but they can't keep them all. Any of the backups might be moved in a deal, because the Steelers would rather get something in return than have to cut one.
My Sunday Best: Teams That Helped Themselves
Free agency always is overrated. It's so tempting to confuse activity with improvement. This year, free agency may be less overrated than usual given the number of players that were on the market and the number who are on the move. As a whole, it looks like a lot of teams, even those that made a lot of moves, treaded water over the last couple weeks. But some clearly should benefit from an infusion of talent. Here are my teams that played the free agent game best.
1. Eagles. I don't see how anyone can argue that the Eagles helped themselves more than any other team since free agency began. In fact, this might be the best free agent class in history from a depth standpoint. The Eagles improved the upper end of their roster (Nnamdi Asomugha, Jason Babin, Cullen Jenkins), as well as the bottom half (Derek Landri, Donald Lee, Evan Mathis).
2. Seahawks. They had the most underrated free agent hau l. Zach Miller and Robert Gallery were great gets from the Raiders, especially Miller. Sidney Rice was the most talented receiver on the market. If he can stay healthy, he should thrive in Seattle. Tarvaris Jackson was their most interesting acquisition. He hasn't put it together, but Jackson has about everything you look for in a quarterback.
3. Redskins. We all get on the Skins for their free agent mishaps, but what they did this time looks good on paper. They re-signed their own most important free agents, and made upgrades in a number of areas. Stephen Bowen and Barry Cofield were nice DL pickups from division rivals. And they also should get some help from their raid on their Baltimore neighbors which produced Josh Wilson, Chris Chester and Donte Stallworth.
4. Saints. Considering they had to get rid of Reggie Bush to help the bottom line, the Saints did just fine. Darren Sproles will step into Bush's cleats. One of the best signings of free agency was their acquisition of DT Aubrayo Franklin. Olin Kreutz helps fill the hole left by Jonathan Goodwin's departure.
5. Texans. Jonathan Joseph and Danieal Manning will improve the athleticism and speed in the secondary. They lost a good one in Vonta Leach, but replaced him with Lawrence Vickers.
One Man Yelp: Back In The Day
I had the pleasure of being entertained by Larry Lee and Back In the Day Saturday night, as the band provided the entertainment at Richard Dent's post-enshrinement party in Canton.
I've seen the Detroit-based group a few times over the years and always enjoy their funky grooves. They capture the Motown sound with a heavy dose of soul, and also crossover into various genres. Included in the group are former members of the Temptations and Spinners, and you can hear the influences.
On Saturday, Back In The Day was drawing people in from other enshrinees' parties with songs like Too Proud To Beg, Give It To Me Baby, The Bird and Bad Boy.
The group is fronted by Lee, a former offensive lineman for the Lions, Dolphins and Broncos who also worked in the Lions front office in various capacities for nine years. Lee was a fine blocker and a solid administrator, but he is an outstanding bass player. In fact, in 2006 he was voted bass player of the year by the Detroit Music Awards.
Lee told me he started playing both football and bass guitar when he was in sixth grade. "I believe that music and football are similar and complement each other," he said. "Football is a team sport that forces you to interact with others. If you are not on the same page it won't work. The same with music. You must be on the same page if you are within a group/band in order for the sound to work. They both cause you to give your all and most of the time in front of an audience."
Lee is a unique performer. How many others have shared stages with Billy Sims, Dan Marino and John Elway, as well as with Chaka Khan, Smokey Robinson and Isaac Hayes?
Check out Larry Lee and Back In The Day here.
Hot Reads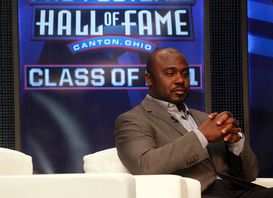 The great Marshall Faulk took his rightful place in Canton Saturday.
*Great to see Richard Dent, Marshall Faulk, Chris Hanburger, Ed Sabol, Deion Sanders and Shannon Sharpe take their bows in Canton over the weekend. Sad that Les Richter wasn't here to enjoy his moment.
*I'm not sure if Tim Tebow is destined for greatness or failure, but I am sure he is the most polarizing player