December 01, 2013 -
Dan Pompei
NFP Sunday Blitz
A year ago, with the zone-read option suddenly a hot trend, five NFL quarterbacks rushed for 300 yards or more and there were two 100-yard games. With five games remaining for all but the half-dozen teams that played on Thanksgiving Day, league quarterbacks have posted three 100-yard performances in 2013, and seven signal-callers have already run for 300-plus yards.
But the bump in numbers doesn't mean that the zone-read has taken another step forward in its NFL evolution. In fact, there are many who feel the concept that's so prevalent in the college game has perhaps begun to devolve in the NFL in 2013. And the skeptics aren't strictly limited to Arizona coach Bruce Arians, who, in advance of Sunday's matchup against Philadelphia and zone-read guru Chip Kelly, last week termed the zone-read "a good college offense," while suggesting it might not have a lengthy shelf-life in the league.
"I don't want to call it a fad, or claim that we've caught up entirely, but, numbers aside, it just hasn't had the same impact (as in 2012)," the defensive coordinator from one NFC team told NFP last week. "The gap has closed, and you're not seeing defenses as 'gashed' by it as they were last year."
One of the reasons, Atlanta defensive coordinator Mike Nolan said earlier in the season, was that so many teams that struggled against the zone-read in 2012 went to college staffs for advice and counsel in the offseason. "You don't want to give away any trade secrets, but those (visits) helped," acknowledged Nolan, as the Falcons huddled with at least two college staffs, including the defensive coaches from Clemson. Said Clemson coordinator Brent Venables of the meetings: "I'm not sure we had all the answers, either, but we tried to answer their questions."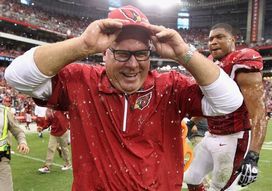 According to Arizona head coach Bruce Arians, the NFL has begun to catch up to the NFL's hottest offensive trend.
From the looks of things, the NFL teams elicited some good answers.
Of course, the other factor was that, with a full off-season of video review, league coaches got a much better handle on stanching the zone-read quarterbacks. That was the basic contention of Arians, who proposed that NFL coaches usually catch up to new wrinkles when provided enough time to scrutinize them. And one can't underestimate, either, the reality that the NFL is more physical, and that running quarterbacks absorb more pounding.
"Every hit hurts and there's a cumulative effect," Seattle's Russell Wilson, who has one of this season's 100-yard games (Terrelle Pryor of Oakland authored the other two), told NFP a few weeks ago. "I think (the zone-read) is a good weapon . . . but you can see (defenses) playing it a little bit differently. I'm sure it caught teams by surprise some last year. But surprises don't last long (in the NFL)."
And perhaps neither will the zone-read.
Indeed, players such as Robert Griffin III of Washington have cut back on the number of option-read plays they've run in 2013. In fact, even in 2012, the Redskins' coaches temporarily reduced the number of zone-read plays in game plans for a few weeks after Griffin was hit 28 times (by unofficial count) in a two-week stretch. The knee injury that Griffin sustained in the 2012 playoffs clearly has been a factor in his rushing ability this season, and he is on pace for 551 rushing yards, after having 815 in his rookie year.
San Francisco linebacker Ahmad Brooks suggested that Griffin isn't the same player he was a year ago after last week's Monday night game. But neither, it seems, is the impact of the zone-read. The offense might not be on its way to becoming just some cursory curiosity, like the Wildcat offense. It probably isn't even fair to say that the zone-read is on life support. But there could soon come a time when it isn't a major chapter in any club's playbook.
Just look at the changes this season: Oakland has replaced Pryor, who might have threatened the 1,000-yard barrier had he remained the starter, with the undrafted Matt McGloin, a more conventional pocket passer. Under new coordinator Mike Shula, Carolina has stressed patience with Cam Newton and, while he remains a strong runner, he's matured in terms of pocket presence. Colin Kaepernick has been inconsistent in all areas. The once-electrifying Michael Vick, the lone quarterback in history to rush for 1,000 yards in a season and thought to be an optimum fit in Kelly's offense with the Eagles, has become a clipboard caddy. Wilson has become more aware of hanging in the pocket and the Seattle staff more aware of insulating him.
Heck, one of the seven NFL quarterbacks to rush for 300 yards this year is Alex Smith, and the Kansas City starter is hardly an option threat.
There are a few option prospects in the 2014 draft class, but some of them, such as Oregon's Marcus Mariota, might be regarded more highly for their passing skills. Teddy Bridgewater of Louisville, arguably the No. 1 quarterback for the '14 class, can run, but isn't a real option threat. Reigning Heisman Trophy star Johnny Manziel of Texas A&M is as much scrambler as option quarterback. In the big picture, there are probably more conventional pocket passers.
A self-confident Griffin said last week that running the ball, presumably with the option as a major component, will "always be a part" of his makeup. But it could be a diminishing part, not just for RG III, but for all option quarterbacks in the league.
+AROUND THE LEAGUE
*No linebacker has ever led the NFL in interceptions for a season, and the chances are that DeAndre Levy won't do it, either. But the Detroit Lions' five-year veteran, who collected his league-best sixth pick of the year in his team's Thanksgiving Day victory, is giving it a heck of a shot. Given that Levy, a third-round steal in 2009 and a guy touted by Detroit officials as a breakout candidate the past couple seasons, entered 2013 with only five career interceptions (never more than two in a year), the steal-spree might be a bit surprising. But Levy, coach Jim Schwartz and Detroit defensive coordinator Gunther Cunningham all agree that the former Wisconsin star is not only playing the best football of his career, but the smartest, most aware football, as well.
"He always knew the scheme, but he is a lot more (intuitive) now," Schwartz said.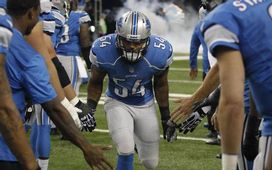 After notching five INTs over his first 57 games in the league, Levy has picked off six passes in 12 outings this season.
Noted Levy, who also has 19 passes defensed according to league stats, to NFP: "Knowing the defense is one thing. Knowing what the offense is going to do, or at least having a good idea, makes a big difference." Levy, whose 19 deflections are second in the league only to Tennessee cornerback Alterraun Verner, displayed his smarts again in the dominating win over Green Bay, not only picking off a pass, but also having another pass defensed, and being in the passing lanes and altering throws, on about three other occasions.
Levy, 26, wa s regarded as a good, not great, performer against the pass before this season. In 2013, he's become something special. It's believed that no linebacker ever registered more than seven interceptions in a season. All-time leader Don Shinnick (1959), Al Richardson (1980) and Lance Mehl (1983) all had seven in a year. With four games to play, Levy has a chance of topping that number.
*Sunday will mark the one-year anniversary of the murder-suicide involving former Kansas City linebacker Jovan Belcher, who took the life of girlfriend Kasandra Perkins before shooting himself in the parking lot of the team's practice facility in front of then-coach Romeo Crennel and former GM Scott Pioli. Both men have said the event is one they will never forget, and that is likely the case as well for those players who were with the franchise in 2012. But coach Andy Reid and the rest of the organization have done a good job of focusing the Chiefs beyond what occurred last year, both on and off the field, players told NFP.
"It's not like we bring up the Belcher thing a lot, but guys definitely remember," said standout inside linebacker Derrick Johnson, who has spent his entire nine-year career in Kansas City. "How could you not? He was a part of us, and he always will be in our thoughts . . . but this is a new team. We've tried to put a lot of the stuff from the past, the (Belcher) thing, the losing, behind us. There have been some rough times, believe me, on and off the field. But it's a different time here now."
Kansas City is slumping a bit, with back-to-back losses, injuries, and only one sack in the past three games, but, barring a total collapse, the Chiefs, who face Denver on Sunday in a huge AFC West rematch, will make the playoffs. And given where the Chiefs were only a year ago, that's a major accomplishment for the club.
*It's probably a little premature even for most hard-core fans to begin looking ahead to free agency next spring, but apparently never too early for some pro scouts and pro personnel directors, who are already reviewing video with an eye toward the future, and starting to assess potential unrestricted players. One veteran who seems to have caught the eye of a few teams, based on comments to NFP, is Philadelphia wide receiver Riley Cooper. His N-word indiscretion this summer aside – a lapse of judgment that could have cost the four-year veteran a spot with the Eagles and perhaps dented his career – Cooper could be a popular "sleeper" free agent in the spring if the Eagles don't sign him to an extension.
Said one personnel man: "He's made himself some money (this year), definitely, whether it's in Philadelphia or somewhere else. Maybe not big-time money, but I'd guess he's going to get a pretty decent offer somewhere. If you're convinced he'll fit in your locker room, and there won't be any (ramifications) from the incident in the summer, he's an intriguing guy."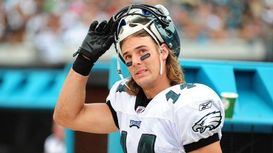 Cooper has already recorded career highs in receptions, receiving yards and touchdowns this season.
The four-year veteran averaged only 15.3 receptions over his first three years, but has 31 catches, 592 yards and seven touchdowns in '13. His 19.1-yard average and ratio of a score every 4.4 catches are not only impressive, but also indicative of the fact that the 6-feet-5 Cooper is more than just a tall, red-zone threat. Cooper, indeed, has three red-zone touchdowns. But he's also got four touchdown receptions of 32 yards or more, three of them for 40-plus yards. He is not, the league scout said, just a long-strider. Nor, apparently, is Cooper typical of so many former University of Florida wide receivers who have struggled at the pro level.
*Back in training camp, a few Seattle assistants and insiders close to the Seahawks told NFP that the club had the deepest group of cornerbacks they could recall in many years and might actually release some people who could play in the league. With the suspension of Walter Thurmond and the pending one-year absence of Brandon Browner, that much-ballyhooed depth will be tested now. Starting Monday night against New Orleans, in a game that could determine home-field advantage in the NFC playoffs. But the Seahawks, who will likely use Byron Maxwell as a starter and Jeremy Lane as the slot corner, are said to have retained their swagger in the days preceding the New Orleans game.
"They still think they can hold up with the guys they've got: there's a lot of confidence in the people who's been here since camp," a source close to the team told NFP. There is some thought that the Seahawks will move Pro Bowl cornerback Richard Sherman around more, in an effort to create matchups against the opponent's presumptive top wideout, but Seattle coaches were still mulling that possibility late in the week. The perception seemed to be that with Sherman and standout safeties Earl Thomas and Kam Chancellor, the Seahawks might still be able to adequately compensate. In a related item, retired cornerback Antoine Winfield, who signed with Seattle as a free agent after having spent his entire career in Minnesota, was said to be still thinking over and overture from the club to step into the breech. But late in the week, a Seattle official termed the comeback of Winfield "still a long shot."
*Atlanta tailback Steven Jackson has now gone 12 straight starts – the final five of 2012 in St. Louis and the first seven of this season—without a 100-yard performance. It's the longest such stretch, spanning more than a calendar year (his last 100-yard outing was on Nov. 25, 2012, against Arizona) of Jackson's 10-year career. Jackson was injured much of the early portion of the Falcons' disastrous season and at age 30, it's hard to tell if he's lost something or if the Atlanta offensive line is just so bad that he has no holes. But even if the Falcons remain a pass-first offense in 2014, the team will need Jackson to do better than his current career-low 3.4-yard average. The Falcons face some difficult decisions after this collapsed campaign, and one of them might involve Jackson and his future with the franchise. He is due a base salary of $3 million for 2014, with $500,000 of it guaranteed, and would count $2.3 million in "dead money" if released before June 1. It won't be surprising to see the club, which currently is No. 3 in the draft order and figures to finish in the top five, address the tailback position in the draft. Not in the first round, certainly, where the Falcons likely will choose between an offensive tackle and defensive end, but at some point in the lottery.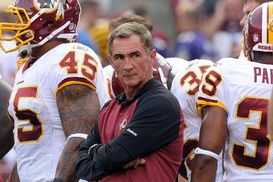 Will Mike Shanahan be back on the Washington sidelines next year?
*Just as the Falcons could face a tough decision on Jackson, the future of head coach Mike Shanahan in Washington might be a difficult call for Redskins owner Daniel Snyder after the season. In his first 15 full seasons as a head coach (not counting the '89 campaign, when he was canned by Al Davis of the Raiders after only four games), Shanahan experienced just one year of te n or more losses. But he's facing a third double-digit defeat season in four seasons with the Redskins, and Snyder has never been known as a patient man. It's got to be particularly distasteful for Snyder to see the franchise backslide after the 2013 division title, and the immediate emergence of Griffin. Then again, it might be equaling galling to know that, if he dismisses Shanahan, he'll still owe him $7 million and will have to pay off a staff, as well, that is believed to be one of the NFL's highest paid. Notable is that Snyder, during his stewardship of the franchise, has never hired and retained a coach for more than four seasons. Marty Schottenheimer lasted but one year, Steve Spurrier two, Joe Gibbs four and Jim Zorn two. The grand plan might have been for Shanahan to eventually be succeeded by son Kyle, but the Washington offensive coordinator has come under almost as much criticism as his father, and the plan might not look quite so grand these days.
*Not even last week's exhilarating, last-minute victory at Kansas City, a comeback player of the year candidate (quarterback Philip Rivers) and a competitive team (albeit with a losing record) could draw enough fans to Qualcomm Stadium for Sunday, so the San Diego Chargers will become the first team to have a game blacked out in 2013. Then again, maybe it's the opponent, since the first-place Bengals also failed to get a sellout at Qualcomm last Dec. 2 and were also blacked out. Not since the blackout rule took effect in 1973 had the NFL gone 12 weeks into a campaign without a blackout. Last week, a league official told NFP that there was "mildly guarded optimism" the NFL might go an entire season with no blackouts, but conceded that was "probably unlikely," since late-season crowds typically decline with franchises eliminated from the playoffs. Still, it was quite a run for a league that remains the preeminent sports entity of this or any other time.
+SHORT YARDAGE
*In past weeks, the Sunday Blitz has highlighted the work of New England defensive tackle Chris Jones, whose five sacks rank second among rookies, but who was waived by two teams before landing with the Patriots. Defensive coordinator Wade Phillips of Houston, which chose Jones in the sixth round but cut him, suggested last week that the former Bowling Green standout was a victim of the old "numbers game." But here are some numbers worth considering: Texans starting nose tackle Earl Mitchell has 1.5 sacks. Backup Terrell McClain, ostensibly the player Houston kept instead of Jones, has none. . . . The suddenly well-traveled Matt Flynn has only four career starts, but has been sacked 22 times in those games. In two starts this season, for Oakland and Green Bay (on Thanksgiving), Flynn was sacked seven times in each game. . . . It's been 25 years, but the return to Philadelphia for Sunday's game might be a bit emotional for Arians. The game will mark Arians' first return to the city as a head coach since he was fired by Temple following the 1988 season. Arians was 21-45 at Temple in his six years there. At age 61, he has done a terrific job with the Cardinals. He probably won't win coach of the year honors in the NFL, but deserves some consideration. . . . Since the league implemented the eight-division format in 2002, there have been 14 teams that finished last one year and first the next. But just three franchises went worst-first-worst again over a three-season span: Tampa Bay (2004-2006), Philadelphia (2005-2007) and Kansas City (2009-2011). The Redskins, who were last in the NFC East in 2011 but won the division last season, are currently last again, and could join the list of teams with the dubious trifecta. . . . . Taking an early look forward at your mock draft? Consider this: In the past 17 drafts, only three positions were represented with the top overall selection: 12 quarterbacks, three offensive tackles, and a pair of defensive ends. . . . Through 12 weeks, NFL teams remained on a record pace for offensive snaps per game, with 130.5. Four clubs were averaging more than 70 snaps per game and 13 had more plays than Philadelphia, where Kelly was the man many guessed would lead the snaps-per-game category in 2013.
+BY THE NUMBERS
*It won't be any consolation, given the loss at Baltimore on Thursday night, but the game marked the second straight outing in which Ben Roethlisberger wasn't sacked. That probably doesn't seem like much of an accomplishment, but it was the first time in the Pittsburgh quarterback's career that he wasn't sacked at all in consecutive starts. Roethlisberger has been sacked multiple times in 101 of his 138 career starts. But in the last three games, he has been sacked only one time, after absorbing two or more sacks in each of the year's first nine games.