May 19, 2013 -
Dan Pompei
NFP Sunday Blitz
Something about Mike Glennon has interested Greg Schiano for a long time.
When Schiano was the head coach of Rutgers in 2007, he visited Glennon at Westfield High School in Fairfax County, Va., to recruit him Glennon told Schiano his goal was to play in the ACC, not in the Big East.
"I was disappointed because I thought he was the best one on the East coast that year," Schiano said.
Fast forward to the 2013 draft. Schiano, now the head coach of the Bucs, went quarterback shopping again. And he thought Glennon was more than the best quarterback on the East coast this time. He said he thought Glennon was the best quarterback in the draft.
Schiano and the Bucs were fortunate Glennon was there in the third round for them to take. Two quarterbacks, E.J. Manuel and Geno Smith, were chosen ahead of him, Manuel in the first round by the Bills and Smith in the second by the Jets. But Glennon's chance of succeeding in the NFL might be as good as any rookie quarterback.
The biggest knock on the 6-7 Glennon is he lacks mobility. He is counter trend in a quarterback world of RGIIIs and Cam Newtons. "He can't avoid pressure," one general manager told me. "His quick release let him get away with it in college, but it's different in the NFL."
Schiano and the Bucs don't see it that way. "He has pocket presence, ability to feel the rush and move in the pocket," Schiano told me. "He can extend the play. Can he tuck the ball and run away from people? No. He is not going to be the guy who makes the 30 yard run. Can he tuck it and keep himself safe? Yes, he shows that he does that on college tape a lot. He takes off to run to get out of bounds."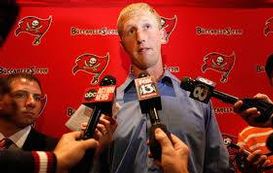 Mike Glennon faces the press in Tampa.
From the standpoint of dealing with pressure, Schiano thinks Glennon knows what he is, and he knows how to deal with what he is. "Some guys can feel the rush and keep their eyes downfield; other guys feel the rush and start looking at the rush," Schiano said. "Once you start looking at the rush, you are done. You scramble, you get sacked. He has the ability, and Josh [Freeman] has the ultimate ability to keep the eyes downfield. I've never seen a guy who is as good at keeping his eyes down the field as Josh. Josh has more mobility.
"It's toughness in some respects. You keep your eyes downfield, feel the rush closing in, you know you are going to get hit. Some guys can't play catcher in baseball because they blink when the guy swings the bat. He drops have the balls. So you don't make him a catcher."
The hope of the Bucs is Glennon won't be under as much pressure in Tampa as he was at North Carolina State. He played behind a dreadful offensive line that would make a lot of quarterbacks look immobile. He also had a ridiculous amount of passes dropped by his receivers—one talent evaluator counted 46.
In the pre-draft process, the buzz with scouts and coaches was that Glennon was a poor man's Joe Flacco. "Their stature, their athleticism, their arms and their personalities are similar," one veteran talent evaluator said. So it didn't hurt Glennon when Flacco led the Ravens to a Super Bowl win.
Like Glennon, Flacco isn't much of a threat to run. He had 22 rushing yards on 32 carries last year.
Schiano, who also recruited Flacco years ago, sees the comparisons. "Their body types are similar," he said. "Joe is probably a little more mobile. Both are kind of deadpan guys, not screamers. They are kind of flat line that way, but in a good way. Intense competitors, both of them. Glennon has a heck of a lot of playing and production to do before he can compare to Joe in that way, but coming out of college there are some similarities."
What will matter for Glennon moving forward isn't how he compares to Flacco. It's how he compares to Freeman. No one expects Glennon to beat out Freeman this year. But it's not out of the question.
Schiano said he believes Glennon "can play quickly" if he is needed. "But our situation will be only if he's needed," he said. "Or if he wins the job. Look, I'm not against that. We have a starting quarterback. It's not like we're looking to find a starter. But competition is competition. Mike Glennon is a fierce competitor. I knew that when he was coming out of high school. Now being able to work with him a little, you can see it on the practice field."
Glennon will get a chance. Maybe this year. Maybe next, after Freeman's contract expires. Maybe farther on down the line.
But when that chance comes for Glennon, his head coach is pretty confident he will do well with it.
My Sunday Best: Defensive Tackle Combos
Nick Fairley started a bit of a firestorm last week by saying he and Ndamukong Suh are the best defensive tackle pair in the NFL. Rather than looking at the best DT combos in the league, I looked at the best DT combos in league history. Fairley and Suh may be the best today, but they have a long way to go before they are listed with these duos. Here, in the order in which they played, are my Sunday best defensive tackle combinations. Do you think I miss any?
Artie Donovan and Big Daddy Lipscomb, Colts, 1956-60. The Colts won two NFL championships in the five years these two played together. Of course it also helped that Gino Marchetti was on the line. They were a force against the run and pass, and they also were two colorful characters.
Alex Karras and Roger Brown, Lions, 1960-66 (except for 1963, when Karras was suspended). Neither one of these players is in the Hall of Fame. But both could be and may eventually be. With Karras' great quickness off the ball and Brown's brute strength, they were a devastating pair. They may have complemented each other as well as any defensive tackle duo in history.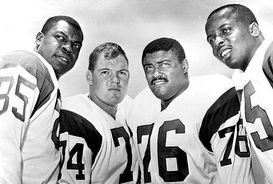 Merlin Olsen and Rosey Grier, center, may have been part of the greatest defensive line ever.
Merlin Olsen and Rosey Grier, Rams, 1963-66. They were the guts of the Fearsome Foursome, which also included Deacon Jones and Lamar Lundy. That may have been the greatest defensive line in history. Later, Roger Brown took Grier's spot. Grier might have played his best football with the Giants before being traded to the Rams. Whoever was playing next to Olsen should have looked good.
Bob Lilly and Jethro Pugh, Cowboys, 1966-74. Of course Lilly is one of the all-timers at defensive tackle. Pugh, who never played in a Pro Bowl, may be one of the most underrated interior defensive linemen in history. He was a fine pass rusher from the tackle position, as he took advantage of attention paid to Lilly and used his athleticism and speed to defeat one-on-one blocks. Pugh later teamed with Randy White for a short period of time.
Buck Buchanan and Curly Culp, Chiefs, 1968-74. This is the only pair in which both players are hall of famers. They were a fine complement, as Buchanan was agile and athletic, and Culp could be the immovable object. Of course, he also had outstanding quickness. Both were listed as defensive tackles, but at times they were aligned in what was probably the first true 3-4 defense, with Culp at nose tackle.
Mean Joe Greene and Ernie Holmes, Steelers, 1971-77. Give n the talent around him on the Steel Curtain defenses, Holmes didn't get a lot of accolades. But people who knew the game knew he was a fine complement to the great Mean Joe. Given Holmes' wild streak, he and Greene may have been the most intimidating pair of defensive tackles in history.
Alan Page and Gary Larsen, Vikings, 1967-74. Between them, they made it to 11 Pro Bowls and four Super Bowls as members of the famed Purple People Eaters. Page was the play maker, while Larsen did the dirty work. This pair was enhanced by two great defensive ends in Carl Eller and Jim Marshall.
Dan Hampton and Steve McMichael, 1981-90. They were the heart of what may have been the best defense in modern history. I can still see them there staring down the offense, hands on hips, steam blowing out from their facemasks. Hampton drew double teams and still wreaked havoc. McMichael made plays with surprising quickness and craftiness. Between them, they had 152 sacks (95 by the very underrated McMichael). They broke up as many saloons as they did offenses.
John Randle and Henry Thomas, Vikings, 1990-94. Both players were exceptionally quick and explosive. They made a lot of plays in the backfield, and when they weren't making plays themselves, Randle and Thomas were helping teammates make plays.
Things I Didn't Used To Know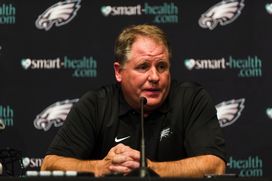 Chip Kelly is using technology to help the Eagles.
*The use of GPS systems and heart rate monitors