March 10, 2013 -
Dan Pompei
NFP Sunday Blitz
For the next week or so, the NFL will be a wide receiver world.
You, me, the defensive ends, cornerbacks, running backs, tight ends and the rest, we're just living in it.
So many have wide receiver envy. Among the teams who could make wide receiver moves include the Dolphins, Vikings, Patriots, Browns, Steelers, Rams, 49ers, Bears and Jets.
Wide receivers are expected to be the stars of free agency, 2013. They already have been the stars, and free agency hasn't even begun yet. The Chiefs coughed up a reported $56 million over five years to prevent up and down Dwayne Bowe from becoming a free agent. And the Dolphins paid Brian Hartline, who has had one 1,000 yard receiving season, an average of more than $6 million per year to keep him off the market.
"I think Brian could have gotten more money if he went to free agency," his agent Drew Rosenhaus told me. "But he wanted to stay in Miami, so he was comfortable with it. There will be a couple of free agents paid a No. 1 receiver's salary. A few will get No. 2 money. And a lot will get No. 3 and No. 4 receiver deals. We wanted to get to the top of No. 2 wide receiver salary tier with Brian."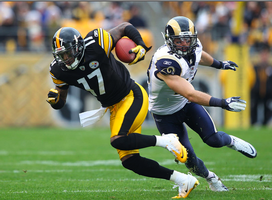 Mike Wallace: catch him if you can.
The Hartline and Bowe contracts were just warmup pitches. Other wide receivers with expiring contracts who are in line for paydays include Mike Wallace of the Steelers, Greg Jennings of the Packers, Wes Welker of the Patriots, Danny Amendola of the Rams and Brandon Gibson of the Rams. There even has been talk that restricted free agent Victor Cruz of the Giants will get some play. If he does, he could be the highest paid of all.

Otherwise, Wallace is likely to sign the biggest contract of any non-quarterback of the offseason. He is this year's Mario Williams.
But that's what gives some teams pause. Mario Williams didn't exactly light up Buffalo last year. And there is a string of wide receivers who signed big money free agent deals who disappointed. The lastest is Robert Meacham. In previous years, there were T.J. Houshmanzadeh, Javon Walker and Alvin Harper.
And Wallace is likely to be highly overpaid. Those who should know speculate his new deal will average more than $13 million per season. "There is no Vincent Jackson this year," a personnel director for an NFC team said. "Mike Wallace is more of an outside vertical guy, but he doesn't go inside much. He isn't real strong run after catch. He's pretty good at comebacks and hitches because defenders play off him since they have to respect his speed."
With wide, receivers, it's always buyer beware. Free agency isn't a sure-fire way to acquire a wideout, though it often is a more reliable way to land one than the high rounds of the draft.
There are a number of issues specific to wide receivers that increase the risk factor. Including:
*Receivers who fit well in one system don't always fit well in another. They are not interchangeable parts. "Some guys only can play inside," said an AFC pro personnel director. "Some are only Xs. Some aren't smart enough to learn all three positions, especially if they are in a new system."
Wide receivers, save for a select few, usually have one position at which they are best, whether it's flanker, split end or slot. Deion Branch averaged 62 yards per game for the Patriots in 2005. After he was traded to the Seahawks, he averaged 46 yards per game over the next five years. Upon returning to New England in 2010, he averaged 64 yards per game. The Patriots used him mostly as a slot receiver. The Seahawks didn't use him inside much.
Jennings is a rare receiver in that he can line up at any position and run an excellent route. Amendola is mostly a slot player. Everyone knows Welker is an inside receiver only. Signing him, especially signing him to a big money deal, probably means making sure your offensive coordinator is OK with playing three wide receivers the majority of the time. "You have to commit to playing him," and NFC front office man said.
*Many wide receivers are high strung and egocentric, and that doesn't always play well in a new locker room. Here comes an interloper who got paid big money, and he's a jerk. Guess how he's going to get treated?
The most attractive wide receiver free agents are tough minded, hard workers. This free agent class has more blue collar players than receivers who are in love with themselves.
*More than players at most positions, receivers are more dependent on other players and factors beyond their control. "A lot goes into a wide receiver being good," the AFC pro personnel director said. "He needs the quarterback. He needs the quarterback to be protected. And he needs openings in defenses. There aren't many receivers who can still be productive if coverages are being rolled to them."
So a free agent receiver might not meet production expectations, but it might not necessarily be because he is performing poorly.
*A receiver has to get on the same page with a quarterback in terms of timing. Signing a receiver late in free agency makes that more difficult. The best quarterback-receiver tandems have years of experience throwing and catching. It doesn't happen overnight.
With that out of the way, let the wild spending on wide receivers begin.
My Sunday Best: Free Agents to Be Cautious About
There is a reason every free agent is a free agent. So shrewd NFL general managers are cautious about all of them. But some require more caution than others. Here are some that may require extra attention before action is taken.
Sam Baker, Falcons LT—One scout said he thought Baker would be is best in a zone scheme. He has limited length, which affects him as a pass protector, and he does not anchor very well. Baker could be a more natural guard.
Gosder Cherlius, Lions RT—He is coming off what easily was his best season, but could he duplicate it if he changed systems? Cherilus has questionable instincts.
Jared Cook, Titans TE—Teams are going to bid on Cook based on his potential, which is enormous. And someone could hit a home run with him. But you have to realize what he is—a slot receiver in a tight end's body. "Don't ask him to block," a personnel man said.
Fred Davis, Redskins TE—He has been a pretty good player, but dependability is a concern. He has missed 13 games the last two years, he is coming off an Achilles tear, and he is at risk for facing a one year suspension if he violates the league's substance policy.
Louis Delmas, Lions S—Delmas is a fine safety. But he plays recklessly, and he has struggled to stay on the field. He has played in only 19 games the last two seasons.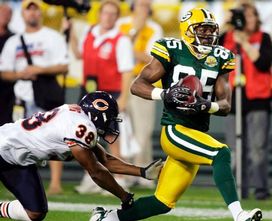 ICONWill Greg Jennings be as productive if he's not wearing green and gold?
Greg Jennings, Packers WR—Teams are understandably cautious about giving receivers a third NFL contract. Jennings will be 30 this year and his body may be starting to break down. Wherever he signs, he will not have Aaron Rodgers throwing to him. That being said, he is one hell of a football player.
Jake Long, Dolphins LT—He would be a good signing at the right price, but he probably is going to sign for the wrong price. Long has not played well for two seasons, and he has had multiple injuries. One front office man said Long sho uld be a right tackle, but he is not a very effective left tackle.
Andre Smith, Bengals RT—In his history are weight problems, durability issues and a recent arrest. He played well in 2012 for the first time in his career.
Aqib Talib, Patriots CB—Good player, but he has a history of volatility and being difficult to manage. How will a big pay day affect him?
Wes Welker, Patriots WR—He is 31 years old and has not slowed down according to pro scouts. But there is little chance of him being as productive and valuable in any other system and with any other quarterback.
Things I Didn't Used To Know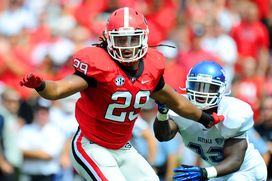 US PRESSWIREJarvis Jones is getting a clean bill of health.
*Jarvis Jones' neck injury is starting to look like it might be a non-issue on draft day, and there is little chance he will fall out of the top 10. In a medical report that was sent to NFL teams, leading orthopedist Craig Brigham refutes that Jones ever had a significant spinal cord contusion. When he was at Southern Cal, the pass rusher was diagnosed with one, and Southern Cal did not allow him to play in 2010. Jones transferred to Georgia and played two seasons with no problems. Brigham concluded that Jones either had a very mild incident of spinal cord concussion or merely a stinger that has long since resolved. Even if another similar injury occurred, Brigham concluded it would not be a career ending issue. After recently examining Jones, Brigham concluded, "Jarvis is cleared to play without restriction."
*Darren Fells might not stick with the Seahawks, but don't be surprised if he impresses. Fells was an all-state tight end in high school before choosing to play basketball in college. He then embarked on a professional basketball career that took him to Finland, Mexico, Belgium, France and Argentina. He never lost the football itch, however, and he clearly has the genes for it. His brother Daniel Fells is with the Patriots. Darren is 6-6, 281. The Seahawks tried out the 27 year old as a defensive end, and weren't overly impressed. Then they had him run some pass routes, and liked what they saw. He looked like an efficient runner, and he caught the ball well. They signed him last week as a tight end, and are anxious to see him in pads.
One Man Yelp: Super Bowl XLVII Champions Baltimore Ravens DVD
NFL Films did its usual outstanding work of telling a story and building to a crescendo in a new DVD, Super Bowl XLVII Champions Baltimore Ravens.
The DVD hits all the key points, some with new perspective. The Ray Lewis drama is covered well, as is the Har-Bowl, the fourth and 28 Ray Rice play, the promotion of Jim Caldwell, the playoff upsets of the Broncos and Patriots, and the Terrell Suggs comeback. In the pregame huddle of his first game back, Suggs says, "I did not appreciate this moment."
The pregame Super Bowl handshake between John and Jim Harbaugh was a highlight. John seemed relaxed; Jim tense. Said John: "You excited?" Jim: "Very excited. You?" John: "Absolutely. How can you not be?" Then Jim extends his hand and starts to walk away. John grabs Jim's wrist and pulls him towards him, hugs him and says, "Come here. I love you. Be good today. I'm proud of you, real proud of you." Jim: "Okay."
The power outage coverage was good too. John asks CBS sideline reporter Solomon Wilcots what he would do. Wilcots tells him he would call his team together and tell them sooner or later they are going to have a game to play. Harbaugh takes his advice.
There are extra features on the Harbaugh family, Courtney Upshaw, Super Bowl media day and Super Bowl post game.
It's a great way to relive a truly special season.
Hot Reads
*Vince Young would have a lot better shot at creating a market for his services if he took accountability for his actions, rather than blaming others.
*Turns out Alex Smith might bring the best return on investment of any player in the NFL, if ticket sales are an indicator.
*That's a quality addition by the Browns in hiring Ray Farmer as assistant general manager.
*You can beat up A.J. Smith for the downfall of the Chargers in recent years if you like, but he will bring the Redskins a lot of wisdom and experience as a senior executive.
*Next time an NFL owner cries poor, we might want to think twice about dropping a quarter in his cup.
Dan Pompei covers pro football for the Chicago Tribune at chicagotribune.com.