June 12, 2011 -
Dan Pompei
NFP Sunday Blitz
Colin Kaepernick is a fine NFL prospect. He is big and fast and strong. He can wing it. He is a leader and he has a long history of producing.
But he is not the kind of quarterback you would expect to be taken by a team that runs a West Coast offense. Yet he is now a San Francisco 49er after they chose him in the second round of the April draft.
You can debate a bit about what a West Coast passing game is. It isn't the same from team to team. And you can't be sure where Jim Harbaugh is going to take his version of the offense. But there haven't been many quarterbacks like Kaepernick who have been drafted high by any West Coast teams.
I talked with a couple of high ranking decision makers about Kaepernick in the West Coast. Both have extensive history with the offense, and both of their teams still deploy it. Neither had Kaepernick pegged as a fit for their team.
"We look for quicker decision making skills, the ability to get the ball out more quickly," one said. "He is more of a windup guy. But he does have the movement skills, the ability to get to the perimeter."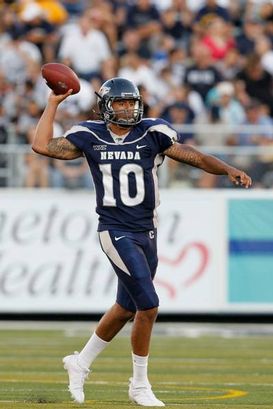 ICONKaepernick's throwing motion might need some tightening up for him to have success in a quick passing game.
The second agreed that Kaepernick's ability to extend the play will serve him well in the West Coast, but wonders about other aspects of his makeup.
"He doesn't have a lot of touch on his passes, so you worry about the precise timing and touch passes that you usually see in the West Coast," he said. "He also has a hitch in his delivery. On the surface, he looks like a strange fit. He does have the tools, though. It's just a matter of molding him."
Harbaugh isn't as concerned about how Kaepernick's skills fit his game plans as he is excited about what he can do with Kaepernick's abilities.
"He's a football player, first and foremost," Harbaugh told me. "That's what you look for from any player. He plays really well in 11-on-11, and that's probably the most important thing. He has a lot of other attributes you look from for a quarterback, whether it be West Coast or any other coast."
One of the advantages of the West Coast is supposed to be that you don't need a towering quarterback with a big arm. The offense has ruled the NFL over the last 25 years or so in part because it enables teams to move the football efficiently without having Dan Marinos and John Elways.
Kaepernick has a lot of horsepower for this little offense.
"You might not usually see quarterbacks like him in this offense, but what he has are good qualities to have," Harbaugh said.
No argument there. Kaepernick also has another good quality: intelligence. He scored a 37 on the Wonderlic, and one of the front office men pointed out he should have the ability to learn quickly. Harbaugh indicated he feels comfortable that Kaepernick can handle additions to the playbook that will take advantage of his skill set.
"I think he'll do quite well with whatever is thrown at him," he said.
Kaepernick will have a lot thrown at him. At Nevada, he was usually in shotgun and did a lot of dinking and dunking in the Pistol offense, an option-based scheme. Kaepernick hasn't seen the variety of defenses he's going to see because college opponents played mostly Cover 3 and Cover 2 against Nevada rather than risk overloading one side and guessing wrong against the option.
Harbaugh believes Kaepernick's adjustment to playing against NFL defenses will be a bigger one than his adjustment to learning an NFL offense. Kaepernick should be a quick study, but it's still going to take some time. Of course, that's why Alex Smith still is in San Francisco.
Over the next couple of years it is going to be interesting to watch Kaepernick's development within the context of Harbaugh's offense, and the development of Harbaugh's offense within the context of Kaepernick's abilities.
Things I Didn't Used To Know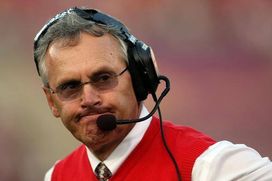 Jim Tressel may be more suited to be a college coach than pro.
*Jim Tressel seems to be a long shot to get a job as an NFL head coach. I spoke with three men who have hired NFL coaches in recent years, and none of them ever had Tressel on a short list. However, two of them said they would have to at least give the former Ohio State coach some consideration. One of them cited his leadership and record. The other spoke of his intelligence and ability to oversee. What might work against Tressel? Two of the men pointed to the fact that Tressel has never been involved with the NFL, and he would be entering a foreign environment late in his career. Other concerns include his sensitivity to criticism and his fatherly coaching style. None of them indicated that Tressel's problems at Ohio State would eliminate him as a candidate.
*When the labor mess finally is settled, don't be surprised if undrafted players have to continue to wait to sign with teams. The talk going around, some of it spurred by agents, is there should be a period in which teams can sign veteran free agents first, followed by a period in which undrafted free agents are fair game. Player agents and veteran players prefer it this way because they don't want undrafted free agents getting in the way of their older players. Many teams like the idea too because it will enable them to take on one frontier at a time.
*Tony Romo's recent wedding afforded Cowboys owner Jerry Jones and his family the opportunity to mend fences with Wade Phillips, who was fired last year. Romo's wedding was the first time the Jones and Phillips camps had gotten together since Phillips was let go. I hear they had a good talk and Phillips, like so many other former Cowboys employees, will remain on good terms with the team.
*Whether or not 2009 first round pick Aaron Maybin continues his career in Buffalo may depend on what the scale says in training camp. Maybin got down to about 235 pounds at the end of last year, which was way too light. The Bills want to see him at 255 so he has the sufficient bulk and strength to take on blockers as a jack linebacker and pass rusher in their defensive scheme. An underweight Maybin may have a difficult time surviving the final cut.
*The Broncos ignored some glaring needs in the draft and took the unusual step of selecting two safeties in the first four rounds—Rahim Moore in the second and Quinton Carter in the fourth. The word out of Dove Valley is they had three reasons for the big investment at the position. Reason 1: Starter Brian Dawkins is 37 and starter Renaldo Hill is 32. It's not like they believe one of their young reserves is a can't miss up and comer. So the team badly needed some youth at the position. Reason 2: The safety position is gaining increasing importance given the advances in the passing game. The Broncos needed to upgrade. 3. They need help on special teams, and safeties usually are plug and play on special teams, even if they aren't ready to help the defense.
My Sunday Best: Tressel's Guys
Few college coaches have contributed as many players to the NFL over the last decade as Jim Tressel. Here is a look at the best NFL players he coached in Columbus at each position.
QB--Troy Smith. There isn't a lot to choose from at this position. Smith, a fifth round pick by the Ravens in 2007, is the pick over Craig Krenzel. It's possible Terrelle Pryor will be the best Tressel quarterback in the NFL.
RB--Beanie Wells. The former first round pick has yet to hit his stride in three seasons, but the Cardinals still have hope for him. Tressel has not given the NFL a more talented back, that's for sure.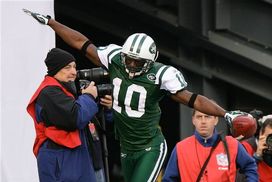 Holmes was one of Tressel's best gifts to the NFL.
WR—Santonio Holmes. The former Super Bowl MVP is an easy pick, even though Tressel's Buckeyes also turned out Ted Ginn, Michael Jenkins, Anthony Gonzalez, Brian Robiskie and others.
TE—Ben Hartsock. This blocker-first role player has done the job for four teams over the last eight seasons.
OT—Shane Olivea. The school that produced Orlando Pace has not produced many good tackles under Tressel. Olivea, a seventh round pick who started 57 NFL games, has been the best. Injuries and failed drug tests prevented him from being better. Mike Adams, who could come out in the supplemental draft, very well could become Tressel's best pro tackle.
C—Nick Mangold. There are two really good centers to choose from in Mangold and LeCharles Bentley. They have played in a combined five Pro Bowls between them. Bentley's career was shortened by injury, so Mangold is the pick.
G--Rob Sims. An underrated blocker, Sims has started 50 games in five years. In his first season in Detroit last year, he played very well.
DE--Will Smith. He isn't one of the NFL's flashiest defensive ends, but Smith is very solid, both against the run and pass. Cameron Heyward could develop into the same kind of player in Pittsburgh.
DT—Tim Anderson. It's between he and Quinn Pitcock. Both were disappointments.
MLB—James Laurinaitis. This is a good young player who is going to get better. There isn't a team in the league that wouldn't love to have him.
OLB--A.J. Hawk. I'm fudging it a little with Hawk, who actually is an inside linebacker. He started his career outside though, and could play it again if he switched schemes. He gets the nod over Bobby Carpenter, Vernon Gholston and quite a few others.
S—Donte Whitner. He was a better college player than pro, but Whitner is the best of the safeties Tressel gave to the NFL.
CB—Chris Gamble. He's not an all-pro, but in seven years, he's had 24 interceptions and 66 passes defended.
One Man Yelp: Goin' Coastal
Lambeau Field has hosted some of the most significant sports events in our nation's history, but it hasn't hosted a major concert since 1985 when Survivor played there.
So I was one of the 45,000 or so who made a pilgrimage to the stadium to see Kenny Chesney, Zac Brown Band, Uncle Kracker and Billy Currington in the Goin' Coastal Tour. It had been estimated that 23 percent of us in the crowd had come from out of state, which speaks to the significance of the event. Brown, whose trademark knit hat had green and gold stripes, called it "an historical event." With about 45,000 on hand, Lambeau seemed more intimate than usual.
The high points included Uncle Kracker's version of Kenny Rogers' The Gambler, Zac Brown's soulful Colder Weather and Free, Chesney and Brown combing on Steve Miller's The Joker, and Chesney's Summertime. It didn't feel like summertime in Green Bay, as the temperatures were in the 50s. Then again, that's probably what summertime in Green Bay is supposed to feel like.
The pinnacle came at the end of Chesney's set. As the opening chords of The Boys of Fall played, Chesney said, "Mike, come on out here." Out walked Packers coach Mike McCarthy with the Lombardi Trophy. The place went up for grabs. After McCarthy exited and things settled down a bit, Chesney eloquently spoke of the significance of football in Green Bay, and then performed a great song as well as he's ever performed it.
The Packers insisted the concert be held well before the scheduled start of preseason so any damage to the field could be dealt with. Lambeau uses the GrassMaster system, which is a combination of artificial and natural grass. It's arguably the best type of field for football other than natural grass, but the problem with it is damaged areas can't be easily replaced.
The team has tested different surfaces to cover the field over the last few years to come up with the best solution, but still acknowledges Chesney and company might have done some damage. If the damage is minimal, don't be surprised if more concerts come to Lambeau.
Hot Reads
*Don't you have wear pantyhose and try to kiss Suzy Kolber before being called the greatest Jet ever?
*Dan Rooney probably could serve our country better by helping to solve the NFL labor crisis than serving as an ambassador to Ireland.
*You can live with a guy who won't put down the phone or the newspaper if he puts down the quarterback. But the Redskins can't live with Albert Haynesworth any longer.
*In his two year career as a Titan, Kenny Britt has been arrested once for every two touchdowns he has scored. Looks like the Titans need a receiver in free agency.
*Thank you, gentleman Tom McEwen, for proving that the job of a sportswriter can be done with grace, dignity and fairness. You will be missed.
*Finally, NFL VP of communications Greg Aiello quoted Yogi Berra to explain what was going on with the work stoppage. "It ain't over til it's over," he tweeted. He also could have used another Yogi-ism to explain what was going on with the work stoppage at previous points. "It was impossible to get a conversation going. Everybody was talking too much." The noise has been dialed back of late. That has to be a good thing.
Dan Pompei covers pro football for the Chicago Tribune at chicagotribune.com. Follow him at twitter@danpompei