August 28, 2011 -
Barry Dorey
NFP Sunday Blitz
As I make my way around the NFL on my camp tour this summer, I still see Bill Walsh's footprints everywhere I go. Probably always will.
The former 49ers coach has been gone for four years now, and his last year as an NFL coach was in 1988, but his legacy is evident on every team in the league and really, wherever football is played.
I believe the only coach who worked on one of Walsh's NFL staffs who still is coaching in the league is Browns defensive assistant Ray Rhodes. Some, like Bengals coach Marvin Lewis, served under Walsh as part of the minority internship program which Walsh championed.
Denny Green and Jim Fassel are in the UFL. Sam Wyche is no longer in the game. Bruce Coslet is a memory. George Seifert hasn't coached in a decade. Sherm Lewis is retired. Paul Hackett is out of the league.
But disciples of his disciples carry on his philosophies, and even those who had no connection to Walsh borrow heavily from his approach.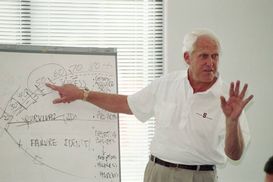 The NFL still is learning from Bill Walsh.
"You see his football presence because of me and the guys who worked with me, for me, and the guys who have developed from his staff," Browns president Mike Holmgren told me. "Andy Reid, for example, who still run the West Coast offense which I learned from Bill. Andy has taught that to his assistants, who have gone on to become head coaches."
You can see Walsh in how practices are scripted, how situational periods are emphasized and how game plans are put together.
In a 14-year pro playing career and eight-year coaching career, Jim Harbaugh had been exposed to four offensive systems, from the old Tom Landry system to the K-Gun. But when he became coach of the 49ers last winter, it was Walsh's West Coast system that he chose to run. He wanted to bring back the Walsh tradition to the place it began because he thought it was the best system he had ever known.
"It's a proven system, proven terminology," Harbaugh told me. "That's where it starts. It's what we believe in."
The 49ers are one of four teams that made an offensive change and went with the West Coast. The others are the Bengals, Browns and Seahawks.
The true West Coast offense, as Walsh ran it, really isn't seen much anymore. Multiple personnel groupings, shifts and motions and the complex nature of modern defenses have made it somewhat outdated. But the principles of it remain. "Like any system, it evolves," Harbaugh said. "You suit it to players you have. It goes beyond terminology, its route principles, progressions, how you practice."
<p> Holmgren wanted the Browns to run an updated version of the West Coast, and he subsequently hired Pat Shurmur. "The passing game in general, the precision of it, I think Bill can receive a fair amount of credit for that," he said. "He did it as well as anyone."
After Harbaugh was hired, he went on a mission to find out as much about Walsh as he could. He had already known Walsh, having spent hours and hours picking his brain when Harbaugh was head coach at Stanford. He even taped their conversations. It was Walsh who recommended Stanford hire Harbaugh.
Harbaugh studied many of Walsh's teaching tapes that had been stored in the 49ers' vaults. And he did his best to locate the tapes that had left the building with former employees. "Those tapes are a tremendous resource," he said. "They touch on everything from install meetings to coaching sessions. He was a master teacher."
One of the reasons Walsh's legacy remains so vibrant is he was very willing to share what he knew—more willing than the large majority of secretive NFL coaches. His intellectual property became our intellectual property. He was even willing to let me sit in the draft room with him one year to watch how the master worked.
Walsh was all for the 49ers, and he built an empire in San Francisco, but he cared deeply about the game and the people in it.
"I've never known or seen a coach more committed to helping coaches progress in the profession than Bill," said Fox analyst Brian Billick, who worked for Walsh. "He was constantly mentoring, doing those things in terms of putting coaches out front. When I was his assistant public relations director, many times he'd ask me to run down the background on an athletic director so he could help someone get a job."
Walsh, with help from Billick, went so far as to detail his entire program, from Xs and Os to interacting with general managers, in the 1997 book Finding the Winning Edge. It's more than a book, it's a reference manual.
Bill Belichick, who donated a collection of more than 500 football books to the U.S. Naval Academy library, recommends Walsh's book to anyone who asks about the best books on football. He has called it "a bible" for coaches. I wouldn't hire a coach who hasn't read it. The book has sold out and now can be had for the price of $175 new or $72.50 used on Amazon.
Billick told me there are colleges that offer courses based on the book, and coaches often tell him they refer to the book frequently. "Bill would be gratified to know that," he said.
He would be gratified because at his core, Walsh was a teacher. He taught his players how to win games, but the bigger mark he left was teaching students everywhere how to run a football program.
Walsh had a highly detailed teaching process he learned from Paul Brown. "When you installed 22 Z In, there were specific elements, a pacing, dictates that you followed in order to be a good teacher with him,'" Billick said.
One topic of conversation at each of the camps I've visited is how the practice schedules have been cut back due to the new collective bargaining agreement. Which brings us back to Walsh. It was he, who, back in the late 70s and early 80s, started to change the mentality of how much teams needed to hit in camp and practice.
The rest of the NFL still is following his lead.
Things I Didn't Used To Know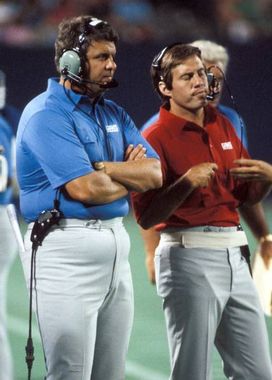 Bill Parcells still has advice for his former assistants.
*Bill Parcells isn't in the coaching business anymore, but like Bill Walsh, he still has a strong influence on what happens on Sundays. Saints coach Sean Payton, who talks with Parcells about twice a month, told me he sought out his former boss for advice about how to run training camp after the lockout. He said Parcells cautioned him about getting so focused on system installations that player evaluations are skewed. "His big thing is coaches will get caught up in wanting to get all their installations in, and guys will get caught up in that," Payton said. He said there will be some guys who can't get it all mentally so quickly, but they might end up being the better players. Your most important thing is getting the right 53, even if you have to slow down a little bit to get the best players. I had to slow up as a result, really try to be mindful of it. You don't want to see a guy on someone else's roster in three years that you cut because he was slow to pick it up."
*A lot of fantasy football players might have Rashard Mendenhall ranked too low, based on what I'm hearing from my Steelers friends. The running back showed up to camp in "wow" shape, which was duly noted in the locker room and in the coaching offices. Because Men denhall is in his fourth year of being in the Steelers offense, he's completely comfortable with his responsibilities and the concepts. As a result, he's playing fast and explosively. What's more, Mendenhall has derived a little extra motivation from his Twitter escapade. He wants to be recognized for the right reasons. The upshot is the Steelers expect him to have his best year yet.
*Even though B.J. Raji arguably was the best nose tackle in the NFL down the stretch last year, Packers coaches expect him to be even better this year. Packers coach Mike McCarthy told me Raji has improved his work ethic, awareness and tempo with which he practices since last year. At 340 pounds, Raji is remarkably athletic. In fact, he is probably the best pass rushing defensive lineman the Packers have. As a result, the team is playing Raji at defensive end in some pass rushing packages.
*The Falcons are giving Curtis Lofton more responsibility on the field. After hearing about Lofton running the defense during lockout practices and seeing how he thinks like a coach, Falcons coaches decided to give the fourth-year middle linebacker more leeway in games this year. Last year, he had the ability to check out of a play if he saw something he didn't like. But this year Lofton tells me he will be able to call for fronts and blitzes up to 30 percent of the time.
*I've been skeptical about moving Mario Williams to linebacker, but so far so good. Houston defensive coordinator Wade Phillips tells me Williams has been rushing the passer so well from a two-point stance that he had six sacks in one practice. The biggest adjustment for Mario, according to Wade, has been seeing the whole field from a standing position "We have to get him used to seeing all those things and just taking off," Phillips said. As for dropping, Philips said, "We don't' drop him much, but he's pretty sharp at it. He drops to the right place, and he's a giant standing out there."
*One year after letting Julius Peppers walk, the Panthers believe they are set at the defensive end position with Charles Johnson and Greg Hardy starting and Eric Norwood and Everette Brown coming off the bench. Some people wondered why the Panthers would sign Johnson to a $72 million contract after allowing Peppers to leave for $91.5 million the year before. Allowing Peppers to walk was not a budgetary decision though. It happened because Peppers did not want to be in Carolina.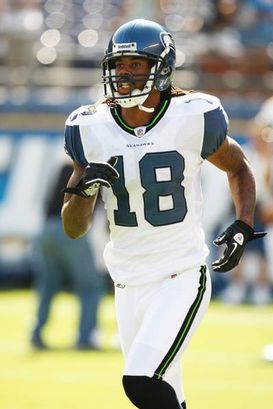 Sidney Rice should be especially dangerous with Mike Williams also in the lineup.
*Part of the reason the Seahawks were so interested in Sidney Rice was the presence of Mike Williams. The team believes having the 6-4, 202-pound Rice and the 6-5, 235-pound Williams will create many matchup problems for defenses. Both receivers get good body position and box out smaller defenders. They are a little different after the catch, as Rice is more likely to use speed to escape from defenders and the stronger, thicker Williams is more likely to use power.
*Former Redskins running back Clinton Portis is so eager to show NFL teams he still can play that he is offering to pay his own way to fly to a team and work out for them.
My Sunday Best: Seniors Candidates
I was in Canton last week for a seniors committee meeting that resulted in Jack Butler and Dick Stanfel being named finalists for induction to the Pro Football Hall. These are two fine candidates. With 52 interceptions and 10 fumble recoveries, Butler had a takeaway in 60.1 percent of his games—a higher ratio than any hall of famer. There are some very astute football minds who think Stanfel, who was voted most valuable player of the Western Conference champion Lions in 1954, is one of the best offensive linemen in NFL history.
But there are many, many other outstanding seniors candidates. The most we could recommend were two, and we were able to address two of the best who had been waiting the longest. Butler retired in 1959 and is 83 years old. Stanfel, 84, stopped playing in 1958.
Here are some (not all) of the other best senior candidates, in alphabetical order. Hopefully, you'll be hearing about them being recommended in coming years.
Ken Anderson. Statistically, the former Bengals QB is a slam dunk Hall of Famer.
Maxie Baughan. The former linebacker is one of only three eligible players who went to nine Pro Bowls and is not in the Hall of Fame.
Curly Culp. The former Chiefs and Oilers noseguard changed the game, ushering in the advent of 3-4 defenses and forcing teams to find more physical centers.
Ray Guy. He was another game changer and one day probably will be the first punter in the Hall of Fame.
Alex Karras. One of the best interior pass rushers in history, the intimidating former Lion was first or second team all pro by A.P. seven times.
Jerry Kramer. He was on the NFL's 50th anniversary team and on the 1960s all-decade team, but he hasn't gotten in the Hall. Yet.
Bob Kuechenberg. Many believe the Dolphins guard was better than some of his teammates who have already been enshrined.
Eddie Meador. The former Rams defensive back has completely slipped through the cracks, but he had 46 career interceptions and was a six time Pro Bowler.
Claude Humphrey. He is one of the all-time great pass rushers, but he flew under the radar because he played on bad teams. The former Falcon has been close a couple of times.
Tommy Nobis. Like his teammate Humphrey, Nobis played on low profile teams. He also was overshadowed by other great linebackers of his era, but Nobis was an impact player.
Lemar Parrish. Eight Pro Bowls, 47 interceptions and the former Bengals corner barely has gotten a sniff.
Dave Robinson. He was in the shadow of some of the Packers greats he played with, but this big, fast linebacker could hold his own with any of them.
Johnny Robinson. The former Chiefs safety had 57 career interceptions and played in seven Pro Bowls.
Ed Sprinkle. "The Claw" was known for doing whatever it took to get to the quarterback. George Halas once said he was the best pass rusher he ever saw.
Mick Tinglehoff. He played in six Pro Bowls and four Super Bowls for the Vikings, and blocked for four Pro Bowl running backs. His streak of 240 straight games played is fourth most in NFL history for non-kickers or punters.
One Man Yelp: Unbroken
I recently finished one of my all-time favorite books, Unbroken: A World War II Story of Survival, Resilience and Redemption by Laura Hillenbrand. It's the story of the remarkable Louie Zamperini, the Olympic miler and Air Force lieutenant whose plane crashed in the middle of the Pacific in 1943.
Zamperini spent 47 days drifting on a raft in the ocean. He was attacked by sharks and shot at by enemy fighters. He survived long stretches with no water or food. When you thought it couldn't get any worse, he found land--Japanese controlled land. Zamperini then became a prisoner of war who dealt with incomprehensible mental and physical torture for two and half years. Given all Zamperini went through without expiring, it's clear that there was a purpose for his life.
The book follows him on every step with