January 20, 2013 -
Dan Pompei
NFP Sunday Blitz
Of course Sunday is a big day for the four NFL teams vying for a spot in Super Bowl XLVII. But it is a big day for the 28 other teams too.
That's because those teams are descending en masse on Mobile, Ala., for the Senior Bowl and the unofficial kickoff to the draft season. And the hope from all corners of the league is NFL teams will get more out of the Senior Bowl than ever before.
The reason for their hope is the new executive director Phil Savage, the old Browns general manager. The ideas, energy and expertise Savage has brought to the game is very significant for NFL teams, though the storyline has escaped public attention.
From an evaluation perspective, this is how Savage is changing the Senior Bowl:
*There are better players this year.
This looks like the best Senior Bowl roster from top to bottom in a long time, maybe ever. Last year there were 27 Senior Bowl players who weren't even drafted. Some agents have said that in the past, some inferior players were allowed in the game because Senior Bowl officials were cutting deals with them to get the best players to come to Mobile (If you take my two players who are rated as seventh rounders, I'll deliver my first rounder). That does not appear to be the case this year.
Savage, who doubles as the radio voice of Alabama football, saw ten Crimson Tide games and six other games in person. He made 25 campus visits, just like the NFL scout he used to be. So he saw more than 40 schools in person. That enabled him to identify the best prospects in the nation. Savage even wrote up scouting reports and posted them on seniorbowl.com.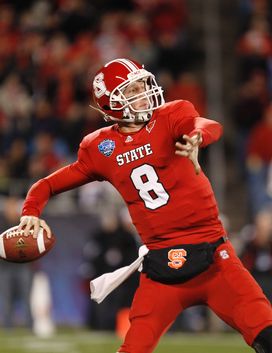 US PRESSWIREMike Glennon can make his draft stock rise at the Senior Bowl.
Six high profile players backed out of the Senior Bowl from the start. They are Montee Ball from Wisconsin, Star Lotulelei from Utah, Geno Smith from West Virginia, Manti Te'o from Notre Dame (he might want to reconsider after the events of last week), Chance Warmack from Alabama and Jonathan Cooper from North Carolina. And, as of Friday, nine others backed out with medical situations, including Southern Cal QB Matt Barkely and Florida linebacker Jonathan Bostic. So the game will be without at least 15 seniors who are likely first, second or third round picks. But all the rest are supposed to be there.
*The practices run by the staffs of the Lions and Raiders promise to give NFL teams more of what they want to see.
One-on-ones are being emphasized more than in the past, so we'll see more offensive linemen versus defensive linemen, linebackers versus running backs and tight ends, and wide receivers versus cornerbacks.
*The interview process has been organized.
In the past, it's been catch as catch can on interviews. Now, everything will be formatted. There will be three groups of players. One group of 36 players goes every night. Quarterbacks, receivers and corners have their turn Monday, for instance. Each of the 32 teams will have a station for interviews. The 70 players who aren't in the group that is being brought from station to station are free to interview on-on-one with other NFL executives.
So players will be able to impact their draft stock like never before.
Here are some players who scouts are particularly looking forward to watching.
Will Davis, CB, Utah State. His stock has skyrocketed this season, but for him to be a lock first rounder, he'll need to show well against the top receivers here.
Mike Glennon, QB, North Carolina State. He has a chance to pass Smith and Barkley and become the No. 1 quarterback in the class if he can excel in this format. The game also will provide solid opportunities for fellow QBs Ryan Nassib from Syracuse and Tyler Wilson from Arkansas.
Margus Hunt, DE, Southern Methodist. NFL teams love his measurables but aren't sure how far along he is. This game will give them a better handle.
Kyle Long, OT, Oregon. The former baseball player and defensive end has a ways to go, but he has some great genes. He was expected to return to school for another year, but he was not granted another year of eligibility. Subsequently he has flown a little under the radar with NFL scouts. He is the type of player who teams could go crazy over in the postseason.
Vance McDonald, TE, Rice. He has quietly climbed the charts and could continue to climb with an impressive showing. Scouts like the fact that he is an all-around tight end.
J.C. Tretter, OL, Cornell. He is raw and needs to build strength, but this former tight end is very athletic. He played left tackle in college and will be tried inside.
J.J. Wilcox, S, Georgia Southern. He is the prototypical small school guy who needs to show he can hang with better competition. Wilcox has played safety for only one year, so teams don't have a lot of tape on him.
Things I Didn't Used To Know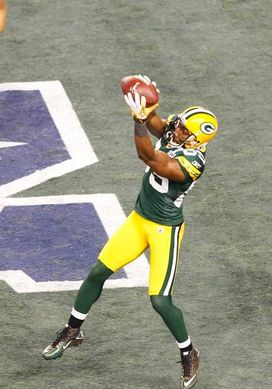 ICONWill Greg Jennings be a hot commodity on the open market?
*Greg Jennings is a really fine wide receiver, but he may be in for a little bit of a rude awakening on the free agent market. According to a couple of front office men I spoke with, teams might not be throwing fistfuls of cash at this two-time Pro Bowler. Why not? A couple of reasons. First, they believe Jennings won't produce as much without Aaron Rodgers throwing to him, and without Mike McCarthy drawing up plays for him. And secondly, he is 29 years old. Jennings would have been much better positioned to make a killing if he became free after his first contract. Teams are hesitant to pay big for other team's wide receivers in their third contracts.
*DeMarcus Ware's transition to a 4-3 defensive end is going to be interesting to watch. He will be aided by the fact that he will be coached by one of the finest pass rushing mentors in football in Rod Marinelli, but not everyone is in agreement on how smooth the transition will be. This is what one long time, prominent NFC East assistant said about the Cowboy's position switch: "I question if Ware can be a down guy. That 3-4 scheme is built for him, and he'll be making a big adjustment." And another NFC East assistant: "Size won't be a problem for him. But it will be a transition in terms of learning to play with his hand down more frequently." Both assistants were in agreement that fellow rush man Anthony Spencer will have a more difficult adjustment than Ware if he is asked to play defensive end.
My Sunday Best: CFL To NFL Coaches
New Bears coach Marc Trestman joins a select group of coaches by going from the CFL to the NFL. Some have been more successful north of the border, but others have done just fine after coming south. Here are my Sunday best CFL coaching transplants.
Neill Armstrong. He went from an assistant with the Houston Oilers to the head coach of the Edmonton Eskimos, where he reached the playoffs three times in six years. Armstrong then became an assistant to Bud Grant in Minnesota. Their success in the 1970s led Armstrong to a head coaching position with the Bears, where he led the team to a 30-35 record. He and Bud Grant are the only two people who have both played and coached in the CFL and NFL.
Hugh Campbell. In six years in Canada, he won five Grey Cups as coach of the Eskimos. He played in another championship game but lost to the Alouettes. From there, he moved to the Los Ange les Express of the old USFL for a year before getting his big chance with the Houston Oilers in 1984. But in two years in Houston, Campbell went 8-22 before getting fired and replaced by Jerry Glanville with two games remaining in the 1985 season.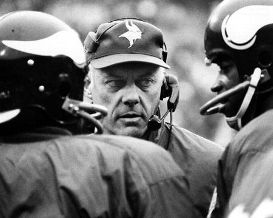 If Marc Trestman can continue to follow in Bud Grant's footsteps, the Bears will be very pleased.
Bud Grant. Famous for his icy glare and short sleeves in the Minnesota winters, Grant is a pro football hall of fame legend who took the Vikings to four Super Bowls. But in another life before his time in Minneapolis, Grant was the head coach of the Winnipeg Blue Bombers for a decade. His teams won four Grey Cups and played in the championship game another two times. He won 62 percent of his NFL games and 64 percent of his CFL games.
Forrest Gregg. He went 5-11 for the Argonauts in 1979 after a rocky three year stint as head coach of the Browns. But the hall of fame blocker's career as a coach took off after his return to the states. In 1981, he led the Bengals to a 12-4 record and an AFC championship. He later returned to his old team, the Packers, for four years. Gregg finished with an NFL record of 75-85-1.
Frank Kush. After a long run at Arizona State, Kush coached in both pro leagues. With the Hamilton Tiger-Cats in 1981, he went 11-4. He parlayed that success into a three year run with the Colts, with whom he went 11-28-1. Kush was at the end but he got one more year as a head coach with the Arizona Wildcats of the USFL.
Marv Levy. In five years as coach of the Montreal Alouettes, Levy won two Grey Cups and 70 percent of his games. That helped him land a job as head coach of the Chiefs in 1978. He spent five years in Kansas City, going 31-42, then another year as head coach of the USFL's Chicago Blitz. Then he began a 12-year run in Buffalo that landed him in the Pro Football Hall of Fame. Levy went 112-70 with the Bills and made it to four Super Bowls.
Mike Riley. He won a pair of Grey Cups and went 40-32 as head coach of the Winnepeg Blue Bombers, but did not go directly to the NFL. Rather, Riley bounced around with the San Antonio Riders of the WLAF, Southern Cal and finally Oregon State as a head coach before he got a shot with the Chargers. Riley's three year stint in San Diego was a flop, but he has reestablished himself as a solid college coach.
Rod Rust. He was Levy's defensive coordinator with the Alouettes before jumping to the NFL, where he was a longtime assistant with stints on the Eagles, Chiefs, Steelers, Giants and Falcons and 49ers. But he also had one season, 1990, as an NFL head coach in New England when his team went 1-15. In 2001 he returned to the Alouettes for one season as a head coach, going 9-8.
Hot Reads
*Didn't Al Pacino already play Joe Paterno