October 27, 2013 -
Dan Pompei
NFP Sunday Blitz
In the 12-season period of 2000-2011, there was an average of 51.8 interceptions per year returned for touchdowns, and never more than 59 "pick six" plays in a single campaign. Last season, though, the NFL established a record for a 16-game season, with 71 touchdowns on interception returns.
And despite Thursday night's Carolina-Tampa Bay matchup, in which there were no interceptions at all, let alone any returned for touchdowns, the league remained on pace—with 30 interceptions for scores in 108 games—to tie that record.
So maybe the late Darrell Royal was onto something, huh, when he noted many years ago that there are three things that can happen when you throw the football, and that two of them are bad. Especially when he was alluding to interceptions. Interceptions, of course, are the worst of the outcomes, Royal suggested, when the ball is in the air. Interceptions returned for touchdowns? Well, probably the worst of the worst.
There seems to be a stretch in every NFL season in which there is an unusually high number of interceptions run back for scores. This season, though, the spate has continued through the first half of the season, not just for a week or two. Teams are attempting more passes than ever before, and it seems that frustrated defenders have just about had enough. Actually, maybe not quite enough of what suddenly has become a pretty good thing.
The first seven weeks of the season represented a veritable handful of riches for those defenders who relished visiting the end zone.
"You can never get enough of (intercepting) the ball and taking it back all the way," said Atlanta cornerback Asante Samuel, who has scored on six of the 50 pickoffs he has collected in his 11-year career, last week. "It's about the best individual feeling you can have. This year, the hunted has definitely been the hunter."
"It seems like about every week anymore, you turn on the highlights and guys are bringing back interceptions for touchdowns, you know?" said Chicago cornerback Tim Jennings, the only league defender with two returns for scores. "It's nice to see a little payback."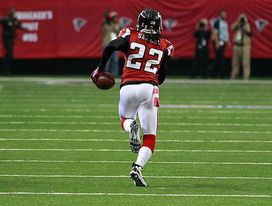 Samuel has run back six interceptions for touchdowns during his career.
Last weekend, analysts from virtually every network made a big deal of the fact that the Week 7 slate of games featured five "pick six" touchdowns. Yet while the five scores tied a season high for such plays (there were also five in Week 5), it's been somewhat overlooked that there have been at least four interceptions returned for touchdowns in every week of the '13 season so far. That's more than happenstance; it's become fairly accepted now that part of the typical risk of throwing the ball so often is that the wrong team is going to score, too, every once in a while. It's just that, in 2013, "once in a while" has become more frequent.
Twenty-two teams each have at least one interception return for a touchdown. There are five defenses with multiple "pick six" steals, and three teams – Chicago, Kansas City and Washington—have three apiece. There are 13 clubs that have yet to have an interception returned against them for a TD, but Jacksonville and St. Louis both have permitted three touchdowns on interceptions. And, of course, Houston has had five, remarkably one each in five straight outings. Four of those came against beleaguered starter Matt Schaub.
"It's pretty deflating," a Texans offensive veteran acknowledged to NFP last week. "It's hard enough to win in this league without (surrendering) 'gimmes.' But, for a while there, it was like a guy with the wrong color uniform was running to the end zone every time you looked up. It gets kind of disheartening. For the other guys, I'm sure it's an uplifting thing."
Take the Seahawks' 23-20 overtime victory at Reliant Stadium on Sept. 23. Houston led 20-13 with just under three minutes to play, and it appeared the Texans were about to put the game away. But on a third-and-four play from the Seattle 40-yard line, Schaub, under a heavy rush, flicked an ill-advised, wobbly pass toward tight end Owen Daniels. The resourceful Richard Sherman intercepted and sprinted 58 yards down the left sideline to tie the score.
Said the loquacious Sherman afterwards: "I wouldn't say we were buried, because we never feel like we're out of a game. But some people were calling for the shovels, I'm sure. We kicked off the dirt."
There are plenty of reasons for the "pick six" spree, not the least of which, as was mentioned above, are the number of passes thrown this season. Running plays per game are at an all-time low pace, and, in a league that has skewed toward the pass the past several seasons, some games in 2013 could perhaps have employed an air traffic controller to police the skies. Players from every level of the defense have joined in the scoring action; everyone wants in on the act. The touchdowns have come from 10 safeties, eight cornerbacks, nine linebackers, and even two linemen.
"I think there's a mentality now that, 'Hey, we're allowed to score, too.' You want the ball in your hands. And when you get it there, you just naturally want to get the ball to the end zone. We can be part of the (scoring) act, too," said Tampa Bay third-year middle linebacker Mason Foster, who had an 85-yard touchdown return against New Orleans on Sept. 15.
Added Chiefs' safety Eric Berry, who has one of the team's three scores for a club that leads the NFL in turnover differential (plus-11), is tied for the league lead in takeaways (19), and tied for third in interceptions (10): "It gets a little contagious, you know? The coaches really stress the importance of (turnovers) and, if you're going to get one, why not score? It's not like you're (consciously) thinking about it but when it happens, you react. And the reaction here has been good. It's become a second-nature thing for us."
That may be true, but it isn't second nature yet for some players. Atlanta end Osi Umenyiora, for instance, went 68 yards against St. Louis on Sept. 15. But on the first interception of his career, which came on a zone-blitz when he dropped into the flat and grabbed a deflection, he seemed almost stunned. And even when he began running, he held onto the ball tightly with both hands. "The next time," Umenyiora laughed, "I'll try to be a little smoother. I mean, it just happened."
It is happening, though, with greater regularity. And perhaps one reason, which hasn't been widely discussed, is that teams aren't hitting as much in practice now (as regulated by CBA rules), and are working a little more on non-contact seven-on-seven type drills. Defenders see more passes in practice, as well as in games, these days. In a tote board-type league, where the scoring numbers have skyrocketed, the coaches emphasize more than ever the potential for defensive touchdowns of all kinds, but especially by interception return.
"I've always wanted the ball in my hands," said Washington cornerback DeAngelo Hall, who has four career interception returns for touchdowns, including one this season. "It's a dream for (defenders) to show what they can do with the ball."
And, this year, the dreams are coming true at a record rate.
+AROUND THE LEAGUE
Will the Giants trade WR Hakeem Nicks before the deadline?
*With the NFL trade deadline arriving on Tuesday, there again figures to be plenty of speculation about players who could change teams before 4 p.m. (ET). But even with the deadline having been nudged back by two weeks last year, most personnel guys in the league will be surprised if there's much action. "Lots of talk but, as usual, the only ones who get rich are the (long distance telephone) carriers," one AFC general manager said. Indeed, over the past 20 years, the league has averaged fewer than two "deadline deals" per season. There was some action the past few weeks in advance of the deadline, like the swaps of tackles Eugene Monroe (Jacksonville to Baltimore) and Bryant McKinnie (Baltimore to Miami), but no blockbusters, as is usually the case in other sports. It's not surprising that most of the rumors have involved wide receivers – guys like Justin Blackmon (Jacksonville), Kenny Britt (Tennessee), Josh Gordon (Cleveland) and Hakeem Nicks (New York Giants) – because the feeling is they can fit quicker into an offense.
"It's more an individual position than just about any other place on the field," one assistant coach said on Friday in discussing possible moves. "But there are always circumstances that make it dicey – contract stuff, temperament, things like that." Historically, it seems like a lineman or two always gets traded at the deadline, but usually a spare part to a team seeking to improve depth.
*Dallas defensive lineman and former Grambling standout Jason Hatcher used the term "embarrassing" and "nonsense" to describe the recent situation at his alma mater, where players last week skipped a game against Jackson State because of a number of grievances. League scouts who had visited Grambling for a number of years, and saw firsthand the deteriorating conditions there – not to mention the shrinking talent base – were even stronger in their assessment. They called the situation deplorable and saddening in discussions with NFP.
But while the Grambling situation may not mirror the conditions at all of the historically black college and university (HBCU) programs, it is indicative of the plight of most of the schools, which once represented a significant "feeder" system for the league. There was only one prospect from an HBCU school selected in the 2013 draft, the fewest ever. In the past five years, there have been only 13; the last time the HBCU schools reached double-digit draft choices was 2000, and not since 2008 (Dominique Rodgers-Cromartie by Arizona) has there been a first-rounder. In part because of integration in the college game, particularly with the SEC schools, the HBCU programs, most of which are located in the South, can't compete anymore for the top talent. Because kids that once went to Grambling, Jackson State, Southern or Alcorn State aren't restricted now, they're recruited by Alabama, Georgia, Auburn or LSU.
"All things being equal . . . well, you just can't afford to be equal," said Indianapolis cornerback Greg Toler, from St. Paul's (Va.) University, an HBCU school. Added Detroit cornerback Rashean Mathis, from Bethune-Cookman: "Progress is great and you sure don't want to turn back the clock. But the (black) schools probably have paid a price for the progress." Grambling, which can boast four of the 25 HBCU players in the Hall of Fame, certainly has. Hatcher, chosen by the Cowboys in the third round in 2006, is the last Grambling player selected in the lottery. Over the past 20 drafts, the school has had just 20 players taken, with three of those in the seventh round.
*Carolina quarterback Cam Newton has tried mightily to spread the credit for the team's current three-game winning streak – the Thursday night victory at Tampa Bay moved the club over .500 for the first time since 2008 – to his teammates. But while the Panthers are playing well, have scored more than 30 points in each of their three straight wins, and are performing stoutly on defense, people in and outside of the organization agree it's the third-year quarterback who's made the big difference. There have always been insinuations that the former Heisman Trophy winner and top overall choice in the 2011 draft needed to improve his work habits. Even some of his staunchest supporters in his hometown of Atlanta, where I live, privately hinted that Newton needed to buckle down and spend more time in film study. Team sources concede he's done just that, and that, despite the "Superman" act that was on display again Thursday, he's significantly matured.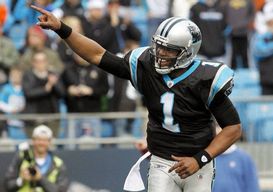 Newton has quietly put together a terrific 2013 campaign.
"You didn't see him around here as often (in the offseason)," an old friend from Newton's days at Lakeside High School told NFP last week. "I think he must have been (concentrating) more on the football stuff." The numbers indicate that's the case. His rating of 131.3 over the past three games, which features six touchdown passes and no interceptions, certainly hints of that. His completion percentage for the season – 64.9 percent, versus 58.8 percent for Newton's first two years in the league – clearly is indicative of his growth. Newton strung together a five-game streak last season in which he did not have an interception, and threw 10 scoring passes, but he seems to be playing even better now. And ever-candid wide receiver Steve Smith, who suggested last week the quarterback has graduated from "checkers to chess," is making better decisions.
Newton still takes way too many sacks (he is on pace to get dumped a career-worst 48 times), but he's not bolting from the pocket as quickly (his 523-yard rushing pace is below the 723.5-yard average of 2011-2012), and seems more comfortable in the pocket. There are a lot of reasons why the Panthers – who face an upcoming three-game grind that will probably demonstrate if they are contenders or pretenders – have played better. But Newton is chief among them.
*Other than the Greg Schiano-related drama, there isn't a whole lot worth watching when it comes to the Bucs. But if they're on in your area – and there's absolutely nothing else on the tube – you might want to devote a few minutes to eyeballing weakside linebacker Lavonte David, No. 54. The second-year veteran, a second-round pick in 2012, is more than just a solid player who jumps out because he's surrounded by so many bad ones. The former Nebraska star can flat-out play.
"He can run and he can hit," Tampa Bay general manager Mark Dominik told NFP. "He's the real deal."
Indeed, we've now seen David in his last two games, one in person, and, despite his team being out of both contests, he was still going hard. He's easily the best Tampa Bay player on the field. As a rookie, David led the Bucs in tackles (139) and added two sacks, five passes defensed and an interception. He's on pace in 2013 for 137 tackles, already has five sacks, five passes defensed, and a pickoff. He's virtually buried on a bad team, at least in terms of national recognition, but he's worth watching, because his game is so well-rounded.
"I didn't know much about him," Atlanta tight end Tony Gonzalez said last week, "but having seen him firsthand, he can play."
*We're not much into fantasy football and, in fact, know very little about it. But if you're looking for a good "play" this week, you might want to consider Gonzalez, who figures to bounce back at Arizona from arguably his worst outing of the year. In seven games, the Cardinals have allowed opposing tight ends 44 receptions for an average of more than 15 yards, and eight touchdowns. The interior of the secondary, hardly a strong point to date, figures to have its hands full with the future Hall of Fame tight end. In last week's game, the Atlanta coaches cleverly went away from Gonzalez, who had only two catches and was targeted a season-low four times. Instead, they focused on wide receiver Harry Douglas, who had a career day, and on screen passes (which was predicted in this spot last Sunday), and the results were excellent. But with such potentially easy pickings, expect Matt Ryan to get back in a big way to Gonzalez on Sunday afternoon.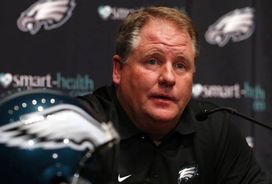 Former Oregon boss Chip Kelly is still looking for his first home win.
*Something's got to give, right? Philadelphia is 0-3 at home under first-year coach Chip Kelly and hasn't won a game at Lincoln Financial Field in more than a year. The team's last home triumph was against the NFC East-rival New York Giants, whom it ironically hosts on Sunday, a 19-17 victory on Sept. 30, 2012. Heck, even former Philadelphia coach Andy Reid, now in Kansas City, owns a win at The Linc this season. On the flipside, the Giants have lost eight straight on the road, and haven't won an away game in nearly a year, since beating the Cowboys at Dallas last Oct. 28. The Eagles have lost nine straight home games dating back to last season and have been outscored by an average of 10.4 points in that stretch, with four of the defeats by 13 points or more. The nine-game drought more than doubles the previous longest home losing streak for the Eagles at Lincoln Financial Field, which opened in 2003. That was four games, on two occasions, and both of them stretched over portions of two seasons – in 2005-2006 and 2010-2011. Philadelphia is 5-5 against the Giants at The Linc. In its eight-game road losing streak, New York has been outscored 247-102, three times lost by 20 points or more, and twice been shut out.
*His team never won a Super Bowl, but late Tennessee owner Bud Adams deserves credit for the foresight that will spare his family a ton of money in estate taxes. The league for years has regularly convened estate-planning seminars for owners at its annual March meetings, and Adams clearly paid attention in determining the future fate of a franchise valued at just over $1 billion. His grandson, Kenneth Adams IV, is likely to be the family member most involved in the daily activities of the club moving forward. But many in the league believe that son-in-law Tommy Smith, who once played a prominent role, especially in negotiating contracts and legal issues, will get involved again in club matters.
*The de-emphasis of the running back position could be tricking down to the college game as well, and that might mean another draft shy of backs, particularly at the top of the lottery. According to what I'm hearing from scouts, the top-rated senior runner is Ben Malena of Texas A&M, and his grade basically equates to that of a third-rounder. Three other backs, Arizona State's Marion Grice, DeNarius McGhee of Montana State and LaDarius Perkins of Mississippi State, all are close behind. It's believed that the grades are similarly bleak all around. Of course, the combines have assessed only the senior prospects for the 2014 draft. But word is that the underclass crop isn't especially exciting, either. Over the past three years, there were just four runners chosen in the first round – and three of those were in 2012, with none this year – and that trend definitely could continue.
+SHORT YARDAGE
*The Arizona coaches have begun to feel that former first-rounder Michael Floyd might finally provide the Cardinals the complement to the great Larry Fitzgerald the team has been seeking for years. The second-year veteran is said to be playing with much more confidence. . . . One non-youngster who is making a bit of a late splash is Ted Ginn Jr. in Carolina. Yeah, the seven-year veteran had a bad drop on a deep ball Thursday night, and inconsistent hands have always been a bugaboo. But Ginn is on pace for 46 catches (which would be his most since 2008) and a career-best 816 yards, and is at least taking some of the heat off Steve Smith. Ginn, who can still take the top off a secondary, is playing on a one-year contract, and could make himself some money in the free agent market if he continues to play well. . . . On the subject of the HBCU programs, discussed above: The problem isn't just about integration; it's clearly economic as well. LSU, which is only about two hours from Grambling, had $115 million in sports-related revenue in 2012. Grambling took in about $6 million. The aggregate athletic revenues from what are historically the five most prominent HBCU schools in terms of athletics was just over $40 million for last year. . . . The Steelers made a wise move last week in re-doing the contract of cornerback Ike Taylor, basically a simple restructure. The move gives the club a little breathing room under the cap, but also makes it easier to keep Taylor in 2014. Although he's never made it to a Pro Bowl, Taylor is a quality corner. Venerable coordinator Dick LeBeau believes that if Taylor had better hands – he has dropped dozens of potential interceptions over the years – he would be regarded as one of the NFL's top players at the position. . . . Tampa Bay officials reiterated to NFP last week that they welcome any league investigation about who leaked word of former quarterback Josh Freeman's ADHD problems, and his use of Adderall. They will never say so publicly, but Bucs' officials believe the leak originated from the Freeman camp and was part of what they feel was a strategy to get the former first-rounder out of Tampa Bay. . . . The Panthers' three-game winning streak will take some of the heat off coach Ron Rivera, who's done a nice job bringing the club back from a poor start, but people in the league still insist it's hard to get a read on the plans of general manager Dave Gettleman. . . . Carson Palmer is the seventh different quarterback who has started for Arizona since the retirement of Kurt Warner after the 2009 season, a span of only 55 games. Little wonder first-year coach Bruce Arians, who would like to develop some sense of stability at the position, has stuck by Palmer so far. . . . It's probably too early yet for the Giants to offer an extension to recently-acquired middle linebacker Jon Beason. But if the seven-year veteran continues his strong play – 21 tackles in the two starts he's made for New York since being acquired from Carolina for a seventh-round draft pick – expect the team to at least approach him about an add-on. Beason's gaudy contract with the Panthers was reduced to a $1 million base for 2013, and three seasons were voided, making him eligible for free agency in the spring. The lure of free agency might be too much to ignore, but the rejuvenated Beason has drawn rave reviews in New York, and the team could make overtures about keeping him.
+BY THE NUMBERS
*OK, it's only three games, but winless Jacksonville hasn't scored a home touchdown all season. In 35 offensive possessions, the Ja guars have 20 punts, three field goals, six interceptions and six series that either terminated at the end of a half/game or on downs. They also have one safety, are on pace to score 174 points (which would be the sixth worst total since the 16-game schedule was implemented in 1978), and haven't gotten to the end zone at EverBank Field since a three-yard pass from Chad Henne to Justin Blackmon in the first quarter of a loss to the Patriots last December 23. In their last 20 home games, Jacksonville has scored more than two offensive touchdowns only three times.