August 01, 2010 -
Dan Pompei
NFP Sunday Blitz
Each and every team's training camp has a thousand great stories, most of which never even are told. There are so many fascinating subplots, struggles and little victories.
One of them involves filling the leadership void on defense in Tennessee. The team lost some veterans in the offseason, including Kyle Vanden Bosch and Nick Harper. The Titans were planning to get Keith Bulluck back after Bulluck's knee rounded back into shape, but he quickly signed with the Giants before the Titans could offer him a contract.
So now Titans defensive coordinator Chuck Cecil is looking for leaders to replace guys who he thought were "virtually irreplaceable" from a leadership standpoint. In our conversation just before the Titans' first practice of camp, Cecil pointed to Cortland Finnegan and Chris Hope as potential leaders.
But the most likely candidate is a new guy — Will Witherspoon. Cecil said Witherspoon is special from a leadership standpoint. "He's a total professional — that's just who is he is," he said. "Everything he represents and stands for is what you want, and aside from that he's also a good player."

Cecil knew Witherspoon was special when he watched the tape of his first game with the Eagles last October. "He went from the Rams to Philly on Wednesday, and on Sunday he had the green dot on his helmet," Cecil said.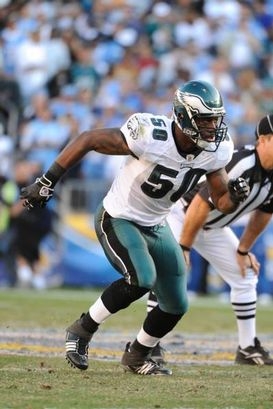 ICONWill Witherspoon is expected to take on a leadership role with the Titans.
Aside from Witherspoon's potential leadership contribution, the Titans also will need him to make plays, especially early because their other outside linebackers have issues. Gerald McGrath will be suspended for the first four games of the year, and David Thornton may not be healthy.
Witherspoon doesn't run like he did when he was a young Panther, but he still can play. Cecil thought he was the best player on the Rams defense before he was traded, and he liked Witherspoon's tape from Philadelphia, too.
So while Witherspoon is not a player a lot of fans are talking about, he's a critical one for the Titans, and one of many players who will be very interesting to watch this training camp.
Things I didn't used to know</p>
*Bucs second-year quarterback Josh Freeman had help from an unlikely source this offseason — Drew Brees of the division-rival Saints. Freeman spent a week in San Diego picking Brees' mind and working out together. Usually, division rivals don't try to help one another, but this was a little different because Freeman's offensive coordinator in Tampa, Greg Olson, also was Brees' quarterbacks coach at Purdue. Olson set up the get together. Olson also told me he used the offseason to emphasize several points with Freeman: he has to take care of the ball better, he needs to make better decisions, he should play with more balance, and he has to strive for more consistency with his drops. Olson said he likes what he's seen from Freeman so far.
*Speaking of Brees, did you know that Saints coaches have been working at expanding Brees' flexibility at the line of scrimmage? Sean Payton wants to give him more leeway to change plays this year. Brees did a nice job with audibles in the Super Bowl, and, given his experience and command of his game, this is a natural progression.
*The "enhanced season" looks like it is going to be a reality in 2012. The league currently is studying how it will affect the football calendar. Among the issues: Should the first week of the regular season be moved up before Labor Day? How long should training camp be? Should rookies and first-year players come to camp a couple of weeks early? Should each team be allowed a scrimmage to replace a preseason game? Should rosters be expanded? Should each team receive two byes? And should offseason work be scaled back?
*My guys with the Eagles think LeSean McCoy could be in for a big season, in part because he realized he wasn't in good enough condition one year ago. McCoy remedied that problem by getting in the best shape of his life in the offseason.
*If you like the new overtime rules, you can thank Patriots owner Robert Kraft. Turns out that Kraft, at the request of league higher ups, persuaded several owners to change their votes in order for overtime to pass. That is one powerful dude.
My Sunday Best: Wide receiver trios
When Terrell Owens signed with the Bengals, I was asked if the Bengals now had the top wide receiver trio in football with T.O., Chad Ochocinco and Antonio Bryant. My answer: it would have been the top wide receiver trio two or three years ago. But T.O. is 36 now, Ochocinco is 32 and Bryant has ongoing knee issues. This trio still should be pretty good, but age and health could limit them. So here are five trios who could be better this season.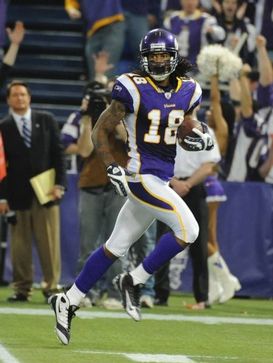 ICONVikings WR Sidney Rice had a breakthrough '09 campaign.
1. Sidney Rice, Bernard Berrian and Percy Harvin. These are three wide receivers who complement one another better than any trio in the league. The Vikings have size (Rice), speed (Berrian) and quickness/versatility (Harvin).
2. Greg Jennings, Donald Driver and James Jones or Jordy Nelson. The Packers wide receivers come at you in waves, and each one of them can beat you in multiple ways.
3. Braylon Edwards, Santonio Holmes and Jerrico Cotchery. Once Holmes returns from his four-game suspension, he's going to give the Jets an awful lot of talent at the wide receiver position.
4. Vincent Jackson, Malcolm Floyd and Legedu Naanee. The Chargers have as much potential as any team to create mismatches with their wide receivers because they are so big. Jackson is 6-5, 230, Floyd is 6-5, 225 and Naanee is 6-2, 220.
5. Miles Austin, Roy Williams and Dez Bryant or Patrick Crayton. If Bryant gets healthy and gets with the program, the Cowboys wide receivers are going to be almost impossible to cover man-to-man.
Numbers games: Antonio Gates hits paydirt
Last week, the Chargers did something few teams are doing when they signed one of their veterans to a lucrative contract extension. The veteran they chose was tight end Antonio Gates, paying him a reported $36.175 million over five years and making him the highest-paid tight end in football.
Why so much emphasis on a tight end? Well, my colleague Matt Bowen did a nice job explaining the value of a tight end in this article.
Gates goes beyond any other tight end when it comes to one thing, and it's kind of an important thing: scoring touchdowns. Since he came into the league in 2003, Gates has scored 59 touchdowns — more than any other tight end and more than any other player except Randy Moss and Terrell Owens.
Whereas Moss and T.O. have been spectacular big-play threats, Gates may be the best red zone weapon ever. Forty-four of his career touchdowns — 74 percent — have come in the red zone, according to Stats, Inc. By comparison, 45 percent of Moss' touchdowns have come in the red zone, and 46 percent of T.O.'s have come in the red zone.
Gates scored his 50th touchdown faster than any tight end in history. Let's say he plays another five years at the s ame level of production he has averaged throughout his career. That will take him to 35 years of age. He will have scored 101 touchdowns. The current career tight end leader for touchdowns is Tony Gonzalez with 82.
On the field and off, Gates is what you would call money.
Scout talk: The Top 10 for 2011
Here is how National scouting service ranks the best seniors in the coming draft.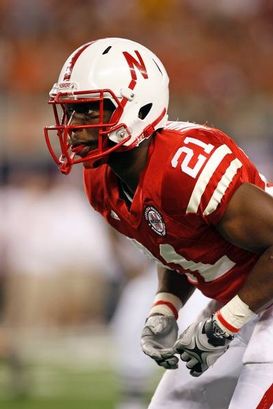 ICONNebraska CB Prince Amukamara is one of the best defenders in the nation.
1. Prince Amukamara, Nebraska CB
2. Adrian Clayborn, Iowa DE
3. Mark Herzlich, Boston College OLB
4. Allen Bailey, Miami DE
5. Von Miller, Texas A&M OLB
6. Gregory Romeus, Pittsburgh DE
7. Marvin Austin, North Carolina DT
8. Christian Ponder, Florida State QB
9. Jake Locker, Washington QB
10. Stephen Paea, Oregon State DT
11. (tie) Anthony Castonzo, Boston College OT
Interesting list for a number of reasons. Before any football has been played this year, scouts seem to be in agreement about Prince Amukamara being a can't miss cornerback who can do it all. He would have to really bomb not to be a top 15 pick. And Nebraska also has the top-rated preseason wide receiver in Niles Paul, though he was ranked 18th overall.
Christian Ponder the No. 1 quarterback? That's not how three scouts I spoke with see it. They like Jake Locker best among the seniors, and there is a good chance either Andrew Luck from Stanford or Ryan Mallet of Arkansas will be ranked higher if they decide to come out early. Whereas Locker still needs to show he can consistently make sound decisions and deliver the ball with accuracy, he is ahead of Ponder in both of those areas.
Mark Herzlich is rated the third overall player even though he did not play in 2009 because of a rare form of bone cancer in his leg. He is expected to return to football this year and is believed to be cancer free. Herzlich was a tremendous prospect before his diagnosis and was voted the ACC defensive player of the year in 2008. But there are a lot of unknowns with him at this point because of the ramifications of his illness. Herzlich has a lot to prove to scouts in 2010. If Herzlich isn't all he was, Von Miller — another outstanding prospect — could pass him in the linebacker pecking order.
The defensive end group is shaping up to be a strong one. There are three solid pass rushers in the top 10 (Adrian Clayborn is easily the most complete and solid prospect at this point), and not far behind, according to the scouting service, are Pernell McPhee of Mississippi State, Jeremy Beal of Oklahoma, Jabaal Sheard of Pittsburgh and Cameron Heyward of Ohio State.
One man yelp: Dallas Cowboys: America's Team, and Mojo
Dallas Cowboys: America's Team, is the kind of keepsake, coffee table book that isn't being published much anymore. These books aren't being published much anymore because they aren't being bought like they once were. But this book has a huge potential market, given the millions of Cowboys fans across the country.
There is nothing new or startling in this book, but it is a big picture look at the history of one of the most popular sports teams in the world.
Eight Super Bowls are touched on, as well as the greatest plays and most memorable moments in team history. The section on the greatest Cowboys offers some interesting opinions. Jason Witten is ranked the best tight end in history, ahead of Jay Novacek and Billy Joe DuPree. And Charles Haley is the fourth-rated defensive end in team history, behind Too Tall Jones, Harvey Martin and George Andrie.
*We all could use a little mojo now, couldn't we? Brett Favre, he's got it. Jay Cutler, he needs some. Which led me to read Mojo: How to Get It, How to Keep It, and How to Get it Back If You Lose It by Marshall Goldsmith.
What is mojo? The author defines it this way, which may be slightly different from the way Austin Powers defined it. "Mojo is that positive spirit toward what we are doing now that starts from the inside and radiates to the outside." Attaining mojo is about attaining two goals: loving what you do and showing it.
Goldsmith also identifies four vital ingredients to have great mojo. The first is your identity — who you think you are. The second is achievement — what you have accomplished lately. The third element is your reputation, or who others think you are. And the fourth is acceptance — realizing what you can change and what is beyond your control.
There are a lot of solid, common sense explanations in this book — things we know but don't think enough about. For instance, mojo killers in the workplace are identified as over-committing, waiting for something to change, always expecting a logical, rational reason for why things happen, bashing the boss, refusing to change because of things already invested and confusing the professional mode and the relaxed mode.
This is a book that could help a lot of NFL coaches, front office people, and maybe even a sportswriter.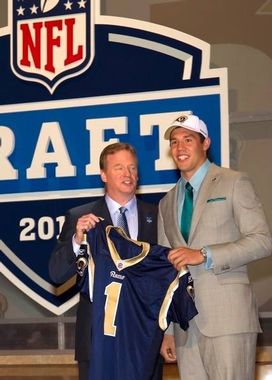 ICONNeed a loan? Sam Bradford has you covered.
Hot reads

*Paying Sam Bradford $50 million in guaranteed money isn't good for anyone's career, with the exception of Bradford's agent Tom Condon. This is a great example of why the new CBA needs to include provisions that would help get the money to the players who have earned it.

*There are not many people who have more enemies in the NFL than Lane Kiffin, and he's worked hard at offending people. If Kiffin ever returns to the NFL, there are going to be some very interesting storylines to watch.

*Given the fact that Paul Allen is basically an absentee owner of the Seahawks, and now he is an ill absentee owner, his team is going to really miss Tod Lieweke, who is resigning as CEO to join the Tampa Bay Lightning. Lieweke was basically in charge of the franchise, and he ran it very well.

*Time for Tennessee's Kenny Britt to wake up and start playing like the first-round pick he was. Britt had a very uneven offseason, struggling with his hands. So far, he appears to be one of those players who only produces when all the stars are aligned. And those kinds of players don't last long in this league.
Email your questions to dan.pompei@nationalfootballpost.com