June 03, 2012 -
Dan Pompei
NFP Sunday Blitz
Greg Schiano likes it cool inside and hot outside, and if you want to be a Buccaneer Man, you will too.
Schiano has been the subject of some attention over the last couple weeks. He traded away tight end Kellen Winslow, the Bucs' most productive receiver a year ago, and then my friend Peter King reported Schiano monitors the temperature in Bucs meeting rooms.
Screw loose? Hardly. Schiano has reasons for doing everything he does, and he is one impressive coach. I don't say this about many coaches, but I will be surprised if he isn't very successful in the NFL.
So I asked Schiano what he was looking for in "Buccaneer men." He said, "Guys you can trust. Guys who believe in what we're doing. Guys who are accountable to each other--things that are becoming more rare every day in our world."
Winslow was not a Buccaneer man, so he was traded to Seattle for a seventh round pick that could become a sixth rounder. Schiano explains. "I thought he competed well. The time he was here, he did everything I asked him. He did it the way we asked him to."
But Winslow was not working out with the team for much of the offseason. "Some of it his voluntary," Schiano said. "I can't make them be here for every part. Would I have liked him here? Sure. We had 87 guys here. But that wasn't the only reason we decided to do what we did. We just didn't think it was the best fit for us. It was a bunch of things, an accumulation of things. Some of it is projecting, how will this project moving forward."
While Schiano was not trying to make an example out of Winslow, he is trying to establish a culture. As a result, he isn't in a position to make exceptions for players like Winslow.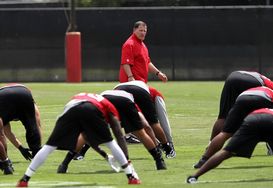 Schiano wants everything done a specific way.
"The key I learned early is when you are establishing a culture you really have to make sure it's non-negotiable," he said. "After you have established the culture and built a program, then a program can accept one or two guys who maybe aren't seeing things the exact same way. Usually that strong culture either transforms that person or spits him out. We're nowhere near that. We're just establishing who we are, what we want to become."
That was a lesson Schiano learned from Joe Paterno, from whom he worked for six years. He also lists Bill Belichick and John Wooden strong influences on his coaching personality.
He isn't sure how long it will take to establish his culture with the Bucs, but he knows he has to do it quickly. It took him six years to turn around a perennial loser at Rutgers. Bucs fans won't be as patient.
Like Belichick, Schiano wants to make it very clear to his players what is expected of them, and why. "Most times people get angry and frustrated is when they have unfulfilled expectations," he said. "And most times unfulfilled expectations come because you are not clear on what you want. I try to be clear on what we expect. Most of the times people will do what you ask them to do. If you aren't clear on it a lot of times they do what they think."
One of his expectations is that his players work hard in the Florida sun and make playing in the heat their advantage. So Schiano demands they sprint between drills and keep a fast pace throughout practice. Doing things players may not be comfortable doing, he says, will develop mental toughness, and ultimately, discipline.
Schiano won't be just a heartless drill sergeant of a head coach. He will try to connect with players and make personal appeals, as he did during his 11-year run at Rutgers. Of course, coaching in the NFL is a little different from coaching in college.
"I'm not na