September 19, 2010 -
Dan Pompei
NFP Sunday Blitz
When the clock struck midnight and free agency began last March 5, Bears coach Lovie Smith was in Charlotte waiting to make a sales pitch. Lions coach Jim Schwartz was sitting in a rental car outside a player's home far from Detroit, texting sweet nothings to someone who is not his wife. And the Jaguars were trying to make flight arrangements for a player to visit them later that day.
Their common intent? To purchase pass rush.
And from the early looks of it, that's exactly what each did when they acquired Julius Peppers, Kyle Vanden Bosch and Aaron Kampman.
In the first week of the season, Peppers had a sack, a strip and a quarterback KO. Vanden Bosch led his team with 11 tackles, including one he made 20 yards downfield. And Kampman had a sack and a half, and, according to Stats, five quarterback knockdowns.
The players did not come cheaply. In fact, they were among the top five paid players who switched teams last offseason. Peppers was No. 1, Vanden Bosch No. 4 and Kampman No. 5. They stand to be paid $135 million between them, with $58.7 of that guaranteed assuming Peppers stays with the Bears for two more years.
But from the looks of it, it might be money well spent. You almost can't put a price on pass rush.
Things I didn't used to know
*Losing Ryan Grant hurts the Packers' run game, but there is a silver lining for the team. The Packers are a pass first offense. And Brandon Jackson, Grant's replacement, is a superior pass protector. Grant sometimes was taken out in passing situations because he is inconsistent in blitz pickup. He tends to get overpowered and beaten on the edge at times.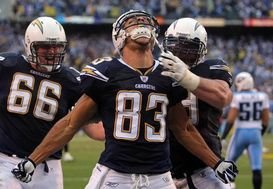 Trading Vincent Jackson seems like a long shot.
*The biggest hurdle in getting Vincent Jackson traded remains his contract demands. The second biggest hurdle is that the Chargers do not appear very motivated to trade him, according to league sources. The Vikings have been rumored as the most likely trade partner. But would it make sense for them to give up, say two second round picks (that was the rate for Brandon Marshall) in order to get a player who is very similar in skill set to a player they already have in Sidney Rice? The Vikings could acquire Jackson with the intent of letting Rice walk when his contract expires after this season. But they probably would be better served waiting on Rice to return from his hip injury, re-signing him and keeping their draft picks.

*Why was it a big deal for LaRon Landry to get 17 tackles in the season opener for the Redskins last week? Because now he's only 58 tackles away from kicking in a $1.5 million escalator clause in his contract. If he averages four tackles per game, he's in the money.
*Mike Williams is the Seahawks' leading receiver after one week, and the Seahawks might be the only team in the NFL that could have brought out the best in the 10th pick of the 2005 draft. Williams never could control his weight with the Lions, Raiders and Titans. He weighed as much as 270 pounds. And he wasn't much of a stickler for technique, either. But the Seahawks have the perfect support system for Williams. They have Williams' college coach Pete Carroll, who knows him as well as anyone, to motivate him. They have his strength coach from Southern Cal, Chris Carlisle, to monitor his weight every week and keep him on task. They have respected receivers coach Kippy Brown to make sure he pays attention to details on the field. And unlike most teams, they have two chefs on staff who can prepare him three nutritious meals a day. My Seahawks sources say Williams' weight has stayed in the low 230 range, and has approached his opportunity with energy and professionalism.
*Most of the talk about the Jaguars line has centered on Kampman and rookie Tyson Alualu. But the best player on the line might be unheralded Terrance Knighton. Some in the organization believe he could be a Pro Bowler. The 6-3, 332 pounder has 36-inch arms and rare athleticism for his size. He doesn't get a lot of attention because he's more of a run stuffer than a pass rusher, but the second-year man plays the run as well as anyone with the possible exceptions of Shaun Rogers and Albert Haynesworth when they are on their games.
My Sunday Best: Game analysts
Here are some of my favorite broadcast game analysts, in alphabetical order. I have to acknowledge that I don't hear a lot of broadcast crews often, so some of my admissions may be more the result of lack of familiarity than anything else.
Brian Billick, Fox. He plays the role of former coach better than anyone, letting you know the thought process he would have gone through in critical situations.
Randy Cross, CBS. Articulate linemen often make good analysts, and Cross is the perfect example. He has credibility and speaks with authority.
Rich Gannon, CBS. He wasn't a great interview as a player, but he's become an outstanding broadcaster. Gannon is smart enough to understand why things happen the way they do, and bold enough to challenge decisions and actions.
Ron Jaworski and Jon Gruden, ESPN. Nobody explains the game better. This team really does its homework, and they also provide an entertainment factor.
John Lynch, Fox. As a player, he had a wonderful way of explaining plays and schemes. That has carried over into the broadcast booth. He's a real up and comer.
Matt Millen, NFL Network. When he left broadcasting to join the Lions in 2000, I thought he was the best analyst in the business. He was funny, he told interesting, relevant stories and he had a great understanding of the game from all angles. He might have some battle scars from his time in Detroit, and some question his credibility, but he still can bring it.
Tim Ryan, Fox. The former defensive tackle specializes in analyzing line play, but he can talk about what's happening all over the field. He's one of those guys who sees things others miss.
Phil Sims, CBS. He often is assigned to the biggest game of the week, and he is deserving. Sims picks apart defenses better than he did as a quarterback, and he's always enlightening when analyzing passers.
Numbers games: Chris Johnson's big plays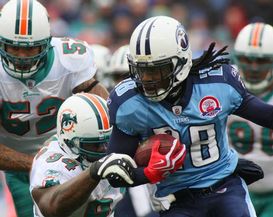 ICONOnce Chris Johnson breaks that first tackle, look out.
When it comes to long runs, Tennessee's Chris Johnson is ahead of the pack. He had two more big ones in the Titans' opener last week, including a 76-yard touchdown, continuing a trend.
Johnson now has eight rushing touchdowns of 50 yards or more. Only two players in NFL history have more. Jim Brown has 12 and Barry Sanders has 15.
In his two plus seasons in the NFL, Johnson has 87 runs of 10 yards or more, or one long run every 7.3 carries according to Stats. Minnesota's Adrian Peterson has 82 such runs, but he's also had 60 more carries, so he's popping a big one once every 8.4 carries.
The surprise in this study is DeAngelo Williams. The Panthers back had 76 runs of 10 yards or more. His ratio of one long run every 6.6 carries is better than Johnson's or Peterson's.
Johnson also has had 32 of those 87 long runs go for 20 yards or more. Peterson has had the same amount. Williams has had only 23.
An interesting note: Of Johnson's 87 rushes of 10 yards or more, 56 of them have come in the first half. He's obviously more dangerous when he's most fresh.
Scout Tal k: Arian Foster
When I heard Arian Foster had rushed for 231 yards and three touchdowns against the Colts last Sunday, my first response, as well as maybe yours, was, "Who?"
I checked my file on Foster and found some interesting things. I had asked a couple of scouts about him prior to his senior season at Tennessee. One told me he could be a first-round pick. Another said he was a solid second rounder.
At the midseason point, I talked with another couple of scouts. Disappointing, they said. Third or fourth rounder. Then after the season, more scouts liked him even less. Maybe a sixth rounder, one said.
Foster went undrafted, which means every team underestimated him.
What happened?
Foster's stock was high going into his senior season because he had rushed for 1,231 yards as a junior on a team that went 10-4. But everything changed in 2008, when the Vols were supposed to be contenders for the national title. Foster was forced to share carries with Montario Hardesty and others. His blocking was substandard, he had ball security issues and he gained only 597 yards. The team fell apart, going 5-7 and getting coach Philip Fulmer fired.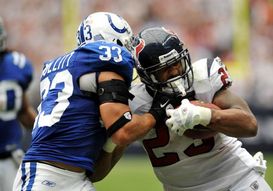 ICONArian Foster is a player who slipped through the scouting cracks.
The Tennessee coaches didn't offer glowing recommendations for Foster to NFL scouts. The book on him: hard to coach and selfish. A hamstring pull prevented him from working out at the combine, and at Tennessee's first pro day. He worked out at the school's second pro day, but didn't impress anyone with a 4.71 40-yard dash, a 4.5 short shuttle, a 32-inch vertical jump and a 9-7 broad jump.

A few teams were interested in him as a free agent, but he chose the Texans because he thought the situation suited him. He was right. He spent the first two months of his rookie year on the practice squad, but was called up in mid-November. In two late season games, he rushed for 97 yards and 119 yards. He had another 100-yard game in the preseason this year.
Where did NFL teams go wrong with Foster? His workout certainly was misleading, and many probably wrote him off after that. But they also allowed Tennessee's disastrous 2008 season to color their opinion of Foster more than it should have. They didn't make amends for the fact that he was in a situation in which very few could have looked good.
With the Texans, it's the opposite. They have a solid offensive line that is creating big holes. Foster is a perfect fit in their one-cut, zone blocking scheme.
As one front office man said, "We sometimes lose sight of the fact that this is a team sport. He's with the right team, in the right situation for him. He wasn't in the right situation his senior season."
One Man Yelp: Survivor, Halo Reach
I've watched all of the Survivor series on CBS. In fact, it's really the only non-football show I ever make a point to watch. I was especially interested in the premier of Survivor Nicaragua last week because former Cowboys and Dolphins coach Jimmy Johnson is a contestant.
After watching the first episode, I just hope he stays a contestant for awhile. Johnson is the oldest survivor ever at 67. During a grueling first day, he vomited. The next morning he complained about how difficult it was for him with no sleep, biting bugs and harsh elements.
When it came time to vote a castaway off Johnson's tribe, he told a tribe member that he thought he was one of the two weakest members of the group. It may have been a strategic move, but it could backfire on Johnson.
If anyone should be an expert at strategy, it should be Jimmy. I want to see some of the ruthlessness and cunning that made him a champion at both the college and pro levels. After one episode, we haven't seen it yet.
*After seeing the interest in Halo Reach last week, I thought I should offer a review. But I couldn't figure out how to turn on the Xbox. Enter an expert: my 15-year-old son Joey. Here is his guest review:
Like a joke that was once funny but has gotten stale, video games of a series can get old after the third or fourth game is released. Whether it is overused weapons or characters, or something as simple as the plot of the campaign, video games often turn off gamers over time.
Ever since the first Halo video game came out in 2001, each subsequent Halo has been a hit, leading to ODST. The fifth game in the saga and the game that preceded Reach, ODST, is questionable on many levels, mainly because it started out as an extension to Halo 3. Reach, following ODST, had to regain all of the gamers lost by ODST. I think the $200 million in Halo Reach sales speaks for itself.
Halo Reach, though similar to its predecessors, has made important changes to enhance the game drastically. The campaign, having the most radical modifications, does an outstanding job keeping the player on the edge of his seat. As opposed to ODST and Halo 3, where your objective is to wander aimlessly through alien jungles and shoot whatever you find breathing, Reach gives you separate missions, all having different themes. Each mission has an objective. Halo Reach brings a new experience to the table, one that ODST was just starting to take hold of.
In Halo Reach, players can customize their own "Spartan." This gives the gamer the feeling they are taking part in the game personally. Once your Spartan is customized, he becomes the main character or "Noble 6" in the campaign, and also is the character you use to play online with.
Compared to what the other Halo games bring to Xbox Live, Reach offers a whole new array of weapons and game types. This is the main reason Reach is superior to the previous games as far as Live goes.
Unlike the prior Halo's uplifting stories of victory and triumph, Halo Reach marks the fall of the human race to the "Covenant," who are aliens. Nevertheless, Halo Reach, in my opinion, is the best Halo.
Hot Reads
*Some of the Jets players, as well as reporter Ines Sainz, could use a lesson in professionalism. Football players need to show respect to members of the media. Members of the media need to try to sell information, not cleavage. If Sainz wants to be a centerfold, she has no business being in an NFL team's locker room.
*Instead of changing the NFL blackout policy because of America's economy, as Bucs coach Raheem Morris suggests, NFL teams should lower ticket prices. Cheaper seats would keep stadiums filled and keep football on TV.
*Something tells me we are going to be seeing a lot of Michael Vick on the highlights tonight. And on many other nights this season.