September 22, 2013 -
Dan Pompei
NFP Sunday Blitz
The headline news of the past week, the Cleveland Browns' stunning trade of second-year tailback Trent Richardson to the Indianapolis Colts, has been studied and analyzed from just about every angle. There have probably been autopsies—hold the jokes, please, about the Browns burying their chances for respectability in 2013 with the move—in which there was less cutting and probing.
Since I'm not a doctor and don't play one on TV, I won't reach for a scalpel in trying to dissect the weird deal. Neither will I attempt to discern the so-called "winner" of the trade, because it's premature to ascertain the long-term fallout. But even minus a degree in psychology – the closest I've come to one is a few low-level courses as an undergraduate and a few more in grad school, none of which earned me better than a "B" grade – I'll take an amateur stab at trying to read the sentiments of at least one person in the wake of the deal. And watching longtime league coach Norv Turner in taped interviews after Richardson was sent packing, it certainly seemed, at least from his body language, like the Browns' offensive coordinator wasn't a guy who pushed exceedingly hard for the tailback's exit. Instead, it looked as if Turner, a good soldier, loyally toed the party line.
That's not to suggest that the triumvirate of club president Joe Banner, general manager Michael Lombardi and coach Rob Chudzinski simply pulled the rug out from under the guy who calls the Cleveland plays. Or that Turner, who inherited the former Alabama star when he arrived at the Browns, was a champion of retaining Richardson instead of claiming an additional first-round draft pick in 2014. It's just that Turner, adroit at the art of the non-answer after three previous stints as an NFL head coach, bobbed and weaved conspicuously when queried about the club's spin-doctors' explanations that Richardson wasn't a "good fit" for the offense.
For sure, Richardson's statistical track record, admittedly a small sample size (only 17 games), indicated he is not a back with the ability to author the big, game-altering play. His resume included just two rushes of 20 or more yards, none longer than 32 yards, and a per-carry average of just 3.5 yards, only 3.4 yards this season. There are concerns about his ability to play on third down, and he had been relieved of those responsibilities in recent days. But his injuries aside, Richardson appeared to be a player capable of a 20-carry workload. A steady, if admittedly unspectacular, runner. And one might think, given Turner's history in the league, he could actually use such a guy.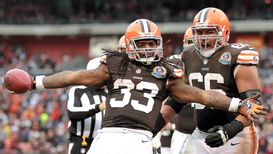 Richardson averaged just 3.5 yards per carry during his 17 starts with the Browns.
In the hours after the trade, long before the dust had settled but typical of the "instant analysis" nature of the New Age Media, an Internet expert applauded the deal, citing Turner's pedigree as a passing guru. Nothing could be further from the truth. In his previous 22 seasons as either a coordinator (seven years) or a head coach (15 seasons), the popular misconception about Turner is that he always favored putting the ball in the air, sometimes recklessly. But anyone who has spoken to Turner – and the bet here is that a lot of a folks who attempted to instantly dope out the Richardson-to-the-Colts deal have never so much as met him – knows that he wants to run first. Turner may not emanate "tough guy" vibes, because he can be lofty and erudite in his demeanor at times, but he revels in physical football. There have been instances, in fact, when Turner took public umbrage at the notion that he sometimes ignored the run in favor of conjuring up passing-game X's and O's.
Just look at the numbers.
When armed with a physical runner in particular, Turner has always espoused a tough ground attack. Thirteen times in his 22 seasons, he enjoyed feature backs who logged over 250 carries in a season; in 10 of those years, his top back went for over 300 attempts. With Emmitt Smith (Dallas), Terry Allen (Washington), Stephen Davis (Redskins), LaDainian Tomlinson (San Diego), Ricky Williams (Miami), Frank Gore (San Francisco), heck, even with Lamont Jordan (Oakland), on his roster, Turner-designed offenses ran the ball often and effectively. Granted, there were occasions because of injuries or lack of a true feature back—when the best he could trot out on a weekly basis was Ricky Ervins, Amos Zereoue, or Mike Tolbert—when Turner didn't have much with which to work. But when Turner had a stud, workhorse back on the roster, a guy who could pound the ball inside, he usually rode him.
The league has skewed toward the multiple-running back attack, but Turner never really was one to embrace the run-by-committee model.
On a dozen occasions, Turner's offenses produced 1,200-yard rushers. There were seven occasions he had 1,400-yard backs. Even accounting for the pedestrian backs noted above, guys he was forced to employ in some of those 22 years, Turner's lead runners averaged 277.2 rushes and 1,167.0 yards. Eight times, his running games finished statistically higher than his passing attacks. Turner running games were among the top 10 almost as many times (nine) as were his passing designs (10). There were even two seasons in which his teams ran the ball more than they threw it, and his 45 percent ratio of run-to-pass plays wasn't nearly as lopsided when he had a top back who could power the ball.
It's tough, from afar, to know what went on inside the Cleveland locker room, although the legitimate shock emanating from some Browns' players after the trade indicated Richardson was a popular teammate. It's equally difficult to determine what was going on in the collective craniums of Banner, Lombardi and Chudzinski, what they were thinking when one of them picked up the phone Tuesday, dialed up Colts' general manager Ryan Grigsby (whom had previously worked with Banner in Philadelphia), and initiated the trade. His critics in Philly notwithstanding, Banner, a guy we've known for a long time, is savvy. Onetime buddy Lombardi is one of the most astute talent evaluators we've known in more than three decades of covering the league. So there was rationale, not just a willy-nilly impulse, in the trade.
"(The trade) was a hard swallow, but it was a swallow we felt we had to make, given where we want to go," said a mid-level Cleveland staffer on Thursday morning. "It won't be popular (locally), but sometimes you have to take a step back in order to take two (steps) forward. In the short-term, it might not sell well, and there will be a lot of differences of opinion. But we thought it was right."
The long-suffering fans of Cleveland probably don't want to hear this, but the new regime appears to be starting over yet again, and has amassed seven choices in the first four rounds of the 2014 lottery. It was laudable of Banner to declare that it will be difficult for the fans to trust the new football folks until they earn that trust. There is a sense, however, that new ownership and the new football flow-chart simply isn't interested in leftovers from its predecessors. If it means taking a wrecking ball to the status quo, so be it. If you're quarterback Brandon Weeden, or some of the other skill-position players on a roster bereft of difference-makers, you might want to rent, not buy. We're not in a position to agree or disagree with the trade, although, if we were a Colts' fan, we'd be fairly ecstatic right now. Let's tell it like is: The swapping of Richardson was all about positioning the Browns for the future, most probably for getting a quarterback.
To hint, even remotely, that the trade was completed in part because Richardson didn't dovetail well with what the Browns and Turner want to do moving forward seems to smack a bit of being disingenuous.
+AROUND THE LEAGUE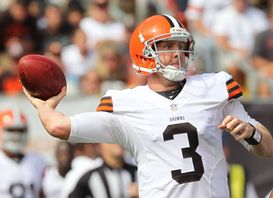 There's a good chance that quarterback Brandon Weeden is playing elsewhere after the 2013 season.
*There seems little doubt that the Browns' brain trust has already decided that Weeden isn't the quarterback around whom it will build and that landing the "championship"-caliber quarterback the team covets (a credo that hangs in the team's draft "war room," as documented by some area media) is the priority. One that, if you're a betting man, will be addressed in the first round next April. Almost as notable is the decision by Chudzinski to bypass presumptive primary backup Jason Campbell and start journeyman Brian Hoyer (one career start) this week with Weeden nursing a thumb injury, and to publicly suggest that the 2012 first-rounder isn't necessarily guaranteed to get his job back when healthy. Still, there are folks in the NFL who think Hoyer, even though he'll be a placeholder in Cleveland even if he wins the starting job for the remainder of '13, has some talent. Some NFL personnel people are still surprised that Bill Belichick (a longtime friend of Lombardi, it should be noted) released Hoyer in 2012, after bringing him to the Patriots as an undrafted free agent in 2009.
"(Belichick) thought he had some talent, was competitive, and had the right make-up," said one person familiar with Hoyer's three-year stint in New England. "I always thought he had sort of the Belichick seal of approval, and people would take that into account."
*With his track record of sending players to the draft during his tenure at Alabama, there seems little doubt about Nick Saban's ability to produce and prepare players for the NFL. But the trade of Richardson certainly boils up some doubts about Crimson Tide running backs of recent vintage. In the past three seasons, Alabama has had two first-rounders (Richardson and former Heisman Trophy winner Mark Ingram) and a second-round pick (Eddie Lacy). There are legitimate questions about New Orleans' choice of Ingram, who has only 10 starts in two-plus seasons and has averaged just 3.8 yards, in 2011. Lacy hasn't gotten off to the fastest start in Green Bay and is dealing with a concussion. And now Richardson has been traded despite having been the third overall pick in 2012. The less-heralded backs who played for Saban and were drafted into the league – Le'Ron Mclain, Glen Coffee and Kenneth Darby – haven't exactly been world-beaters. Coffee retired after one season in San Francisco. Darby hasn't played in the NFL since 2010. McClain has had a solid career, now in its seventh year, but principally as a fullback. He registered 902 yards for Baltimore in 2008, but has less than 400 yards total in his other seasons in the league.
"One thing we've got to remember is that (Saban) always has great offensive lines, and that helps his backs," said one area scout. "And, truth be told, with the way Nick uses his backs, he probably rubs some tread off the tires. But, hey, no excuses, we've got to do a better job of (evaluating) these guys."
*A couple weeks ago in the Sunday Blitz, we noted the development of Kansas City third-year linebacker Justin Houston, who now has 7.5 sacks after wreaking havoc against the Philadelphia offense on Thursday night. But another Chiefs' defender who has stepped up big-time is Dontari Poe, who started all 16 games in 2012 after being the 11th player chosen in that draft, but who was deemed fairly ordinary by those who watched him closely. This year, Poe has dominated interior linemen and, in addition to throttling the inside, has provided that rarest of commodities for a nose tackle: a pass rush. "Great penetration in the (first three) games so far," said inside linebacker Derrick Johnson, another of the team's premier defenders. "He's not just a run guy, someone who holds the middle and allows other guys to make the plays. He's making plays himself, both (against) the run and the pass."
Poe had zero sacks in 2012, but has 3.5 already this year, and his inside pressure has been a huge part of a defense that has collected 14 sacks in three outings, after registering just 27 a season ago. The durability and stamina of Poe has been eye-opening. Unlike most 3-4 nose tackles, he stays on the field on passing downs, and has participated in all but eight of the 194 snaps against the Kansas City defense. In fact, he has played all the snaps in each of the last two games. Poe has credited a better diet, and the resultant loss of 20 pounds, for his enhanced production, and that has doubtless been a factor. But the Kansas City coaches, who didn't know him last year, suggest that he's using his hands and leverage much better, and that Poe clearly has a better understanding of the game and his role, along with better practice habits.
*On the subject of inside pressure, Buffalo left end Mario Williams, coming off a 4.5-sack performance, credits tackles Kyle Williams and Marcell Dareus for creating the inside heat that has provided him for spacing on the outside. Although he started all 16 games in 2012, Williams is fully healthy again after missing much of the previous season. And Dareus, who has some attributes of a defensive end, can be a monster at times.
"You've got to get some (inside) push, and those guys can give it," Williams said. "You can't just expect to just run around (the tackle) every time."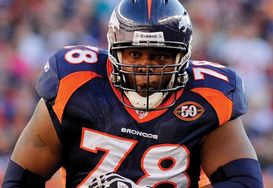 Peyton Manning now has to deal with the loss of his best blocker in LT Ryan Clady.
*Peyton Manning has always done an exemplary job of making his offensive line better than it probably should be. The sum, mostly because of Manning and his quick release and knowledge of the game, was generally better than the individual components. But even for Manning, overcoming the season-ending Lisfranc injury to left tackle Ryan Clady will be a difficult chore. Last year, when the Broncos were trying to negotiate an extension for Clady (which they finally accomplished this spring), a high-ranking Denver executive told us that the team considered Clady "one of the three or four best" left tackles in the league. The three guys he put in the same class were Jason Peters (Philadelphia), Jake Long (then with Miami), and Joe Thomas (Cleveland). And he suggested that Clady, a three-time Pro Bowl blocker, might be the best pure pass protector of the bunch. Nothing against Chris Clark, the veteran journeyman who will replace Clady, but the Broncos probably will have to make some tweaks to their protection scheme to insulate Manning. The good news is that, while the Broncos have favored a three-wide receiver set in the first couple of games, Manning worked a lot with two-tight end looks in Indianapolis. And while emerging young tight end Julius Thomas can't yet do all the things Dallas Clark once performed for Manning and the Colts, he has some similar qualities that will make him a tough matchup. The long-term good news: Clady is a remarkably quick healer, as he demonstrated in his recovery from a patella tendon injury in 2010, and he should not have complications coming back in 2014.