May 26, 2013 -
Dan Pompei
NFP Sunday Blitz
If the Dolphins are as aggressive in the fall as they have been in the spring, look for a lot of deep balls and zero blitzes.
General manager Jeff Ireland has gone big in his free agency and draft moves, winning the offseason, as they say. In a conversation with Ireland, he acknowledged he never has been around a team that has added more talent in an offseason.
His acquisitions include eight or nine new projected starters in right tackle Tyson Clabo, middle linebacker Dannell Ellerbe, cornerback Brent Grimes, defensive end Dion Jordan, tight end Dustin Keller, guard Lance Louis, cornerback Jamar Taylor, wide receiver Mike Wallace and outside linebacker Phillip Wheeler.
Of course, there were some player losses too. Gone are running back Reggie Bush, left tackle Jake Long, linebackers Karlos Dansby and Kevin Burnett and cornerback Sean Smith. But the bottom line on the Dolphins' roster is pretty impressive.
"I think we should be a much better team," Ireland said. "We added experience to an inexperienced position at receiver. The quarterback will be more experienced. We've added some speed and explosiveness and physicality on defense. We added an exceptional corner in Brent Grimes, a very experienced pass catching tight end, a right tackle who has been to the Pro Bowl and is very experienced. I like the team. I like it very much. I like it a lot. It just has to gel as a group. The chemistry has to grow."
The Dolphins' offseason splurge was not just a reaction to pressure after four straight losing seasons. It was well thought out, and the planning began early in the 2012 offseason.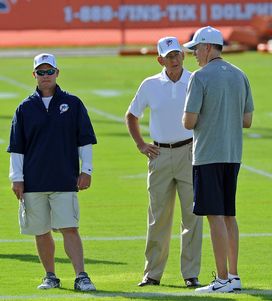 Jeff Ireland and Joe Philbin like what they see in Miami.
"It was a plan we put in place last year," Ireland explained. "Last year we did some one-year deals that would clear up. We knew we had some significant guys whose deals would come up. We would have some cap space. Then we traded Brandon Marshall and Vontae Davis, so we had some ammunition with draft picks to continue down an aggressive path."
The timing also was right because 2013 will be the second year of Joe Philbin's regime. It took him some time to know the roster, and it took Ireland some time to know exactly what Philbin and his staff were looking for.
"To change too much in a head coach's first year when he doesn't really know the players isn't advantageous," Ireland said. "I didn't know Joe. We got married before we dated. When we got married, we had to learn what his hot buttons were, he had to learn what my hot buttons were. I had to find out what they were looking for, the kind of person they wanted in the locker room, the kind of schemes they wanted to run. It didn't make sense to make wholesale changes in year one."
The other issue is this was a good time to build around second-year quarterback Ryan Tannehill, a good time to get him a speed receiver in Wallace, a reliable middle of the field target in Keller and some blocking reinforcements.
"We knew we needed to be aggressive to continue building around the quarterback," Ireland said. "I don't think we ever used the word aggressive, we just knew we had resources to feel good about."
Wallace can make Tannehill a better player. "I love Mike Wallace's explosiveness, I love his speed," Ireland said. "He is one of those guys who can turn something small into something big."
Instead of staying put and drafting 12th in the first round, Ireland continued the aggressive mentality by giving up the 12th and 42nd picks to move up to the third spot of the draft to take Jordan, the first defensive player chosen.
"We were sitting in a position where we would have had a good player if we sat there, but I felt Dion has a chance to be an impact player, he can be a matchup player," Ireland said. "Cameron Wake is as good a pass rusher as there is in the game. But I think some of the teams I've seen be very good have pressure players on both sides. We needed to add some more explosive pass rushing ability to disrupt the quarterback's timing. Dion Jordan has a special skill set."
The 2013 season has been frequently described as "do or die" or "make or break" for Ireland, who is in the final year of his contract. But Ireland doesn't see it that way, and he does not connect his offseason aggression with his personal situation.
"I don't feel more urgency than in the past. That's been written a lot. You're in a do or die situation. I don't feel that at all. I'm very secure in what we're trying to accomplish. The goal is to win the division first, same as since I've been here. Get in the tournament, as (Bill) Parcells would say, and maybe things can happen. We felt we needed to make some moves to close the gap between us and the team that has won the division for a long, long time, the Patriots. We felt we needed to add some pieces."
The Dolphins added some pieces alright. A lot of them. And on paper at least, there is little doubt they have closed a gap.
My Sunday Best: All-Time Middle Linebackers
The recent retirements of Brian Urlacher and Ray Lewis have people talking about the greatest middle linebackers of all-time. Here are my Sunday Best middle linebackers: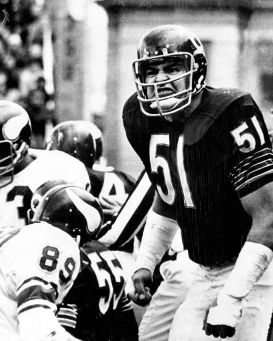 Anyone who said they enjoyed lining up against Dick Butkus is either untruthful or crazy.
1. Dick Butkus. No defensive player ever changed games more than Butkus. No defensive player ever intimidated more than Butkus. No defensive player ever hit harder than Butkus. And no defensive player ever had better instincts than Butkus.
2. Ray Lewis. His blend of speed, leadership, longevity and consistency was incredible. The NFL had not seen a player quite like him when he came along in 1996. No other middle linebacker may ever make it to 13 Pro Bowls, as Lewis did.
3. Bill George. He started out as a defensive tackle, and was moved to a new position two years into his career. He became the forefather of middle linebackers, and some will tell you he was the best. The Bears great was known for his ability to lead and diagnose plays. In an era with some great middle linebackers, George took a back seat to no one.
4. Jack Lambert. He succeeded wildly every way a linebacker can succeed. Defensive rookie of the year. Nine-time Pro Bowler. Two0time NFL defensive player of the year. Four-time Super Bowl captain. Eight-time captain for the Steel Curtain.
5. Joe Schmidt. When a reporter asked Bill George what he thought about a documentary being done called The Violent World of Sam Huff, his response was, "If they are going to do a documentary on that, they had better get Joe Schmidt to play the part." The Lions great was highly respected by opponents and teammates alike.
6. Brian Urlacher. The former safety's combination of size (6-4, 258) and speed (4.57 40 yard dash) is unheard of. He finished with 41