December 09, 2012 -
Dan Pompei
NFP Sunday Blitz
Some traditionalists have scoffed at the Pistol formation as a "gimmick." Some of those same traditionalists have been burned by it.
Like it or not, the Pistol is a factor in the NFL, and it's becoming more of a factor as the season goes on. The 49ers have jumped on the Pistol bandwagon, joining the Redskins and Panthers. Others, such as the Lions and Bills, have dabbled in it.
And it's probable many more teams will be using it in the near future, because it works, and because college quarterbacks are coming into the league comfortable playing this brand of football. You don't think Geno Smith is going to be lined up in the Pistol in the NFL? How about Tyler Bray and E.J. Manuel?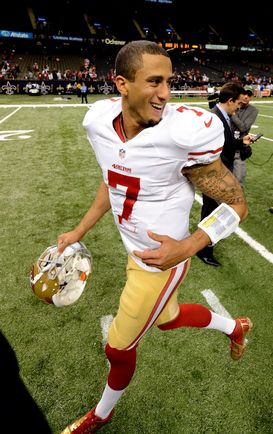 Colin Kaepernick can be dangerous in the Pistol formation.
It's funny. Just a couple of years ago, teams were shying away from Colin Kaepernick because he played under Pistol guru Chris Ault at Nevada. Teams weren't sure if he could play in a conventional offense. Now it's one of the reasons Kaepernick is having success.
"It's a trend league," Packers coach Mike McCarthy told me. "RGIII is a special guy, but the game gets to be more and more in space every year."
Another NFC head coach said this, "It's going to be the trend because there are so many players who know how to play this style. I think it will be more widespread with quarterbacks so people will evolve to it."
The argument that the quarterback gets hit too much in this offense isn't carrying much weight these days.
In the Pistol, the quarterback lines up about four yards behind center, or three yards closer than he would in shotgun. If one back is in the game, he lines up directly behind the quarterback instead of next to him. This is an advantage for the running game because the back can go left or right easily.
The beauty of the Pistol, as the Redskins and Robert Griffin are showing, is you can combine a spread passing game with a power run game. Matt Bowen explained it here.
The Pistol usually is used in conjunction with the zone read. The formation lends itself to unpredictability. "There are so many options to it," he NFC coach said. "If you are in true Pistol with one back behind the quarterback and one to the side, your first option is dive the offset back. The second option is you can run a true option where the quarterback can keep or pitch. And then you can run a play action pass off that.
"You can run lead plays, counter plays, split action, all the action. It's not like you're locked into running a zone read scheme. Or if you have just one back behind the quarterback, you can run inside zone, or outside zone from that formation. You can run a conventional offense out of it."
Defenses have tried different approaches against the Pistol and the read option. One coach said Greg Schiano's Bucs defense has given others a blueprint. Being a recent college coach, Schiano understands what he's dealing with better than many of his NFL brethren. The Seahawks, whose coaches also are relatively fresh from the college scene, also have worked well against the offense.
One of the reasons the Pistol has been so effective in the NFL is its newness.
Some defenses are using movement upfront with slants and stunts, which can force the quarterback to pitch sooner than he wants. Some are cheating the Will linebacker into the B gap and he becomes a run blitzer. Some are rotating the safety down to where the back is offset.
"You have to contain it, you can't let it get on the edge," the NFC coach said. "You have to make the quarterback cut back inside to pursuit. If he pitches it, you have to get outside and contain. If they want to run an inside zone, fine, that's where the core of the defense is. Defensive backs have to be disciplined, throw off timing, jam, reroute, and not allow the receivers to get a good release."
The Pistol isn't everyone's cup of tea. You won't see it from some of the best offenses in the league like the Packers or Broncos.
"I believe in the traditional seven yards," McCarthy said. "It's more than a formation, it's an offense from my perspective. You have to run the concepts with it. I wouldn't do it as a variation. I think what Washington is doing with it is awesome. It's a committed package with all the combinations and variations off it."
Even if some teams wanted to run the Pistol, they couldn't do it well. "It's about the players too," the NFC coach said. "You couldn't run the pistol with Peyton Manning and expect it to be successful. He wouldn't threaten anybody running the ball."
Not every team will run the Pistol, but more and more are likely to dabble in it moving forward.
Things I Didn't Used To Know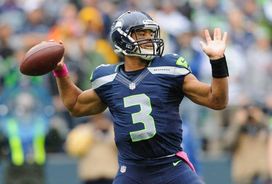 Russell Wilson has gotten better with his deep balls.
*Russell Wilson learns very well. Seattle coaches have been impressed at how the rookie quarterback has adjusted in various areas as the year has gone on. One of the most significant areas of improvement has been how he has thrown the deep ball. Early on, Wilson kept leaving his deep balls inside. Seahawks coaches kept drilling him on it, and he showed remarkable improvement. In his first five games, Wilson averaged one pass of 25 yards or more for every 41.6 throws. In his last seven games, he has had one pass of 25 yards or more every 14.7 throws. His average per attempt went from 6.5 in his first five games to 7.9 in his last seven according to STATS.
*Front office men are taking another look at Mike Nolan as a serious head coaching candidate, and many have come to the conclusion he deserves a second chance. Nolan's body of work as the Falcons' defensive coordinator this year is pretty impressive. He has had five games against top 10 quarterbacks this year (two against Drew Brees, on against Robert Griffin III, one against Peyton Manning and one against Philip Rivers). Their cumulative passer rating against the Falcons is 61.3. Manning threw three interceptions. RGIII threw for 91 yards. Rivers didn't throw a touchdown pass but threw two interceptions. Brees had the only good game against the Nolan defense, but in the second meeting between the teams Brees was picked off five times. And Nolan has not accomplished this with an all-star cast. It's a tribute to his coaching
*Here is what has been lost in all the controversy about Ndamukong Suh, according to one NFC coach: he should be in the Pro Bowl this year. Suh has been a terror on the interior line despite the fact that opponents have concentrated on taking him out of the game. Suh has made plays and he has opened up avenues for teammates to make plays by drawing so much attention.
My Sunday Best: 2012 Fines
NFL Charities should be flush with cash this year, given the staggering number of fines being handed out. These have been some of the biggest documented fines, or the best fines for charity purposes, this season.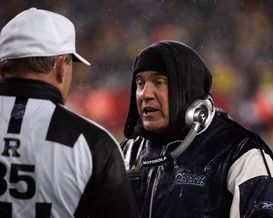 Bill Belichick makes a point to an offical.
Bill Belichick--$50,000. The Patriots coach was slapped for grabbing the arm of an official after a tough loss to the Ravens. Belichick, who does not have a history of being disrespectful to officials, apologized for the incident and acknowledged he was wrong.
Joe Mays—$50,000. The Broncos linebacker was suspended as well as fined for a late helmet hit on Matt Schaub, which knocked off Schaub's helmet and tore off a piece of his ear.
Ed Reed--$50,000. The Ravens safety originally was supposed to be suspended for his helmet to helmet hit on Steelers safety Emmanuel Sanders. That would have cost him a game check of $424,000. But arbitrator Ted Cotrell heard Reed's appeal and decided to dock him $50,000 instead.
Emmanuel Sanders and the Steelers--$50,000. Sanders was fined $15,000 and the team was fined $35,000 because Sanders apparently faked an injury to help the Steelers' clock situation near the end of their game against the Bengals.
Tim Dobbins--$30,000. The Texans linebacker said he saw nothing wrong with his helmet to the chin hit that concussed Bears quarterback Jay Cutler, but the NFL did.
John Fox--$30,000. He was set back a large amount for berating replacement officials. No truth to the rumor that other coaches in the NFL took up a collection to pay for the fine.
DeAngelo Hall--$30,000. The Redskins corner was fined and ejected for challenging officials during their game against the Steelers. He later was hit with $37,750 in fines for two infractions in the Redskins' game against the Cowboys.
Ndamukong Suh-$30,000. He paid quite a price for that foot to the jewels of Matt Schaub. Some would argue Schaub paid a bigger price.
Desmond Bryant, Lamarr Houston, Matt Shaughnessy, Tommy Kelly--$26,250 apiece. The gang of Raiders was fined for fighting with the Bengals after Houston took a shot at Bengals quarterback Andy Dalton.
Kyle Shanahan--$25,000. The Redskins offensive coordinator was docked for being verbally abusive to refs after Washington's loss to the Rams. Shanahan chased officials into the tunnel.
One Man Yelp: Blood, Sweat & Bears
Recent hall of fame inductee Richard Dent has chronicled his interesting life with the help of my old friend Fred Mitchell in Blood, Sweat & Bears: Putting a "Dent" in the Game I Love.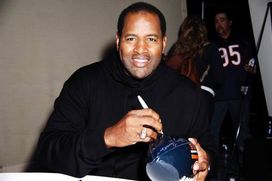 Richard Dent has shared his life story in a new book.
His life has been an interesting one, and Dent doesn't shy away from telling it like it is, from growing up the son of an abusive alcoholic, to being accused of being on drugs early in his career, to his contemptuous relationship with Mike Ditka, to feeling disrespected by the Bears, and to his ups and downs in his personal life.
Dent writes about going through a divorce after 13 years of marriage, and then having a child with another woman. He later found out she was a prostitute. Then he started dating another woman he had strong feelings for, but their long distance relationship didn't work out and she married another man and quickly had a child. She later found out Dent was the child's father, divorced her husband and reconciled with Dent.
As a pass rusher, Dent was one of the best ever. But he sometimes was accused of taking plays off. Dent explained his philosophy this way. "Why show an opposing player your best stuff all the time? If I continue to show you my best stuff, eventually you are going to get the timing, figure out what is coming and know how to deal with it." And "I treated pass rushing just like a pitcher approaches a batter. It's like the change-up that a pitcher uses to keep a batter off balance. That is what I tried to do so that the blocker would not know exactly what to expect from me in the way of a pass rush. I had to try to mess with his timing."
Dent also accuses a game official of making a racist comment in the famous "Instant Replay Game" between the Bears and Packers in 1989. Don Majkowski was called for being over the line of scrimmage on the game winning touchdown pass, but then replay overruled the call on the field. Dent said after the play, everyone was arguing on the field when one of the officials yelled to William Perry, "Get back in the huddle, you fat-ass nigger!" Dent said he was held back by Perry from going after the official, whom he does not name.
The book is filled with good stories like these, and they are well crafted by Mitchell.
Hot Reads
*Nice read from Playboy on Jon Gruden's FFCA—Fired Football Coaches' Association.
*According to my guy Pete Prisco, Cam Newton needed to be fit for a bigger helmet last year at the Pro Bowl.
*I'm on board with eliminating kickoffs--as long as they can eliminate the annoying and unnecessary extra commercial break that usually accompanies them.
*Sounds like Joe Thomas might like to invite Peyton Hillis over for some rabbit stew.
Dan Pompei covers pro football for the Chicago Tribune at chicagotribune.com.