December 17, 2011 -
Barry Dorey
NFP Sunday Blitz
The evolution of NFL offenses will be on full display in Denver Sunday, where the spread option Broncos will take on the two tight end Patriots.
What the Broncos have done with Tim Tebow has gotten a lot more attention, but what the Patriots—and a number of other teams have done—with multiple tight end personnel packages—has been more significant.
We have crossed a threshold in the NFL, from where NFL teams created matchup problems with one tight end, to where NFL teams are creating matchup problems with two tight ends, ala Rob Gronkowski and Aaron Hernandez.
If you can't cover one, how are you going to cover two? The problem is there are very few defensive players in the NFL who have the size, speed and athleticism to be able to cover the tight ends who come at them in waves. There may be a Derrick Johnson here or there, but they are outnumbered to a great degree.
"It's hard to match up on them," Patriots coach Bill Belichick told me when I asked him about the elite receiving tight ends in the league. "You don't have a defensive player. Who are you going to put on those guys? Who has a guy who can cover Dallas Clark or Tony Gonzalez? Even if you can be competitive with a safety, you are giving up 40 to 50 pounds, two or three inches. To find a linebacker who can cover them, that's really stretching it. Most teams don't have a guy."
This is a subject Ozzie Newsome knows a little about. As a tight end, he made the hall of fame. As a general manager, he drafted Ed Dickson and Dennis Pitta.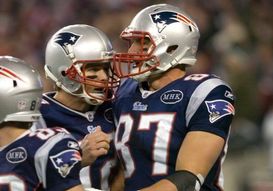 ICONA tight end like Gronkowski can be a quarterback's best friend.
"It can put the defense at a disadvantage with linebackers trying to cover guys like Gronkowski and Hernandez or Dickson and Pitta," he told me. "A lot of them aren't athletic enough to do it. If they get the safeties involved, it singles you up outside."
Against two tights, known as "12 personnel," defensive coordinators have a choice: play base defense or play sub. They'll probably be wrong whatever they choose. "When teams go sub, it helps you run the ball," Newsome says.
The beauty of 12 personnel is the defense doesn't even know what to defend. 'It provides balance for the offense," Newsome said. "You can have both edges covered. If they can handle the nine technique or the outside linebacker in a 3-4, it allows you to run the football."
If you have a quarterback like Tom Brady, it really opens up the passing game. Nearly 40 percent of Brady's AFC-leading 4,273 passing yards are from passes to tight ends. Gronkowski is second on the Patriots in catches (his 71 receptions are more than the leading receivers on all but three teams have); Hernandez is third.
"The way most teams are using 12 personnel, it's really 11," Belichick said. "The second tight end is much more of a receiver than blocker. It's a different version of 11. When they go to 11, it's really 10. Teams with good tight ends, they put a second tight end in the game, but that really lets their tight end became a receiver. Then when they go to three receivers and a tight end it's more like they have four receivers. Whether your third receiver is a receiver or a Gates or Keller or Gonzalez or Heap, they're as hard to match up on as a third receiver. If they can block competitively at all, you are a more balanced offense than you are putting a 190 pound receiver on the field."
What has enabled the growth of 12 personnel packages is the availability of good tight ends. Newsome suggests in the past, some of these tight ends were playing outside linebacker, defensive end or even basketball. Case in point: Jimmy Graham, who has been the most productive tight end in the league this year for the Saints, was primarily a basketball player in college.
The 2010 tight end class may turn out to be the best in history. Its members include Gronkowski, Dickson, Graham, Hernandez, Pitta, Cincinnati's Jermaine Gresham and Kansas City's Tony Moeaki.
"We had two or three tight ends we liked in every round of that draft," Newsome said.
So the Ravens, and Patriots each took two with the idea that if opponents had difficulty covering one of them, they really would have a hard time with two.
Things I Didn't Used To Know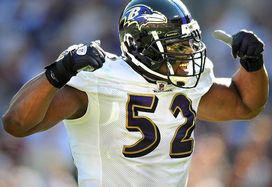 Ray Lewis has been helping the Ravens win even when he hasn't been playing.
*Even though Ray Lewis has been missing from the Ravens defense for the last four games, his presence has been felt. The Ravens went 4-0 and played solid defense in the absence of their middle linebacker. But Lewis wasn't totally absent. He attended every meeting and worked diligently to prepare inside linebackers Jameel McClain and Dannell Ellerbe for every opponent. The Ravens defenders also felt they had to step up in Lewis' absence, and obviously did so. With Lewis expected to return to the lineup Sunday against the Chargers, the defense has a chance to play some of its best football of the season.
*People familiar with the inner workings at Arrowhead Stadium believe Romeo Crennel is a serious candidate to be the Chiefs' permanent replacement for Todd Haley. This is why: Crennel has head coaching experience. He can work well with general manager Scott Pioli. Keeping him would mean minimizing change on the coaching staff. And it also would enable the Chiefs to bring in Josh McDaniels as offensive coordinator.
*A darkhorse candidate for the Jaguars job is Maryland coach Randy Edsall. It may be tough to hire a coach who is coming off a 2-10 season, but there is some sentiment in the Jaguars offices that Edsall would be a fit. Edsall coached Jaguars defensive backs for four seasons and is respected by members of the front office. He is a Tom Coughlin disciple who coached under the former Jaguars coach at three stops, and also played for him at Syracuse.
*A number of head coaching candidates have their eyes on St. Louis. What makes Steve Spagnuolo's job so attractive? It's Sam Bradford.
*One of the reasons general manager Jeff Ireland didn't get swept out of Miami with Tony Sparano is Carl Peterson, soon expected to be named Dolphins president, feels comfortable with Ireland. Ireland worked as a scout for Peterson's Chiefs for four years.
*Nate Washington is in his seventh NFL season, but he looks like a different player this year. The Titans wideout already has career highs in catches and yards. Some if his production has to be attributed to the fact that Kenny Britt's absence created a vacuum. And some has to be attributed to the fact that Matt Hasselbeck and Washington have clicked. But most of his production has to be attributed to the fact that Washington has worked harder than ever. Tennessee coach Mike Munchak tells me Washington has been a changed player. He said after Washington became a father in training camp, he became more motivated and dedicated, and the results have been evident.
*A lot of NFL teams apparently underestimated Roy Helu, the Redskins rookie who has run for 100 plus yards in each of his last three games. Scouts I spoke with before the draft had Helu pegged to go anywhere between the fourth and seventh rounds. There were questions about his durability and how physical he was, and his lack of elusiveness. The Redskins picked him up in the fourth and are happy they did. Redskins coaches have found Helu may be a little tight, but his 4.42 sp eed plays well in Mike Shanahan's one-cut offense. It took awhile for coaches to trust Helu with blitz pickup, but now that he has shown capable in that area, he has made steady improvements. Going forward, the Redskins see Helu as part of a one-two backfield punch.
My Sunday Best: Tight End Combinations
The recent influx of tight end talent in the NFL has left many teams with more than one tight end who can attack a defense. Here are my best duos.
1. Patriots. The reason Tom Brady likes to go to Rob Gronkowski and Aaron Hernandez so much is they get open, they catch the ball, and they get yards after the catch. They are the best tight end combination in the league by a wide margin. "They are a good complement to one another," Belichick says.
3. Ravens. Ed Dickson is a little like Gronkowski and Dennis Pitta is a little like Hernandez, but neither is as dynamic.
2. Cowboys. Jason Witten and anybody is a pretty good combination, but Martellus Bennett has the talent to be more productive than he's been. The Cowboys have used more two tight end formations than any team in the NFL this year.
4. Texans. Matt Schaub completed 28.7 percent of his passes to tight ends and T.J. Yates has completed 37 percent of his passes to tight ends, according to Stats. That's what happens when you have Owen Daniels and Joel Dreessen to throw to.
5. Lions. Brandon Pettigrew is more of a possession receiver who brings some muscle to the offense, and Tony Scheffler is the pass catcher.
6. Panthers. This team still is finding itself offensively, but old tight ends coach Rob Chudzinski has a lot of talent to work with at the tight position in Greg Olsen and Jeremy Shockey.
7. 49ers. Alex Smith has been highly reliant on Vernon Davis, who is as gifted as any tight end in the game, and Delanie Walker.
8. Chargers. Antonio Gates might not be all he used to be, but he remains a strong weapon. Randy McMichael has been a nice complement.
9. Vikings. The duo of Visanthe Shiancoe and rookie Kyle Rudolph has been easy to overlook because the Vikings haven't had the quarterback to take advantage of them. But this is a gifted pair.
Scout Talk: RG3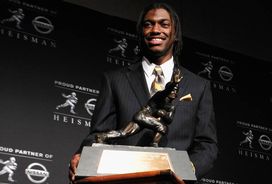 ICONNFL scouts think nearly as much of Griffin as Heisman voters.
Heisman voters decided Robert Griffin was the best player in college football. NFL scouts are not likely to come to the conclusion that he is the best NFL prospect. But he won't be far behind Andrew Luck and a few others. The consensus from four front office decision makers I spoke with about Griffin is he should be a top ten pick, and if he were 6-5 instead of 6-1 or 6-2 (his exact height has not been determined), he probably would be a candidate to be chosen first overall. What's interesting is each of the men believe Griffin will transcend his lack of height.
Here is how the evaluators broke down Griffin.
Production: Griffin obviously scores high here, with shares of 30 school records But two things stand out. One is that he improved significantly as a junior. The other is that he was able to direct victories over Oklahoma and Texas.
Athleticism: He probably will be one of the most athletic quarterbacks in the NFL. He isn't quite the freak that Michael Vick is, but he's not far behind. One AFC personnel director compares him to Steve Young. An NFC scouting director said he is a really athletic Drew Brees. What Griffin can do is create second chances when a play breaks down. He is an outstanding runner with instinct, quickness and speed.
Decision making: During his junior year, RG3 was a pretty consistent decision maker who did not force passes. That wasn't always the case in the past. He can improve in his ability to read defenses.
Arm: Griffin has both very good arm strength and very good accuracy. He even throws a deep ball accurately. He's a smooth, natural passer who can throw from different platforms.
One Man Yelp: War Room
What I liked about Michael Holley's War Room is it paints intimate portraits of Bill Belichick, Scott Pioli and Thomas Dimitroff. What I wished it did more of is tell me how these team architects work their "War Room" magic.
The book is about three men who are bound by a system, as opposed to being about the system itself. There's more about the personalities and backgrounds of the trio than their philosophies, but we still learn a little about how they tick.
Some of the best passages are about Dimitroff and his father Tom Dimitroff Sr. Great advice from father to son: "Keep doing what you're doing and you'll be fine. And know when to express yourself and when to bite your tongue. I probably could have done a few more things in this game if I had held my tongue more often."
Other aspects of the book also enlighten. Such as:
*What kind of focus does Pioli have? He once had been on the road on a three day car trip when he learned he had missed the start of America's involvement in the Persian Gulf war.
*Some of the staff members of the Patriots were not too keen on selecting Chad Jackson in the second round of the 2006 draft, and they let Belichick know. But even Pioli admits it's easy for self doubt to creep in when opposing Belichick's opinion because everyone has so much respect for his knowledge and body of work.
*When watching practices, former Steelers scout Dick Haley, who helped build one of the greatest teams in history, focused more on how a player landed after jumping than how high he jumped. Haley figured that revealed more about the player's athleticism.
*I told you here Belichick advised Dimitroff not to make the Julio Jones trade. Holley explains Belichick's reasoning. He saw depth at the position in the draft, and he thought Jones struggled to get open on intermediate routes, doesn't play as fast as his timed speed and had inconsistent hands.
Hot Reads
*Get well soon, Wade Phillips.