December 16, 2012 -
Dan Pompei
NFP Sunday Blitz
It was after one particularly sloppy practice when it became apparent that Bruce Arians had quite a grip on the Indianapolis Colts.
He called his players together in a circle in the middle of the field. He pointed to the office of head coach Chuck Pagano inside the team's facility. The lights were on even though Pagano had been on leave to receive treatment for leukemia ever since the fourth week of the season.
"Why is that light on in that room?" Arians asked his team. "It's a constant reminder of him fighting, struggling, not giving up. So why would you come out here and piss away this practice? Why would you come out here and not do your job?"
The Colts took Arians' words to heart. They did not lose that week, and they have lost only twice in the ten games Arians has coached. If they beat the Texans Sunday, the Colts will become the second team in NFL history to win 10 or more games after losing 14 or more the season before. That's why Arians could become the most unusual coach of the year in NFL history.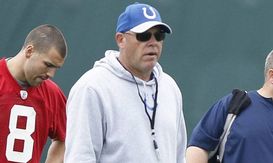 Bruce Arians has left his mark on the Colts without erasing Chuck Pagano's.
Arians, a longtime NFL assistant coach who was supposed to be the Colts' offensive coordinator after being let go by the Steelers, has rallied his team around Pagano. But he has done much more than that. In his first game in charge, he came out with guns blazing, using a no huddle offense to stun the Packers. He has given the Colts a never say die attitude, as they have rallied from six fourth quarter deficits. Arians has thrown late in games to secure leads. He has called plays deftly. And he developed Andrew Luck wonderfully.
But it is his ability to lead that has shined like the light in Pagano's office. "When no one in this country thought it was a possibility except the guys in that room, he said, 'We're going to extend this season for Chuck so he can get back and coach,'" Colts general manager Ryan Grigson told me. "His football mind is brilliant, but the No. 1 thing that has stood out is his motivation of the team, keeping them on page through so much adversity."
Colts kicker Adam Vinatieri knows good coaching when he sees it, having played previously under Bill Parcells, Pete Carroll, Bill Belichick, Tony Dungy and Jim Caldwell. He said Arians walks the line between the Dungy/Caldwell school of relating to players, and the Parcells/Belichick school of critical motivation.
"He has years of experience so obviously he knows Xs and Os very well, but he's also the type of guy who will show emotion and let you know how passionate he is about it," Vinatieri said. "He can get you motivated, sometimes with a pat on the back, sometimes with a few cuss words. Everybody in the organization loves and respects him."
Arians is the perfect coach for this team, this place and this time. He is a cancer survivor himself and Pagano's close friend. It seems he has pushed the right button at every turn. His attacking style of football has served the Colts well.
"Bruce is the self proclaimed river boat gambler," Grigson said. "Bruce will chuck it at a point where a lot of coaches would run the ball. That's his style. He's a go for the throat kind of guy."
Arians has had to branch out from just concentrating on offense. Cory Redding, who recently was named defensive captain, said when Arians sees something on defense that isn't right, he will call on him or fellow captain Robert Mathis to correct it.
Sometimes, he merely is passing along Pagano's wishes. Pagano and Arians have spoken daily, even through Pagano's chemotherapy. And they text each other regularly.
"He is a mirror of Chuck," Redding said. "He delivers Chuck's message and tells us in a way BA would want it done."
Said Vinatieri: "He's taken Coach Pagano's wishes, dreams and wants and put that front and center, and then he's coached his way. It's been impressive how he's done that."
Shortly after Arians learned Pagano was ill and Arians would be taking over as interim coach, he went into Pagano's office and flipped the light switch on. Since, a piece of clear plastic has been secured over the switch with a message below. "Do Not Turn Off."
The light will remain on until Pagano returns, hopefully in a matter of weeks. But in the meantime, the Colts are in very good hands.
Things I Didn't Used To Know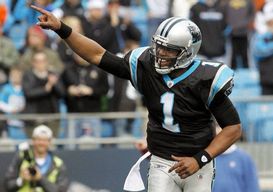 Cam Newton is smiling a lot more these days.
*Cam Newton's turnaround can be attributed to the young quarterback seeing the big picture better. In his first seven games, Newton had a passer rating of 75.2 and the Panthers won only once. But in his last six games, his passer rating is 103.2 and the Panthers are playing .500 ball. This is what Ron Rivera told me about it: "He had to get past struggling with losing. He finally realized he couldn't put so much of a burden on himself, and he had to stay focused. He's not putting it all his shoulders. He stopped trying to make every play." But it goes beyond that. Rivera said Newton's reads, decision making, delivery and mechanics have improved as the season has gone on.
*One of the ways Aaron Rodgers has tried to keep things together with the injury depleted Pack this season is by talking more. More adjustments have called for more communication. "There have been a lot more conversations," he told me. "I've been doing more in meetings and been given a greater voice, which is nice." He also has spent one-on-one time with teammates. Specifically, Rodgers said he has spent a lot of time talking with Randall Cobb, who is playing a much bigger offensive role this year than last. He also has had many talks with tight end Jermichael Finley, who has questioned the chemistry between him and Rodgers. The new running backs also have required Rodgers' time. And he has had a running dialogue going with new center Jeff Saturday all season.
*Golden Tate has been somewhat of an unsung hero in Seattle and is having his best season yet, and people with the team are not surprised. They say the wide receiver became humbled after some early struggles, and subsequently has become more of a pro. He has shown more discipline and is practicing and studying harder. It also has helped that Seahawks coaches have figured out how to best utilize him and now are playing him to his strengths in the routes they ask him to run.
My Sunday Best: 2012 Coaching Performances
It's too early to hand out the coach of the year award, but it's not too early to look at the top contenders. Here are my best coaching jobs of the 2012 season up to this point. Coaches are listed alphabetically.
Arians—He can share it with Pagano.
Bill Belichick, Patriots—It's difficult for Belichick to get votes for this award because so much is expected of him, and because he has a pretty fair quarterback. But the job he's done this year, like just about every year, has been impressive. He kept the Patriots offense humming when Rob Gronkowski went down. He found a way to move around the pieces of a struggling defense to make it work. He took a chance on Aqib Talib. And he has his team peaking at the right time.
Pete Carroll, Seahawks—He deserves some consideration just for having the guts to go with Russell Wil son, and for bringing out the best in the young passer. He and his staff also have done well developing other young players, including Bobby Wagner, K.J. Wright, Golden Tate, Richard Sherman and Bruce Irvin.
John Fox, Broncos—He and Mike McCoy have done a great job of tailoring the offense to Peyton Manning. Fox's defense also has stepped up. Fox should get some credit for Von Miller's development.
Jim Harbaugh, 49ers—The reigning NFL coach of the year could win it again. His bold move of benching Alex Smith in favor of Colin Kaepernick may define the 49ers' season. Harbaugh has done an excellent job of playing to strengths of his personnel, making the 49ers a physical, tough team.
John Harbaugh, Ravens—For Jim's older bro to be considered, Jim Caldwell will have to ignite the Ravens' defense. Harbaugh is likely to be judged on his decision to fire Cam Cameron and promote Caldwell last. But he also should be credited for winning pretty consistently in the absence of Ray Lewis and in the absence of Terrell Suggs.
Gary Kubiak, Texans—It may be hard for Kubiak to win this award because expectations were high for the Texans and he merely fulfilled them. But there is little doubt the Texans coaches have pushed the right buttons this season. Overcoming the loss of Brian Cushing is a testament to good coaching.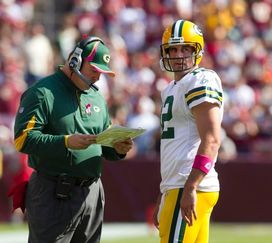 ICONMike McCarthy seems to be able to win under adverse circumstances as well as any coach in the NFL.
Mike McCarthy, Packers—McCarthy's coaching job this year was very similar to his coaching job in 2010, when the Packers won the Super Bowl. He has adjusted his lineup consistently well to overcome numerous injuries. Thirteen starters have missed 66 games with injuries, and ten players are on injured reserve. McCarthy has made it a point to develop young players, and the results have been evident in the Packers' improvement on defense.
Mike Shanahan, Redskins—He went 5-11 last year but has a decent chance of making the postseason this year. The way Shanahan has used RGIII has been brilliant, mixing in what the rookie did best at Baylor with some of the principles that have been the foundations of Shanahan's offenses for years. The Redskins also have dealt well with a slew of injuries.
Mike Smith, Falcons—He made two outstanding moves by hiring Dirk Koetter and Mike Nolan, and the new coordinators have given the Falcons an excellent direction. Smith's steady leadership has made the Falcons one of the most consistent teams through the season—they haven't had any prolonged slumps.
Hot Reads
*Why doesn't anyone talk about Andrew Luck not being white enough?
*Hey Dan Rooney, give Ireland back to the Irish.