September 11, 2011 -
Barry Dorey
NFP Sunday Blitz
If Josh Freeman can exceed expectations as much in his second full year as a starter as he did in his first full year as a starter, people may start thinking about him as a legend instead of a football player.
In his first season as a starter, Freeman absolutely killed expectations, ranking sixth in the league in passer rating and second in the league in touchdown to interception ratio, behind only Tom Brady. And he also led the Bucs, who had been chosen almost universally to be a dud, to 10 victories.
So as he goes into his second season that begins today when the Bucs host the Lions, the expectations are higher still for Freeman. The truth no one will admit is if he can come close to what he accomplished last season, there will be a lot of very pleased people at One Buc Place.

But the Bucs have a plan to take Freeman to a higher level. Given his youth, his talent and his determination, it's very likely he'll get to that higher level. In time.
This is what Bucs coaches believe Freeman needs to do to get there.
*Take more control of the offense.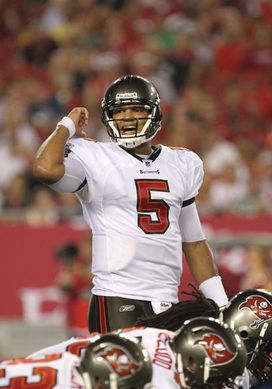 The Bucs want Josh Freeman to take more control at the line of scrimmage.
Bucs coaches are giving Freeman more leash at the line of scrimmage in order to get the team out of bad plays. Last year he was allowed to change protections at the line, and he did well at that. This year, now that his knowledge of the offense has increased, and he has come to understand the potential weaknesses in every call, coaches are asking him to change running plays at the line.
"You have to know who everybody is responsible to block, and if we have an overload to one side, to get us out and get us to a better play," Bucs offensive coordinator Greg Olson told me. "That's the next step, the run game part of it."
This is an area where Freeman can grow considerably. "We always spend a lot of time looking at the Peytons and Drews and the guys who have been in one system a long time, and we see their command at the line of scrimmage," Olson said. "His command is good, but it's not great right now. It will be in time. He's still in the developmental stages."
*Increase the tempo.
The Bucs want a faster moving offense. As Freeman becomes more versed in the offense and has to think less between plays, he is more capable of going from the end of one play to the beginning of the next more promptly.
The Bucs like how Drew Brees and Tom Brady create urgency between plays with tempo. "They are fast, efficient, high tempo, high energy and are constantly coming at you, on the attack," Bucs coach Raheem Morris told me. "Free wants to make those things happen for this team as well."
*Continue to avoid interceptions.
Freeman threw only six last year. That's one every 291 throws, an incredible percentage of 1.3. Morris says Freeman was "as efficient as he could be."
What Freeman did well last year was this: when he was fooled by coverage, he didn't try to make up for it with his considerable arm strength. Freeman threw the ball away 20 times, eighth most in the NFL according to Stats, Inc. Very impressive.
Sometimes, as quarterbacks become more confident, they become more daring. The challenge for Freeman will be to continue to take good care of the football while finding more ways to make big plays.
"It's difficult to throw only six interceptions," Olson said. "Whether or not he can match that again, it would be difficult, but we still expect that ratio to be 3 to 1. That's what you strive for. He maybe had some that opponents dropped or were tipped that could go the other way this year. But we still expect the decision making to be good, and if the interception total is under 10, we'll feel good about it."
*Make more explosive plays.
This might not be as big an adjustment for Freeman as it appears. As he continues to develop chemistry with second year wideouts Mike Williams and Arrelious Benn, some of this should come naturally.
"He has the same group of wideouts that have the ability to do that for him," Morris said.
*Keep running.
It is common to hear coaches tell their young quarterbacks not to run so much. They want their quarterbacks to be passers, not runners, and they don't want to court injury. But at 6-6, 250, and with rare movement skills, Freeman adds a dangerous dimension to the Bucs offense by running. He took off 68 times last year and had the second most quarterback rushing yards in the league to Michael Vick.
"We're real comfortable with the amount of running he did because he's got great pocket instincts," Olson said. "That's hard to develop. Either a guy has it or he doesn't. He's not a flighty quarterback. You'd say he sat in the pocket, he went through his progressions and he saw a seam and ran. Or he recognized it as two man coverage and he knew no one was responsible for the quarterback so he saw a seam and ran. We don't want to take that part of his game away because he becomes even harder to game plan for."
Freeman wants to be a quarterback who runs because of opportunity, not a quarterback who runs when a receiver is open. "I never go into a game thinking about running, unless you maybe see Two Man you might run," Freeman said. "I don't really like running that much, but I like winning, so if it's going to help us, I'm all for it."
If Freeman can do everything his coaches want him to do, he is going to be running through defenders and expectations alike.
Things I Didn't Used To Know
*David Garrard is being selective about choosing his next team. He could have hooked up with some teams as a backup last week, but he wanted to wait at least until this week before making a decision. The former Jaguar apparently does not want to join a team that has an established starter. Those with knowledge of the situation say Garrard would prefer to go to a team that has a somewhat tenuous quarterback situation with the hope that he can re-emerge as a starter at some point during the year.
*A lot of teams thought Brandon Meriweather could help them, even though the Patriots did not. After the Pats cut the safety, 13 teams inquired about him. His former Patriots secondary partner James Sanders, who now is with the Falcons, lobbied his new team to sign the 27-year old former first round pick. Meriweather ended up signing a one year deal with the Bears for $3.25 million, and likely could have had more money from another team. The issue with Meriweather in New England was not talent—it was what he was doing with his talent.
*Darren Sproles showed a little of what he is capable of in the Saints' season opening loss to the Packers. And the word out of New Orleans is the Saints plan on getting plenty of mileage out of Sproles this year. Sean Payton tells me he has a similar role designed for Sproles that he had for Reggie Bush, though he'll do a few things differently with Sproles. He said he especially likes how Sproles makes decisions in space. Payton also talked about keeping the 5-6, 190 pound Sproles on a "pitch count" to preserve his body.
*The Lions have high hopes—really high hopes--for free agent cornerback Eric Wright, who is starting on the right side and shifting over the slot on nickel downs. Lions defensive coordinator Gunther Cunningham tells me Wright has all the tools to be "an outstanding player," and likened him to Dale Carter and James Hasty, two of the better corners Cunningham has coached. Why should Wright be any more consistent for the Lions than he was for the Browns? The Lions plan on using him differently. They won't match him up with the opponent's best receiver, and they won't be blitzing very frequently because the can generate pressure with four men. That means Wright should have safety help.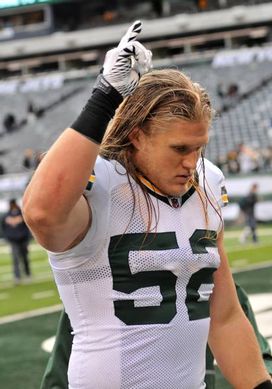 Clay Matthews should be known for what's inside his head as well as what's covering it.
*Linebackers aren't often known for intelligence, but a common bond between the Matthews brothers is they are thinkers. In Green Bay, Dom Capers tells me Clay Matthews can continue to improve in part because of his understanding of the game. The Packers move Matthews around all over the place, and Capers said Clay can "do as much as we ask him to do." In Philadelphia, Clay's kid brother Casey was such a quick study that the rookie is set to start against the Rams in the season opener today. What's more, at middle linebacker, Casey will be wearing the helmet with the wireless headset, meaning he will be the primary signal caller of the defense. Eagles defensive coordinator Juan Castillo praised Casey for his ability to call those plays, and also took note of his confidence in doing so.
My Sunday Best: Teams in each division
It might be more difficult to make accurate predictions this year than in any other, given the unusual nature of the offseason. Certainly, the NFL seems primed for more surprises than usual. That being said, here are the teams I believe are the best in each division at the start of the season.
NFC East: Eagles. I think you can make a case for any of the four teams. But you also can make a case against any of the four teams. It's fashionable to pick against the Dream Team, but they still look like the class of this division. Look out for the Redskins though, a strong sleeper if ever there was one.
NFC North: Packers. If you had any doubts, what happened Thursday should have removed them. The Lions are improved, but they don't appear improved enough to take over the Packers. The defending division champion Bears lost to the Packers twice in a month last January.
NFC South: Saints. There are some concerns about the secondary, no question. But this is a strong team that could get stronger as the season goes on. The Falcons are right there with the Saints, and the Bucs are not far behind.
NFC West: Rams. This is the most difficult division to predict. I'd feel a lot better about the Rams if they had not changed offensive schemes. Otherwise, they appear to be a progressing team that is ready to take the next step. The defending champion Seahawks with Tarvaris Jackson at QB are a total wildcard. Beware the Cardinals, laying in the weeds.
AFC East: Jets. If Mark Sanchez takes the next step, the Jets may as well. The Patriots will contend, but they've changed so much they are difficult to gauge.
AFC North: Ravens. Eight of the last 16 Super Bowl losers failed to make the playoffs, and it could be difficult for the Steelers to do it given the age of their defense. The Ravens are loaded. Don't forget about the Browns.
AFC South: Texans. This division was thrown asunder by Peyton Manning's neck. If David Garrard still were a Jaguar, I might have a different pick. But as it is, the Texans look ready to take advantage of their rivals' weaknesses.
AFC West: Chargers. You have to admire San Diego's ability to contend consistently. You also have to wonder if the Chiefs can duplicate what they did one year ago.
Scout Talk: National Top Prospects
Here are the best draft eligible college prospects in the country based on preseason rankings by National Scouting. If you are wondering where Andrew Luck is, he technically has another year of eligibility if he wants to take it because he redshirted as a freshman in 2008.
1. Quinton Coples, North Carolina DE, 7.0 grade. Teams that play a three man front will love Coples. He's a big, physical power end who can rush the passer with muscle. He doesn't have great edge speed, but he is difficult to block. He also might have some ability to play three technique on passing downs.
2. Jared Crick, Nebraska, DE, 6.7 grade. He is a similar style player to Coples, though he might not be as gifted. Crick is a solid defender who plays with a lot of intensity. He makes hustle plays. One scout compared him to J.J. Watt.
3. Brandon Thompson, Clemson DT, 6.6 grade. He isn't a highly productive interior pass rusher, but he does have good quickness and is a strong run player. Thompson plays with high effort and can be disruptive.
4. Alfonzo Dennard, Nebraska CB, 6.5 grade. This corner will appeal to defenses no matter what system they deploy, but he is especially good in press coverage. Dennard is quick, sudden and athletic. He has good ball skills. He isn't the most physical corner, but he's physical enough.
5. Devon Still, Penn State DT, 6.5 grade. He has a good combination of size and athleticism. Still can push the pocket, get in the backfield and make tackles for losses. He is probably best suited in a two gap front. He is limited as a pass rusher. He might be best suited as a nose tackle.
6. Michael Floyd, Notre Dame WR, 6.5 grade. Despite not having top speed, Floyd is a solid prospect who does everything pretty well. He makes plays with size and good hands. He's a nice fit for West Coast offense teams in part because he is strong after the catch. If Floyd keeps his nose clean, he'll be a high draft pick.
7. Jeff Fuller, Texas A&M WR, 6.4 grade. He is big, physical, strong and explosive. Fuller is a playmaker who can go vertical. If he shows he can be a consistent producer, a lot of teams are going to be interested in him.
8. Cordy Glenn, Georgia G, 6.4 grade. This mammoth blocker has experience at tackle and guard. His positional versatility is a plus. Glenn won't fit every scheme, as he's best in a zone scheme that likes bulky blockers. Some scouts think he is capable of playing at a higher level than he's played.
9. Luke Nix, Pittsburgh G, 6.4 grade. He also has bounced between tackle and guard. Nix has good size and he finishes his blocks. Some fear he might be a tweener.
10. Nick Toon, Wisconsin WR, 6-3 grade. He is a smooth route runner with a feel for defenses who catches the ball well. Toon isn't a burner, but he is sneaky fast. He might be a No. 2 in the NFL.
11. Markelle Martin, Oklahoma State S, 6.3 grade. This is a good cover safety who has range and a burst to close. Martin can deliver a blow, but he doesn't always take good angles and sometimes gets caught gambling.
One Man Yelp: America's Quarterback
Keith Dunnavant has a book coming out this week that I would highly recommend to anyone who loves NFL history or the Packers. It's called America's Quarterback: Bart Starr and the Rise of The National Football League.
It's a little like When Pride Still Mattered: A Life of Vince Lombardi, which is one of my all-time favorite football books. The two books study the same era in Packers history, NFL history and U.S. history through different prisms.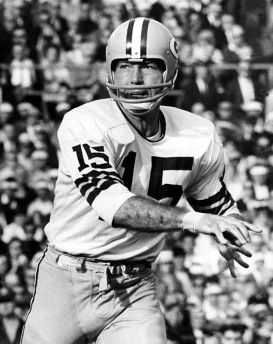 They don't make them like Bart Starr anymore.
Dunnavant clearly has admiration for Starr, and he should. He played so long ago that it's easy to forget how great Starr was as a quarterback, and what a fine leader and man he is. The NFL needs more Bart Starrs, but I'm not sure we'll ever see another like him. He was the Joe DiMaggio of the NFL, and it's interesting that as a child, Starr pretended to be DiMaggio when he played baseball.
Consider these tidbits from the book:
*After a big Green Bay snowstorm, it was not uncommon for Starr to not only personally remove the snow from the front of his house, but also to remove the snow from the front of many neighbors' houses.
*Even after being named MVP in consecutive Super Bowls, Starr would routinely walk around the locker room and pick up teammates' dirty towels to place them in a hamper.
*Former teammate Bill Curry remembers a day during training camp when exhausted players, run ragged by Lombardi, scurried on the bus to avoid autograph seeking fans and get some rest between practices. And along came Starr. He walked away from the bus, approached the crowd and signed every person's autograph, standing in the sun for more than half an hour.
*When Starr, as a high school senior, was tutored by Babe Parilli, who was four years older, he called him, "Sir." The young Starr was described as "unfailingly polite and well mannered." And he always looked authority figures in the eye.
*He flunked his Air Force physical because of a bad back, but he played through all kinds of injuries with the Packers. Teammate Forrest Gregg called him, "one of the toughest athletes I've ever been around."
*Lombardi thought so much of Starr that when he left to become head coach of the Redskins, he asked Starr if he could borrow his notes on every team in the league, which filled an entire drawer in a filing cabinet. He photocopied every page, which Starr called, "The nicest compliment he ever paid me." A seventeenth round draft pick, Starr wasn't the most talented quarterback who ever spun a football. But he may have been the best prepared.
Starr was shaped by trying to live up to the impossible expectations of his drill sergeant father, and by trying to make up for the tragic loss of his younger brother.
The author also explains how Starr and Lombardi formed the ideal combination, how each brought out the best in one another. Starr's personal life and coaching career also are examined in a book that is well worth your time.
Hot Reads
*On the tenth anniversary of 9/11, we all have our memories, like these shared by Andrew Brandt. I hope that fans of freedom and football are feeling reflective, appreciative and unintimidated as they head out to stadiums across the land today.
*If the Super Bowl truly were between the two best teams in football, it might have already been played Thursday night.
*Anyone who aspires to end up collecting what T.O. is eligible for should follow his career advice.
*Welcome to the real world, NFL style, Barry Cofield.