November 28, 2010 -
Dan Pompei
NFP Sunday Blitz
Detroit is where head coaches go before they are sent out to pasture. No one gets another head coaching job after they have coached the Lions.
But there may be an exception.
Marty Mornhinweg was ushered out of Detroit after two inglorious seasons. Opponents who have to prepare for his Eagles offenses these days aren't laughing very much though.
Mornhinweg has resurrected his career with a little help from his quarterback, and could be in line for a second chance as a head coach.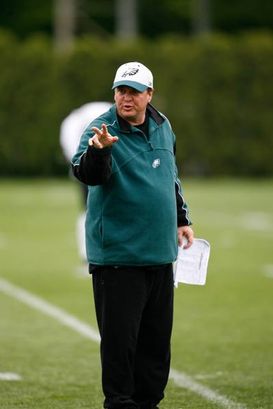 ICONEagles offensive coordinator Marty Mornhinweg is the man behind Michael Vick's play.
"I'm a big fan of his," Eagles head coach Andy Reid said. "I would tell you he'd be a great head football coach. He has a phenomenal football mind and he's good with people. He's a good person. Those are good qualities to have in a head coach."
Mornhinweg has one of the most valuable skills in the game. And it's not a skill that is common. He can get the best out of a quarterback.
It's happening now with Michael Vick, of course. But this isn't the first time. Donovan McNabb had his best season ever with Mornhinweg as his offensive coordinator in 2004. Jeff Garcia had a career year under Mornhinweg in 2000. Steve Young threw for more yards and touchdown passes with Mornhinweg as his coordinator in 1998 than he did in any other season. And Brett Favre threw for a career high 39 touchdown passes, won a Super Bowl and was named league MVP the one year Mornhinweg was his quarterbacks coach.
In the case of Vick, Mornhinweg broke him down fundamentally and had him start from scratch. Vick said the Eagles coach "completely changed me as a passer."
Mornhinweg addressed Vick's footwork, his throwing motion, his reads, everything. The result, of course, is a far superior player. Vick leads the league with a passer rating of 108.7. His accuracy has improved dramatically. He previously completed 53.7 percent of his career passes; this year, he is completing 62.8 percent.
Mornhinweg doesn't use a cookie cutter approach with all of his quarterbacks, so he had a specialized plan for Vick. "You have to coach each quarterback differently because they are all different," he said.
I asked him if there were similarities in coaching all the great quarterbacks he has coached. "They all have common traits—the instincts, a little bit of a mean streak even though you don't always see it publicly, they have great determination, and a high level of skill and ability," he said. "But they all have different styles."
Mornhinweg's experience with Young helped him with Vick. "Both are about the same size, both are left-handed, both have uncommon skill and ability, great athleticism, great escapability and running ability," Mornhinweg said. "But it's too early and almost unfair to compare them because Steve is a first ballot hall of famer. Some of the things Mike is doing right now, Steve did over a long period of time. Mike's challenge is playing at that high level over a long period of time."
There also are parallels between Vick's style of play and Favre's style of play. "Brett would try to do it as you wanted and then let his natural ability take over," Mornhinweg said. "Mike has a little bit of that too. Brett is more of a gunslinger type. But Mike does have a little bit of that in him."
With Vick playing like Young and Favre combined, it's enough to make a league forget all about what happened in Detroit.
Things I didn't used to know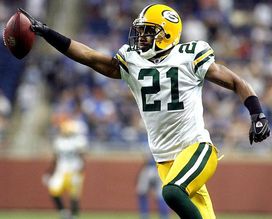 Charles Woodson has been under the radar this year, but he's still playing excellent football.
*Tramon Williams has emerged as the Packers' best cover man, and one of the best in the league. But that doesn't mean Charles Woodson has fallen off. In fact, some of the big shots at Lambeau Field believe Woodson is playing every bit as well as he did one year ago, when he was voted NFL defensive player of the year. The 34-year old doesn't have the same kind of interception production he had last year, but he is doing all the little things well. Woodson gets to where he is supposed to be. He is getting opponents on the ground. And he is a leader who gets teammates lined up and compensates for the mistakes and shortcomings of those around him. It will be interesting to see how Woodson and Williams match up with star Falcons receiver Roddy White Sunday.
*Word out of San Diego is Vincent Jackson has looked awfully good in practice, and has been clicking with Phillip Rivers as if he never had been away. The only issue for Jackson against the Colts Sunday could be his conditioning.
*Sidney Rice, meanwhile, remains in a state of transition for the Vikings. The receiver, who returned from hip surgery last week, still is bothered by the hip. If he plays against Washington today, my Vikings peeps tell me his reps could be limited.
*Also on the subject of the Vikings, many players in the locker room were not disappointed to see Brad Childress sent packing. But I'm told one player was disappointed—Tarvaris Jackson. Childress has been the quarterback's main advocate, and with Childress gone, the concern is Jackson might not have a future in Minnesota either.
*Stevie Johnson is turning heads with his production (and his celebrations) for the Bills, but NFL scouts still are skeptical about the receiver. This is what one told me: "He has NFL hands but CFL speed. He's a good guy on that team, but he wouldn't even make the Cowboys."
*Even though Jay Cutler has a big arm and Mike Martz has big ideas, the Bears have struggled to get the deep game going. On throws that have traveled more than 20 yards, Cutler has eight completions in 36 attempts for 291 yards. His passer rating on those plays is 35.3, which ranks 58th in the NFL, according to Stats, Inc. What gives? The Bears haven't had adequate pass protection to give the deep routes time to develop. And when they have, either Cutler or his receivers have been off.
My Sunday Best: Second-chance coaches
If Marty Mornhinweg gets another chance to be a head coach and is successful, he won't be the first "second chance coach" who has been better the second time around. Here are my best second chance coaches—men who became winners after being fired from their initial jobs. I don't count coaches like Don Shula, Dick Vermeil and Jon Gruden who never were considered failures. It should be noted that there are seven second chance coaches in the league currently.
1. Bill Belichick. He was 36-44 as the head coach of the Browns, and it took time and experience for him to learn the people aspect of his job.
2. Tony Dungy. He actually was pretty good when he was the coach of the Bucs, but he was forced out because he didn't take the team to the next level. He became a genius when he took a job on the same team with Peyton Manning.
3. Tom Coughlin. An eight-year stint with the expansion Jaguars helped soften his edges. He became a better coach and won a Super Bowl with the Giants.
4. Mike Shanahan. It's easy to forget he bombed out as coach of the Raiders before winning a pair of Super Bowls with the Broncos. Now, he's a third chance coach for the Redskins.
5. Norv Turner. After going 58-82 in his first nine years as a head coach with the Redskins and Raiders, Turner is 35-19 with the Chargers.
Numbers Games: Falcons vs. Packers
One of the reasons the game between the Packers and Falcons Sunday could help determine who gets home field advantage in the NFC is these two teams don't beat themselves.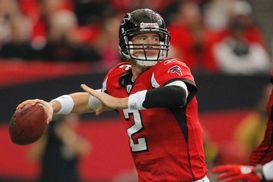 ICONMatt Ryan knows how to take care of the football.
Neither team makes a lot of mistakes. The Falcons, for instance, with Matt "Matty Ice" Ryan under center, have thrown only five interceptions. That's the second lowest total in the NFL. The Packers, meanwhile, have fumbled only four times. That's better than all but two teams.
The Falcons have an NFC-low 10 giveaways. The Packers rank third in the conference with 14.
The Falcons have lost 171 yards in negative plays. That's best in the NFC. The Packers have lost 197 yards, which ranks fifth in the conference.
The Falcons also have committed a league-low 38 penalties. The Packers have committed 53 penalties, fifth lowest in the NFL.
Good teams let their opponents beat themselves. It will be interesting to see which of these two mistake-avoiding teams will screw up Sunday.