March 11, 2012 -
Dan Pompei
NFP Sunday Blitz
On one day, it was Brandon Weeden the Broncos were entertaining. The next, it was Peyton Manning.
At first blush, you might say Weeden, at 28, is too old to be a high round draft pick. And you might say Manning, at 35, is too old to bring to a new team because his presence would delay the development of young passers.
But this isn't a long-term NFL anymore, and the wide-spread interest in these two players proves it. The NFL is about short windows of opportunity and finding ways to capitalize quickly.
The first thing we need to understand is there aren't enough Andrew Lucks to go around. If the choice is 22-year old Luck versus. 35-year old Manning, you go with the guy who still gets carded, hands down. But only one team had that choice.
Manning won't give his new team many years, but he can give them quality years and impact a team and an organization like few players could for a short period of time.
Manning is going to be Joe Montana joining the Chiefs, 19 years later. After being traded with David Whitmore and a third round pick for a first round pick, Montana had an incredible comeback year and led the Chiefs to an 11-5 record. He took them to the AFC Championship game before Montana got knocked out of the game with a concussion in the third quarter.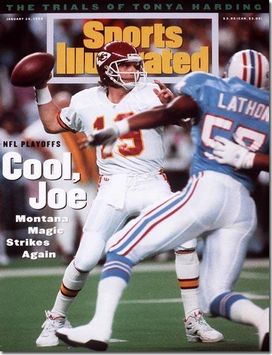 Joe Cool wasn't finished after leaving San Fran.
The agent who brokered the deal that sent Montana to Kansas City was Tom Condon--the same Tom Condon who will broker Manning's deal. The general manager who pulled the trigger on that deal was Carl Peterson--the same Carl Peterson who now advises Dolphins owner Stephen Ross on Manning and many other matters.
"Steve and I are in the same office," Peterson told me. "I do try from time to time give him some sage counsel. He does ask my advice, but he doesn't always take it. It's quite obvious Peyton has to be a consideration for Miami."
Peterson said this feels a little like d