January 23, 2011 -
Dan Pompei
NFP Sunday Blitz
General managers usually are judged almost exclusively by one thing: first round draft picks. But the job encompasses so much more than drafting in the first round. Or drafting period. Or even personnel.
Jerry Angelo of the Bears is a good example. The fact that his team playing in the NFC championship game today is more a reflection of his leadership than it is his ability to hit first round home runs.
The Bears are expected to field a starting lineup against the Packers that features only three of Angelo's first round picks—Tommie Harris, Greg Olsen and Chris Williams. That's mostly because the team hasn't even taken a player in the first round in three of the last five years.
The Bears have acquired players other ways, in fact, just about every way possible. There have been trades (Jay Cutler, Chris Harris), unrestricted free agents (Julius Peppers, Roberto Garza), practice squad free agents (Matt Toeaina, Nick Roach) and signees who had been waived (Pisa Tinoisamoa, Israel Idonije, Robbie Gould).
The team also has drafted well in later rounds. Among the players they Bears have picked up late have been Johnny Knox (fifth round), D.J. Moore (fourth) and J'Marcus Webb (seventh).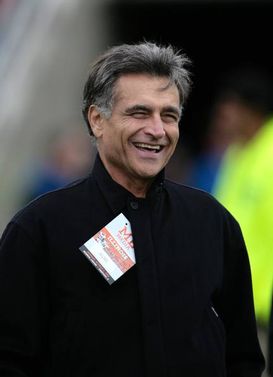 The Bears general manager has done a lot of little things that have gone unnoticed that have helped his team get to where it is.
But acquiring talent alone only gets a team so far. The team has to put the pieces together, have a vision and be committed to the vision. The general manager's job is also about making sure everyone is on the same page and working together toward the same goal. It's keeping people from drifting. It's putting out fires. It's balancing short term goals with long term ones. It's making everyone accountable. It's administration. It's budget appropriation.
"It's not just about personnel," Angelo told me. "It's building an organization. Everything has to be in sync in terms of philosophy. The foundation of any good organization is a plan that creates identity. Things may change in terms of people and players, but the philosophy has to be intact."
The Bears were at a crossroads at the end of last season after the team failed to make the playoffs for three straight years. Replacing coach Lovie Smith was a possibility. Instead of changing head coaches, Angelo and upper management decided to keep Smith and enact change in other ways.
There would be changes on the coaching staff with a re-emphasis on player development and enhanced competition. There would be changes on the scouting staff. There would be a significant shuffling of the roster. There would be changes—many of them unknown to the outside world—in the way the Bears conduct business behind closed doors.
What the Bears were able to do is one of the most difficult things for any team to do—look in the mirror and see the truth staring back at them. "Getting where you want as an organization takes time," Angelo said. "Mistakes are going to be made. But through it, the consistency of what you believe in can't change. Once that consistency has been established, mistakes can be corrected and you learn from them."
Angelo has made mistakes in his eight plus years in Chicago. He has learned from them. He has corrected them. And he, along with Smith, have led their organization to the brink of a Super Bowl.
It didn't happen by accident.
Things I Didn't Used To Know
*There are plenty of good reasons for the Seahawks to bring Matt Hassebeck back instead of letting him make a free agent exit. The 35-year old had some awful games this season and his injuries raised durability concerns, but he came on strong at the end. The Seahawks didn't help him much with the talent around him, and they didn't have an effective run game to take the pressure off the quarterback. Hasselbeck will fit better in Darrell Bevell's offense than he did in Jeremy Bates' offense. And the biggest issue is the Seahawks don't have a replacement for Hasselbeck. They still are not sold on Charlie Whitehurst's ability to make sound decisions and take care of the football. Let Hasselbeck go, and the Seahawks have to acquire another quarterback who is ready to play in 2011. Instead, the Seahawks likely will keep Hasselbeck and draft an eventual replacement.
*Jim Mora is owed $5 million this year and $5 million next from the Seahawks. He's enjoying life in the Seattle area with his family, and he has a low pressure job with NFL Network. That's why he was not interested in becoming the defensive coordinator for the Broncos or Eagles.
*The Eagles might be interested in changing to a 3-4 defense. I am hearing the name of Eric Mangini as a possibility. They previously expressed interest in both Chuck Pagano and Dean Pees of the Ravens. What do all three have in common? They all know the 3-4.
*After a conversation with Bengals coach Marvin Lewis, I came away thinking Terrell Owens won't be a Bengal next year, but Chad Ochocinco and Cedric Benson probably will be. Lewis on Benson, whose contract is up: "I'd like to have him back and he wants to be back." Lewis on Ocho: "I expect him to play for the Bengals because he has a contract. Mike Brown is not going to cut him."
*The most games Johnny Knox played in during a season in college at Abilene Christian was 11. He will play in his 22nd of the season in the NFC championship Sunday. And Knox has come a long, long way as a wide receiver since the Bears drafted him in the fifth round in 2009. "Johnny has a greater understanding of how the pro game works, he understands coverages, and he knows how to use his quickness better because it's not about strength with him," Bears wide receivers coach Darryl Drake told me. "His ability to escape is much better, but he's still working on it." In the Bears' first game against the Seahawks, Seattle defenders took Knox out of a lot of routes by jamming him at the line. Knox was getting around those jams in the divisional playoff game against the Seahawks.
*Much has been made of the fact that the powerful Bob LaMonte represents Browns president Mike Holmgren, Browns general manager Tom Heckert, and Browns executive vice president in charge of business Bryan Wiedmeier, as well as new Browns head coach Pat Shurmur. But when LaMonte negotiated on Shurmur's behalf, he wasn't negotiating with Holmgren, Heckert or Wiedmeier. He was negotiating with a team attorney.
My Sunday Best: Comeback Player of the Year Candidates
America loves nothing better than a good comeback. And there were a number of them in the NFL this past season. Here are my best comeback players.
1. Brian Urlacher, Bears. He missed all but the first game of the 2009 season with a broken wrist, but the 32-year old came back to have one of his best seasons. Julius Peppers got a lot of the credit for the Bears' revitalized defense, and deservedly so, but it wouldn't have happened without Urlacher. He was the leader of the team, he was a tackle machine, and he made big plays (four sacks, 13 pass breakups, three fumble recoveries).
2. E.J. Henderson, Vikings. It's unheard of to break a femur playing football. It's even more unheard to come back from it and make 106 tackles.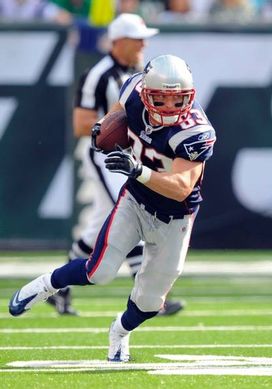 ICONWelker made an incredible comeback from a serious knee injury.
3. Wes Welker, Patriots. He is an unusual candidate because he came back from missing only one game. Still, Welker deserves consideration because he bounced back so quickly from tearing up his knee in the last game of the regular season in 2009.
4. LaDainian Tomlinson, Jets. He averaged 3.3 yards per carry last year and was cut by the Chargers. This year, with his new team, the 31-year old averaged 4.2 yards per carry.
5. Michael Vick, Eagles. He didn't get my vote because I figured he came back from his two year hiatus last year, not this year. But he broke through this season and had the best season of his career.
6. Mike Williams, Seahawks. As a football player, he was dead, given up on by three teams and out of the NFL for two years. My only quarrel with giving Williams the Comeback Player of the Year is he was coming back from problems of his own making.
Numbers Games: 3-4 Defenses Versus 4-3 Defenses
Three of football's final four—the Steelers, Jets and Packers--play a three man front, but the numbers do not indicate that 3-4 teams were dominant during the 2010 season. Rather, the teams that played the 3-4 well were among the best teams in the league.
Six of the 12 playoff teams play a three man front, which is about right considering 47 percent of the teams in the league played a three man front last year.
The 3-4 teams had a combined winning percentage of .504. Seven of the NFL's 15 3-4 teams had winning records. The Packers were the only 3-4 team in the NFC with a winning record.
Five of the top six teams in yards allowed played a 3-4. The top three teams in points allowed played a 3-4.
Scout Talk: East-West Shrine Game
As scouts returned from Orlando late last week after watching the East-West Shrine game, the players they were buzzing about most were North Carolina defensive tackle and Southern Cal tight end Jordan Cameron.
Austin looked like the best player there, and was difficult to block in pass rush drills. But he also rubbed NFL teams the wrong way in interviews. He remains somewhat of a wildcard in the draft.
Cameron might have helped himself as much as any player, moving up a couple of rounds to the fourth round range by catching the ball well and showing fine movement skills. The drawback with him is he's not much of a blocker. If he can add some strength and bulk between now and the draft, he might move up even more.
One front office man told me it's possible that none of the participants in the game will be chosen in the first two rounds of the draft, though Nevada's Dontay Moch looked like he might be able to play outside linebacker in a 3-4 defense. That could give him a second round spot.
None of the quarterbacks distinguished themselves, according to the NFL men I spoke with.
Four players who helped their stock were Mount Union wide receiver Cecil Shorts (made quick breaks and showed good hands), Hawaii running back Alex Green (displayed a nice combination of power and burst, and he looks versatile), Buffalo cornerback Josh Thomas (showed quick feet), and Boise State cornerback Brandyn Thompson (displayed ball skills).
One Man Yelp: Best Team Ever?
The Jan. 17 edition of Sporting News revives the debate about the best NFL team ever by polling a panel of former players, coaches, executives and broadcasters. They voted the 1972 Dolphins the best team ever, which is difficult to argue with because they are the only team that's won every game.
What's interesting to me is there is no spot in the top 10 for the 2007 Patriots, who started out 18-0 (compared to the '72 Dolphins' final record of 17-0) but lost in the Super Bowl to the Giants. If the 2007 Patriots had played in an earlier era, when the season was shorter, they might have been No. 1.
The rest of the top 10: the 1984 49ers, the 1985 Bears, the 1978 Steelers, the 1962 Packers, the 1958 Colts, the 1992 Cowboys, the 2004 Patriots, the 1977 Cowboys and the 1976 Raiders.
Lots of interesting facts about the teams. Good stuff.
*Nice move by the Bears to make Lee DeWyze the halftime entertainment for the NFC title game.
DeWyze, with a nudge from Fox, originally was scheduled to be the national anthem singer. Chicago fans let it be known they were not happy that Jim Cornelison was not signing the anthem. Cornelison sings the anthem at Blackhawks games and sang before the divisional playoff game at Soldier Field. His rendition is what the anthem is supposed to sound like, and it works Chicago fans into a frenzy.
DeWyze will be better appreciated signing other songs. The American Idol winner isn't bad. I've even got a couple of his numbers on my Ipod—his rendition of Simon and Garfunkel's The Boxer is outstanding, and he does Cornelius Brothers and Sister Rose proud with his version of Treat Her Like a Lady.
Hot Reads
*Back when Scott Pioli was winning executive of the year awards as a member of the Patriots, a lot of people wondered if it was really Bill Belichick pulling the strings. Now that Pioli has won an executive of the year award as a member of the Chiefs, that notion can be put to rest.
*I like Josh McDaniels as an offensive coordinator, but I'm not sure I like him on the Rams. Given the fact that Sam Bradford had so much success so quickly in a West Coast scheme, it would have made sense to maintain continuity and hire a coordinator who would run a system similar to the one Pat Shurmur ran.
*Too much government is never a good thing, even if the governing body is the NFL. Is it really necessary to legislate trash talking?
*Asked about the 18-game season by Judy Battista of the New York Times, Steelers chairman and American ambassador to Ireland Dan Rooney said, "I'd rather not have the money." I say the NFL needs this guy more than Ireland needs him.
Dan Pompei covers pro football for the Chicago Tribune at chicagotribune.com.