February 19, 2012 -
Dan Pompei
NFP Sunday Blitz
The NFL, it seems to me, has a problem on its hands: position coaches are being prevented from interviewing for promotions to coordinator positions like never before.
The Bucs, Colts, Raiders, and Dolphins all struggled to hire coordinators and fill out their staffs. The Bucs, in fact, may have been blocked from interviewing up to 15 coaches, one source said.
Greg Schiano had a tough start. Among the men he was turned down on: San Francisco's Ed Donatell, Houston's Reggie Herring, Green Bay's Ben McAdoo, Arizona's Greg McNulty, Green Bay's Darren Perry and San Francisco's Jim Tomsula.
Donatell and McAdoo, at least, were denied more than one opportunity apiece.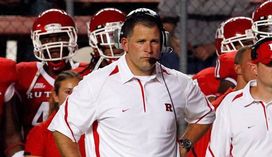 Greg Schiano had a difficult time finding available assistants for the Bucs.
This is unfair to the coaches involved. In some cases, they are denied a once in a lifetime opportunity to double, triple or quadruple their salaries and set up their families' futures. This can create serious resentment. Sometimes coaches don't even know other teams were interested in them until well after the fact.
In addition to being bad for coaches, it's also bad for the NFL. Why? Teams are not able to hire the most qualified coaches, and the quality of football ends up sacrificed.
This constipated system isn't good for minority advancement, either. In the current climate, the Bucs likely would have prevented then-linebackers coach Lovie Smith from becoming the Rams defensive coordinator in 2001. Who knows if he would have become a head coach in 2004 without going to St. Louis three years earlier?
It isn't good for college relations, as NFL teams have been forced to pillage college staffs to fill their own. It works against the system of parity, because bad teams that fire their head coaches have a more difficult time gaining ground when new head coaches have to accept lesser assistants.
How did it get to this point? Once upon a time, the NFL allowed teams to protect only one assistant on each side of the ball from interviewing for a promotion. Back in March of 2000 at an NFL meeting at the Breakers Hotel in West Palm Beach, Fla., that I attended, the league decided to do away with the so called "supervisory tag" system.
The league was concerned about too many coaches leaving their teams, and rationalized at the time that team owners surely would not prevent a coach from leaving for a big raise and promotion. But it hasn't worked out that way. The Bucs frustrated other teams and their own coaches by repeatedly blocking interviews for promotions, starting with then-defensive line coach Rod Marinelli. Other teams have followed their lead.
The league used to allow assistants to move to new jobs if they had better titles. But that led to manipulations of titles. Some teams had an assistant head coach of offense, and an assistant head coach of defense. There were multiple coordinators on one side of the ball.
The NFL advised the NFL coaches association, which was led by Larry Kennan until recently, to have assistants sign one year deals if they didn't want to risk passing up a promotion. But that comes with risk. The coach has to gamble there will be an opening for him, and also that he will be wanted. And the team sometimes loses in those situations too, because the assistant is distracted from his job and spends too much time and energy trying to set up his next job.
Then some teams refuse to give assistants one year deals. The Patriots and Bengals have traditionally driven hard bargains with contract length.
In fairness to the league, the salaries of assistant coaches have skyrocketed over the last 14 years or so, since the coaches association started taking annual salary surveys. So assistants have made real gains as a group.
But the NFL needs to take a good look at reinstituting the supervisory tag system, or something similar.
"It's a situation that has to be addressed," said Bob LaMonte, who represents four NFL head coaches, 11 coordinators and nine other assistants. "It has adversely affected many teams and individuals in the NFL this year."
Things I Didn't Used to Know
*Based on the buzz around the league, the Seahawks could be the early frontrunner for Peyton Manning, assuming he is released. Pete Carroll needs a quarterback and is believed to have a strong interest in at least exploring Manning. The Seahawks could offer Manning an attractive scenario. They have a young team with some fine skill players to put around him. They play in one of the league's loudest stadiums. Manning wouldn't be subject to the same kind of scrutiny in Seattle that he would in a lot of other markets. The Seahawks also could have a better feel for Manning's medical situation than some teams. One of their team physicians, Stan Herring, who also is one of the country's preeminent specialists for spine injuries. Herring is a member of the NFL's Head, Neck and Spine Committee.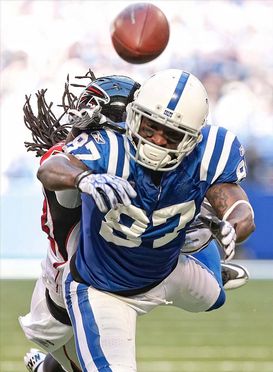 Reggie Wayne still can go and get the ball.
*There is some talk that Manning and Reggie Wayne may go to a new team as a package deal. A few pro scouts believe Wayne's production may dip, given he probably will be in a new offensive system for the first time in his career, and he is 33 years old. That isn't to say the free agent to be doesn't have a couple of good years left in him, however. Wayne could maximize his ability if he were to continue his connection with Manning. Wayne can't go deep as well as he once did, and he's not as likely to gain as many yards after the reception. But he still can separate, and he still can catch.
*Lofa Tatupu has been making the rounds after sitting out last season, but if he gets back in, his new team will have to be comfortable with his medical condition. Specifically, Tatupu has suffered a number of concussions, as well as knee injuries. Teams are more concerned about whether or not Tatupu can make it through a season than whether or not he still has ability. The linebacker still can make plays. The Saints and Titans kicked the tires on Tatupu last week.
*Ray Lewis' toe injury came at a very opportune time for one Ravens teammate. Jameel McClain, who took over the defense calling and on-field leadership responsibilities from Lewis in his absence for five games, is about to become an unrestricted free agent. The Ravens went 5-0 without Lewis, in part because of McClain's ability to do some of what Lewis did. McClain subsequently could get some action on the open market. It's also possible the Ravens will step up and try to retain him, both for his short term value and his long term value as a replacement for Lewis after the 36-year old retires.
*Levi Brown is not out of contract, but chances are he will be on the open market. And chances are he will have a number of interested suitors. In fact, Brown could be the best offensive tackle on the market. The fifth pick of the 2007 draft had been a disappointment earlier in his career, but he played pretty well for the Cardinals in 2011 and is drawing interest from other teams who are anticipating Brown shaking free. The Cardinals owe Brown a $6 million bonus on March 13, and his salary for 2012, the last year of his rookie deal, is $14.5 million. So far, the Cardinals have not attempted to restructure or extend Brown's contract.
My Sunday Best: Assistant Coaching Hires
Now that most teams have their staffs just about filled out, this is a good time to look at which hires stand out. Not including coaches who were retained by new bosses, here are my best assistant hires of the new year.
Assistant head coach—Dave McGinnis, Rams. This is a great hire by Jeff Fisher in part because Fisher knows exactly what he's getting. McGinnis worked for Fisher for seven years in Tennessee. McGinnis is an outstanding facilitator and handler of people. His 27 years of NFL experience, including three and a half as a head coach, will make him a valuable sounding board and right hand man for Fisher.
Offensive coordinator—Todd Haley, Steelers. Nothing against Bruce Arians, but the Steelers could use a dose of creative tension. Haley will provide that. And he'll provide a sharp offensive mind. He's very good at getting the most out of players. He might not rub everyone the right way, but Haley will raise the level of intensity at Heinz Field. I liked the hires of Mike Sherman by the Dolphins, Tom Clements by the Packers and Greg Knapp by the Raiders too.
Quarterbacks—Greg Olson, Jaguars. Given his work with Josh Freeman in 2010 and his history of developing passers going back to Drew Brees, Olson has an excellent chance of making a player out of Blaine Gabbert. He is a fine communicator and teacher. Jim Caldwell should do good work with Joe Flacco in Baltimore, too.
Running backs—Sylvester Croom, Jaguars. The one-time Mississippi State head coach has worked with a lot of exceptional running backs, including Barry Sanders, Steven Jackson, Ahman Green, Natrone Means and Eric Dickerson. This veteran will know what to do with Maurice Jones Drew.
Wide Receivers—Jerry Sullivan, Jaguars. It was a coup for Mike Mularkey to lure Sullivan out of retirement. He's one of the finest wide receiver teachers in the business. A longtime assistant at LSU, the Jaguars will be Sullivan's sixth NFL stop.
Tight ends—Jerry Fontenot, Packers. This former NFL center doesn't have much experience with tight ends, but he does have a good grasp of offense, having worked with offensive linemen and running backs. A fast riser, Fontenot also knows exactly what head coach Mike McCarthy's system is all about, having played for him for five seasons in New Orleans.
Offensive line—Pat Hill, Falcons. The world mostly knows him as the former head coach at Fresno State, but Hill once was a very respected tight ends and offensive line coach under Bill Belichick. In addition to being capable of developing talent and promoting offensive line teamwork, Hill should have good ideas for the Falcons' run game. Also, good gets by the Jets (Tony Sparano), Rams (Paul Boudreau) and Cowboys (Bill Callahan).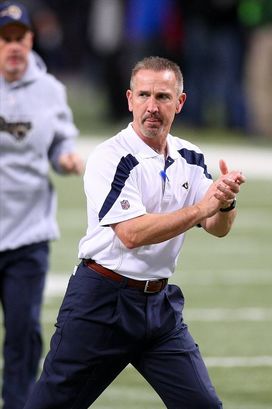 Spags should be a solid addition in New Orleans.
Defensive coordinator—Steve Spagnuolo, Saints. There is a reason almost every team with a coordinator opening was after this guy. He's the Jim Johnson disciple who is most closely associated with the former defensive guru, and he should serve the Saints well. His predecessor, Gregg Williams, should be a fine hire by the Rams too. I also thought the Broncos (Jack Del Rio) and Falcons (Mike Nolan) did well.
Defensive line—Mike Waufle, Rams. He is well respected for his body of work, which includes stints with the Raiders and Giants. Waufle should bring out the best in Chris Long.
Linebackers—Joe Barry, Chargers. The one-time defensive coordinator of the Lions has done his best work with linebackers, especially in Tampa. The Chargers need Barry, who had been working at Southern Cal, to work some magic with their group.
Secondary—Raheem Morris, Redskins. Before he was the head coach of the Bucs, Morris was a highly regarded defensive backs coach. After being let go by Tampa Bay, Morris seemed destined to be a defensive coordinator this year. The Redskins were fortunate to get him, but they might not hang onto him long. Really like Jeff Fisher bringing back Chuck Cecil, who sat out last year. He'll give the Rams secondary toughness and know-how. The Bengals made a nice hire in Mark Carrier, who is returning to coaching DBs after working with defensive linemen for the Jets.
Special teams—Steve Hoffman, Raiders. He did a decent job in Kansas City before jumping to their rival. Hoffman is especially good at working with kickers, though he'll be best advised to tell Sebastian Janikowski and Shane Lechler to just keep doing what they've been doing.
Scout Talk: Questions At The Combine
Much will be learned when the NFL convenes in Indianapolis for the combine this week. I asked several front office men what particular issues they are hoping to sort out. Here are the issues that are foremost on their minds.
*Who is the top defensive tackle? There is no consensus on this yet. One personnel director said any one of the five top DTs could be the first off the board, depending in part on what happens at the combine. Devon Still of Penn State has been in the poll position all year, but underclassman Michael Brockers of Louisiana State now is running neck and neck. Others within a nose are Michigan State's Jerel Worthy, Mississippi State's Fletcher Cox and Connecticut's Kendall Reyes. The combine should help teams separate the DTs, but all are potential first round picks.
*How fast is Justin Blackmon? It has been widely accepted that the Oklahoma State receiver will be a top five pick. But he's not a burner. If Blackmon runs a 4.6 40, it's unlikely a team will be able to justify using a top five pick on him. There are a few other receivers who may be speed deficient who need to run well as well. Among them are Notre Dame's Michael Floyd, Wisconsin's Nick Toon, South Carolina's Ashlon Jeffery and Rutgers' Mohamed Sanu.
*Should Matt Kalil be the top offensive tackle? He is No. 1 on most boards, but not every talent evaluator is crazy about the Southern Cal blocker. One told me he wants to see how Jonathan Martin of Stanford, Riley Reiff of Iowa, Mike Adams of Ohio State and Cordy Glenn of Georgia stack up athletically. It is possible one or more of them could pass Kalil.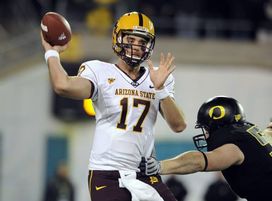 ICONCould Brock Osweiler be the third quarterback off the board?
*Who is the third quarterback? After Andrew Luck and Robert Griffin, nothing is set in stone. If either Ryan Tannenhill of Texas A&M, Brandon Weeden of Oklahoma State or Brock Osweiler of Arizona State can make a great impression in Indy, they can lay claim to that third QB spot. That's significant because the third quarterback chosen very well could be the last quarterback taken in the first round.
*Who is the second running back? This could end up being a beauty is in the eye of the beholder thing. And it's possible there will be a very long wait between when Trent Richardson is chosen and when the second running back is chosen. But the combine will present an opportunity for Virginia Tech's David Wilson, Boise State's Doug Martin, Cincinnati's Isaiah Pead, Oregon's LeMichael James and Miami's Lamar Miller.
*How will the two cornerback transfers stack up to the competition? Specifically, should NFL teams view Janoris Jenkins and Janzen Jackson like the All-SEC players they were two years ago, or should they view them as flawed prospects who were forced to transfer from Florida and Tennessee, respectively? Interviews will be key for both players. This is a chance for Jenkins and Jackson to show they are willing, compliant and respectful—all of which ar e questions going in.
*Which of the smaller pass rushers can play outside linebacker in a three man front? Teams that operate a 3-4 are hopeful a number of college defensive ends will be willing to partake in outside linebacker drills. Among the players who will be watched closely include Alabama's Courtney Upshaw, Illinois' Whitney Mercilus, South Carolina's Melvin Ingram, West Virginia's Bruce Irving, Marshall's Vinny Curry and Boise State's Shea McClellin.
Hot Reads
*Big mistake taking Ron Jaworski off Monday Night Football. Sad that TV thinks NFL viewers want to be entertained, but not educated and informed.
*I'm with Jack Bechta on this one. Improving the NFL stadium experience isn't all about gadgetry. It's about common sense.
*We've heard a lot of wacky theories about why Cris Carter hasn't been inducted to the hall of fame. Yahoo's Jason Cole offers this simple, interesting theory: maybe he wasn't any better than the players who were voted in ahead of him.
*Hines Ward has been a great Steeler, and his legend will endure. But unless he can help the team in 2012, it's time to say farewell.
*Hue Jackson was hired by the Bengals last week, but you could say he's been working for them since last October.
*Trying to change Tim Tebow's throwing motion may be as easy as trying to change his religion. Hey good luck with that.
*If Randy Moss can run a 4.35 40 yard dash, I can write circles around Hemingway.
Dan Pompei covers pro football for the Chicago Tribune. Follow him at Twitter@danpompei