February 12, 2012 -
Dan Pompei
NFP Sunday Blitz
I've been told that some fear the apocalypse may be upon us because Bill Parcells did not make the pro football hall of fame in his first year of eligibility from his latest retirement.
Well, not only is the world not ending, but neither is the notion of Parcells being enshrined in Canton. Just because Parcells didn't get voted in this year does not mean he isn't hall worthy, or he never will be voted in. As one of the hall's 44 selectors, I fully expect Parcells will be among the finalists next year, and if he isn't inducted in 2013, he'll be a finalist the year after that. He'll be a finalist until he is inducted.
There are things you can ding him about. He has been called a mercenary, a carpetbagger and less than honest when job hunting. He was hell to compete against, and he was hell to live with. Some of what he has done may have not reflected well on the great game of football. Even his advocates, of which I consider myself, cannot argue these points.
I wouldn't have had a problem if Parcells had been a first ballot (after his latest retirement) hall of famer. But I didn't classify him as a slam dunk, no-brainer first-ballot candidate. I wouldn't put many in that category. It took the highly qualified Dermontti Dawson to have been eligible for eight years before he was voted in.
Parcells' won-loss record alone makes him a borderline hall of fame candidate. Winning two Super Bowls is a wonderful accomplishment, but he isn't the only coach who has won two Super Bowls that is not in the hall. The others: Tom Coughlin, Mike Shanahan, George Seifert, Jimmy Johnson and Tom Flores. There has been no outcry about Seifert, Johnson or Flores, each of whom has been hall eligible for awhile.
Seifert also is one of several coaches not in the hall who also has a better career winning percentage than Parcells. Seifert is at .648 compared to .570 for Parcells. Others who are better include Bill Cowher (.623), Tony Dungy (.668), Mike Holmgren (.592), Wade Phillips (.573), Andy Reid (.609), Marty Schottenheimer (.613) and Don Coryell (.572).
That's why Parcells was not inducted this time around. It's not because there was some conspiracy against him, or because hall of fame voters are "idiots," as we've been referred to. The hall of fame voting process is not perfect. A perfect process could not exist. Different people are going to have different opinions, and that does not make any of them wrong.
What is glossed over is Parcells was not being judged in a vacuum. He was being judged along with 14 other candidates, most of whom are deserving. Six of the finalist players who were not inducted this year were members of an all-decade team. There are more hall-worthy candidates than there are spots—which explains why every year we have an uproar over who is not elected.
Also bypassed this year were an owner who won five Super Bowls, Eddie DeBartolo, and a player who won five, Charles Haley.
What makes Parcells stand out is not his record alone, but the footprint he left on the game. Greatness is measured in more than wins and losses.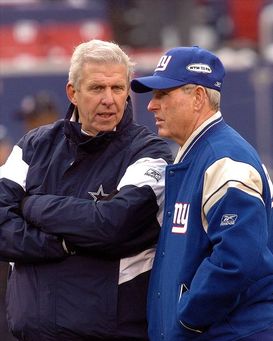 Tom Coughlin is one of many Bill Parcells disciples.
Parcells was a great thinker and teacher, and his influence still is felt in many NFL stadiums. Among the many he helped shape were Bill Belichick, Tom Coughlin, Sean Payton, Romeo Crennell, Scott Pioli, Jeff Ireland, Mike Tannenbaum, Todd Haley, Tony Sparano, Chris Palmer and Mike Zimmer. He spread the Tuna gospel by being a part of five teams, four as a coach. In fact, he is the only coach in history to take four teams to the playoffs.
These are the other things that make Parcells hall-worthy to me.
*He was at least partially responsible for the increase in popularity of the 3-4 defense in the late 80s. Other teams saw what he was doing with Lawrence Taylor, and a lot of other teams began looking for the stand-up outside linebacker.
*He was one of the greatest motivators of our time, and that resulted in him being able to get the best from his teams. "Parcells' greatest strength is he understood people and behavior, competitive behavior," Payton told me. "He understood what it took to practice well, play well and win, better than anyone I've ever been around. He knew how to stay on coaches, then at a certain point, when you might be getting frustrated, he'd be in your office talking about something funny. It was the same way with players. He'd have nicknames for everyone. He was extremely hard on you at times. He knew how to prepare a team to be at their best when they needed to be. He knew how to challenge players. I've seen him create a crisis."
*He was a turnaround specialist, making bad teams good ones. This was due mostly to his ability to see the big picture. Belichick told me he learned how to take a macro view of the team from watching Parcells. "He was able to go into a team and, even though there were a thousand problems, he could identify the ten most important things and get six or seven of them fixed right away and make the team competitive," Belichick said.
*Despite his image, Parcells was flexible, not a system coach like so many are today. He was able to take whatever he had and bend his philosophy to fit. "The myth will Bill is he's just a smashmouth guy," Payton said. "He was always looking to build his scheme based on the talent he had. When he had Drew Bledsoe in New England, they opened up. He was somewhat flexible throughout his career."
*He was very good at identifying players who would fit his teams, and he had specific traits he was looking for in everything from a quarterback to a practice squad linebacker. "He has a distinct image of what each position should be, and he fits the player to the position," Palmer told me. "Troy Brown was an example. Belichick got that from him, and then he got Wes Welker. It's a unique way of looking for players."
Parcells had flaws. But he also had hall of fame credentials. I'd be very surprised, and disappointed, if he doesn't get there some day.
Things I Didn't Used To Know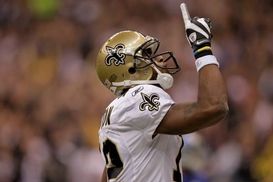 ICONMarques Colston could be the No. 1 receiver on the free agent market.
*It's possible Marques Colston will be a former Saint in the near future. The Saints have made no attempts to re-sign the star wide receiver up to this point. The front office has been pre-occupied with trying to work out a new deal for Drew Brees. If the Saints can't sign Brees, they likely will use the franchise tag on him, giving them one less way to retain Colston. Also complicating the issue is the pending free agency of guard Carl Nicks. Given the cash outlay this team will be facing, the Saints may have to choose between Colston and Nicks.
*The Packers' promotion of Ben McAdoo from tight ends coach to quarterbacks coach was a surprise to some, but not to insiders. McAdoo has been highly regarded at Lambeau Field for quite awhile. In fact, former Packers offensive coordinator Joe Philbin tried to bring McAdoo with him to Miami to be his offensive coordinator, but the Packers blocked the move. New Bucs coach Greg Schiano also was interested in hiring McAdoo to be his offensive coordinator, but he was not allowed to interview McAdoo. The Packers wanted to keep McAdoo because they value his ability and like his future. Going from tight ends coach to tutoring quarterbacks may seem unconventional, but Andy R eid, Mike Sherman and Pat Shurmur followed similar paths.
*An under the radar player who is expected to be a very hot free agent is 49ers receiver Josh Morgan. Teams are buzzing about the possibility of acquiring Morgan, who is considered a very good talent who should be available at a lesser price than the receivers on the top rung. The 49ers have been enthralled with Morgan for four years, but he never really had a breakout because of health issues and offensive ineptitude in previous seasons. A broken leg limited him to five games in 2011. But front office men see Morgan as someone with decent size, speed, toughness and playmaking ability.
*The Colts didn't hire Tom Telesco to be their general manager, but the Rams were interested in Telesco as their G.M. Telesco was more comfortable staying in Indy, and the Colts valued him so much that they promoted him from director of player personnel to vice president of football operations. That Telesco was as valued by new Colts general manager Ryan Grigson as he was by previous general manager Bill Polian says a lot about him.
My Sunday Best: Giants Super Bowl Teams
The Giants now have been kings of the NFL mountain four times, but not all four of their teams have been equal. Their latest Super Bowl champion was the weakest of the four in my estimation. Here are my best Giants Super Bowl champions.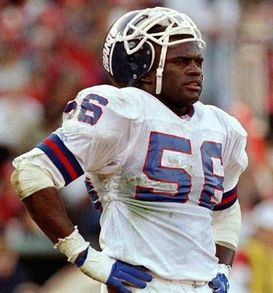 L.T. was at his finest in 1986.
1. 1986 Giants (14-2). Several things stand out about this legendary team. The Parcells-Belichick dynamic never was better. The Giants were the best in a year when there were some other truly outstanding teams that might have been Super Bowl winners in other seasons. Among those teams were the 12-4 Redskins, the 14-2 Bears, the 10-5-1 49ers and the 11-5 Broncos. This Giant team was outstanding at stopping the run (they ranked first in the NFL) and running the ball, as Joe Morris rushed for 1,516 yards. Behind MVP Lawrence Taylor's career best 20.5 sacks, the Giants' pass rush was ferocious. Of the four Giants Super Bowl winners, the 1986 Giants were best in point differential (plus 135).
2. 1990 Giants (13-3). This defense was so good the Giants still kept winning even after Phil Simms went down and Jeff Hostetler took over. The Giants led the league in fewest points allowed (124), and they were plus 20 in takeaway differential, second best in the NFL.
3. 2007 Giants (10-6). This was a solid but unspectacular team (ranked 14th in scoring and 17th in scoring defense) that heated up at the right time, losing to the then-undefeated Patriots in the regular season finale and then beating them (with much help from David Tyree) in the Super Bowl. This Giants team slayed the biggest dragon of any Giants team by beating the Patriots. It took an overtime victory over the Packers to get to the Super Bowl. Interesting fact about the 2007 Giants—they had nine more giveaways than takeaways.
4. 2011 Giants (9-7). This team will be remembered more for its amazing clutch play than it will for its dominance. These Giants were minus six in point differential, which made them the first Super Bowl team in history to give up more than they scored. What's more the Giants gave up more points in the regular season than all but seven teams. But Eli Manning was better than Tom Brady, Alex Smith, Aaron Rodgers and Matt Ryan in the postseason, and that's all that mattered.
Scout Talk: Statistical Evaluation of WRs
More of the new school scouts are using numbers as a way of complementing what they see on tape to evaluate prospects. Statistics have more value for players at some positions (quarterbacks, for instance), than others (offensive linemen, for instance). Numbers can be particularly helpful in separating wide receivers, especially the X-Info numbers NFL teams can only get from Ice powered by Stats.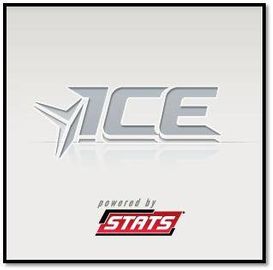 I took a look at how the top eight receivers in the draft (Justin Blackmon, Michael Floyd, Chris Givens, Stephen Hill, Ashlon Jeffery, Rueben Randle, Mohamed Sanu and Kendall Wright) stacked up in four unconventional statistical categories: plays of 25 yards or more, yards at catch per reception, yards after catch and yards after catch per reception.
The numbers indicate scouts should go back to the tape on two juniors: Georgia Tech's Hill and Wake Forest's Givens. Both are probably consensus second rounders at this point, but these statistics suggest Hill and Givens are strong candidates to be NFL playmakers.
Hill is among the top three in every category but yards after the catch. But he had the highest yards after catch per reception at 11.18. He also had the highest yards at the catch per reception at 18.11, which speaks to the kinds of routes he is capable of running. Hill also had 15 plays of 25 yards or more, which was third highest.
Givens was strong in yards after the catch with 700 yards (second only to Blackmon's 794), yards after the catch per reception at 8.43 (second only to Hill) and explosive plays with (second to Wright's 19).
Wright also fared well in the survey. He had 698 yards after the catch, third highest among the receivers.
One Man Yelp: Boomerang
Boomerang: Travels in the New Third World by Michael Lewis is a sobering look at what happens when we buy more than we can afford. Viewed through the prisms of Iceland, Ireland, Greece, German and California, the book examines recent financial catastrophes brought on by careless spending.
Lewis makes it appear all so simple and unnecessarily in hindsight. It would be hilarious if it weren't tragic.
This passage sums it up. "The tsunami of cheap credit that rolled across the planet between 2002 and 2007 has just now created a new opportunity for travel: financial-disaster tourism. The credit wasn't just money, it was temptation. It offered entire societies the chance to reveal aspects of their characters they could not normally afford to indulge. Entire countries were told, 'The lights are out, you can do whatever you want to do and no one will ever know.' What they wanted to do with money in the dark varied. Americans wanted to own homes far larger than they could afford, and to allow the strong to exploit the weak. Icelanders wanted to stop fishing, and become investment bankers, and to allow their alpha males to reveal a theretofore suppressed megalomania. The Germans wanted to be even more German; the Irish wanted to stop being Irish."
How different cultures dealt with the credit tsunami reveals a lot about what makes them tick. And the reflection is not flattering for any of us. In Greece, where corruption rules, the poster boys are greedy monks who manage a grand, ancient monastery on the Aegean Sea.
Lewis has captured the imagination with sports books such as The Blind Side and Moneyball. The subject of Boomerang is dryer, so Lewis flexes his literary muscles more. And that's a good thing. He is a gifted writer and this is a good read.
Especially recommended for young adults and politicians.
Hot Reads
*When her looks are gone (if that ever happens), it's good to know Giselle will have a future as a football analyst who can provide blunt, accurate analysis and sharp perspective.
*After a Super Bowl loss, Rob Gronkowski would be best advised to keep his shirt on, as well as his head.
*The best punishment for M.I.A. would be for her career to go M.I.A. Then again, can you go M.I.A. if you never were I.A.?
*Jim Harbaugh could have asked Matt Flynn or Peyton Manning or Kyle Orton or Colin Kaepernick to carry his bags. But he picked Alex Smith. That's his guy, and he's likely to be his guy next season too.
*Matt Bowen says it's time to hit the weights. Does that mean I have to hurry up and stuff this pizza in my mouth and chug this beer?
Dan Pompei covers pro football for the Chicago Tribune at chicagotribune.com. Follow him at danpompei@twitter