August 11, 2013 -
Dan Pompei
NFP Sunday Blitz
Statistically ranked No. 6 in the league against the pass in 2012, the Seattle secondary – with cornerbacks Richard Sherman and Brandon Browner, free safety Earl Thomas, and strong safety Kam Chancellor – was regarded in many quarters as the NFL's best defensive backfield unit.
According to coaches and people who have seen the Seahawks early in camp, the secondary may be even better this season. The addition of 14-year veteran Antoine Winfield, whose league resume includes 173 starts, and who was released by Minnesota this spring because of injuries and economics, could really upgrade an already strong bunch.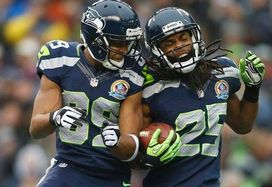 Richard Sherman (right) ranked second in the NFL in interceptions last season, with 8.
Winfield, still a rugged player at age 36, and with a mindset that fits well with the Seahawks' aggressive approach, ostensibly supplants Marcus Trufant as the No. 3 corner. And Trufant, a onetime top-shelf cover guy who had begun to slip, in part because of injuries, had become a liability. It was obvious in Atlanta's last-minute comeback win over the Seahawks in the divisional round last year that the Falcons targeted Trufant, who signed with Jacksonville as a free agent in the offseason, on their final, game-winning possession.
But the addition of Winfield isn't the lone factor that could make Seattle the top secondary in the NFL in 2013.
The development of youngsters such as Walter Thurmond, Byron Maxwell and Jeremy Lanee—and even the oft-injured Will Blackmon, who played 16 games in just one of his first seven seasons, and was rescued by the Seahawks from the Arena league—at cornerback, contributes greatly to the group's outstanding potential. Thurmond, in particular, despite having zero interceptions in his first three years, has been very good in camp so far. There is also depth at safety.
"We have a lot of guys we feel can play," acknowledged secondary coach Kris Richard, a former four-year NFL veteran. "They work hard, they compete, they do things the right way. And they challenge each other to be better."
One league pro personnel director, who watched the Seahawks defeat San Diego in their preseason opener last Thursday night, opined to NFP on Friday morning that Seattle could "probably have a guy or two (in the secondary)" who will be released but end up on someone else's roster for the season.
+AROUND THE LEAGUE
*Another takeaway from the Seattle-San Diego game on Thursday night was that Chargers quarterback Philip Rivers, much maligned the last few years, appeared to be more comfortable than he had the last three or four seasons. The nine-year veteran played only one series, and worked behind a reshuffled line, but completed five of six passes and, more important, looked to be in control of the offense that has been installed by first-year coordinator Ken Whisenhunt. Word is that Rivers has been a lot more accurate in camp, as well.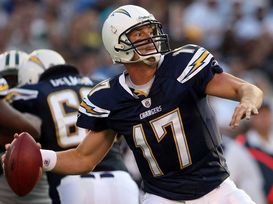 Rivers has thrown a staggering 35 interceptions over his last two seasons.
Whisenhunt and rookie head coach Mike McCoy, whose primary expertise is on the offensive side, too, have always been guys who wanted the ball to go up the field. And that hasn't changed. But they also want Rivers to be more selective and prudent than he's been the last three years, when he threw 48 interceptions in 48 starts – three more than he had in his first 64 NFL starts. Always among the league leaders in yards per attempt – a esoteric but still key stat, emphasized a lot by NFL insiders, and an indicator of how much the ball is going up the field – Rivers averaged a career-worst 6.84 yards per pass in 2012. That's roughly 20 percent less than he had averaged the previous four seasons. But the San Diego staff, which has closely analyzed each of the "picks" that Rivers had tossed the last three years, doesn't think the falloff is so bad. And the coaches will emphasize getting the ball more to versatile tailback Ryan Mathews, who has 89 catches the past two seasons, but whose numbers could rise even more if he can stay healthy and on the field.
*One of the more conspicuous tactical elements to watch during the preseason is how some league defenses will attempt to counter the increase in "zone-option" quarterbacks around the league for 2013. Despite the contention of some defensive bosses, who have suggested the "zone-option" look will be a short-lived trend – and the feeling of Detroit coordinator Gunther Cunningham that it will result in more quarterback injuries – teams are going to have to deal with it for now. Some clubs could face as many as four "zone-option" quarterbacks during the season and, toward that end, many teams have huddled with college coaching staffs to get a better handle on how to defend the option.
One of those teams, Atlanta (which spent time this spring meeting with Clemson coaches), on Thursday night regularly used Osi Umenyiora as a stand-up player, in a two-point stance. It was originally believed, before the game, that Umenyiora, who had always been a traditional end during his 10 seasons with the Giants, would play some as a stand-up defender. But that was mostly because defensive coordinator Mike Nolan, in an effort to generate more pass rush, will implement some 3-4 looks this season, and fronts that don't quite fit the standard 4-3 look the Falcons have used in head coach Mike Smith's five seasons. But Nolan said after the game, the deployment of Umenyiora was as much a nod toward the "zone-option" as anything else.
"The 'read-option' has created that," he said. ". . . When you play (the option), you have to have some vision of some things. It's a part of the NFL now, so because of that, you will see a lot of guys do that. It's very difficult to have your hand in the dirt and play certain things (like the option) from that stance."
Notably, the Falcons also started the game with five defensive linemen on the field. As the preseason moves forward, it will be interesting to see how many other teams play their ends in stand-up spots, how many use "hybrid" players at end, and what other tweaks are made defensively as a concession to the option offenses that flourished in 2012.
*It's been a long time since New Orleans employed a 3-4 defense but, after a 2012 season in which the Saints ranked dead-last in the league, and Steve Spagnuolo struggled to replace the departed Gregg Williams, coach Sean Payton opted for a dramatic change. Enter coordinator Rob Ryan and the new 3-4 front. To aid in the switch, Ryan imported a pair of front-seven defenders, end Kenyon Coleman and linebacker Victor Butler, who had been with him during his two seasons with the Dallas Cowboys. Butler, though, suffered a torn ACL in the offseason, and while he has not been placed on injured reserve, likely will miss the entire year. Coleman last week sustained a torn pectoral that will sideline him for a season. Neither of the injuries were headline-grabbers in the manner some early camp injuries have been, but both are setbacks of sorts for the Saints and their first-year DC. Butler was potentially the explosive pass-rusher New Orleans needed off the edge, and that role now likely falls to Junior Galette. Coleman is an 11-year veteran who never had more than four sacks in a season, but he knew the 3-4 well, was a very solid anchor versus the run and, even at 34, would probably have provided stability to a unit unaccustomed to some of the methods and techniques being implemented.
"Those guys were not only good players, but good teachers, guys who would have helped to smooth (the transition)," acknowledged Will Smith, who is converting to outside linebacker after nine seasons of playing end in the 4-3.
*Bengals defensive tackle Geno Atkins, who is entering the final season of his rookie contract, met for an extended time with Atlanta-based agents Pat Dye Jr. and Bill Johnson last week, when Cincinnati conducted mixed practices with the Falcons in advance of the teams' preseason game. But the confab was mostly just touching base, not a detailed rehashing of the team's desire to reach a contract extension with the two-time Pro Bowl tackle. Perhaps a deal gets done – the agents have a good relationship with the Bengals, cut an extension for offensive tackle Andrew Whitworth not that long ago, and the two sides have had cursory discussions – but there is still a ways to go before ink meets paper. A fourth-rounder in 2010, Atkins has dramatically outplayed his rookie contract, will pocket $1.423 million this year thanks to an escalator he's met, and has a bargain cap number of just $1.54 million. But tackles who can rush the quarterback the way Atkins can – his 12.5 sacks in '12 weren't just the most by any inside defender in the league but also the most by a pure tackle since La'Roi Glover in 2000 – are gold. It's going to take a huge deal, maybe a record deal for a tackle, to get Atkins to jump at an extension.
*The induction of coach Bill Parcells into the Hall of Fame last weekend reminded this correspondent of a story frequently told during the HOF deliberations by some of the selectors, but one that bears repeating. It doesn't quite dovetail with the "Things I Didn't Used to Know" category instituted here by regular "Sunday Blitz" writer Dan Pompei, but it might be little known to readers. And it's certainly a good example of the motivational techniques of Parcells, which were a big part of the Hall discussion of his candidacy the past two years.
As the story goes, when New York Giants' linebacker Lawrence Taylor reported for the start of preparations for the team's divisional round game against the Los Angeles Rams in 1989, he found an airline ticket for New Orleans on the bench outside his locker room stall. When he queried Parcells about why the ticket was there, the coach told him he wanted him to fly to New Orleans and counsel with Saints' linebacker Pat Swilling about how to play against Rams offensive left tackle Irv Pankey. Seems that Swilling typically dominated Pankey, while Taylor usually had problems with him. In terms of jacking up Taylor for the matchup with Pankey, the ploy worked. The Giants lost to the Rams, 19-13, in overtime, on Flipper Anderson's 30-yard touchdown catch, but Taylor had 10 tackles and two sacks in the game, working mostly against Pankey.
Recalled former New York defensive lineman George Martin, who presented Parcells for induction last weekend: "That's a great story, but there were a lot of (examples) of things like that, with Bill doing something to (motivate) a player. He knew when to stick in the needle or pull it back, what buttons to press with certain guys. He was more than just an X's and O's coach. That's what made him special."
*Although the Oakland defense could have as many as seven or eight new starters, the Raiders' coaches have been relatively pleased so far with the early progress of a unit that ranked 19th in the league last season. The only negative: "We just don't have a superstar, that one player where the other team says, 'OK, we have to stop that guy to be able to win.' We've got some solid guys who have come in, but not the one, big-time centerpiece player," assessed a Raiders' official. The staffer wasn't speaking specifically about the Oakland pass rush, but he could have been. The club had just 25 sacks in 2012, the second lowest total in the league, and no one had more than four. The Raiders have revamped their front seven, but the pass rush may not be markedly better, even if the overall defense is. The only proven rusher is end Andre Carter, and at age 34, he's in his NFL dotage and probably not a starter.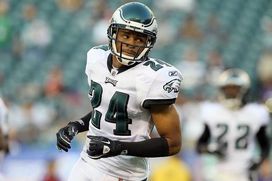 The 49ers are counting on former Eagle Nnamdi Asomugha to come up big in the secondary this season.
*Tampa Bay likely won't file any kind of grievance, but the Bucs aren't exactly thrilled that San Francisco late last week signed free agent cornerback Eric Wright. The agreement came basically three weeks after the 49ers voided a trade with the Bucs – that would have netted Tampa Bay a late-round draft pick – when Wright failed his physical exam. Wright, whom we've opined, isn't nearly as good as the big-money deal he signed with the Bucs in 2012, and who has had some off-field issues, was immediately placed on PUP by the 49ers. But they are hopeful he can get on the field soon, and perhaps help make up for the season-ending injury to No. 3 corner Chris Culliver. With Culliver out, the team has been using Trumaine Brock as the third cornerback, and he is suspect. Also, Nnamdi Asomugha, signed to a one-year deal after Philadelphia released him, has had a difficult time early in camp. Only a few years ago, Asomugha, a three-time Pro Bowl performer, was being mentioned as one of the top two corners in the league.
+SHORT YARDAGE
*Last week in this space, we noted the strong early camp performance of Cincinnati rookie tailback Giovanni Bernard and, in a note about fellow rookie runner Le'Veon Bell of the Steelers, cited the importance of pass protection for first-year backs. This week, we'll combine the two. Having watched Bernard on Thursday night in the Bengals' preseason opener, he not only demonstrated great quickness, but also awareness in picking up the blitz. "He's a bright kid," Bengals' coach Marvin Lewis said. . . . When healthy, Chris Ivory figures to be the starting tailback for the Jets. But the former New Orleans part-time starter isn't an accomplished receiver, a critical skills-set in the offense being implemented by first-year coordinator Marty Mornhinweg, so look for third-year veteran Bilal Powell to be a key contributor. Powell had only 17 receptions in 2012, when he played some as a third-down back. He could triple that number in 2013. . . . One other setback of note in New Orleans was the season-ending knee injury sustained by young wide receiver Joe Morgan, who averaged a gaudy 37.9 yards per catch in 2012. Granted, the sample size was a small one, with Morgan notching just 10 receptions. But the two-year veteran and former undrafted free agent was seen as the deep-ball threat the New Orleans offense may have been lacking with the departures of Robert Meachem and Devery Henderson the past couple years. Now the slack will have to be taken up by rookie Kenny Stills or second-year pro Nick Toon, who basically didn't play last year as a rookie. Newly-acquired Steve Breaston was one of the NFL's best slot receiver s during stretches of his previous seven-year career in the league. But Breaston is coming off knee surgery, and his skills-set is much closer to those possessed by starters Marques Colston and Lance Moore. . . . In the wake of the shoulder injury to Plaxico Burress on Thursday, and subsequent surgery that will end his season and perhaps his career, representatives for several wide receivers were hustling Friday to contact the Steelers about their unemployed veteran clients. At least immediately, the Steelers weren't jumping at the calls. . . . The Falcons have explored veteran offensive lineman Travelle Wharton as a possible candidate to fill the right tackle spot left thin by a season-ending leg injury to Mike Johnson. For now, Atlanta will take a long look at second-year veteran Lamar Holmes, a third-round pick in 2012 who played only seven snaps from scrimmage as a rookie. But the team will keep its options open. As noted here in the past, the right side of the team's line is being rebuilt, not the coziest of situations, given that the club now has a $100 million quarterback to protect.
+BY THE NUMBERS
*The preseason, now in full swing, is a great time for evaluating players, particularly youngsters. It's not nearly as accurate an indicator, though, of regular-season success. Over the previous 10 seasons, only one-third of the teams that claimed playoff spots, 40 of 120, had winning preseason records. Twenty-nine of them actually posted losing preseason marks. Just four of the past 10 Super Bowl champions rang up winning preseason records. Since the start of the '03 campaign, there have been 18 franchises with perfect preseason records and their regular-season records in those years was just a cumulative 139-149. The lone team to have a perfect preseason record the last 10 years and win the Super Bowl the same year was New England in 2003. In 2008, Detroit was 4-0 during the exhibition slate and then became the only 0-16 team in NFL history during the regular season.