October 28, 2012 -
Dan Pompei
NFP Sunday Blitz
A lot of people, including this writer, were skeptical about Ryan Tannehill. Many thought the Dolphins reached to take him with the eighth overall pick.
So in some ways, Tannehill's sprint out of the gates has been more remarkable than the starts of Robert Griffin III and Andrew Luck, though Tannehill hasn't been acclaimed as much.
Tannehill was not supposed to be NFL ready like the top two picks in the draft. He had only 19 starts at quarterback at Texas A&M, and was 7-6 as a starter last year. He failed to rally the Aggies on several occasions. Eight personnel men I spoke with before the draft thought he was a second round talent.
Tannehill's stock rose late in the draft process mostly because of the need at his position. He might have gone to the perfect team, because he didn't have to learn a new offense in Miami. Dolphins offensive coordinator Mike Sherman also happened to be Tannehill's head coach at A&M, and that is a significant reason why Tannehill has been successful early.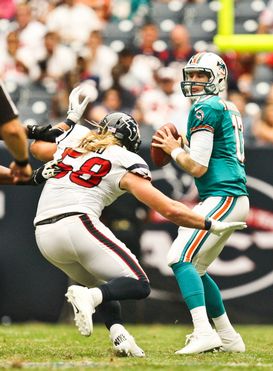 Pressure has not bothered Tannehill, who is off to a great start.
"The protections, the terminology, the route trees, the nomenclature, he's very familiar with all if it," Sherman said. "That's a whole language he didn't have to learn. That helped him settle down and adapt himself to the NFL game. He didn't have to worry about the meeting room stuff because of his familiarity. All he had to worry about was our opponents. That's been his focus and he's done a pretty good job at that."
Tannehill's familiarity with the Dolphins' offense has helped offset his lack of experience. Sherman said if Tannehill has played all four years of college ball at quarterback in a completely different offense, his NFL acclimation would have been bumpier than it has been.
"If he had been n a spread offense and never been under center, never taken a drop, even though he would have had experience as a quarterback, it wouldn't have helped as much as less experience in this offense," Sherman said. "All that experience he had [in college] is applicable to what we are doing at this level."
There is more to Tannehill's success, of course. Sherman acknowledges the quarterback has improved "dramatically" in his decision making since last year. He is stepping up in the pocket better and spotting receivers downfield better. Sherman said Tannehill has improved every week since the season began, and that Tannehill rarely has repeated mistakes.
"He's making very good decisions, better than he made in college," Sherman said. "He's not taking high risk throws. He's still an aggressive quarterback and will take his shots, but he weighs the risk/reward element of it."
These numbers illustrate Sherman's point: on throws of 20 yards or longer, Tannehill has a passer rating of 137.5 with no interceptions. He has thrown only three interceptions in his last five games.
Tannehill's growth has a lot to do with his intangibles, which always seem to be underrated in quarterback evaluation. "He was studying to be a doctor, and graduated pre-med," Sherman said. "He's a very smart young man. He put down the biology book and picked up the playbook and he studies it. He's a workaholic. Used to study constantly, now he's all football. He's up here putting in coaches' hours as far as studying game tapes and getting ready for the games. It's his desire to help us win and have success."
In most cases, coaches are hesitant to allow rookies to run the no huddle too much. But the Dolphins have run more no huddle than any other team. They have been able to because of Tannehill's confidence. He played a lot of no huddle at A&M, and it's been a smooth transition.
"We don't go at the tempo the Patriots go at," Sherman said. "We might be able to handle that at some point. But the ability to line up and decipher the defense without worrying the clock ticking away has helped him make some subtle adjustments presnap."
Tannehill has considerable freedom at the line of scrimmage, which also is unusual for a rookie. Sherman said Tannehill probably has adjusted between 10 and 15 play calls at the line each game. Sometimes, he is given a group of plays and he has to pick one. Other times, he is given an either/or situation. And in some instances, he retargets protections to offset defensive presnap looks.
"If I call a play that won't work against a leveraged defense, he'll get us into a better play," Sherman said. "He has a fair amount of flexibility. He doesn't' go outside of the rules we set, but he has a fair amount of options available to him."
Tannehill has been an outlier in many aspects. Credit goes to Sherman, Dolphins general manager Jeff Ireland and Dolphins head coach Joe Philbin for recognizing what he was and how he could succeed.
Things I Didn't Used To Know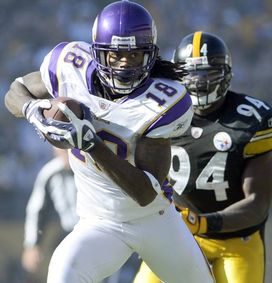 ICONThe Seahawks haven't seen enough of this in 2012: Sidney Rice with the ball in his hands.
*Sidney Rice is the Seahawks' most talented receiver, but there is a reason he has been overlooked in the passing game. The oft-injured Rice didn't have a chance to work with new quarterback Russell Wilson in the offseason because he was rehabbing from shoulder surgeries, and he missed a good portion of camp and the preseason. As a result, Wilson and Rice were not clicking very well on the field. Their chemistry has improved, but it still has a ways to go. While Rice was working his way back into the offense, Golden Tate became the team's primary vertical threat. But it's likely the Seahawks coaches will push Rice back to the forefront now. It's obvious they need his big play potential.
*If they are expecting a player in "steep decline," the Eagles might not recognize Asante Samuel when they play the Falcons Sunday. Samuel is having a fine season in Atlanta, and the Falcons are elated they gave up a seventh round pick for the 31-year old. The knock of Samuel throughout his career has been that he is a poor tackler and disinterested in run support, but Falcons coaches have been happy with his physical game. Samuel also has brought an air of confidence to the Falcons' secondary. He has rubbed off on younger players. And if Samuel wasn't in Atlanta, the Falcons might not be undefeated. His Pick Six against Oakland with 2:40 remaining in the game was a critical play.
*Some interesting research courtesy of Tony Villiotti: 24 of the NFL starting QBs were first round picks; 20 starting QBs are playing for the teams that drafted them, and there are 13 undrafted quarterbacks in the NFL. That's more than came from the third, fourth, fifth, sixth or seventh rounds of the draft. There is only one undrafted starter, however: Tony Romo. Check out Villiotti's Draftmetrics here.
My Sunday Best: Rookie QB Classes
The 2012 class of quarterbacks has a lot of potential and could eventually be thought of as one of the best quarterback classes if Andrew Luck, Robert Griffin III, Ryan Tannehill, Brandon Weeden, Russell Wilson and company continue to develop. Here are my Sunday best quarterback classes of all time. I didn't consider a class unless there were at least four strong players from it.
1. 1983—John Elway, Jim Kelly, Tony Eason, Ken O'Brien, Dan Marino. Three hall of fame quarterbacks from one round isn't too shabby. The great Marino was almost an afterthought, chosen 27th. Trivia question: which quarterback from this class went on to be a head coach? Answer: Gary Kubiak, chosen in the eighth round.
2. 2004—Eli Manning, Philip Rivers, Ben Roethlisberger, Matt Schaub. These guys have a lot of football left in them, but already they have four Super Bowl championships and nine Pro Bowls.
3. 1957--John Brodie, Len Dawson, Milt Plum, Sonny Jurgensen, Jack Kemp, Ken Ploen. This class produced two Pro Football Hall of Famers in Dawson and Jurgensen. Kemp was the 1965 AFL player of the year and he was voted to seven Pro Bowls. Brodie and Plum each were two-time Pro Bowlers. Ploen never made it to the NFL, but he is in the Canadian League hall of fame.
4. 1948--Harry Gilmer, Bobby Layne, Y.A. Title, George Ratterman. This was the first great quarterback class. Layne and Title are hall of famers. Gilmer was a two-time Pro Bowler. And Ratterman was second in the NFL in passing yards in 1950.
5. 1971—Jim Plunkett, Archie Manning, Dan Pastorini, Lynn Dickey, Ken Anderson, Joe Theismann. This may have been the deepest class of quality quarterbacks in history. Plunkett won two Super Bowls and Theisman won another. Anderson led the league in passing twice and Manning finished second twice.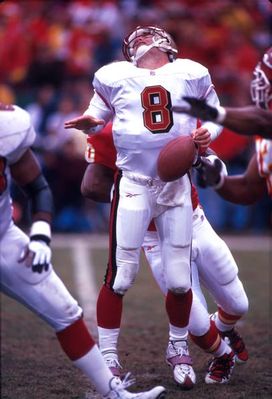 ICONSteve Young was part of a great quarterback class.
6. 1984--Boomer Esiason, Jeff Hostetler, Jay Schroeder, Steve Young. This group might get an asterisk because Young was a supplemental pick. Between them, they have six Super Bowl rings, though Hostetler was a backup for one of the Giants' Super Bowl victories and Young was as backup for two of the 49ers' victories.
7. 1973--Bert Jones, Ron Jaworski, Joe Ferguson, Dan Fouts, Don Strock. Fouts is in the hall of fame. Jones, Jaworski and Ferguson each had some fine seasons, and Strock is remembered for his role in one of the greatest games in history—the 1982 playoff game between the Dolphins and Chargers.

8. 1987--Vinny Testaverde, Jim Harbaugh, Rich Gannon, Steve Beuerlein, Don Majkowski. This class had staying power. Between these five players, they played a combined 76 NFL seasons. That's incredible.
9. 1999—Tim Couch, Donovan McNabb, Akili Smith, Daunte Culpepper, Shaun King, Aaron Brooks. These six players threw for a combined 99,599 yards.
10. 2011 Cam Newton, Jake Locker, Blaine Gabbert, Christian Ponder, Andy Dalton, Colin Kaepernick. Of course the jury is still out on last year's class, as it is with the class of 2012. But it is off to a pretty good start.
One Man Yelp: Football's Greatest
Sports Illustrated has come out what a big, beautiful coffee table book called Football's Greatest. It is noteworthy for its provocation (the book ranks the best players at every position, plus coaches, games, plays, single season teams and more), content (nice vignettes about each subject matter), and photography (gorgeous full page pictures that bring history to life).
You can get lost in the book pretty easily because there are so many interesting aspects of it and it goes in so many directions. It's the perfect book for a doctor's waiting room or an office lobby. Much more interesting than my IPhone.
I'll give you a few of the debate-worthy rankings, which were voted on by a panel consisting of Don Banks, Mark Godich, Damon Hack, Peter King, Tim Layden, Mark Mravic and Jim Trotter. For quarterbacks, Joe Montana is No. 1; Tom Brady is No. 3, ahead of Otto Graham (4), Peyton Manning (5) and John Elway (6). Ray Lewis is the No. 3 linebacker, behind only Lawrence Taylor and Dick Butkus. Bill Belichick ranks No. 7 on the coaching list, behind Vince Lombardi, Paul Brown, Bill Walsh, Chuck Noll, George Halas and Don Shula. Greatest single season team was the 1985 Bears.
Hot Reads
*As Chris Cooley would tell you, who needs money when you can have Heineken?
*Glad to see Jerry Jones believes in donating to his Church.
*Some of these star players may be saying goodbye to their teams in the offseason. Interesting read.
*Mike Holmgren is starting to sound a little like Bill Parcells, isn't he?