October 29, 2011 -
Barry Dorey
NFP Sunday Blitz
It is the offseason. Jim Harbaugh is walking through an airport terminal. By complete chance, he bumps into Mike Singletary, his predecessor as head coach of the 49ers and his former teammate on the Bears.
They exchange pleasantries as old friends do. Then Harbaugh wants to know something. What does Singletary think of Alex Smith?
This is what Singletary tells him: "All he needs is to get off to a good start. He has what it takes. He is a great kid. He's the kind of player you want your team to be around. He's a hard worker, smart. A stand up guy. We didn't get off to a good start. He had such an up and down career. He needs a good start and for people to believe in him. If he has a good start, he'll grow and become a heck of a good quarterback."
Smith has had a good start in 2011, a very good start. And Singletary, one of the few people who was with Smith for the first six years of his career, tells me he is not surprised.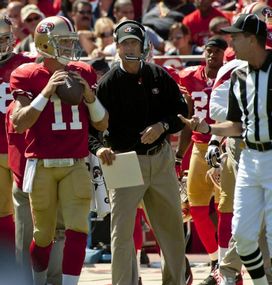 49ers coach Jim Harbaugh has found a way to get the most out of Alex Smith and make the 49ers contenders.
Harbaugh and Smith are an excellent combination. Harbaugh has spent quite a bit of time with his quarterback. Harbaugh knows what it's like to be a quarterback who doesn't have the complete confidence of the people around him. Smith has responded well to Harbaugh's style of positive reinforcement.
Whereas others have knocked Smith in the past for a lack of accuracy, lack of toughness and lack of confidence, Harbaugh has praised Smith for what he has done well. "He's played superb," Harbaugh told me. "He's run the football team. He's done his job, executed. Made the plays in crunch time. Been accurate. Thrown touchdowns, hasn't thrown interceptions. He's doing a lot of things that help the football team win."
But he hasn't done those things consistently in the past. Talent never should have been an issue. Smith was, after all, the first overall pick of the draft. Harbaugh's take? "He's always been a good quarterback," he said.
He certainly has been a good quarterback this season, as Smith's 95.2 passer rating has helped the 49ers to a 5-1 record. They are the surprise team of the season, and he is the surprise player.
Smith has thrown only two interceptions in his last 310 attempts going back to last season, which he finished strong. But you won't hear Harbaugh calling Smith a good "game manager." Harbaugh thinks he's more than that.
Against the blitz this year, Smith has a 128.9 passer rating. There is only one quarterback with a better blitz rating — Aaron Rodgers, who the 49ers passed over to pick Smith. Rodgers' rating is 133.5. It takes more than a game manager to beat the blitz. "We're trying to build on that," Harbaugh said. "It's something the whole unit takes a lot of pride in."
Smith has benefitted from the tutelage of quarterbacks coach Geep Chryst, and from the game planning of offensive coordinator Greg Roman. Having a team that is driven by defense and special teams has been a plus as well.
It hasn't always been this harmonious for Smith. Roman is his eighth offensive coordinator with the 49ers in seven years. Not all of them had as much confidence in Smith as the current group of coaches do.
The confidence has enabled Smith to get off to a great start, which Singletary said Smith needed. But all it is at this point is a start. The 49ers have 10 games left, starting with the Browns Sunday.
And really, that's all that matters now to Smith, Harbaugh and the Niners. "We're thinking about how we can build on what he has done and how to put him in position to play better," Harbaugh said. "Planning and working for the future."
It's good for the 49ers to be heading into that future with Alex Smith feeling good about himself.
Things I Didn't Used To Know
*Nobody knows for sure at this point if Jim Caldwell will keep his job. But what we do know is Colts management is not blaming him for the performance of the team. There is no dissatisfaction with how he has done his job. If Caldwell gets fired, it's will be because owner Jim Irsay believes the franchise needs a new salesman after a disastrous season, not because Irsay and the Polians believe Caldwell is not capable of turning around the team. Team president Bill Polian tells me the Colts' troubles have not resulted in a loss of morale, and there has been no grousing or finger pointing. "They have played hard as hell, including in the New Orleans game," he said. "Jim has done a great job keeping them focused and practicing hard." Polian also credits Caldwell with taking a team that was 6-6 last year and turning it into a playoff team that nearly advanced to the second round.
*Former Vikings coach Brad Childress is looking like a better coach with each passing week. A few months ago, some people were predicting Childress would never be a head coach again. Front offices are starting to take a harder look at what Childress accomplished in Minnesota within the context of how the Vikings are performing now. It will be an upset if Childress isn't a candidate for a head coaching job or two in the offseason.
*The best left tackle in football may be Andrew Whitworth. The sixth-year Bengals player does not get the recognition of an elite tackle, but perhaps he should. The website profootballfocus.com, which rates every player's performance in every game, has Whitworth as the top rated left tackle in the AFC. His position coach Paul Alexander concurs. "If you ask me, he's the best," Alexander said. "Technically, he's superb. He is tough, has strong hands and takes great angles." Whitworth has allowed three sacks over his last 23 games going back to last year. What's more, Alexander tells me Whitworth has not been beaten once in practice since the beginning of the season. Alexander said Whitworth is constantly tinkering with his technique, and he has made some recent changes that have paid off. The word on Whitworth coming out of Louisiana State was that he wasn't the greatest athlete, but that clearly is not true. Turns out he's a very good golfer and tennis player. A couple of years ago the Bengals held a "Superstars" competition on their team. The non-quarterback who threw the most balls through a hoop? Whitworth.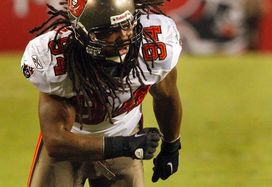 Adrian Clayborn has been an instant hit for the Bucs at right end.
*The teams that dinged Adrian Clayborn on their draft board because of his weaker right arm are regretting it. The Bucs rookie defensive end is playing outstanding football, and has made the damage in his arm caused by Erb's palsy a non-issue. Clayborn has played with toughness, physicality and violence. He has used his hands well as a pass rusher and become a quiet leader in the locker room, according to my Bucs peeps. Clayborn might not be able to do a behind the back military press as well as some players because of his arm, but he can rush the passer exceptionally well. The Bucs never thought the arm would be a problem because it wasn't a problem for Clayborn at Iowa, and they made him the 20th overall pick. They assessed this situation perfectly.
My Sunday Best: Midseason All Pro Offense
Quarterback—Aaron Rodgers, Packers. There have been some outstanding quarterback performances so far this season by the likes of Tom Brady, Drew Brees, Ryan Fitzpatrick and Eli Manning. None of them is leading an undefeated team, however. Rodgers is averaging 9.92 yards per pass attempt—nearly one first down every time he drops back.
Running back—Matt Forte, Bears. First in the NFL in scrimmage yards, first in touches, second in runs of 10 or more yards, second in yards after the catch, third in rushing yards and third in average per carry. Any more questions?
Wide receiver—Calvin Johnson, Lions. He has become the most difficult receiver in football to defend. His league-leading 10 touchdown passes is four more than the next closest receiver.
Wide receiver—Steve Smith, Panthers. The old man still has it. His 21 yards per reception is best in the NFL among starters.
Wide receiver—(this is a one back, three receiver personnel group) Wes Welker, Patriots. He is averaging a ridiculous 130.8 yards per game and benefiting from great chemistry with Brady.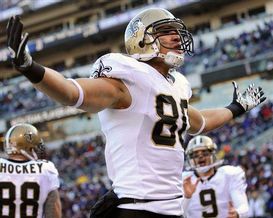 Graham is the latest basketball-to-football tight end success story.
Tight end—Jimmy Graham, Saints. He has been far and away the most productive tight end in the game. He is a tight end who moves like a wide receiver. Or maybe a gazelle. If you want more of a blocker, Rob Gronkowski of New England is a fine choice.
Offensive tackle--Andrew Whitworth, Bengals. See my item above in Things I Didn't Used to Know.
Guard—Marshal Yanda, Ravens. The Baltimore line has struggled at times, but it Yanda has been the rock in the unit.
Center—Scott Wells, Packers. He has been the best offensive lineman for the best offense on the best team. That counts for something.
Guard—Andy Levitre, Bills. He really has come on strong this year, and even has done some fill in work at left tackle.
Offensive tackle—Joe Thomas, Browns. He is very consistent game to game, year to year.
Kicker—Josh Scobee, Jaguars. He has yet to miss a kick and is 9-of-9 on field goal attempts of 40 yards or longer. What's more, 61.5 percent of his kickoffs have been touchbacks.
Returner—Devin Hester, Bears. No returner puts fear in opponents quite like Hester.
Next week: Midseason All-Pro defense
Scout Talk: DeMarco Murray
When a player like DeMarco Murray has a game like he did Sunday, rushing for 253 yards, it sends NFL front office men back to look at their notes and/or tape. How did this guy last until the third round?
The four scouts I spoke with about Murray before the draft were not shot in the pants about him. Two thought he would be a third rounder, which he was. Another saw him as a fourth rounder. And the other saw him as a fifth rounder.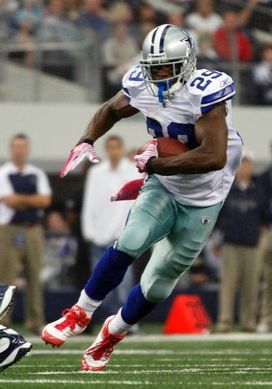 There is a reason why DeMarco Murray wasn't drafted higher.
Knocks on him included: he needs a crease; he takes a lot of shots; he is helped by the scheme; he doesn't have a lot of burst; he is not very powerful; he runs high; he is not a top end athlete; he is narrow based; he might just be a change of pace back; and the biggie—he wasn't durable.
Some of the criticisms in hindsight may have been overanalysis. The durability concern was legit. At Oklahoma, Murray had problems with turf toe, a dislocated knee cap, a partially ruptured hamstring, a sprained ankle and bruised ribs.
If not for that injury history, it's likely he would have been chosen much higher. Even with the injury history, the Cowboys had him rated as a legitimate second round pick, according to a Valley Ranch source. If you threw out the durability factor, the Cowboys thought he had late first round talent.
He was a highly productive college player, and a versatile one who could catch the ball exceptionally well as well as run it. He ran a 4.37 40 yard dash at the combine. So Murray had talent to go with his production.
He just hadn't held up to the pounding very well. In fact, durability has been an issue for Murray since he has been a pro too. A hamstring injury forced him to miss training camp. That explains why we really haven't heard much from him until the seventh week of the season.
The Cowboys need Murray now. If he can stay healthy, it looks like he can help them as much as any rookie.
One Man Yelp: Jacqueline Kennedy—Historic Conversations On Life With John F. Kennedy
Our country's fascination with Camelot has not diminished nearly 50 years after the death of John F. Kennedy. The latest evidence is the best-selling book Jacqueline Kennedy—Historic Conversations On Life with John F. Kennedy. The book is basically the transcription of a series of interviews by historian Arthur Schlesinger with Jackie that took place four months after JFK's death in early 1964. The interviews were not to be published until 2011 as per Jackie's wishes.
I read this book on the IPad and purchased the enhanced edition, which made the book an experience because it contains the audio from the interviews, and also contains videos with each chapter. Some are never before seen home videos.
Jackie had very good recall of what went on during the White House years and prior. It probably was aided by the fact that she saved every scrap of paper that came here way, according to the introduction by daughter Caroline. She also tried to stay out of her husband's hair, but she clearly was full of strong opinions, and she didn't miss much.
Some highlights:
*Jackie called her White House period "our happiest years," and after JFK's death she asked her Secret Service drivers to never take a route that would give her a view of the White House. She stayed away from the building for the rest of her life, with one exception—to see the official portrait painted of her and her husband in 1971.
*JFK never missed a Sunday mass during their marriage.
*There are many recollections of world leaders and American politicians. It doesn't sound like she thought too highly of Martin Luther King, who said her husband told her of a tape the FBI had on King that revealed he was arranging an orgy.
*Of Lyndon Johnson, she said her husband told her (and Bobby Kennedy concurred), "Oh God, can you ever imagine what would happen to the country if Lyndon was president?"
There isn't much about Viet Nam, or the difficulties in their relationship, but there is plenty of meat on the bone in this book.
Hot Reads
*Glad to hear T.J. Lang accept Brian Robison's apology for kicking him in a sensitive spot. Even if the apology sounded several octaves higher than Lang's usual voice.
*Terrell Suggs may deserve a raise. In addition to playing linebacker, he now is doubling as offensive consultant.
*Terrell Owens needs two things to justify his existence: the football and an audience. Oh well, he still has a football.
*Why shouldn't Tony Sparano put his house up for sale? Stephen Ross has been boxing up Sparano's belongings for months.
*Rob Ryan could not slow down Rob Gronkowski. Maybe Bibi Jones can.
Dan Pompei covers pro football for the Chicago Tribune at chicagotribune.com