February 27, 2011 -
Dan Pompei
NFP Sunday Blitz
While NFL teams have prepared themselves for free agency as usual and the draft as usual in recent weeks, a lockout would have a significant impact on how teams restock themselves this offseason.
The first issue is free agency will happen after the draft. That will lead to teams having more flexibility with their draft picks. "Without free agency, every team has more needs going into the draft, so they will have more latitude in the draft," one NFC general manager told me. "They won't be as focused on one or two positions."
Instead of going into a draft with three or four needs, some teams will go into a draft with seven or eight. Not knowing where their own unsigned players will land also will factor into what teams need.
Critical needs may be emphasized more than usual by some teams in the draft, because they can't be sure of what will be available in free agency. It may be more difficult for some general managers to make the case to take the best available player if that player clearly does not fit a need—especially if they have a glaring hole and no concrete solution to fill it.
"Teams always take need no matter what they say," a veteran personnel director said. "But the draft might be more need driven this year, not knowing if you can fill needs in free agency."
The first casualties of the lockout will be the players from the free agent class of 2011. Close to 500 players could be free, and many of them are likely to find less demand for their services because teams won't be as desperate after having gone through the draft first.
"The lockout will affect free agency," the GM said. "A lot of those 200 or so players who would have signed before the draft will find their spots have been taken."
The chaos won't affect a player like Santonio Holmes of the Jets. The star wide receiver still will make a free agent killing if he gets to the open market, earning perhaps as much as $10 million a year. But it very well could affect a player like Lance Moore of the Saints, or Santana Moss of the Redskins. Anyone who is not perceived to be a front line difference maker may find fewer interested teams, and fewer teams means less money.
A second personnel director expressed confidence that he will be able to find players at whatever position he needs in free agency because the free agent marketplace will be suppressed. "They will be out there he said. "And you know prices will be good for teams, especially in the second wave, because so many players are up and it's a matter of supply and demand."
All things being equal, teams always prefer adding rookies to veterans. Rooks will be cheaper, they have a longer shelf life and they won't have as many medical issues.
In fact, some NFL teams long have pushed for the draft to always be held before free agency. The NFL Players Association and many agents fight for having free agency first because veterans get more money this way.
So really, having the draft ahead of free agency in 2011 would be a win for the league and a loss for the players in the labor war.
Things I Didn't Used To Know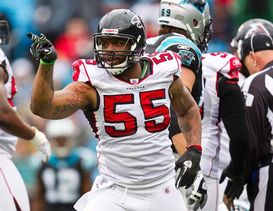 Abraham had many reasons to celebrate in 2010.
*The Falcons were very pleased with John Abraham's production as well as his leadership last year. General manager Thomas Dimitroff tells me Abraham stepped up as a leader in 2010, becoming more outgoing and engaging with players and coaches. Abraham took young players under his wing, working with them on the side before and after practice. This had not been typical for him earlier in his career. Abraham, by the way, has averaged 0.711 sacks per game in his 11-year career. The only players with a better average per game since sacks became an official stat in 1982 are Reggie White (0.85) and Bruce Smith (0.716). All that being said, look for the Falcons to add another pass rusher, perhaps with their first pick in the draft. Abraham is almost 33 years old, and the team eventually will need to replace him. And even in the short term, the Falcons need a complementary rusher who could enhance Abraham by drawing away double teams.
*Trading Donovan McNabb may prove much more difficult for the Redskins than it was for the Eagles, as his stock has dipped considerably in a year according to front office men who have studied him. One team official questions whether McNabb will even go to a new team with a starting job.
*The Lions need a pair of linebackers to go with rising star D'Andre Levy. What kind of linebackers they can get will determine which position Levy plays, because he has the flexibility to play inside or out. Levy was a strong side linebacker at Wisconsin, and he played outside his rookie year in Detroit. Truth be told, he's probably best suited outside. Even if Levy is moved outside, he likely will continue to be the defensive quarterback and an every down player. My Lions sources tell me Levy does a great job making the defensive calls and getting teammates lined up properly. The Lions run some complex defenses and depend on audible checks and need a player on the field with command of the playbook. They have that in Levy, and don't want to fix what's not broken.
*B.J. Raji's breakout season for the Packers could be attributed at least in part to the fact that he was playing the position he was born to play—nose tackle. As a rookie in 2009, Raji started out at defensive end before moving to nose after Ryan Pickett's injury. Packers defensive line coach Mike Trgovac told me Raji's girth, height, arm length and rear end all are ideal for the nose position. "That's what his mama made him," he said. Raji's development also was helped by having a full training camp, staying healthy and becoming more of a student of the game.
My Sunday Best: Players Who Could Be Free
Now that teams have tagged the most desirable players with expiring contracts, this is the best of what is left.
1. Nnamdi Asomugha, Raiders. The cornerback clearly is the best available free agent, and you could make the case that he would have been the best available player even before the tags went out. Asomugha is either the best cover corner or the second best in a league where there are only two shut down corners (he and Darrelle Revis). Somebody is going to be willing to pay stupid money for that ability.
2. Santonio Holmes, Jets. The only thing about Holmes that will give NFL teams pause is his off the field behavior. There isn't much not to like about the player. He can make the big play about as well as anyone. If he were still in Pittsburgh, who knows how the season might have been different.
3. Cullen Jenkins, Packers. This is a fine player against both the run and pass. He will appeal to 3-4 teams as an end, and he will appeal to 4-3 teams as a tackle. The only knocks on him are durability and age (he's 30).
4. Sidney Rice, Vikings. This high ranking is based a little on potential. When Rice was humming in 2009, he was awesome. But buyer beware. He has been in the NFL for four years and has had only one year of solid production. Plus, he's coming off a hip injury.
5. DeAngelo Williams, Panthers. The Panthers chose to franchise their center, Ryan Kalil, over Williams, probably because Williams is coming off a foot injury that limited him to six games in 2009. But Williams has proven to be a very effective runner when healthy, and he has an odometer you can live with. At 27, he should be a high quality player for at least a few more years.
6. Zach Miller, Raiders. Playing with bad quarterback and a bad foot, Miller has been a dependable, productive tight end. He is capable of more with a better team.
7. Jonathan Joseph, Bengals. If he can stay healthy, Joseph is of of the league's better corners. He has a nice cross blend of skills that will appeal to many teams.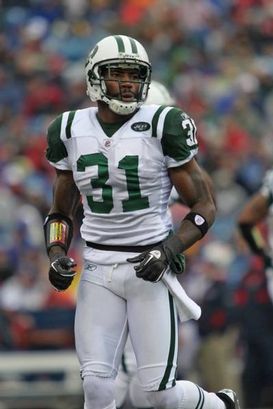 ICONCromartie has the size and skill to be one of the league's best.
8. Antonio Cromartie, Jets. His size and skill suggests he should be near the top of this list, but Cromartie consistently fails to get the most out of his abilities. He's still a good player though, and teams are going to be enamored by his measurables.
9. Barrett Ruud, Bucs. He isn't a dominant middle linebacker, but he is a very reliable one who can run a defense the way a field general quarterback runs an offense.
10. Tyson Clabo, Falcons. He isn't an elite talent at offensive tackle, but he is the kind of high intangible lineman who teams win with. He'll get plenty of play.
Others in the mix include Texans tight end Owen Daniels, Jets receiver Braylon Edwards, Vikings defensive end Ray Edwards, 49ers defensive tackle Aubrayo Franklin, Chargers receiver Malcom Floyd, Redskins corner DeAngelo Hall, Panthers defensive end Charles Johnson, Bucs guard Davin Joseph, Giants pass rusher Mathias Kiwanuka, Seahawks defensive tackle Brandon Mebane and Ravens guard Marshall Yanda.
Scout Talk: Combine Drills
Participants in the combine can take part in every drill available, but depending on their positions, only certain drills have much influence over their draft stock. Here, based on conversations with several NFL front office men, are the most important drills/events by position.
Quarterbacks—So many college quarterbacks play in shotgun, spread offenses now that NFL scouts are most anxious to see them take three and five step drops, plant and throw. They also look for ball placement, especially on comeback routes. You can't tell much from deep balls because timing with receivers is usually off. The interview and psychological/intelligence tests also are critical for quarterbacks.
Running backs—The most important thing a running back can do at the combine is catch the ball well. Most backs don't have a lot of receiving opportunities in college, and teams have questions about their hands. Backs get plenty of opportunities in Indy. One personnel man said he puts a lot of emphasis on 10-yard dash times for backs, because they need initial burst. An extreme time in the 40-yard dash also is always noteworthy for a back.
Wide receivers—Of course the 40-yard dash time can make or break a wide receiver in the draft. But that's not all. Vertical jump also is important because receivers, probably more than other players, need vertical explosion. Receivers also are asked to run a gauntlet with quarterbacks throwing at them rapid fire as they run across the field. This helps to show how quick their reactions are.
Tight ends—Two scouts said the track drills probably mean less to tight ends than they do to players at any other position, because so much of what tight ends do is reliant on instinct and savvy. And the blocking drills don't tell you anything either because the players aren't padded up. One former general manager said he looks at shuttle times for tight ends because they indicate change of direction skill and body control. Another said he values psychological tests and intelligence tests because tight ends have to learn all phases of an offense and be willing to do dirty work.
Offensive linemen—The combine drills help expose an offensive lineman's foot quickness. In particular, the wave drill (moving back and forth, up and back) and mirror drill (following a coach's movements) are helpful. Times in the 10 and 20 yard dashes also help show short area quickness. Bench press, however, only is a factor if the lineman can't get 10 reps of 225, according to one scout. "We usually don't even look at it," he said.
Defensive linemen—One front office man said he likes to see what kind of condition the defensive linemen are in when they go through their position drills. Another said he likes to gauge their flexibility and ability to bend in a drill in which pass rushers are asked to come around the corner.
Linebackers—What scouts are looking for most at the combine is if linebackers can drop and defend the pass. They are given a chance to show if they can catch the ball—which many of them struggle with. One personnel man said the broad jump shows a linebacker's functional explosion. Another said shuttle times help NFL teams know about a backer's cover skills.
Cornerbacks—As with receivers, 40 times are big. But the biggest thing for corners is the "W" drill, in which the corner moves in a W motion. A lot of corners play half turn technique in college, so NFL teams never see them backpedal, plant and break. "It's the most telling drill of any drill for any position," a college scouting director said.
Safeties—As far as the combine tests are concerned, safeties are a little like tight ends. NFL teams want to know if they are intelligent and have the right mentality and instincts. And they also like to see them in deep ball drills that expose fluidity, range, ball judgment and hands.
One Man Yelp: Just Go With It
Who doesn't like a little Adam Sandler? Of course he will make you laugh in Just Go With It, a remake of Cactus Flower in which Walter Matthau, Goldie Hawn and Ingrid Bergman starred. Sandler's sidekick Nick Swardson is funny too.
In this romantic comedy Sandler plays a plastic surgeon who usually gets chicks by wearing a fake wedding ring, but the gimmick backfires on him when he meets the girl of his dreams and she finds the ring after he claimed to be single. What ensues undoubtedly is the most complicated, ridiculous web of lies ever captured on the big screen.
Jennifer Aniston, Sandler's assistant, has to pretend she is his soon to be divorced wife. Her kids have to act like they are their kids. Swardson's character is Sandler's bumbling cousin who is pretending to be a German Internet sheep broker. It gets thicker from there. Much thicker. But if it's a few laughs you are in search of, this movie will provide them.
It may be slightly unbelievable that Aniston, the former Mrs. Brad Pitt, plays a Plain Jane. Then again, next to Brooklyn Decker, most Janes look considerably plainer.
Decker's presence, while perhaps not Oscar-worthy as Hawn's performance was in the 1969 original, she does make the movie more… watchable. She also sparked a debate between my boys and I. Did she belong on the Sports Illustrated swimsuit issue cover ahead of Irina Shayk? I say absolutely not. But the boys prefer Decker's all-American, wholesome look to Shayk's more exotic, Mediterranean beauty. What say you?
Hot Reads
*Rex Ryan making guarantees is like the sound of traffic outside the house—noise you tune out because you have become so accustomed to it.
*Good call for John Fox to go with Kyle Orton as his starter. That's what is best for the Broncos short term, and it's probably best for the Broncos long term as well.
*Great hire by ESPN to bring aboard this guy as their NFL business expert. Nobody covers the art of deal making in the league any better.
*Extending Lovie Smith for two years was the right thing fo r the Bears to do. Stability and continuity should serve them well.
Dan Pompei covers pro football for the Chicago Tribune at chicagotribune.com.