June 02, 2013 -
Dan Pompei
NFP Sunday Blitz
If you want to know where the Indianapolis Colts offense is headed, take a look at where the San Francisco 49ers offense has been.
New Colts coordinator Pep Hamilton plans on following the lead of his old boss Jim Harbaugh in making the move from Stanford to the NFL. "A good example of how you should try to make the transition is what my former head coach has been able to do at the 49ers, to take our offense at Stanford and [two] years later end up in the Super Bowl by doing the things we believed in," Hamilton told me. "That's being efficient and controlling the football but at the same time making big plays down the field in the passing game. That's been somewhat of my motto."
Given that motto, many may wonder if we'll soon see Andrew Luck running the read option from the Pistol, a la Colin Kaepernick. It sounds like that is not something Hamilton or Colts owner Jim Irsay is very interested in toying with. "The last thing we want to do is expose our quarterback to any more hits than what they typically take in the course of a game," Hamilton said. "That's not something we're going to major in. By no means will we put our franchise quarterback in harm's way."
In fact, Hamilton is working to make it a safer, easier game for Luck, in part by emphasizing the run game. Last season the Colts ran the ball only 39.7 percent of the time. Only one postseason team, the Falcons, had a lower percentage.
It sounds as if that is about to change. Hamilton expressed enthusiasm for the offensive line with veteran additions Gosder Cherlius and Donald Thomas, and he expressed confidence in running backs Vick Ballard and Donald Brown.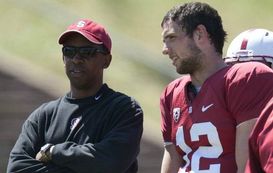 Hamilton and Luck are familiar with one another from their days at Stanford.
Anyone who has been around the game for any length of time will tell you having a solid run game mostly is about commitment. Hamilton came up through the ranks as a quarterbacks coach, but his experience tells him the quarterback is better when he is handing off the ball frequently.
"The time I spent with Norv Turner gave me an opportunity to understand how important it is that you make the game practical for your players," Hamilton said. "You have to have balance in your offense. The teams I've been a part of where the quarterback has been effective and offensively we've had success consistently were the teams that were able to run the football.
"When I was with the Jets in 2004 we made a push into the playoffs, Chad Pennington played well for us but Curtis Martin won the rushing title. In 2006 with the 49ers it was Alex Smith's second year as a starter. You had a fairly decent year as an offense and a big part of that was the fact that Frank Gore was one of the lead rushers in the league. So I believe in making sure you put pressure on the defense to defend both the run and pass."
Forcing defenses to defend the run more could help the development of Luck. He was pretty good as a rookie, but he can be better if the Colts play better situational football. Last season the Colts had 113 situations of third-and-six or longer. No team that made the playoffs had as many.
That might have been partly responsible for the fact that Luck completed only 54.1 percent of his passes, which ranked 31st in the NFL. Hamilton believes running the ball should force opponents to commit fewer defenders to coverage, and it will make for fewer third and longs.
Hamilton is reputed to be a "West Coast offense guy," whatever that is anymore. He has poked fun at it, saying his Colts offense will be "No Coast." What he means is he won't be emphasizing a short passing game.
"But I do want to have the ability to take what's there and systematically having a mechanism to call plays and more importantly execute plays that are simple and at the same time effective," he said.
And that should help Luck manage bad plays, which is something Hamilton believes the quarterback can improve on.
Changing offensive coordinators can be difficult on young quarterbacks. But it shouldn't be difficult on Luck because he worked with Hamilton at Stanford. In fact, it could be perfect for Luck. Hamilton is importing the terminology he used at Stanford, and Luck has been helping his teammates with the transition during OTAs.
"He has been a tremendous asset for his teammates, being able to help guys to learn it and understand it as far as what it is we're trying to do and the plays we're calling," Hamilton said.
That could mean the Colts offense is heading precisely where Hamilton would like it to go.
My Sunday Best: Stanford Coaching Alums
Stanford has produced some pretty fair NFL quarterbacks. And it also has produced some pretty fair NFL coaches. Pep Hamilton is the latest in a long line of coaches who have come to the NFL through Palo Alto. Here are my Sunday best Stanford coaching alums.
Brian Billick—Before becoming the Super Bowl winning head coach of the Ravens, Billick was Denny Green's assistant head coach and tight ends coach at Stanford.
Gunther Cunningham—He might not be quite in the mold of most Stanford coaches, but he started out as an assistant offensive line coach there before moving to defensive line. Cunningham went 16-16 as head coach of the Chiefs, and has been one of the most respected defensive minds in the NFL for years.
Jim Fassel—He coached John Elway as an assistant at Stanford before moving on to pro ball. He eventually ended up as NFL coach of the year in 1997, and made a Super Bowl appearance as the head coach of the Giants.
Denny Green—He had two stints as a Stanford assistant before becoming a head coach at Northwestern and then returning to Palo Alto as the Cardinal head coach. From there, he led the Vikings and Arizona Cardinals to a 117-102 record.
Jim Harbaugh—He turned around Stanford in 2009 and 2010, then became the hottest head coaching prospect around. Finally, he turned around the 49ers.
Jim Mora—Nineteen years before he became head coach of the Saints, Mora was an assistant at Stanford. He went 125-106 as an NFL head coach, also working for the Colts.
Mike Nolan—His first coaching job after being a grad assistant at Oregon was coaching linebackers at Stanford in 1982. He has gone on to become a defensive coordinator for seven teams, and also had a stint as the 49ers' head coach.
John Ralston—After nine years at Stanford, he went to Denver where he led the Broncos to their first winning season in 14 years. He also was named AFC coach of the year.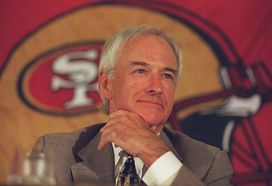 George Seifert knew a thing or two about coaching when he took over the 49ers.
George Seifert—He had two stints as a Stanford assistant before becoming the 49ers' assistant and then head coach. As a head coach, Seifert finished with a 114-62 record and two Super Bowl championships. He is one of the all-time underappreciated coaches.
Clark Shaughnessy—The NFL wanted him for his innovative offensive ideas including the T-Formation, and he bounced back and forth between colleges and NFL teams, most notably the Bears. He also was an NFL defensive coordinator later in his career.
Dick Vermeil—Before winning the Super Bowl with the Rams and turning around the Eagles and Chiefs, Vermeil was an assistant at Stanford with a staff that included Jim Mora, Rod Rust, Bill Walsh and Mike White.
Bill Walsh—The wizard was an assistant at Stanford before coming to the NFL as an assistant. After his glory days with the 49ers, he returned to Stanford as head coach in 1992.
Things I Didn't Used To Know
*Not long ago, it appeared Josh Johnson's NFL days could be over. But now Johnson has a legitimate chance to be a No. 2 quarterback in Cincinnati, and maybe more than that. Johnson, who is competing with John Skelton and Zac Robinson to be Andy Dalton's backup, has two things going for him. The first is he has a connection with Jay Gruden, as Gruden was the Bucs' offensive assistant when Johnson was selected by the Bucs in the fifth round of the 2008 draft. So the Bengals know him well. The second thing in his favor is his movement ability. He could give the Bengals something Dalton can't, and perhaps be a package player who can play in the read option. "I like his athletic ability," Gruden said. "He wasn't quite as polished a passer as you would like, but he has that element where he can run. He can create plays on the run. If you don't have a quality backup who can throw the ball, you need somebody who can add another dimension. And I like that he's a smart kid and can handle a lot."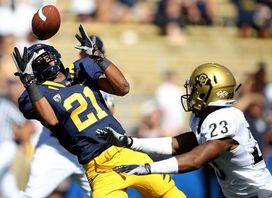 ICONSpeed isn't what it appears to be for Keenan Allen.
*Keenan Allen ran a 4.77 40-yard dash before the draft and his stock spiraled downward, but it didn't affect how the Chargers evaluated him. They anticipated a slow time because the wide receiver still was rehabbing from his knee injury and did not have the benefit of preparing to run a 40-yard dash. And they say Allen, whom they chose in the third round, still is not 100 percent. Chargers scouts say Allen's tape says he plays at a 4.55 speed. And they are fine with that.
One Man Yelp: 50 and Counting Tour
Watching the Rolling Stones as the primary band members flirt with 70 is a little like watching the sun disappear over the horizon after a gorgeous sunset. It is easier than ever to appreciate the beauty.
Yes, they are a bunch of old guys. But their 50 and Counting Tour isn't about nostalgia or celebrating what was. The Stones aren't content to live on yesterday's glory. The remain hungry for the chase.
I'll be damned if they didn't sound better than ever last week at the United Center in Chicago. It's confounding really, how they still can play so well, how they can still care so much, how they can summon so much energy and intensity, and how they have remained intact.
I almost expected someone to have to prop up Keith Richards. Instead, he propped up the house with his angry, wicked riffs. The vocals of Mick Jagger meanwhile, blow away the vocals of other graying rockers. He showed he still can hit the falsetto notes on Emotional Rescue, and moved like a teenage cheerleader.
The Stones did not rely on a lot of props or tricks. It was mostly just rock, blues, soul and country from the world's greatest rock and roll band—and swagger, lots of swagger. Mick Taylor was so happy to be a part of it again that he gave Richards a kiss on the cheek after killing it on Midnight Rambler.
The Stones gave us what we wanted, cranking out one classic after another: Gimme Shelter, It's Only Rock and Roll, Honky Tonk Woman, Tumbling Dice, You Can't Always Get What You Want, Sympathy for the Devil, Brown Sugar and on and on. Great crowd too. Lots of whiteheads. A few who looked a little too much like Richards. And some youngsters, like my 18-year-old son.
One caveat: the ticket prices—up to $600--for these shows are preposterous. Does this band really need to gouge its fans after 50 years? Is that what it's all about?
It pains me to admit it, but it was worth it.
Hot Reads
*If you like the sun, you should read this important story by Tim Layden.
*For Jerry Jones' sake, I hope he is more discreet with his credit card numbers than he is with his draft board.
*I'd be a lot more excited for the Browns about this if Jim Brown were 27 instead of 77.
*Joe Namath finds the Jets "deceptive."