December 24, 2011 -
Barry Dorey
NFP Sunday Blitz
The Packers and Patriots might be on paths that will lead to an Indianapolis collision. But if it happens, it will not be an ordinary Super Bowl matchup.
That's because both teams have been dominant offensively and pushed around defensively. The Packers came into the weekend ranked fourth on offense and 31st on defense; they've given up the exact same number of yards—5,569—as they have gained. The Patriots had the league's No. 2 offense and No. 32 defense.
Another team that could be in the Super Bowl mix, the Saints, is similarly out of whack statistically. They have the league's top ranked offense and 24th ranked defense.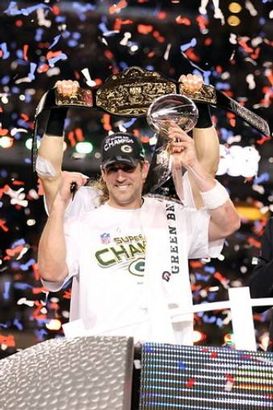 Will Aaron Rodgers be able to overcome the deficiences of the Packers defense in order to repeat this scene?
So is this any way to win the big dance? "There are a couple lousy defensive teams like the Patriots and Green Bay that look like they're going to have enough records to be there," said one AFC head coach. "I don't know how long it will last unless those teams play better on defense or just keep having great offensive days and can outscore everybody. We'll see."
Relying on winning a shootout every week is a dangerous way to live, as the Packers found out in Kansas City last Sunday. It's not the ideal formula.
"If you count on outscoring a team every week and you can't play defense, it's only a matter of time when you don't score 35 points every week," the head coach said. "Then what? That's the flip side of it. You might win a couple games like that. Then when the scoring dries up a little, you can't stop them, you end up losing those 31-28, 28-24 games."
Bears offensive coordinator Mike Martz should know. As head coach of the defending Super Bowl champion 2000 Rams, Martz presided over a team that had the top ranked offense in the NFL but the 23rd ranked defense. They finished 10-6 before losing to the Saints in the wildcard round of the playoffs by a 31-28 score.
"We went through it in 2000 when we had to outscore people," Martz said. "It's not fun. I never felt that was a good formula. We felt we had to have 35 points to win. That's why we brought Lovie [Smith] in to resolve that [as Rams defensive coordinator in 2001]."
With Smith as the coordinator, the Rams defense improved to the point where it ranked third in the league the following year, and the team made it back to the Super Bowl before losing to the Patriots.
Their defenses of the Patriots and Packers might not be as bad as the yards allowed statistics suggest. With 32 takeaways, the Packers were second best in the league in that department. The Patriots had 28 takeaways, which ranked fifth in the NFL. And both fare better in the more comprehensive Aikman ratings. The Packers defense ranked 20th and the Patriots defense ranked 22nd in the Aikman ratings.
And then there is this: having a prolific offense can lead to giving up more yards. "As consistently as we've played on offense this year, there have been a number of games when we've been ahead by two and three plus scores, and we've given up some yards later in the game that really haven't had an impact," Packers quarterback Aaron Rodgers told me. "I love our defense. They get a lot of takeaways. So they are getting the ball back to us consistently. I think we have the right recipe to be successful."
Martz understands. "When you are scoring those kinds of points, I've been there," he said. "People come into the game with a whole different philosophy. Some come into the game trying to slow it down but that doesn't work. So most come in with kind of a two minute mode."
The thing about the Packers, Patriots and Saints is they are going to at least have a chance because they have what Martz calls "hall of fame type quarterbacks" in Rodgers, Tom Brady and Drew Brees--as Martz did back the day with Kurt Warner in St. Louis.
"I'd rather have [a productive offense and a questionable defense] than the other way around," Martz said. "At least you have a chance to score more than they do. If you don't have a good offense, you have no chance. There is one exception to that in history of this league: Baltimore, the year they won. All the other Super Bowl winners had substantial quarterbacks."
The offense-dominated teams just have to hope their offense doesn't hiccup at the wrong time.
Things I Didn't Used To Know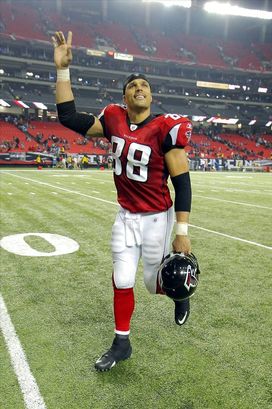 It doesn't look like Tony Gonzalez is going to be walking off into the sunset any time soon.
*Tony Gonzalez may be 35 years old and close to the end of the line, but the Falcons want him back next year. In fact, the team already has initiated talks to extend Gonzalez' contract, which expires at the end of the season. And Gonzalez, from what we're told, has no designs on retiring. Gonzalez isn't as fast as he once was, and he doesn't have the same kind of lower body explosion, but he remains a very productive player by virtue of his savvy. Only two tight ends in the league—Jimmy Graham and Rob Gronkowski—have more catches than Gonzalez this year.
*The Bears' season might have turned out a lot differently had they been able to secure one of the backup quarterbacks they had pursued at various points during the past year. In the offseason, they went after Matt Moore, but Moore was attracted to the Dolphins because he thought he had a better chance of playing behind Chad Henne than Jay Cutler. After Cutler went down, the Bears put in a waiver claim on Kyle Orton, who went to the Chiefs by virtue of their higher standing in the waiver order. They also put in a call to Marc Bulger, who told them he was staying retired.
*The Jaguars are considering Falcons offensive coordinator Mike Mularkey as a potential head coaching candidate, according to a source close to the situation. Mularkey didn't have much success as a head coach in Buffalo, but he is widely respected in NFL circles, he has been part of a model organization in Atlanta and he is a sold offensive game planner and play caller.
*The Vikings are expected to undergo a youth movement in the offseason. That means almost every Viking who will be on the high side of 30 next season with the exception of Jared Allen could be a former Viking come the offseason. Among those who are expected to be scrutinized are cornerback Antoine Winfield, guard Steve Hutchinson and tight end Visanthe Shiancoe.
My Sunday Best: Blocking Wide Receivers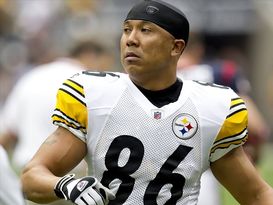 Defenders know to keep their heads on swivels when going against Hines Ward.
Hines Ward could be reaching the end of his career with the Steelers. In honor of Ward, who is regarded as one of the finest blocking receivers in NFL history, here, with a little help from some front office men, are my best blocking receivers (in alphabetical order). Who else would you include?
Miles Austin, Cowboys. Remember how he came into the league – as an undrafted free agent. He blocks with the mentality of an undrafted free agent.
Anquan Boldin, Ravens. He is built like a mini guard, and his lower body strength can help clear out defenders. Boldin stays on his blocks. His form er Cardinals teammate Larry Fitzgerald isn't a bad blocker either.
Eric Decker, Broncos. One of the reasons the Broncos running game has taken off is the downfield blocking of this big receiver.
Percy Harvin, Vikings. Harvin is a linebacker trapped inside a 5-11 184 pound frame. Harvin doesn't block like he wants to get the defender out of the way; he blocks like he wants to get him out of the game. He almost attacks the opponent like he has a screw loose. His reckless style is one of the reasons he has had some durability issues. Harvin is the new Hines Ward.
Andre Johnson, Texans. He is 6-3, 226 pounds and he is a thorough professional. That means he takes blocking seriously.
Calvin Johnson, Lions. He is 6-5, 235, so even if he just stands there he's tough to get around. Johnson also uses his athleticism and strength as a blocker.
Jordy Nelson, Packers. All of the Packers receivers are good blockers—it's a prerequisite to play for Mike McCarthy. Nelson is especially good because he is physical and big.
Hines Ward, Steelers. If there were a hall of fame for blockers, Ward would be a first ballot inductee. No wide receiver delivers kill shots like Ward.
Scout Talk: Defensive Tackles in the 2012 Draft
From the looks of it at this point, the April draft won't have any Ndamukong Suhs or Gerald McCoys in terms of top of the draft talent at the DT position. But it will have very good depth, especially in the second to third round range.
Scouts say the highest rated tackle prospect now is Devon Still from Penn State, son of former Chiefs great Art Still. Devon is big, strong and quick and can fit in any scheme, but he reminds one general manager a little of Jimmy Kennedy. Still could be leapfrogged on draft boards by Michigan State junior Jerel Worthy depending on how the workout and interview processes go. Worthy is stout and quick off the ball.
There are a dozen tackles being talked about as potential second to third round picks, including four underclassmen. They are Fletcher Cox of Mississippi State, who is strong and explosive, Sylvester Williams of North Carolina, a disruptive pass rusher, Kawaan Short of Purdue, who has the size and power to play the nose, and Marcus Fortson of Miami, a player with first round ability who only played in three games this season because of a knee injury.
As for the seniors, Brandon Thompson has a decent combination of skills at the nose tackle position that should get him drafted fairly early. Boise State's Billy Winn has some pass rush ability, but could be more consistent and play harder. Connecticut's Kendall Reyes will appeal to 3-4 teams as an end and 4-3 teams as a nose.
Scouts are split on Cincinnati's Derek Wolfe, but he has potential and production. Tydreke Powell is more quick than strong, and he won't appeal to every team. Teams that play a three man front will love humungous nose tackle Alameda Ta'amu from Washington.
Michigan's Mike Martin isn't the biggest, but he has a great motor. And Texas' Kheeston Randall has some potential as a nose tackle for a four man front or an end in a three man front.
One Man Yelp: Two Minutes To Glory
The recently released DVD Two Minutes to Glory opens with Vince Lombardi saying the history of the National Football League proves that most games are won in the last two minutes of the first half or the second half. The DVD then chronicles the greatest two minute situations in league history, and the men who were behind them.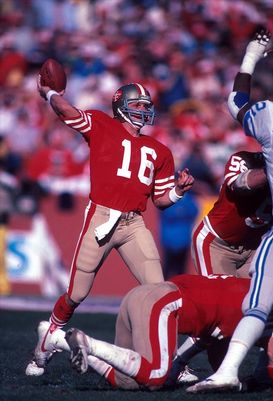 Was anyone better in a two-minute situation than Joe Cool?
In the opinion of NFL Films, which produced the show, the greatest ever were Joe Montana's "John Candy game" in the Super Bowl, the Colts' 38-34 comeback against the Patriots in the 2006 AFC championship game, and John Elway's "The Drive" against the Browns in the 1987 AFC championship game. Not surprisingly, Montana, Peyton Manning and Elway got quite a bit of airtime in the DVD.
There were some other good memories here too. The Miracle in the Meadowlands. DeSean Jackson's punt return against the Giants. The Jumbo Elliott tackle eligible touchdown in the Jets'40-37 victory over the Dolphins in 2000. The Bears' "they are who we thought they were" 2006 victory over the Cardinals. The Ice Bowl. The "greatest game ever played," won by Johnny Unitas and the Colts in overtime over the Giants.
I especially enjoyed the footage and interviews with and about Bobby Layne, who is considered the first of the great two minute quarterbacks.
Hot Reads
*Before Woody Johnson proclaims Rex Ryan "brilliant," he might want to see how he does in the postseason.
*If the Colts can beat the Jaguars next Sunday, it may be the most regrettable victory in the history of professional football.
*How is it that Betty White is hip enough to open Monday Night Football, but Madonna is too old to play halftime of the Super Bowl?
*We all know Bill Belichick is a cutting edge coach. Except when it comes to social media.
*Nobody loves a good football game more than yours truly, but not on Christmas eve and Christmas day. Come on NFL, give us a break two days a year.
*If you need your spirits lifted this Christmas, read this by my friend Jeff Darlington about Tim Tebow.
*Finally, I wish the Christmas blessings of hope and peace to you and yours on this special day and beyond.
Dan Pompei covers pro football for the Chicago Tribune at chicagotribune.com. Follow him at Twitter@danpompei