March 04, 2012 -
Dan Pompei
NFP Sunday Blitz
The reason Matt Flynn is a hot commodity as free agency approaches is simple.
Commodities are limited, very limited.
Aside from a 35-year old with a neck problem and the guy who got benched for Tim Tebow, the veteran market for starting quarterbacks is pretty barren. "Flynn will be a hot item because of the system he came from, and the fact he's played well," said an NFC front office man who could be in the market for a quarterback. "It's not a really good year for college quarterbacks after the top two. It depends if someone thinks they can get a quarterback in the draft or if they'll have to overpay for one in free agency."
The NFC front office man was one of five NFL men I spoke with who either have studied Flynn, worked with Flynn, or game planned against him. Each of them like some things about Flynn. But none of them would feel completely comfortable making a major investment in a player with two starts.
"I like him," said one general manager. "But I'm not all in."
As Pete Prisco pointed out in this story, it's easy to look at Flynn's only start in 2011, and his last impression, and assume he is the second coming Aaron Rodgers. And Flynn clearly has something to him to have been able to put together one of the best passing performances in Packers history (480 yards, six touchdown passes and 45 points against the Lions) in the regular season finale.
But if you take away that one performance, Flynn's career passer rating is 68.1.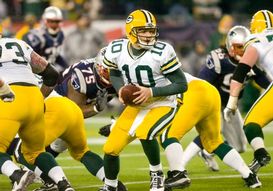 Matt Flynn has looked good in limited opportunities, but he hasn't played enough for anyone to know what kind of quarterback he will be.
With two NFL starts and 132 passes thrown, Flynn has not played enough for anyone to see what he can't do. "He actually missed some plays downfield against Detroit," said a pro personnel man who was assigned to study Flynn. "A lot of his yards in that game came on a screen play to the running back. Against the Patriots the year before he held the ball too long, and was sacked a few times because of it."
Flynn has had more throws over four years of preseason games, but the evidence there is inconclusive as well. His four year preseason passer rating is 86.
Some of what Flynn has accomplished might be the result of being with great coaches and in an ideal system. He might not be the same player out of the Green Bay cocoon.
What Flynn has been isn't nearly as significant as what he can be. In order to predict what he can be, we have to look at his skill set.
One thing that separates Flynn from Rodgers and other elite quarterbacks is he does not have a big arm. "He lacks deep balls strength," the pro personnel man said. "He's more of a dink and dunk quarterback."
Said a personnel director, "It's a better arm than you think, but it's not great. He won't drive it vertically like Rodgers."
There are reasons Flynn was a seventh round draft pick. He doesn't have the kind of physical ability you'd associate with a franchise quarterback. At the 2008 combine, he ran a 4.78 40 yard dash and vertical jumped 28 inches. At Louisiana State, he completed just 56 percent of his passes.
"It doesn't mean he can't do it, but he doesn't overwhelm you with talent," the NFC front office man said.
Playing quarterback effectively is about so much more than talent. It's about intangibles, and Flynn, who won a national championship in college, seems to have those in spades. "I really like him," said a defensive coach who has game planned against him. "His style can be like Aaron Rodgers'. He has great awareness and is decisive." The personnel director called Flynn a "natural leader."
But what is Flynn worth? In this interesting column, Joel Corry points out Flynn may get $10 million a year. There aren't many people who could argue he's worth that, but that may be the price a team has to pay if there are multiple suitors for him.
"I'd be cautious about giving him a big time contract after two starts, but I'm in the minority," the pro scout said. "To me he's a backup until he proves more. He's promising but he hasn't proven it. I look at him as more of a system quarterback than a guy who can fit in any system and excel."
The personnel director said he views Flynn as better than a game manager, but less than a franchise QB.
The team that should have the most interest in Flynn is the Dolphins. Nobody knows him better than new Miami head coach Joe Philbin, the Packers' former offensive coordinator. And Flynn's chances of success would be best in the same system he operated in with the Packers.
Any other team that would make a major investment in Flynn will be rolling dice and crossing fingers.
Things I Didn't Used To Know
*For a player who had only three sacks last year, Jason Jones is getting considerable attention as a potential free agent. The Titans are interested in retaining Jones, but if Jones hits the open market there is likely to be competition for his services, including from St. Louis, where his former boss Jeff Fisher calls the shots, and from the Philadelphia, where his former defensive line coach Jim Washburn has influence. The Titans used Jones a lot at defensive end last year, and have indicated they may do the same in the future. But Jones believes he is best suited inside, specifically as a three-technique who can shoot gaps and disrupt. He clearly has demonstrated interior pass rush skills, and at 25 has potential to improve. Jones is likely to be one of the players who gets action in the first wave of free agency.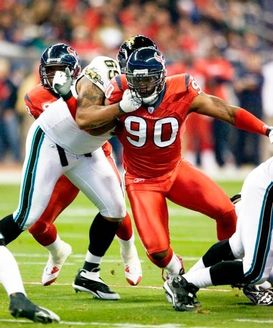 ICONCould you picture Mario Williams lined up across from DeMarcus Ware?
*In the event Mario Williams becomes a free agent, the list of suitors is likely to be a long one. Speculation around the league has it that the Cowboys and Patriots might be among the interested parties. We should point out this is sheer speculation, not necessarily rooted in fact. The Cowboys could use Williams in tandem with DeMarcus Ware in what would be the best pair of pass rushers in the NFL. Problem? Paying Williams more than Ware might not go over well in the locker room. As for the Patriots, signing Williams would be out of character, but they need to do something dramatic to help their defense. There is no move any team could make that would help a defense more.
*A lot of teams are interested in the top tier of potential free agent pass rushers, which includes Williams, Cliff Avril, Jonathan Abraham and Robert Mathis. If those players become unobtainable, two who could get some action are Mark Anderson and Jeremy Mincey. Both had breakouts this year (it was the second breakout for Anderson), as Anderson had 10 sacks for the Patriots and Mincey had eight for the Jaguars. Anderson has pretty good speed off the edge, though it wasn't often evident between his rookie season in 2006 and last year. Mincey is more of a lunch pail pass rusher. But he was very effective and productive last year. And he can play the run and pass.
*Normally teams and agents have a good idea of the market value of free agents a fter the combine, but that isn't the case this year. Because free agency was delayed by two weeks, agents and teams have been reluctant to show their cards. It has resulted in very little movement in terms of players re-signing with their own teams.
*The Lions have a lot of issues with players who have expiring contracts, but they have made re-signing backup QB Shaun Hill a priority. They know that if Hill gets to the open market, at least three teams will be interested. What's more, it's possible one or more team would try to entice Hill with an opportunity to compete for a starting job.
*Northern Illinois quarterback Chandler Harnish technically turned down an invitation to the combine, but he still showed up. Harnish and agent Cliff Brady asked if Harnish could be a thrower instead of one of the regular quarterbacks. Why? It meant Harnish would have many more opportunities to showcase his passing skills. Invited quarterbacks throw one day at the combine. Throwers can throw four days. Among the quarterbacks who have been throwers in the past are Tony Romo and T.J. Yates. It is believed Harnish is the first combine invitee who asked to be a thrower, however. The other throwers this year were Miami's Jacory Harris and Southern Miss' Austin Davis.
*A few front office men were scratching their heads over the fact that Miami of Ohio guard Brandon Brooks was not invited to the combine. Prior to a pro day, a couple scouts said they had him in the fourth round. That could have changed last week. At 6-5, 346 pounds, Brooks had 36 reps of 225 pounds, ran a 4.98 40 yard dash (and a 1.71 10-yard split), vertical jumped 32 inches, broad jumped 8-9 and had a 4.52 short shuttle. He did this in front of 32 very interested teams.
My Sunday Best: Available Veteran Quarterbacks
As usual, there are more teams looking for a potential starting quarterback than there are available starting quarterbacks. Here are my best veteran quarterbacks that I anticipate being available. Not included are two players who aren't likely to hit the open market, Drew Brees and Alex Smith.
1. Peyton Manning. He really comes with a big asterisk because of his health. The problem with Manning is in March he might not be as healthy as he will be in July, and there is no guarantee he will be any healthier in July. But teams will want to make a decision on him in March. Given the enormity of the investment it would take and the implications it would have for how a team would have to approach the position, going after Manning carries some risk. Then again, going after him also could bring significant reward. Manning probably never will be as productive as he was when he was younger, healthier and in his comfort zone in Indy. But he still could be one of the game's best passers.
2. Matt Flynn, Packers. Aaron Rodgers is the guy everyone would love to have. Flynn does an awfully good Rodgers impression.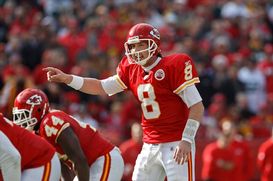 Kyle Orton is a solid, reliable veteran.
3. Kyle Orton, Chiefs. Manning is risky and Flynn is unknown, but you know what you are getting with Orton. He doesn't have the upside of the other two, but he doesn't have the downside either. He's a consistent quarterback who is known for his ability to avoid big mistakes. He threw for more yards in 2010 than all but nine players. If you play ball control offense and have a good defense, Orton could be the most logical quarterback to sign.
4. Jason Campbell, Raiders. He was 4-2 with the Raiders before getting hurt; Carson Palmer went 4-5 with the same team. He is not an elite passer, but Campbell has played some decent football in recent years. Campbell could be a good game manager in the right situation. A team could do a lot worse.
5. David Garrard. He is no spring chicken at 34, but he could be a good solution for a team looking for a veteran to steady the ship while a rookie develops. The last time Garrard played, in 2010, he had a 90.8 passer rating. That was better than the ratings of the starting quarterbacks for 19 other teams. He also has a career passer rating of 85.8, and was a Pro Bowler in 2009. He isn't the most consistent passer around, but if his back is good to go Garrard will attract interest.
6. Chad Henne, Dolphins. He has been injured and inconsistent in his pro career, but he does have NFL ability. It is possible Henne's best football is ahead of him. There has been talk that he will be highly pursued (Alex Marvez wrote this interesting piece), but given Henne's body of work it's hard for me to see a team taking a chance on him as a starter. His accuracy and field vision are arguments against him.
7. Shaun Hill, Lions. He might not be the most gifted quarterback, but he knows how to not get beat. Hill has thrown 39 touchdowns to 23 interceptions in his career and has an 84.7 passer rating. He has been one of the best backups in the league.
8. Dan Orlovsky, Colts. He won two games for the awful Colts last year and did not perform badly. Orlovsky never has been given an extended opportunity.
9. Vince Young, Eagles. If it's raw talent and the ability to run a team is looking for, Young will get a look. But Young played poorly in three starts last year, and his leadership and maturity have been in question throughout his career. He could be a good backup for a team like the Broncos or Panthers that runs some unconventional looks.
10. Rex Grossman, Redskins. He took the Bears to the Super Bowl in 2006, but he has a 71.4 career passer rating and he always has been interception prone. At 31, he isn't as mobile as he used to be, and would be best utilized as a backup.