December 05, 2010 -
Dan Pompei
NFP Sunday Blitz
You can talk about their offensive versatility, or their plus 11 giveaway/takeaway ratio, or their ability to control the clock. But what really stands out most about the 9-2 Atlanta Falcons is you just can't get them to blink.
This is a team that seems to save its best for when it needs it the most. Their fourth quarter point differential of plus 46 is best in the NFL.
Quarterbacked by a guy nicknamed "Ice," the Falcons are cool under pressure. They are 6-1 in games decided by eight points or less, the best win percentage in close games in the league.
And as I discussed last week, the Falcons don't beat themselves. They have committed 42 penalties—fewest in the league, and have turned the ball over only 10 times—second best in the league.
"It's apparent we're a very resilient group," Falcons coach Mike Smith said.
It is not by accident. The Falcons were built to be resilient. In his three years with the team, general manager Thomas Dimitroff has drafted 13 players who were team captains in college. And Dimitroff has made it a point to acquire veterans who are leaders as well.
In fact, the goal was to have one veteran leader in every position group. Smith told me it's the biggest reason the Falcons have had success. It is leadership by committee. "I don't know that there is one leader of the team," he said. "For you to be successful, you have to have interaction, lines of communication, so you have to have at least one guy in each position room. They can be the messengers of the coaches, and also can mentor these guys, help coach them. Often times they may be able to say it in a little different way than a coach, and it makes more sense to some guys."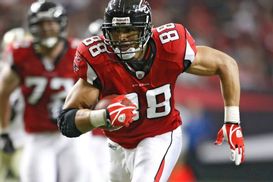 ICONLeaders like Tony Gonzalez are one reason why the Falcons are winning.
The Falcons have Tony Gonzalez with the tight ends, Brian Finneran with the wide receivers, Michael Turner with the running backs, Todd McClure with the offensive linemen, John Abraham with the defensive linemen, Mike Peterson with the linebackers and Dunta Robinson with the defensive backs.
And then Matt "Matty Ice" Ryan has developed into the leader in the quarterbacks room. The third year player led his team to game winning drives in the final minutes of games against the Ravens and Packers in the last month. "I don't believe you can anoint anybody into a leadership role--it's something you earn," Smith said. "The guys who make plays are usually the ones who become the leaders. Matt, especially over the last month, has been playing very effectively and making plays. He's one of the most competitive guys I've ever been around."
Ryan has not thrown an interception in his last 165 attempts and was named offensive player of the month for November. He now has had 12 game winning drives in the fourth quarter or overtime.
Part of it is Ryan's makeup. He already had his nickname when he arrived in Atlanta. But part of it is Ryan and the Falcons are prepared for every possibility. Teams that are well prepared are less prone to panic.
Smith and his fine coaching staff put a major emphasis on playing well in the fourth quarter. Around the Falcons' training facility in Flowery Branch, Ga., they refer to fourth quarter penalties as "game changers."
They also have joined a growing trend by basing their entire practice schedule on situations. The length of a given practice is determined not by time but by the number of plays in the situations Falcons coaches project the team will be faced with in their upcoming game. On every practice play, there is a down and distance. The 40 second clock is running between snaps.
Every practice on Wednesday and Thursday is started with a no huddle, two minute drill. The Falcons want to emphasize it because so many games come down to two minutes. They spend more time than many teams do on goal line situations. And interestingly, goal line stands have helped them win two games.
The Falcons' calm under pressure is likely to be tested again in the next three games. They start a three game road swing with a visit to Tampa Bay Sunday. Since 2000, only four out of 32 teams have completed a three game road trip with a winning record.
But the Falcons, surprise, surprise, are prepared. Smith began tweaking the practice schedule a couple of weeks ago and backing off on pads in an attempt to keep his team fresh and alert for their most challenging stretch of schedule.
Even a three game trip might not rattle this team.
Things I Didn't Used To Know
*The head coaching stock of San Diego defensive coordinator Ron Rivera has taken a sharp upturn, and front office men are telling me he is back on the short lists of teams who are looking at head coaching possibilities. Rivera reportedly has interviewed for six head coaching positions, but has had only one since being fired by the Bears after the 2006 season. Assuming Leslie Frazier retains his job as head coach of the Vikings, Rivera and Giants defensive coordinator Perry Fewell are expected to be the top minority candidates this year—meaning both are almost certain to get multiple interviews.
*People who know Jon Gruden say the University of Miami job never really interested him. But if the Cowboys, Broncos or 49ers come calling, Gruden might be more receptive to a return to the NFL.
*Another coach who friends believe is ready to come back to the NFL is Stanford's Jim Harbaugh, based on what is going on behind the scenes in Palo Alto. He is expected to be one of the most pursued candidates, and he could be a good fit in San Francisco if his former teammate Mike Singletary is not retained as head coach.
*In Denver, fans are wondering how Josh McDaniels let Peyton Hillis get away. Part of the reason is Hillis struggled to pick up and integrate McDaniels' complex offense. Pass protection in particular was an issue. The Broncos recognized his running ability, athleticism and hands. But he wasn't clicking in their system. Hillis clearly is a better fit in the West Coast offense being used in Cleveland, where he has become a dominating runner. Even those in the Browns building have been surprised by how good Hillis has been, however. Some are privately questioning if he can sustain his production level.
*The Chargers are thrilled that Shaun Phillips has 10 sacks, but they'd be even happier if another pass rusher—hello, Larry English—stepped up and was able to divert some of the blocking attention away from Phillips. That Phillips has been able to be so effective as a pass rusher is pretty incredible considering opponents have been able to key on him.
*Lions cornerback Alphonso Smith had about as bad a day as you could have at the worst possible time—when most of the country was watching on Thanksgiving Day. He gave up a pair of touchdowns to the Patriots, and his tackling problems led to more scores. But Lions defensive coordinator Gunther Cunningham tells me the Lions coaches are not giving up on Smith. They still like his athleticism and intelligence, and want to see him mature as a player. Cunningham said Smith "practiced his butt off" last week in an effort to redeem himself with coaches and teammates. His real chance will come Sunday when he is matched up against Johnny Knox, Devin Hester and the Bears wide receivers.
My Sunday Best: NFL Rivalries
Two of football's best rivalries will be renewed Sunday when the Jets take on the Patriots and the Steel ers take on the Ravens. Rivalries are based on a few things: tradition, history, proximity of the teams, the quality of the teams and the competitiveness of the contests. With that in mind, here are my best NFL rivalries—as of this year.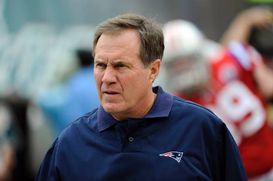 ICONThe presence of Bill Belichick adds to the Jets-Patriots rivalry.
1. Jets-Patriots: This has been a tremendous rivalry for a long time, but it became better when Bill Belichick left the Jets for the Patriots, and it became better still when Rex Ryan took over the Jets and started talking trash about the Pats.
2. Steelers-Ravens: You will not find two teams that hit harder and play with more intensity than you will in this game.
3. Colts-Patriots: